Satisfy your mid-day munchies with these Turkey Cheddar Lunch Roll Ups! Dive into the layers of creamy cheese, salty deli turkey, sharp cheddar, crisp lettuce, all wrapped snug in a tortilla. Now, doesn't that sound bite-worthy?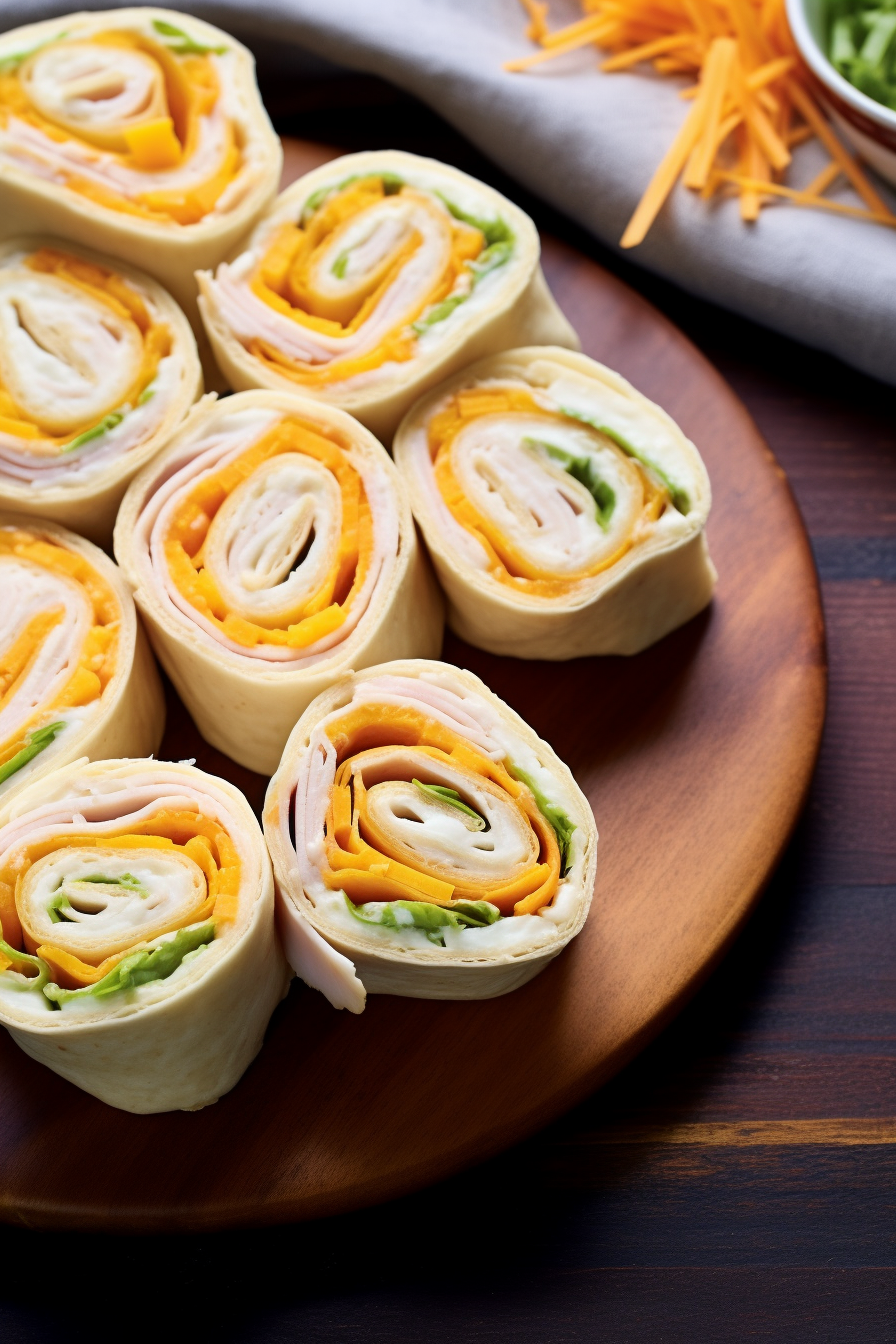 Alright, foodie friends, gather 'round and let me spill the beans on this recipe. Or should I say, spill the cheese? 🧀 Every summer, I'd visit my Aunt Laura, and her lunches were legendary. Sandwiches? Too mainstream for Aunt Laura. She'd whip out these roll ups, and even as a child, I appreciated the artistry. They seemed fancy, but were deceptively simple. Fast forward a few (ahem, more like several) years, and I've given Aunt Laura's recipe a modern twist. Now, not only do my kids beg for these in their lunchboxes, but I've become 'that' mom at PTA meetings who gets asked for the recipe.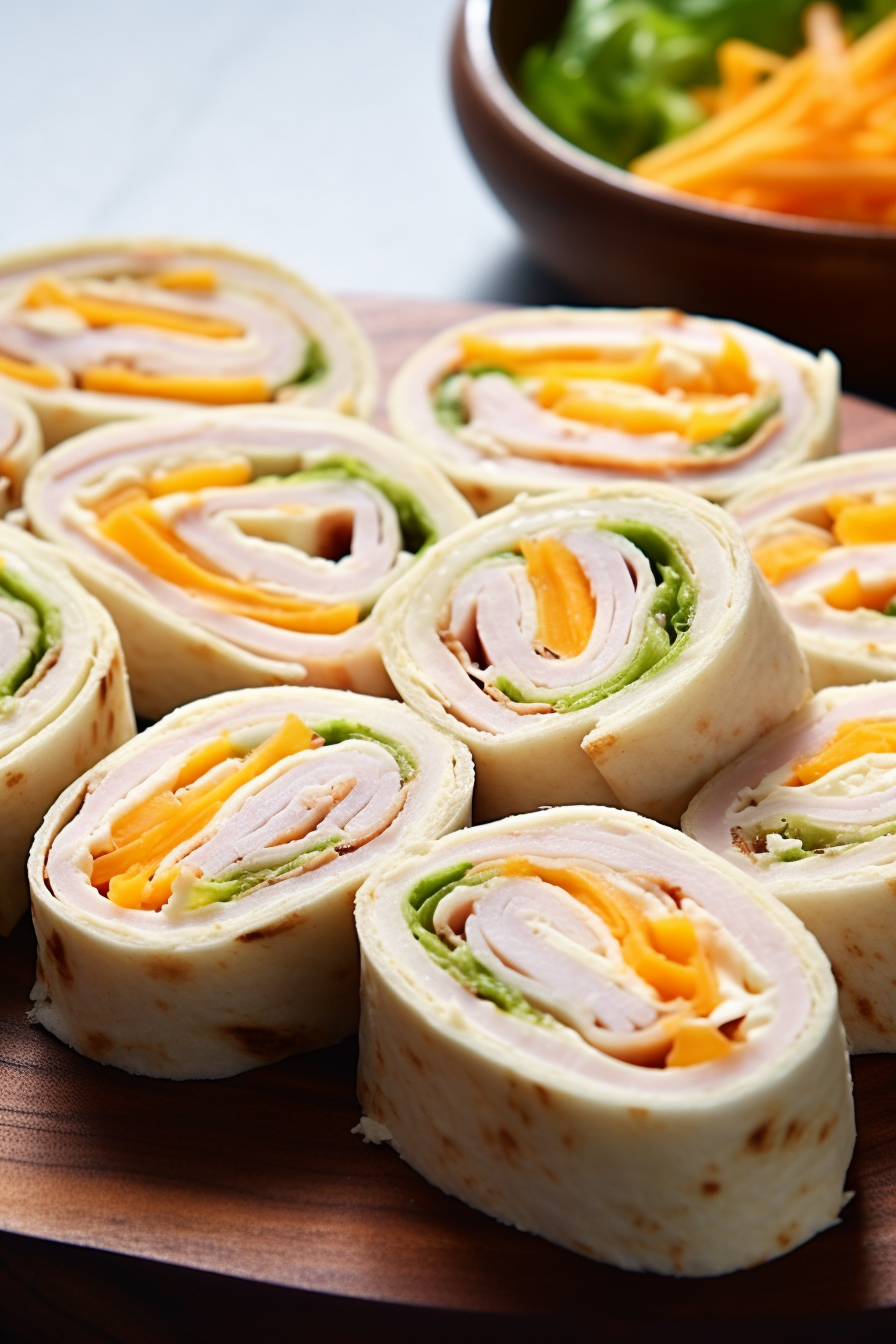 Why You'll Love Turkey Cheddar Lunch Roll Ups:
Where do I start? First, these Turkey Cheddar Lunch Roll Ups are the epitome of versatility – perfect as a quick lunch, a chic appetizer for your book club, or as a snack while binge-watching your favourite series (we've all been there).
Secondly, they're kid-approved. If you've got a picky eater, these roll ups might just be your silver bullet. Plus, with a total time of just 10 minutes, they're a time-crunched individual's dream come true.
Lastly, they're customisable. Got a different cheese or meat in the fridge? Go wild, my friend!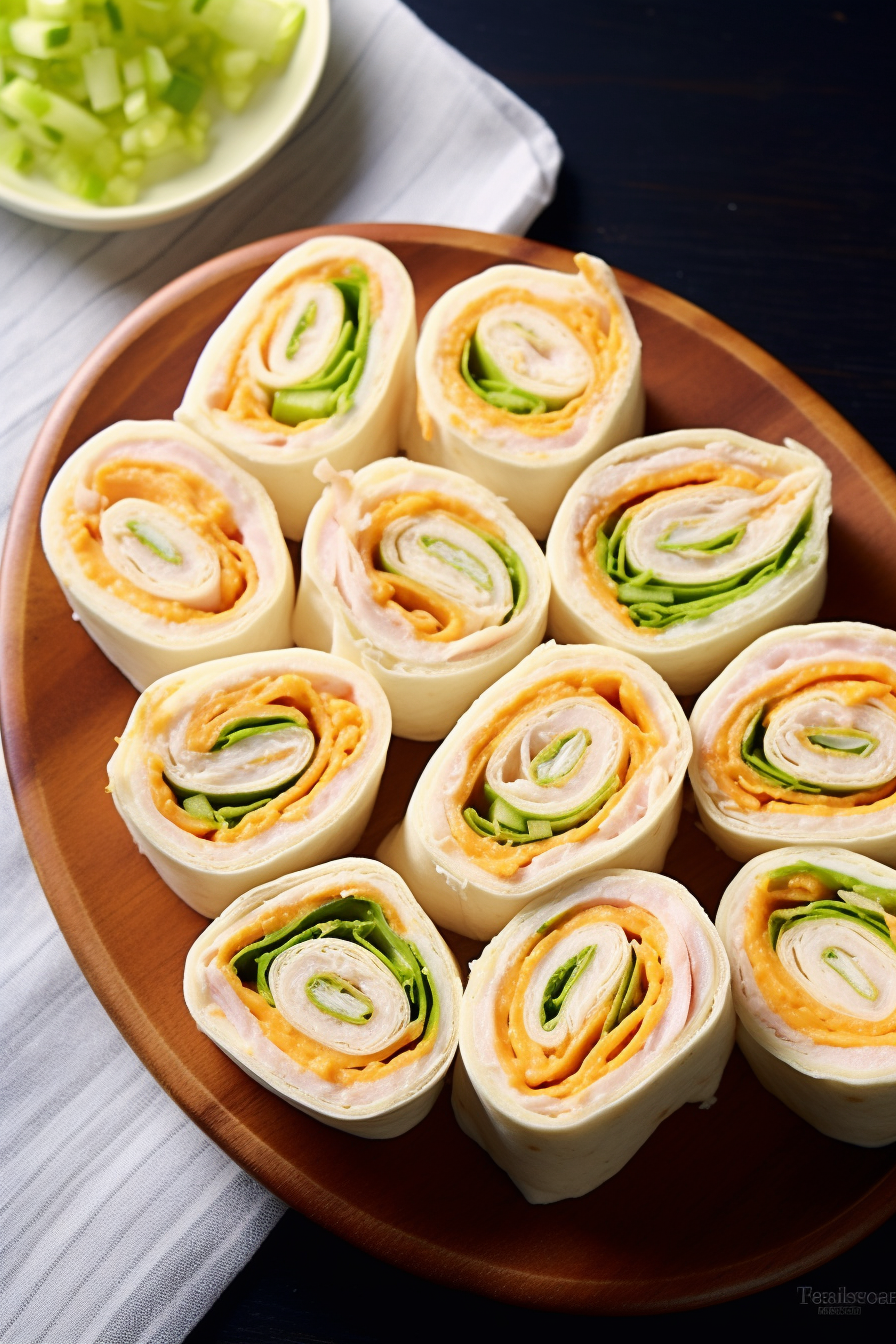 Ingredients Notes For Turkey Cheddar Lunch Roll Ups:
Cream cheese is your creamy, dreamy base – it acts as the adhesive keeping everything snug. Soften it for a smoother spread.
Green onions provide that subtle kick; however, feel free to add more or less based on your preference.
When choosing deli turkey, opt for low-sodium variants for a healthier twist.
Cheddar cheese adds the tang, but you could experiment with other cheeses too.
As for the tortillas, a regular size works wonders, but if you're feeling adventurous, try spinach or sun-dried tomato ones for an added flavour punch.
Lastly, shredded lettuce gives the crunch, but you can also toss in some spinach or arugula.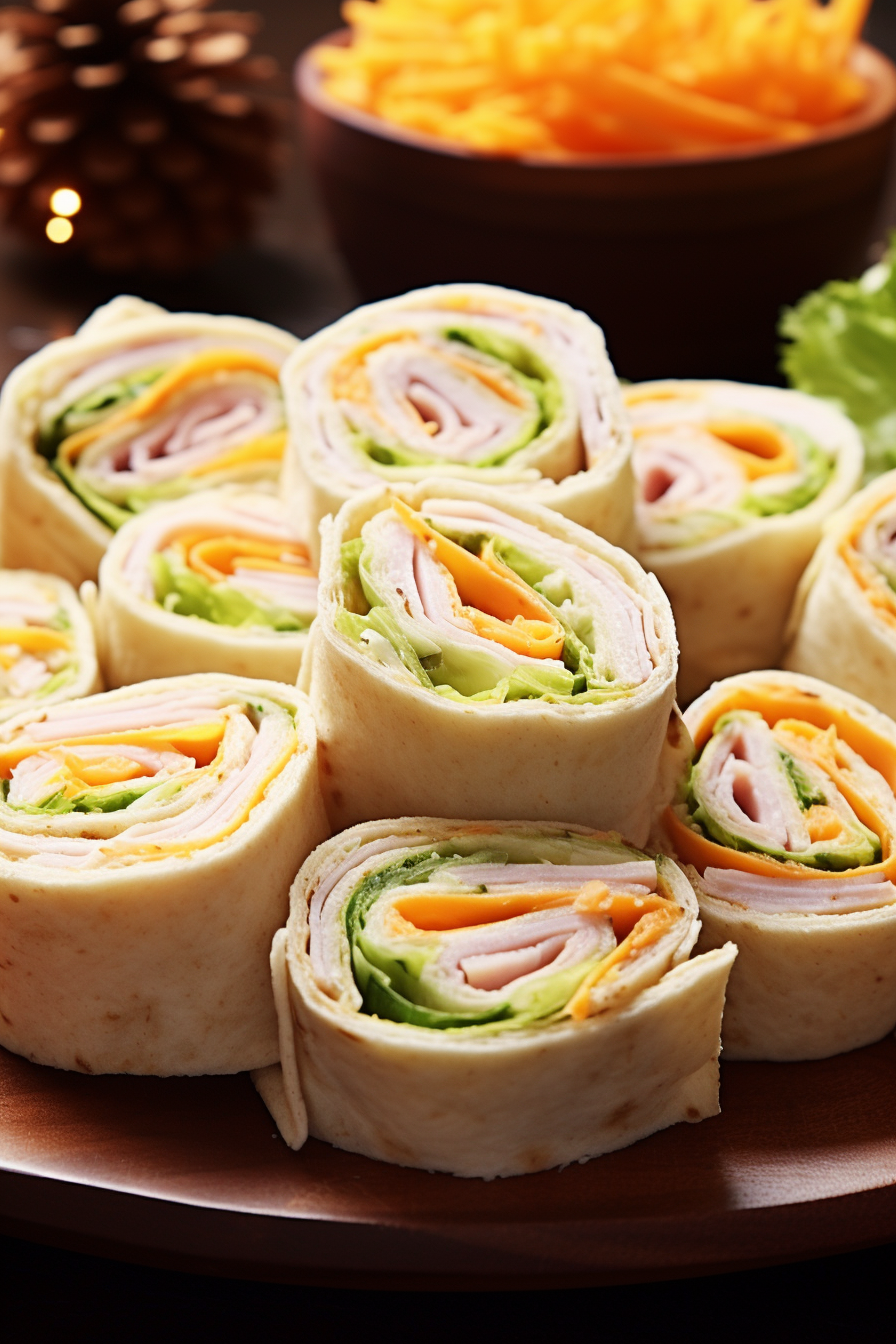 Step-by-step Recipe Breakdown:
Let's get rollin'! Start by grabbing a bowl and mix together your softened cream cheese, green onions, salt, and pepper. Aim for a spreadable consistency and a taste that makes you do a mini happy dance.
Lay out your tortilla like a blank canvas waiting for its masterpiece. Spread half of your cream cheese mix, edge to edge. Now, sprinkle half of your lettuce. It's all about the greens, baby! Then, for the star of the show, layer on your turkey slices followed by the cheddar cheese. Remember, placement is key: left side, but not too close to the edge. Channel your inner sushi chef and start rolling from one end, gently but firmly. Make sure it's sealed tight; if not, use your cream cheese like culinary duct tape. Repeat with your second tortilla.
Once you've got your tortilla logs, slice them in half, then cut each half into five delightful pieces. Discard the empty ends, or snack on them – chef's treat!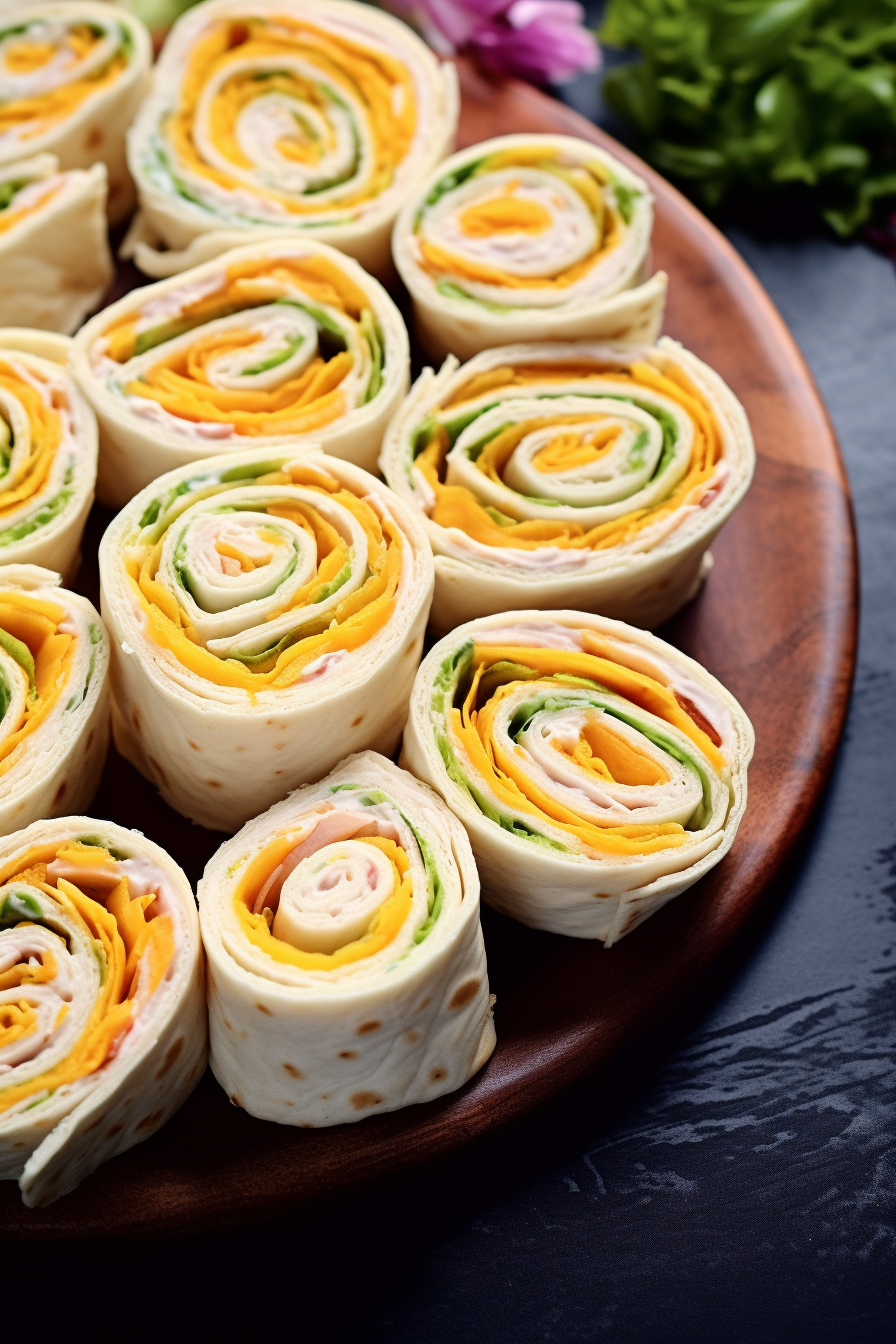 Storage Options:
Got leftovers? No worries! Pop these in an airtight container and refrigerate. They'll stay fresh for about 2-3 days. Although, between you and me, they rarely last that long in my house. You could also wrap them individually in cling film for on-the-go snacks.
Variations and Substitutions:
Feeling experimental? Swap out turkey for ham or roast beef. Not a cheddar fan? Try mozzarella or pepper jack for a spicy twist. If you're going the vegetarian route, roasted bell peppers or cucumbers can replace the turkey. For a low-carb version, use lettuce leaves instead of tortillas. And for those who like a little zing, add a dash of hot sauce or Dijon mustard to your cream cheese mix. The world is your tortilla; roll it how you like!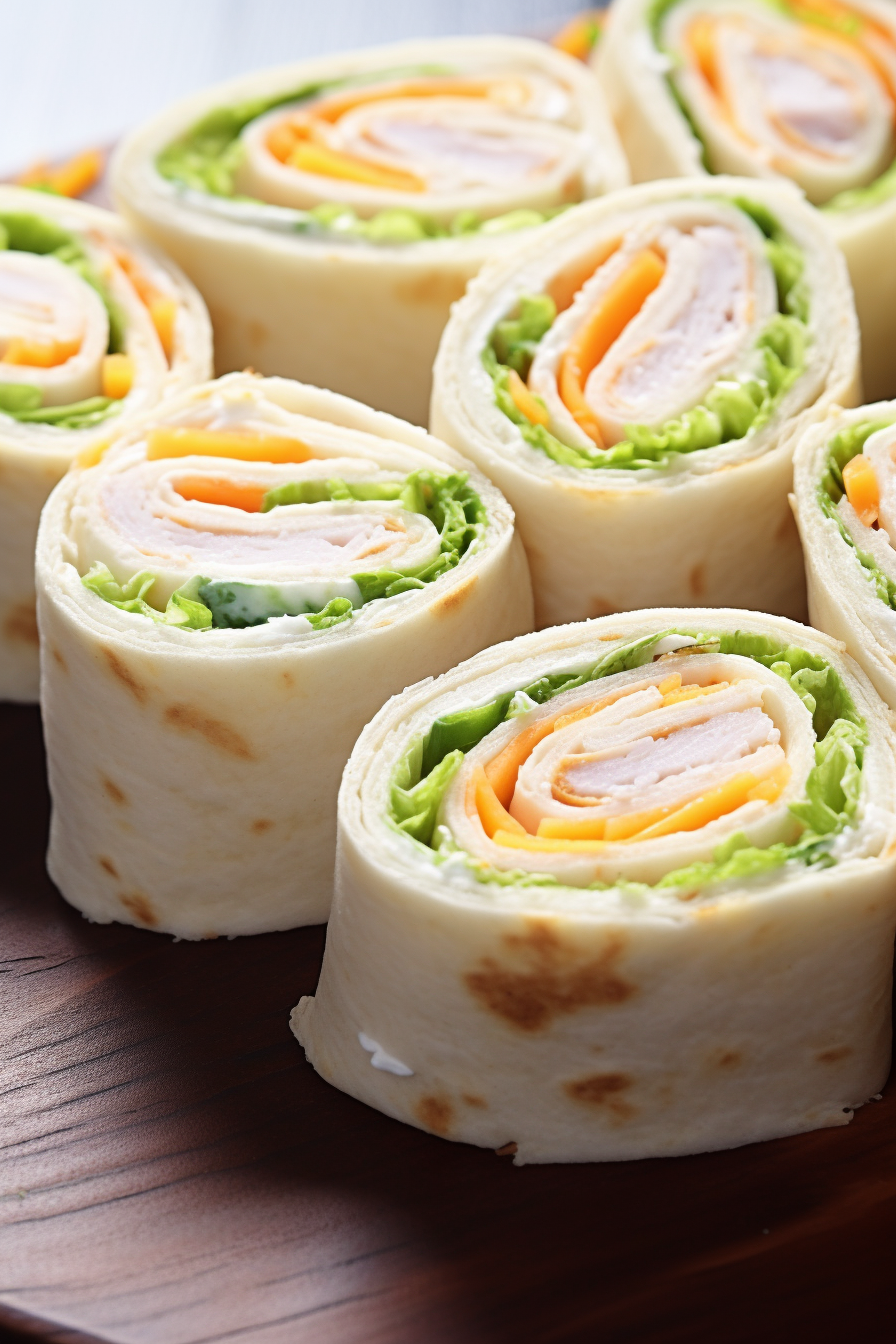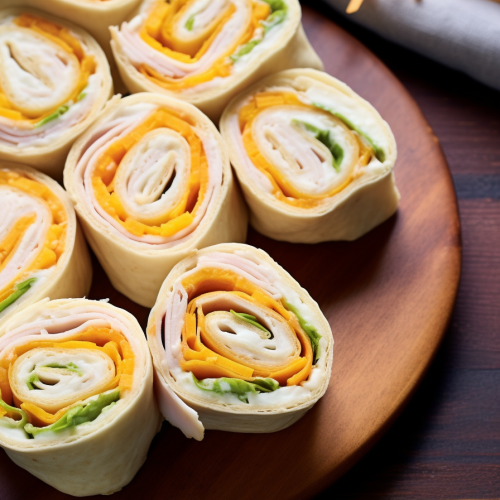 Turkey Cheddar Lunch Roll Ups
Satisfy your mid-day munchies with these Turkey Cheddar Lunch Roll Ups! Dive into the layers of creamy cheese, salty deli turkey, sharp cheddar, crisp lettuce, all wrapped snug in a tortilla. Now, doesn't that sound bite-worthy?
Print
Pin
Rate
Ingredients
4

ounces

of premium cream cheese

Fine salt and freshly ground black pepper

to taste

1

slender green onion

sliced thinly

6

slices

of premium deli turkey

4

slices

of aged cheddar cheese

2

standard-sized tortillas

1/4

cup

of finely shredded lettuce
Instructions
In a mixing bowl, combine the softened cream cheese, green onion, salt, and pepper. Ensure a homogenous mixture is achieved.

Place one tortilla on a clean, flat surface. Apply an even layer of the cream cheese mixture, ensuring it reaches the edges, which will aid in securing the roll.

Evenly distribute half of the shredded lettuce over the cream cheese layer. Carefully place 3 slices of turkey and 2 slices of cheddar cheese on the left side of the tortilla, ensuring they do not touch the very edge.

Begin rolling the tortilla from one end, ensuring it is done tightly to retain its shape. If there is difficulty in sealing the roll, you may use additional cream cheese as an adhesive.

Once the roll is formed, slice it in half. Then, further slice each half into five equal portions. It is advisable to discard the ends where filling may not be present, for a uniform presentation.

It is recommended to serve immediately to enjoy the freshness and crispness of the ingredients.