Dive into a tropical delight with our Pineapple Pistachio Cake, combining the zesty flavors of yellow cake mix, instant pistachio pudding, and crushed pineapple.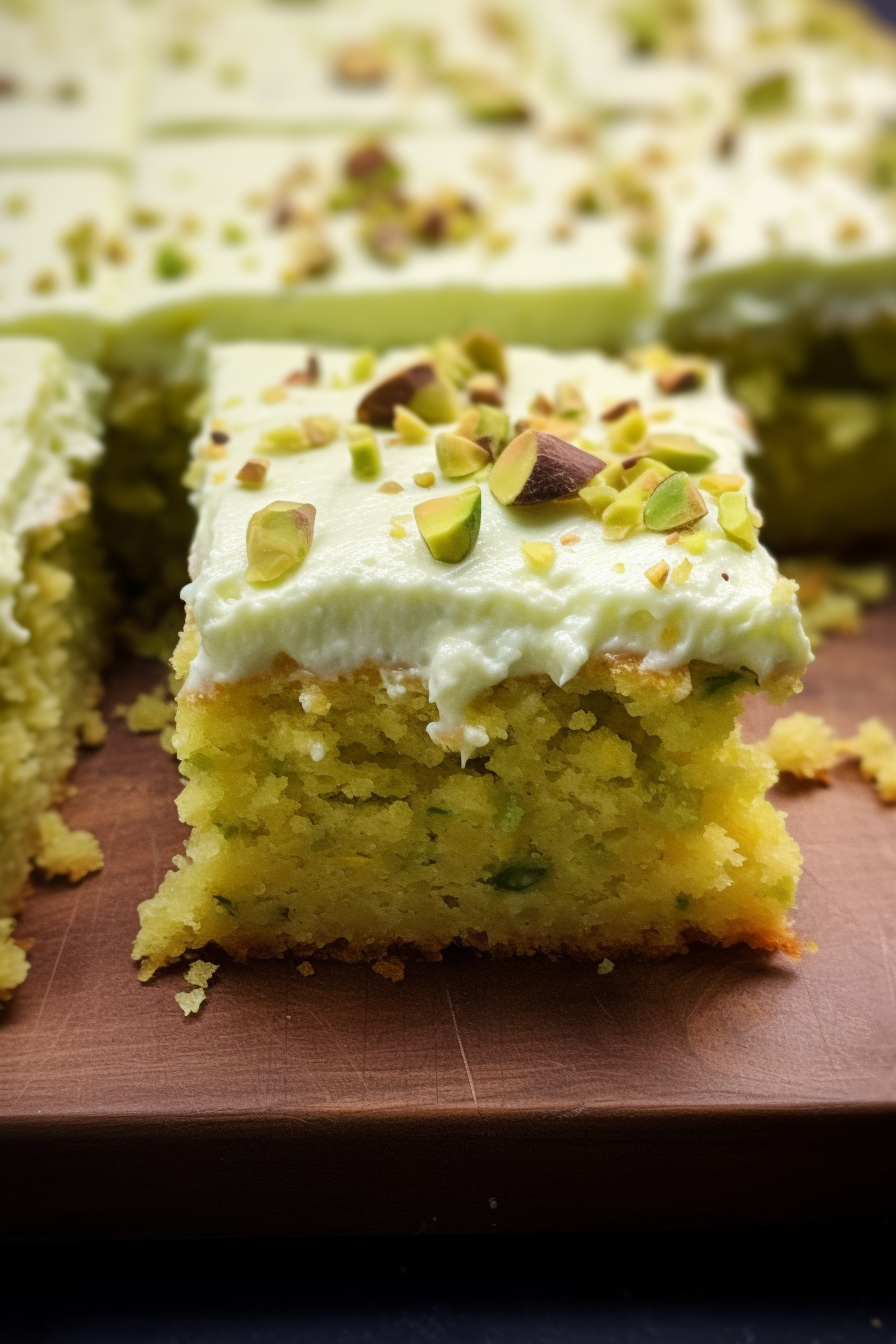 Ah, the Pineapple Pistachio Cake. This recipe transports me back to my teenage years when summers were all about pool parties and surprise potlucks. My dear Aunt Clara, a woman with a penchant for unexpected flavor combos, whipped this up for one of those potlucks. I remember watching her – a whirlwind of activity – blending the instant pistachio pudding with that cake mix, all the while narrating tales of her youthful adventures. With the final touch of crushed pineapple, she'd wink and say, "For that tropical twist!" It was an instant hit at the party. I've cherished and carried forward the legacy of this quirky yet scrumptious recipe. Every time I make it, it's like a slice of nostalgia, paired with a good splash of Aunt Clara's spirited energy.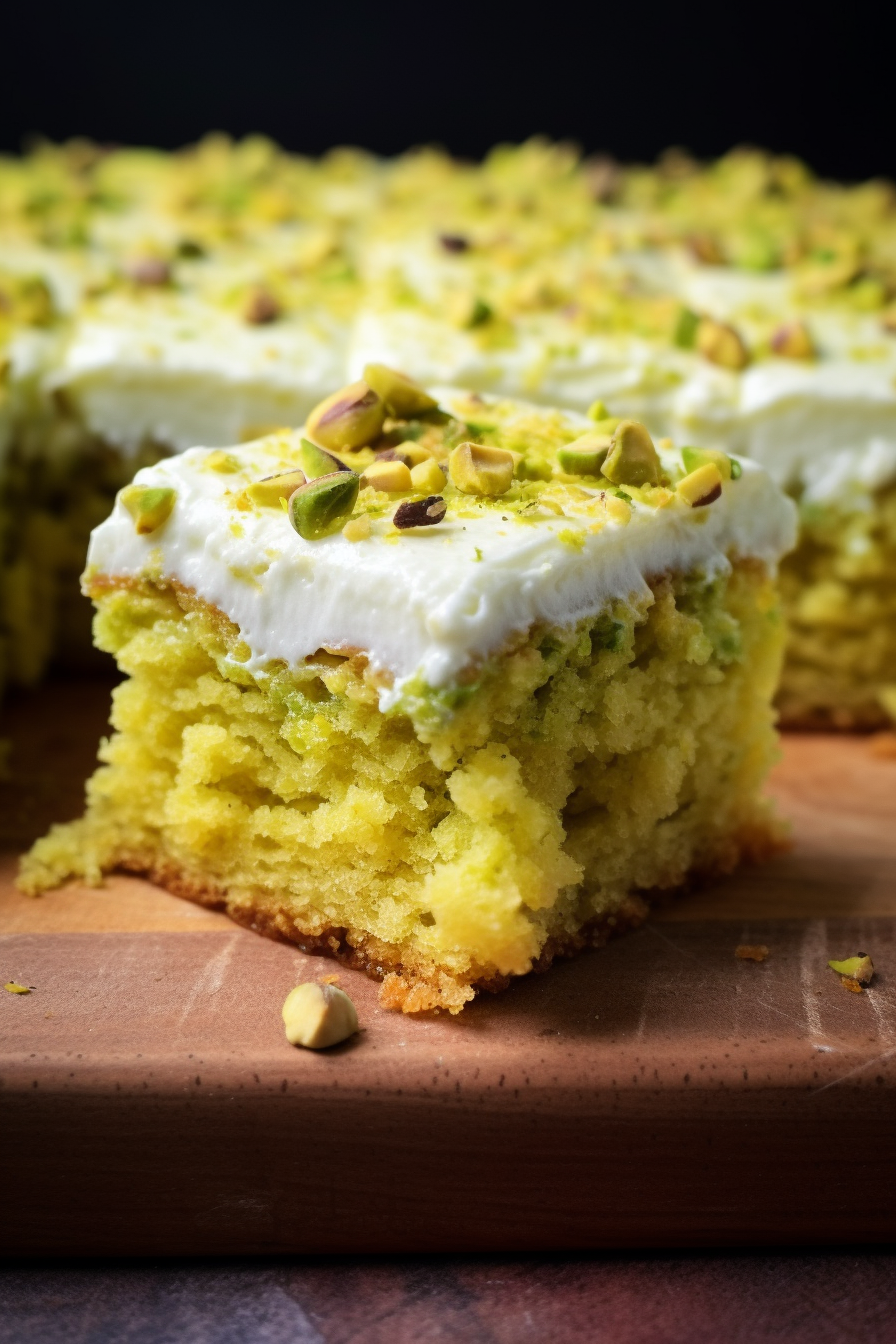 Pineapple Pistachio Cake:
The Pineapple Pistachio Cake isn't just another cake; it's an experience. Let's break it down:
Effortless Excellence: With just five main ingredients, you're diving into an intricate symphony of flavors.
Tropical Fusion: The union of pineapple's tropical zest with the nutty hints of pistachio is a match made in culinary heaven.
Two-Tiered Temptation: Not only do you get a moist, flavorful cake, but also a fluffy pistachio frosting that could stand proud on its own.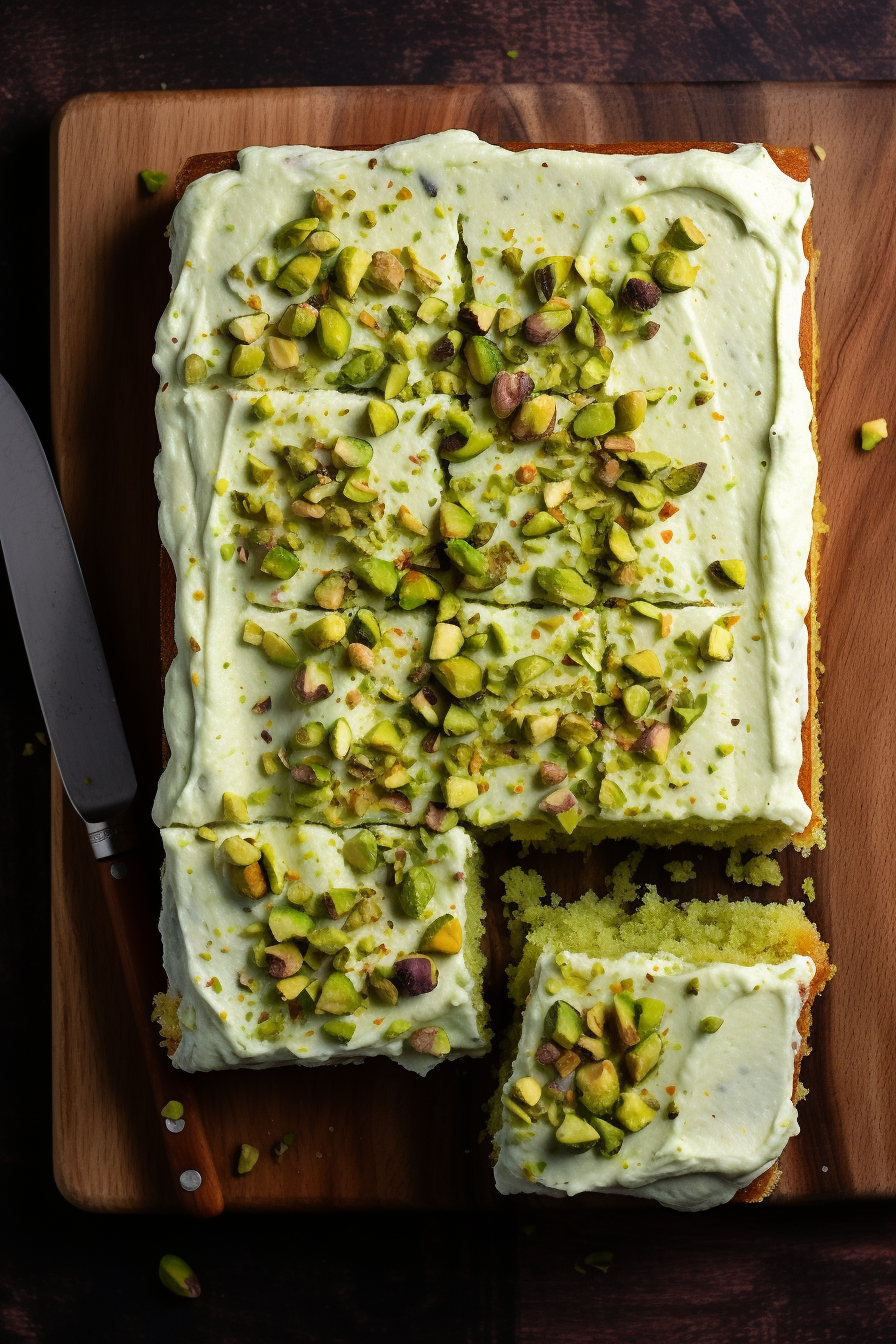 Ingredients For Pineapple Pistachio Cake:
Yellow Cake Mix: Opt for a brand you trust; this serves as the foundation of our cake.
Instant Pistachio Pudding Mix: Gives that nutty depth. Make sure it's instant to keep things breezy!
Crushed Pineapple: Ensure it's well-crushed for an even flavor spread. And remember, we're keeping that juice; it's like the secret handshake for this recipe.
Cool Whip: Thawed and ready to mingle. It offers a lovely lightness to the frosting.
Pistachios: A little crunch never hurt anyone! Use them as a topping for some aesthetic appeal and a nutty bite.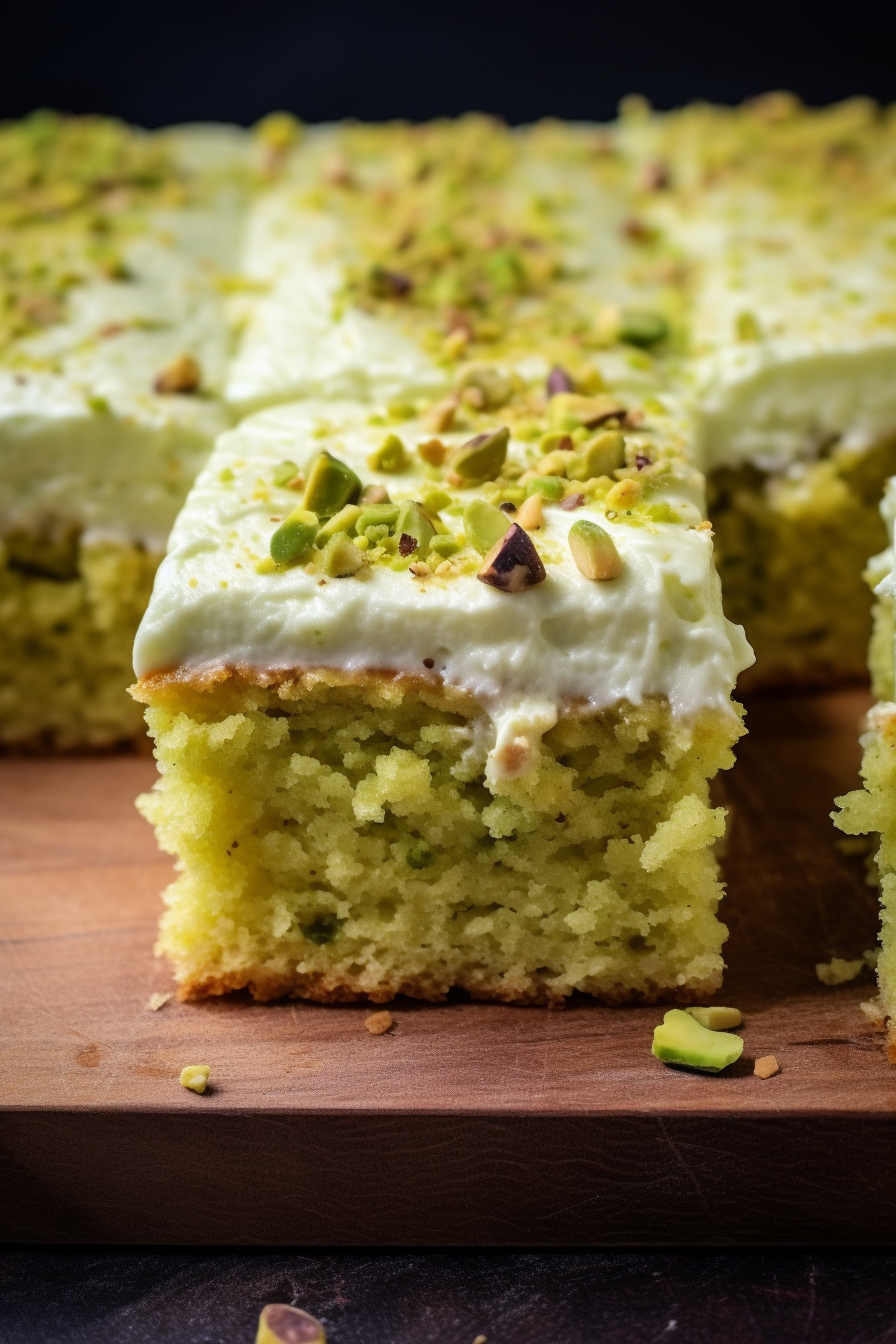 How To Make Pineapple Pistachio Cake:
The Oven Prelude: Get that oven buzzing at 350°. As it warms up, lovingly spray a 9×13 baking pan. This ensures your cake doesn't get too clingy.
Mixing Magic: In your sacred mixing bowl, get the cake mix, pudding mix, oil, eggs, and our star, crushed pineapple (with its juice), to tango together. After a 2-minute dance, they should be beautifully blended.
Pan Parade: Gently pour the batter into your pan. Spread it evenly; no lumps or bumps, please!
Baking Ballet: Slide the pan into the oven. A 35-40 minute waltz and it should be done. The toothpick test never fails! If it emerges clean from the cake's center, mission accomplished.
Cooling Cuddle: The cake needs a little downtime. Let it cool, dreaming of its frosting future.
Frosting Frenzy: Wait! Frost only a chilled cake. Whisk together the milks and pudding mix. Give it 5 minutes to thicken up before inviting Cool Whip to the party. Once united, smother the cake in this dreamy frosting.
Chill & Cherish: Cover the masterpiece and let it refrigerate. While it's optional, a night in the fridge lets the flavors truly marry.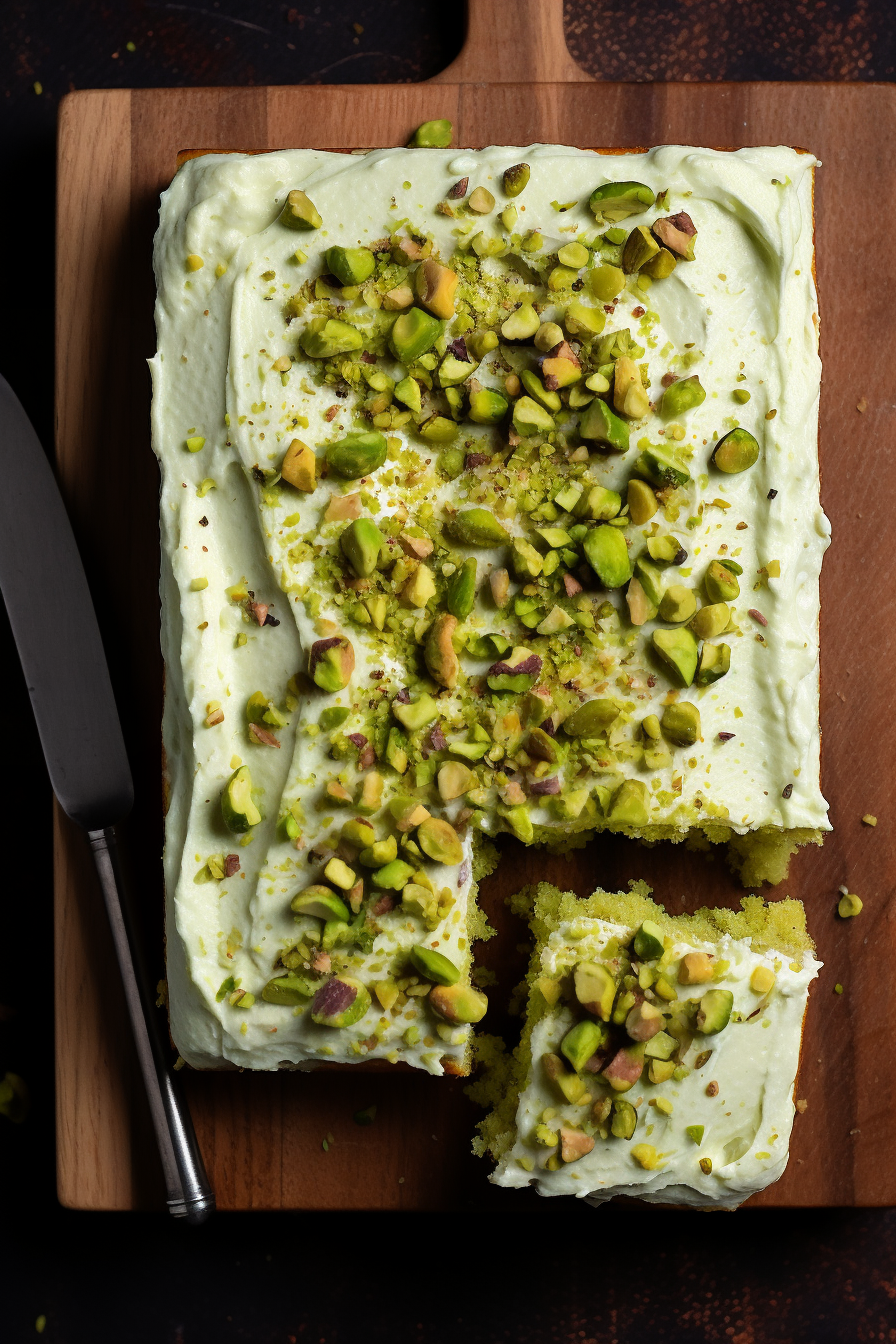 Storing Leftovers:
Store this tropical treat in a refrigerator, covered with a tight lid or tin foil. For longer storage (if you can resist it), slice and wrap individual pieces, storing in the freezer for up to a month.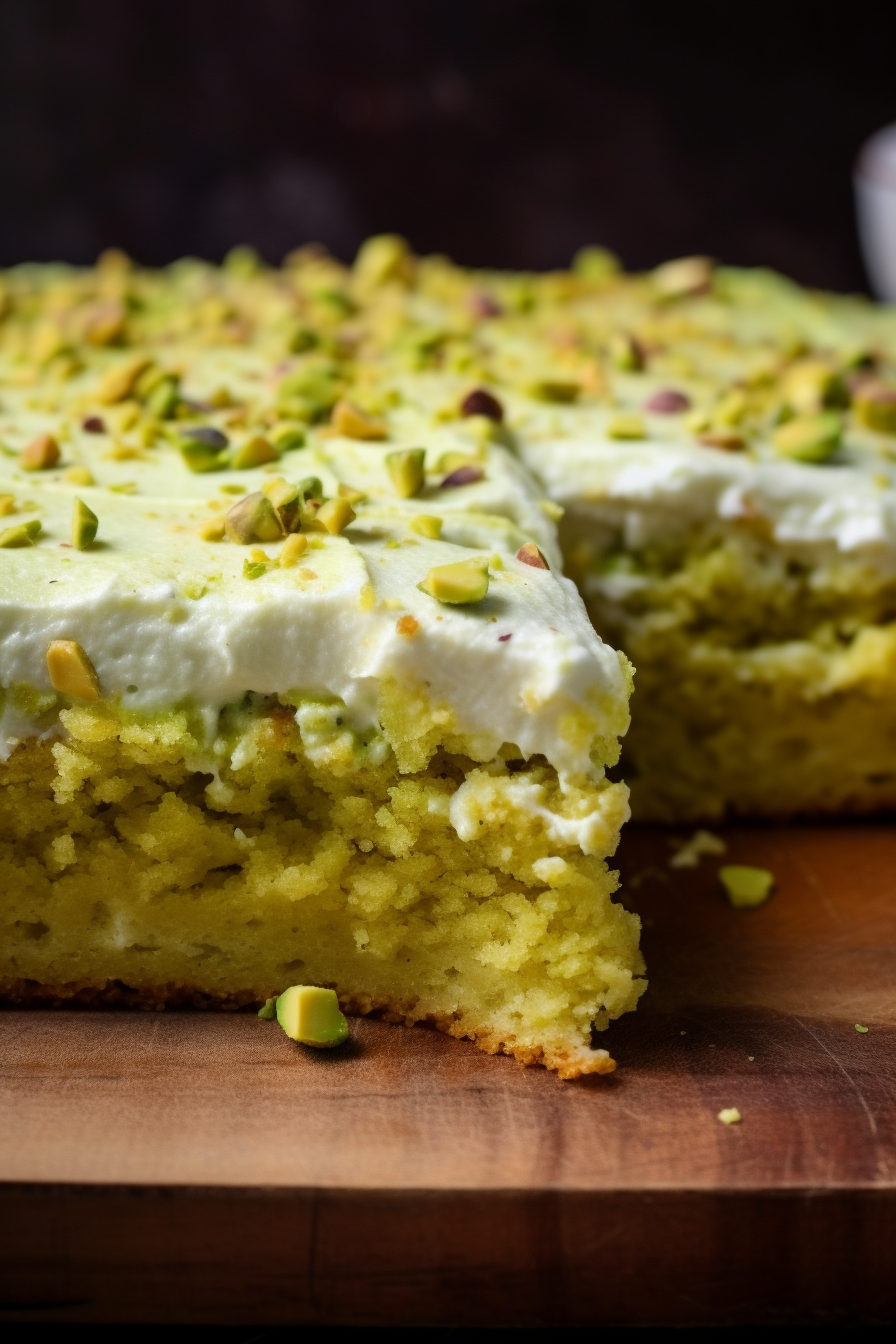 Variations and Substitutions:
Vegan Twist: Swap out eggs for applesauce or flaxseed meal. Use vegan cake mix, dairy-free whipped topping, and plant-based milk.
Nutty Adventure: Not a pistachio fan? Almond or hazelnut pudding can slide right in.
Tropical Dreams: Experiment with adding shredded coconut to the frosting or the cake for an extra tropical punch.
Gosh, I can't help but feel Aunt Clara's spirit every time I dive into the details of this recipe. From my kitchen to yours, enjoy every bite of this Pineapple Pistachio delight! 🍍🌰🍰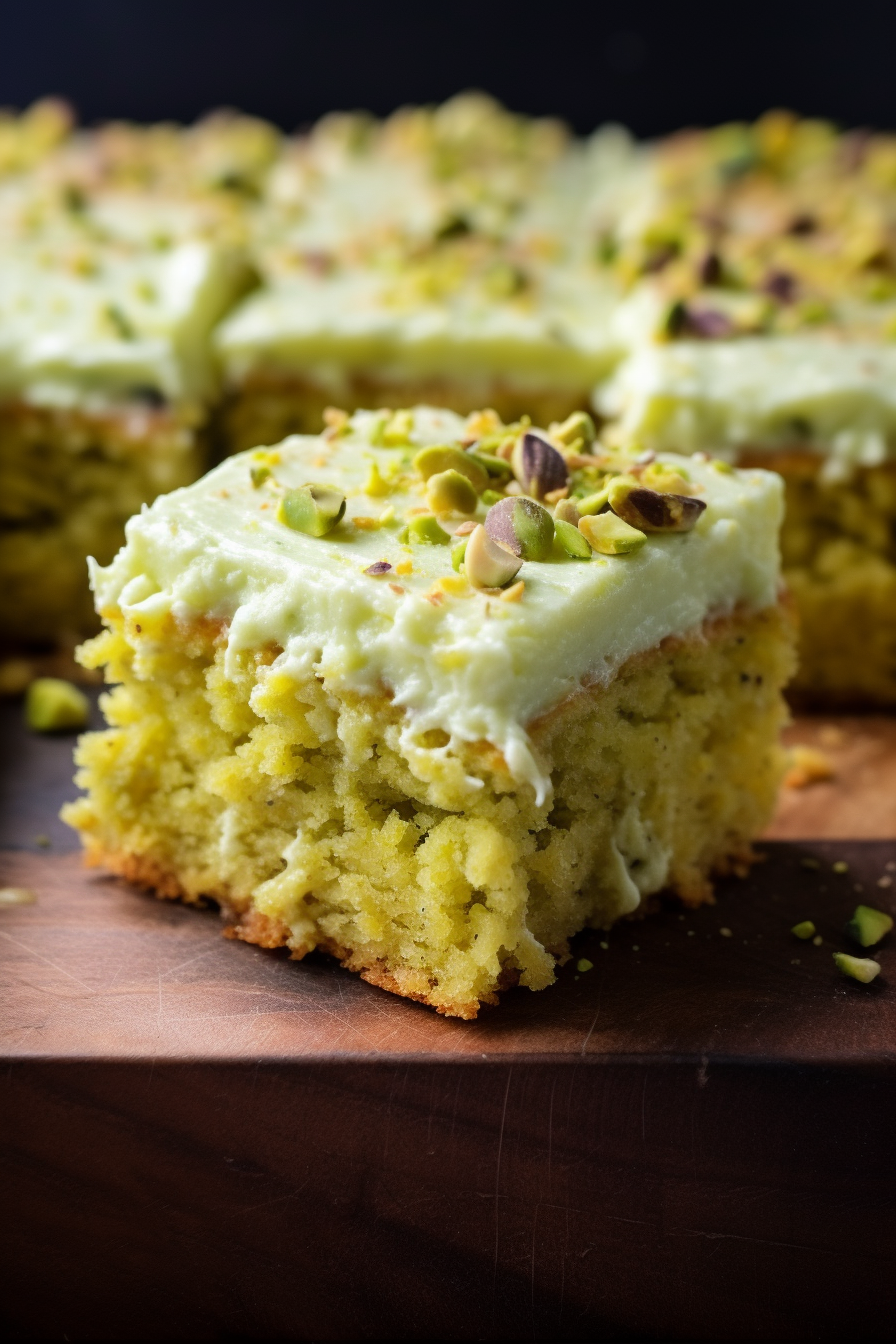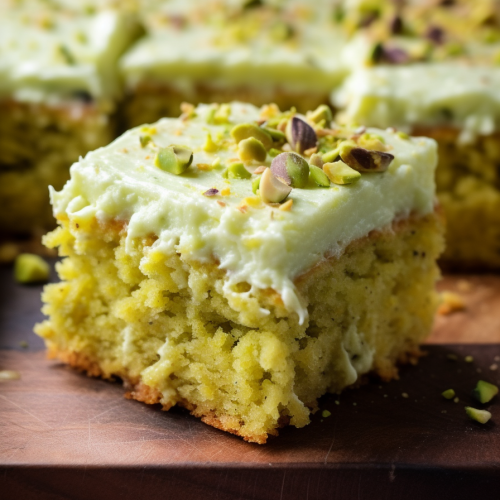 Pineapple Pistachio Cake
Dive into a tropical delight with our Pineapple Pistachio Cake, combining the zesty flavors of yellow cake mix, instant pistachio pudding, and crushed pineapple.
Print
Pin
Rate
Ingredients
For the Cake:
One package

15.25 ounces of yellow cake mix

One package

3.4 ounces of instant pistachio pudding mix

1/2

cup

of either canola or vegetable oil

Three large eggs

One can

20 ounces of crushed pineapple (retain the liquid)
For the Pistachio Pudding Frosting:
3/4

cup

of half-and-half milk

1/2

cup

of heavy cream

One package

3.4 ounces of instant pistachio pudding mix

8

ounces

of thawed Cool Whip

Chopped pistachios

optional for garnish
Instructions
For the Cake:
Preheat the oven to a temperature of 350° Fahrenheit. Meanwhile, prepare a 9×13 baking dish by applying a coat of non-stick cooking spray.

In a large mixing bowl or the vessel of a stand mixer, amalgamate the yellow cake mix, instant pistachio pudding mix, oil, eggs, and the undrained crushed pineapple. Utilize a handheld mixer and blend on medium-high speed for approximately two minutes until the mixture reaches a uniform consistency.

Transfer the prepared batter into the previously greased baking dish, ensuring it is distributed evenly.

Place the baking dish in the preheated oven and allow the cake to bake for 35 to 40 minutes. To ascertain the cake's doneness, insert a toothpick into its center; the cake is adequately baked when the toothpick emerges devoid of wet batter.

Upon removal from the oven, place the cake on a cooling rack, allowing it to reach room temperature.
For the Pistachio Pudding Frosting:
Prior to commencing the frosting procedure, ensure that the cake has completely cooled.

In a mixing bowl, combine the half-and-half milk, heavy cream, and instant pistachio pudding mix. Using a whisk, mix the components for 1 to 2 minutes until well-combined. Allow the mixture to sit for approximately 5 minutes, granting it time to thicken.

Following the thickening period, incorporate the thawed Cool Whip into the mixture, ensuring even blending.

With the frosting prepared, apply an even layer atop the cooled cake.

For optimal flavor development, it is recommended to cover the cake and place it in a refrigerator for a duration of 4 to 6 hours, or alternatively, overnight. However, this step is not mandatory.
Notes
To enhance the presentation of the cake, one may opt to garnish the frosting with chopped pistachios prior to refrigeration.
Nutrition
Calories:
173
kcal
|
Carbohydrates:
14
g
|
Protein:
2
g
|
Fat:
13
g
|
Saturated Fat:
9
g
|
Polyunsaturated Fat:
1
g
|
Monounsaturated Fat:
2
g
|
Trans Fat:
1
g
|
Cholesterol:
52
mg
|
Sodium:
119
mg
|
Potassium:
82
mg
|
Fiber:
1
g
|
Sugar:
12
g
|
Vitamin A:
238
IU
|
Vitamin C:
3
mg
|
Calcium:
42
mg
|
Iron:
1
mg