I finally broke down and got a Le Creuset Dutch Oven and I'm in LOVE with it. I've been making soups and stews, caramelized onions, shredded pork, and sauces. One of my favorite sauces is this Guajillo Chili Red Enchilada Sauce. After trying lots of different store-bought enchilada sauces, I realized that I never found a favorite.
It was time to try making my own.
I started by placing 6 Guajillo peppers into the oven to soften them a bit, being careful to not let them burn (burned peppers = bitter peppers). After carefully removing the seeds and stems, I added them to a blender with lots of seasonings and diced tomatoes. Then, I added the paste to the Dutch oven and sautéd it until it turned dark red in color. This really boosts the flavor of the enchilada sauce. At this point, the sauce is still more paste-like than sauce-like, so I added a bit of chicken broth in order to reach the desired consistency.
After simmering the sauce for 20 minutes to bring the flavors together, it's important to add a little sugar and taste the sauce. This sauce isn't super-spicy, but can first taste a little bitter from the guajillo peppers even if they aren't burned. If the sauce tastes bitter, continue adding sugar. If the flavors need an extra boost, add a touch of salt.
This red enchilada sauce is perfect for casseroles, lasagna, soup, burritos, and of course, enchiladas. Later this week, I'll post one of my new favorite casserole recipes using this great sauce.
*Hint* Sweet potatoes may be involved.
Once you start making your own enchilada sauce, I promise that you won't want to buy a store-bought sauce again.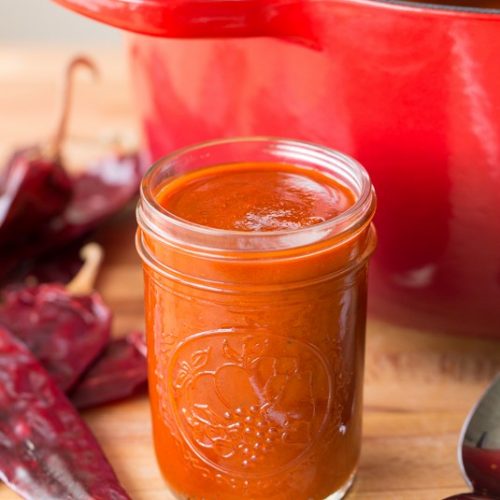 Ingredients
1½

oz

dried guajillo chiles (about 6 peppers)

½

cup

yellow onion, diced

3

garlic cloves

½

tsp

cumin

2

tsp

chili powder

¼

tsp

black pepper

1

cup

fire roasted diced tomatoes

2

tsp

olive oil

2½

cups

low-sodium chicken broth

2

tsp

sugar, or more to taste

salt, to taste
Instructions
Preheat the oven to 350 degrees Fahrenheit. Place the guajillo peppers on a baking sheet and bake for 5 minutes, until the peppers have puffed up and become aromatic. Remove the peppers from the oven and allow them to cool. Once cool to the touch, remove the seeds and stems.

Add the guajillo peppers, onion, garlic, cumin, chili powder, pepper, and diced tomatoes to a blender. Blend until completely smooth.

Heat the olive oil in a dutch oven or large skillet over medium-high heat. Add the guajillo pepper paste and cook until the paste starts to thicken and turn a dark red, about 3 minutes. Add the chicken broth and bring the mixture to a boil, then reduce to a simmer.

Simmer the sauce for 20 minutes to bring the flavors together. Add more chicken broth as nessessary. Season with sugar and salt, to taste. If the sauce has any bitter notes, add additional sugar to smooth out the sauce.