Dive into the mouth-watering allure of The Ultimate Pork Chops! Marinated overnight with a blend of sugar, salt, and water, then generously rubbed with a concoction of paprika, garlic, onion, and a few spices more. Grill 'em up, and let the magic happen!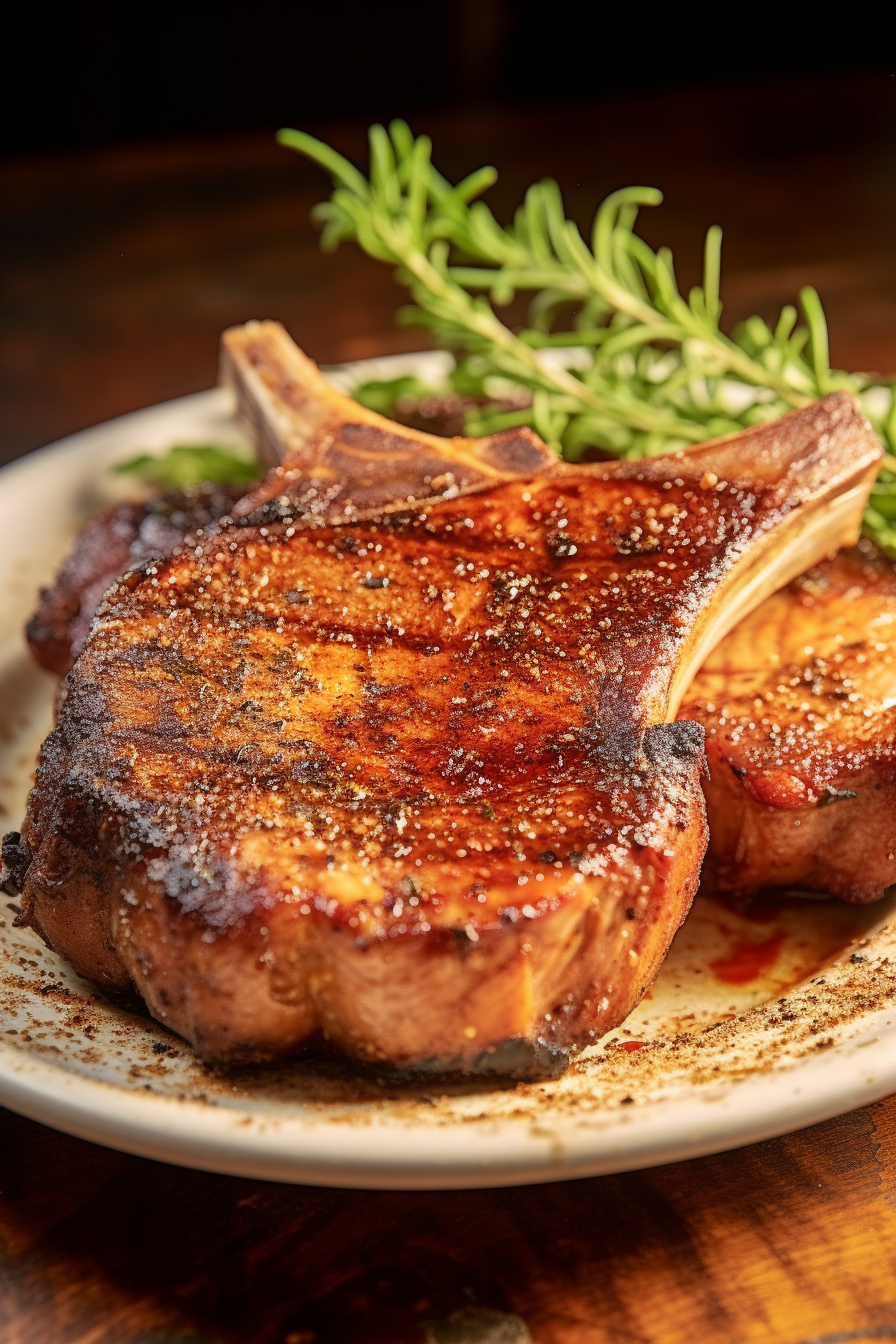 Oh, boy. Where do I even begin with these pork chops? Picture this: a warm summer evening, my family gathered around the backyard barbecue, everyone eagerly waiting for that first bite. I remember the first time I tried making pork chops – it was, in a word, disastrous. They were so tough that my neighbor's dog wouldn't even touch them! But, after countless attempts, various marinades, and a trip down the memory lane of my grandmother's cooking tips, I found it. The holy grail of pork chop recipes. I infused memories of my childhood with modern culinary techniques, and bam! The Ultimate Pork Chops were born. The kind of chops you'd daydream about during long meetings and possibly name your first-born after. Trust me; it's THAT good.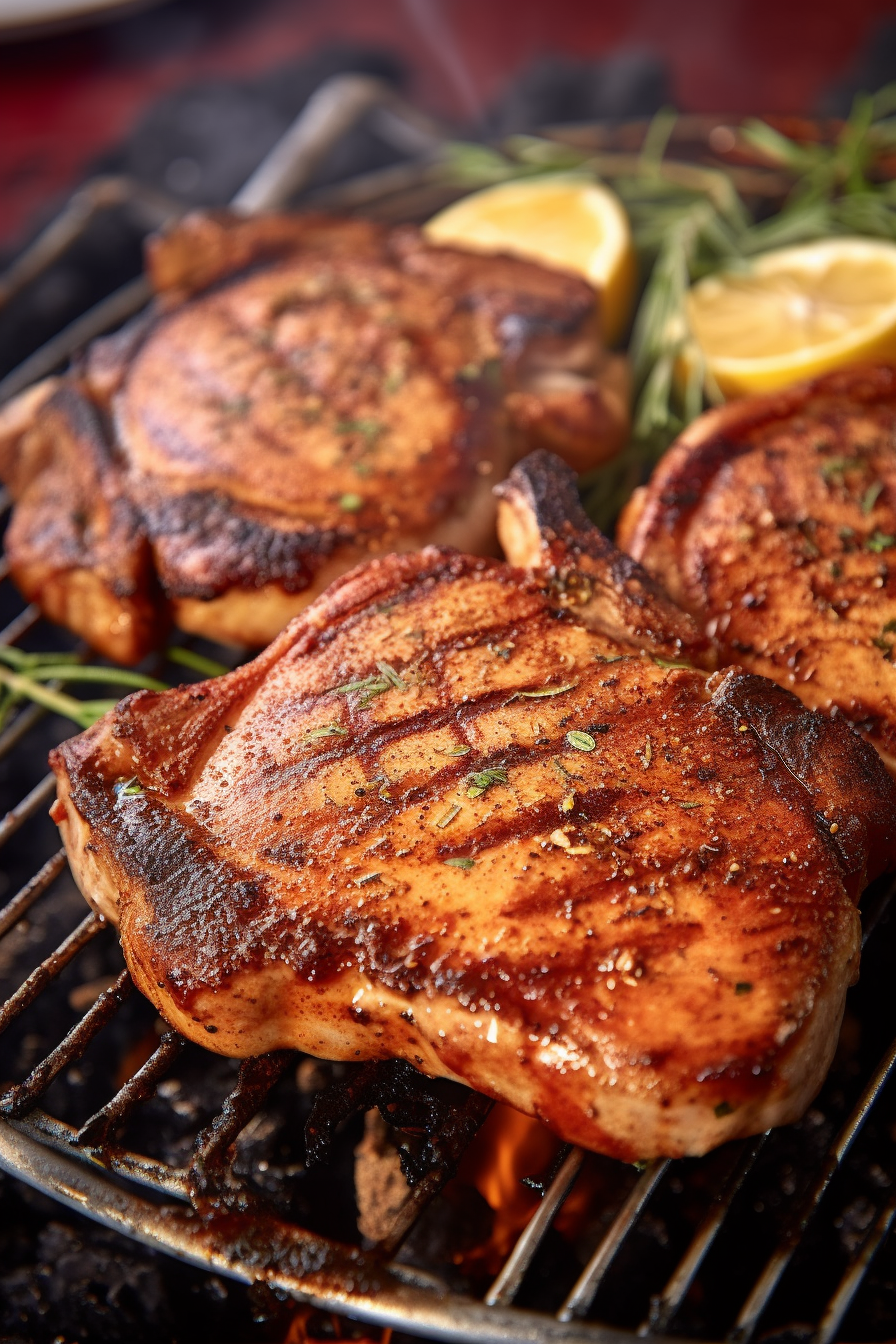 Let's talk about why these are no ordinary pork chops. First off, they're marinated overnight in a sugar-salt-water trio, ensuring each bite is filled with rich flavors and unparalleled tenderness. Seriously, these chops will have your steak knives filing for unemployment. Then there's the divine rub, blending timeless spices that guarantee every mouthful is a culinary symphony. And let's not forget the efficiency factor – just 15 minutes of active prep and cook time. Ultimate by name, ultimate by nature!
What are the ingredients for THE ULTIMATE PORK CHOPS:
Kosher Salt & Sugar: This dynamic duo is your ticket to ensuring the pork chops soak up all the juicy goodness while they're marinating.
Water & Ice: Critical for the brining process. The ice cools down the mixture, allowing for optimal brining conditions. Quality matters; try using filtered water if you can.
Bone-in Pork Chops: The bone is the secret! It not only imparts more flavor but also helps in retaining moisture, making sure the meat stays juicy. Aim for 1-inch thickness; this guarantees even cooking.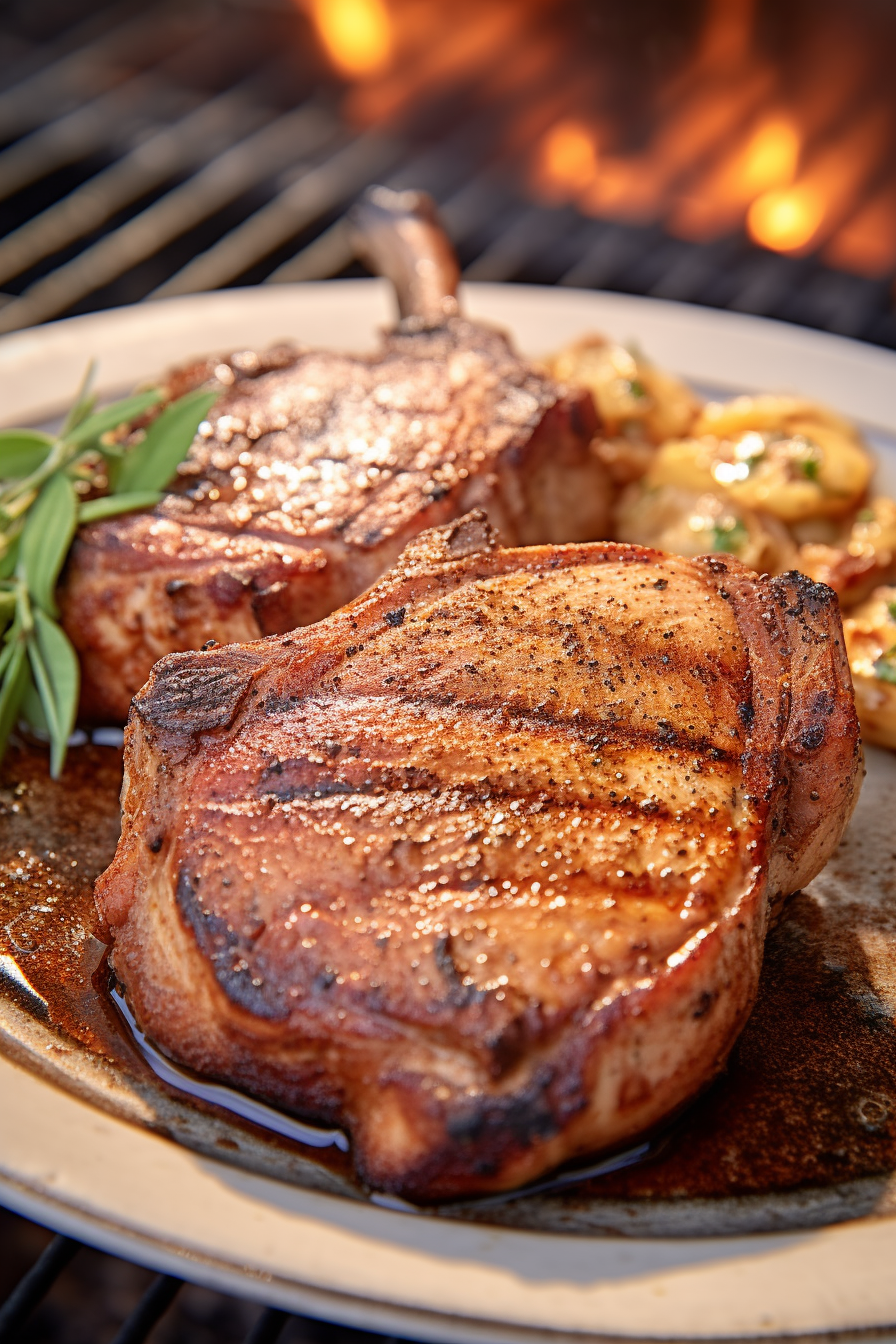 How to make THE ULTIMATE PORK CHOPS:
The Brine: Start with combining your salt, sugar, and water in a large pan. Heat it gently until both the salt and sugar dissolve. Then, imagine you're in Antarctica and cool that mixture down with ice. We want it room temp, folks!
Pork Chop Bath Time: Slide those luscious pork chops into a resealable bag, pour in your cooled brine, seal it up, and let the magic marinate. We're talking 8 to 12 hours of flavor-infusion fiesta.
Rise & Shine (and Rinse): After their rejuvenating spa treatment, get those pork chops out, give them a good rinse, and a little pat-down.
Rub-a-dub-dub: This isn't your grandma's massage technique. Combine those delectable rub ingredients and sprinkle generously on both sides of your chops.
Grill to Thrill: Fire up your grill and cook these beauties until they hit the sweet spot of 145ºF. Remember, perfection can't be rushed!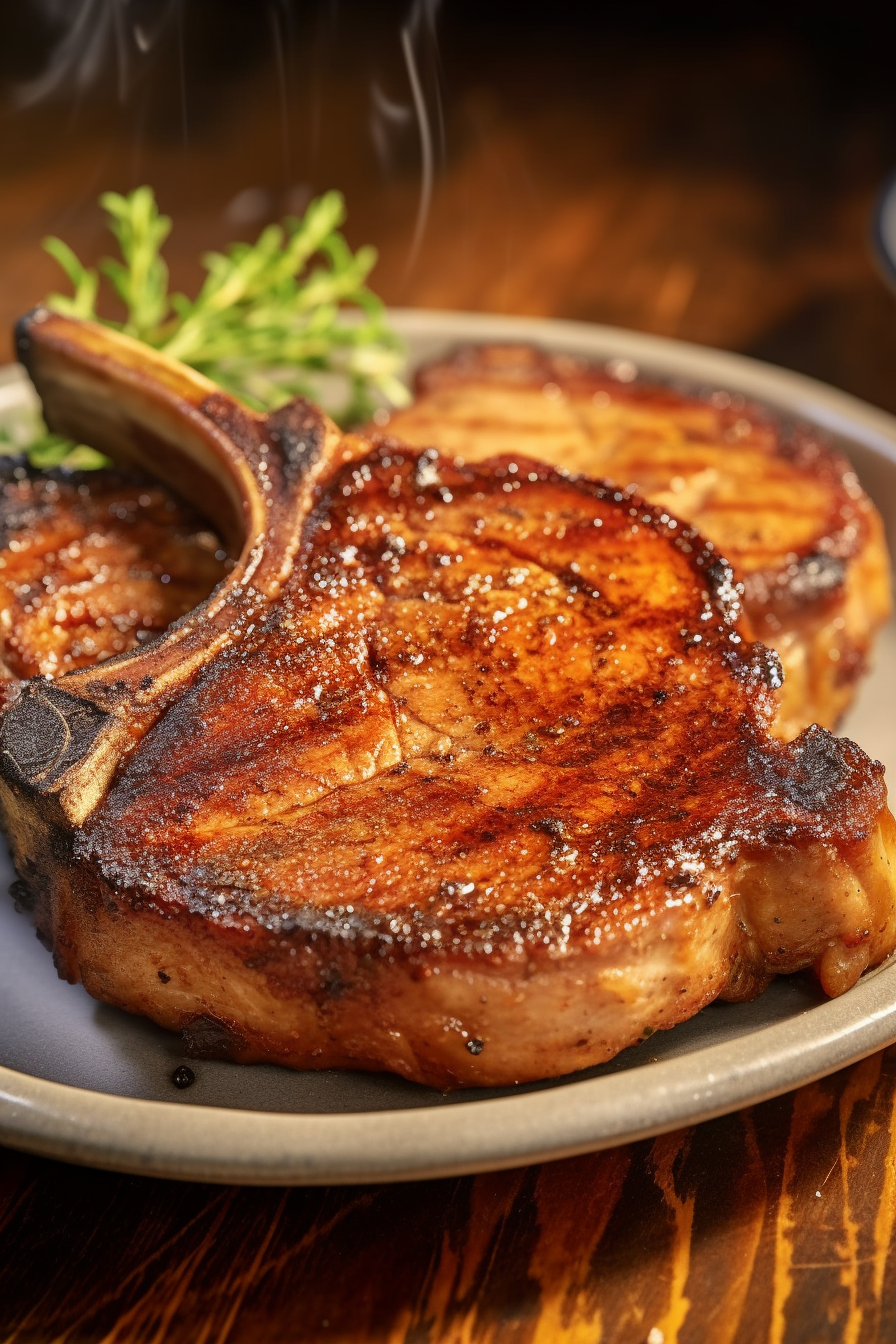 Storage Options for THE ULTIMATE PORK CHOPS:
Had too much fun and grilled more chops than your belly can handle? No worries! Place them in a sealed container and pop them into the fridge. They'll be good for about 3-4 days. For longer storage, consider freezing them. Just wrap each chop tightly in plastic wrap and then foil, label with a date, and you've got a ready-to-eat treat for up to 2-3 months.
Variations & Substitutions:
Feeling a little adventurous? For the health-conscious, you can substitute sugar with honey or maple syrup for a natural sweet touch. If you're not a fan of the spices listed, consider adding rosemary or thyme for a more earthy flavor. No grill? No problem! Oven-bake or pan-sear these babies for equally mouth-watering results. The world is your oyster… or should I say, your pork chop? 😜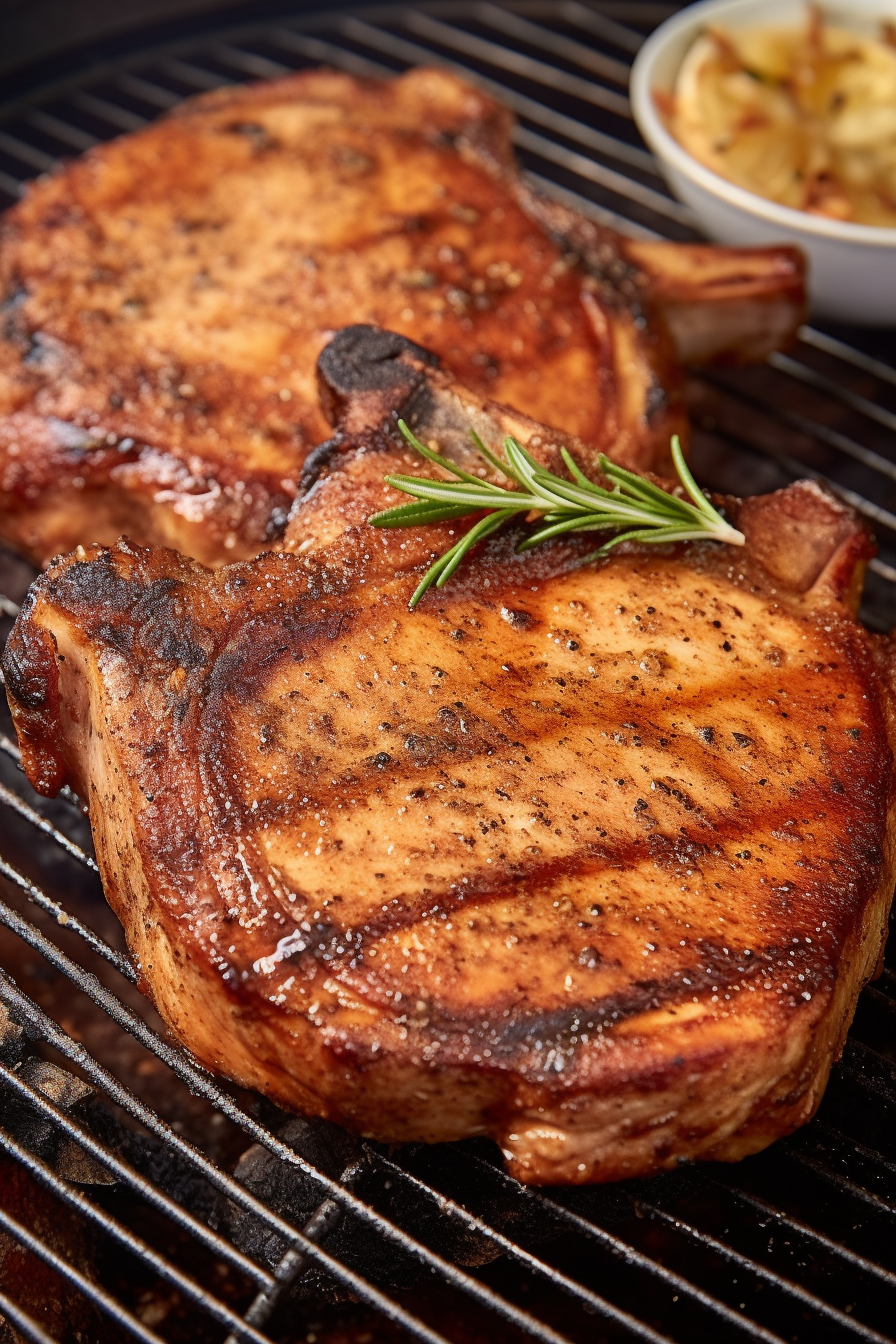 THE ULTIMATE PORK CHOPS
Dive into the mouth-watering allure of The Ultimate Pork Chops! Marinated overnight with a blend of sugar, salt, and water, then generously rubbed with a concoction of paprika, garlic, onion, and a few spices more. Grill 'em up, and let the magic happen!
Print
Pin
Rate
Ingredients
¼

cup

of kosher salt

¼

cup

of granulated sugar

2

cups

of water

2

cups

of ice

4

pork chops

bone-in, approximately 1-inch in thickness
Instructions
In a suitably sized pan, combine the kosher salt, granulated sugar, and water. Place the pan over medium heat, ensuring that the sugar and salt dissolve completely. Once achieved, remove the pan from the heat.

Subsequently, introduce the ice to the solution in the pan. This is crucial to ensure the brine cools to ambient temperature.

Carefully place the pork chops into a resealable plastic bag that can accommodate a gallon. Introduce the now cooled brine to the bag containing the pork chops. Ensure the bag is sealed properly and then place it in a refrigeration unit. It is imperative to leave the pork chops in the brine for a duration ranging from 8 to 12 hours.

Following the specified brining duration, remove the pork chops from the solution. It is vital to rinse them thoroughly and then pat them dry with absorbent paper.

Prepare a rub by combining the necessary spices. This mixture should then be applied uniformly to both sides of each pork chop.

Finally, it is time to cook the pork chops. They should be placed on a pre-heated grill and cooked until their internal temperature registers approximately 145ºF. Ensure an accurate reading with a calibrated thermometer.