Dive into a decadent dessert experience with this Pumpkin Better Than Sex Cake! Made with rich yellow cake mix, authentic pumpkin puree, luscious sweetened condensed milk, fluffy Cool Whip, crunchy Heath bits, and a drizzle of caramel. A dreamy fall treat you won't resist!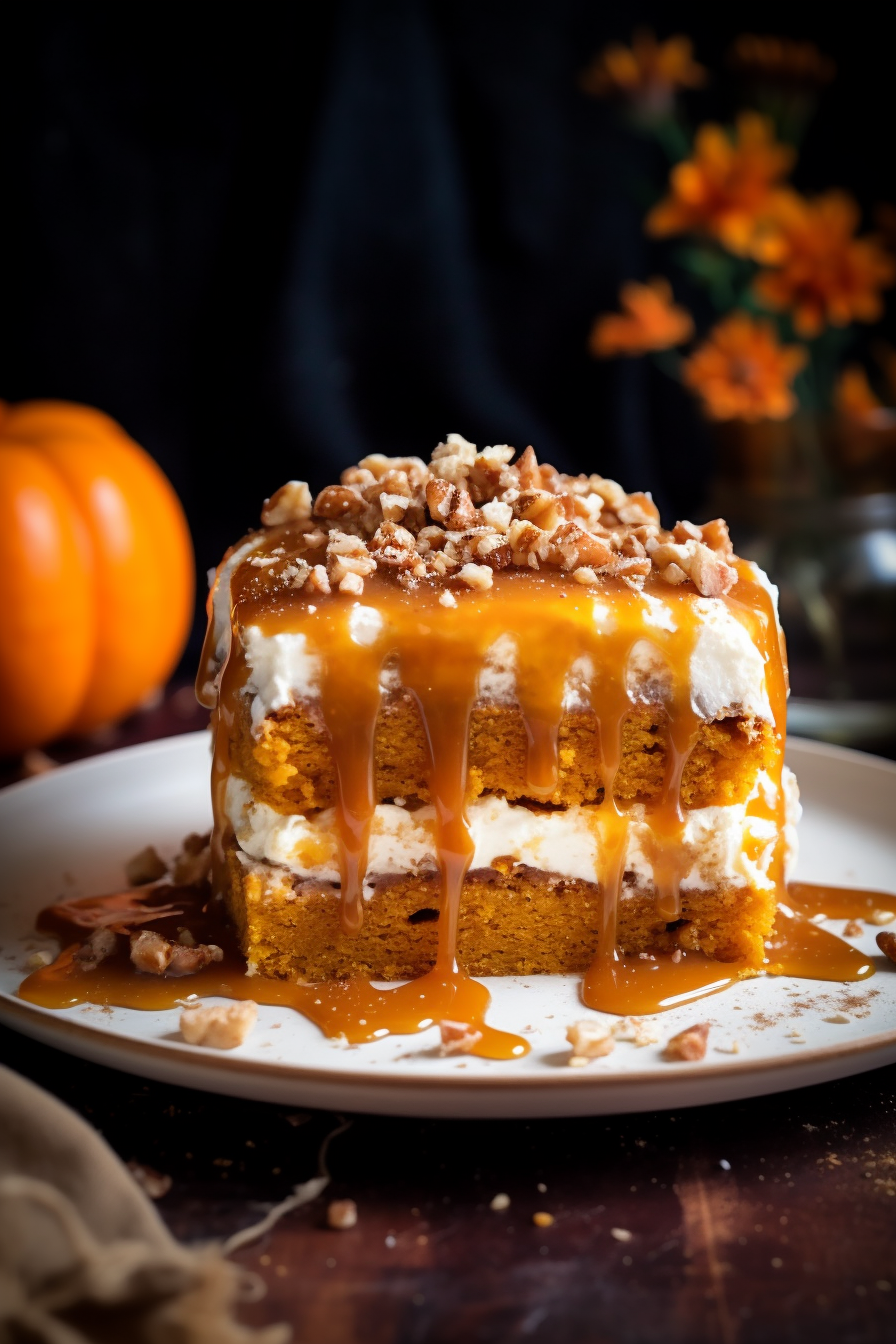 Every autumn, as leaves turned golden and the aroma of pumpkin spice wafted through the air, my grandmother would reveal her secret weapon to keep the family huddled around the table, giggling and taking another bite. She called it her "naughty dessert", but we came to know it as the Pumpkin Better Than Sex Cake. As the name suggests, it's more than just a cake – it's an experience. It embodies her playful spirit, her love for family gatherings, and of course, her unparalleled baking skills. This recipe is my ode to her; a slice of nostalgia, memories of laughter, and the warmth of family love.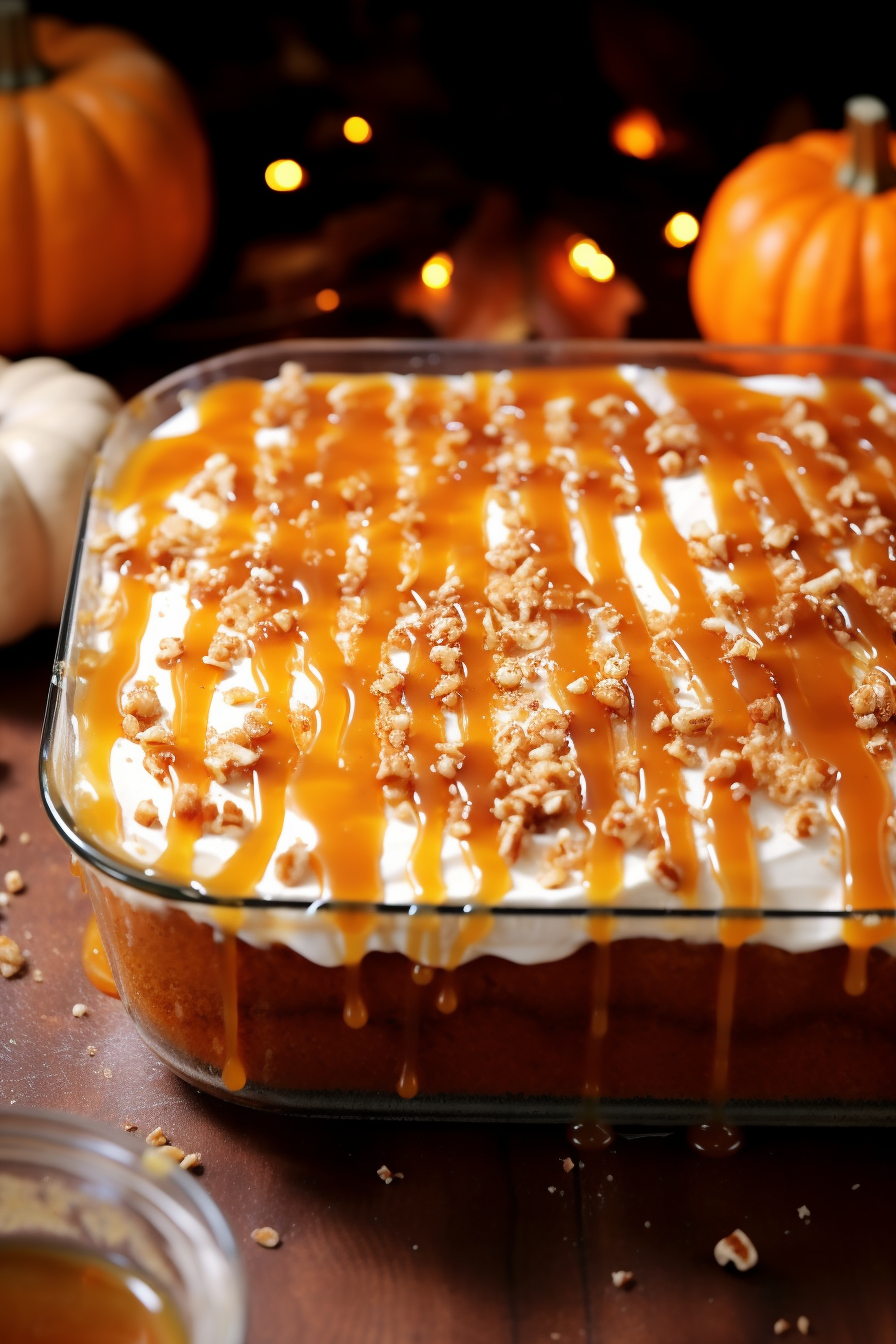 The Pumpkin Better Than Sex Cake isn't just another pumpkin cake. Firstly, its provocative name itself is a conversation starter – perfect for dinner parties.
This isn't your average pumpkin cake. Here's why:
Decadence on another level: Thanks to the sweetened condensed milk, every bite melts in your mouth, oozing with flavor.
Texture Party: The softness of the Cool Whip, the crunch of Heath bits, and the creaminess of the pumpkin base – every bite is a playful journey.
Foolproof: Even if you're more of a "burn-toast" than a "bake-toast" person, the simplicity of this recipe ensures success. The end result? A masterpiece that makes you look like a pro baker.
Versatility: Perfect for Thanksgiving, Halloween, birthdays, or even if you're just trying to impress your in-laws on a Sunday!
What are the ingredients for Garlic Butter Steak and Potatoes:
Yellow Cake Mix: This serves as our base. But if you're feeling extra fancy, try using a spiced cake mix for an additional kick.
Pumpkin Puree: Ensure you're using pumpkin puree and not pumpkin pie mix. There's a difference, and trust me, you don't want to learn it the hard way!
Sweetened Condensed Milk: Fat-free works just as good, but if you're going for that full indulgence, why not stick to the original?
Cool Whip: Gives that light, airy touch, balancing the richness of other ingredients.
Heath Bits: For that crunch. But hey, more on variations later.
Caramel Sundae Sauce: Because everything's better with caramel, isn't it?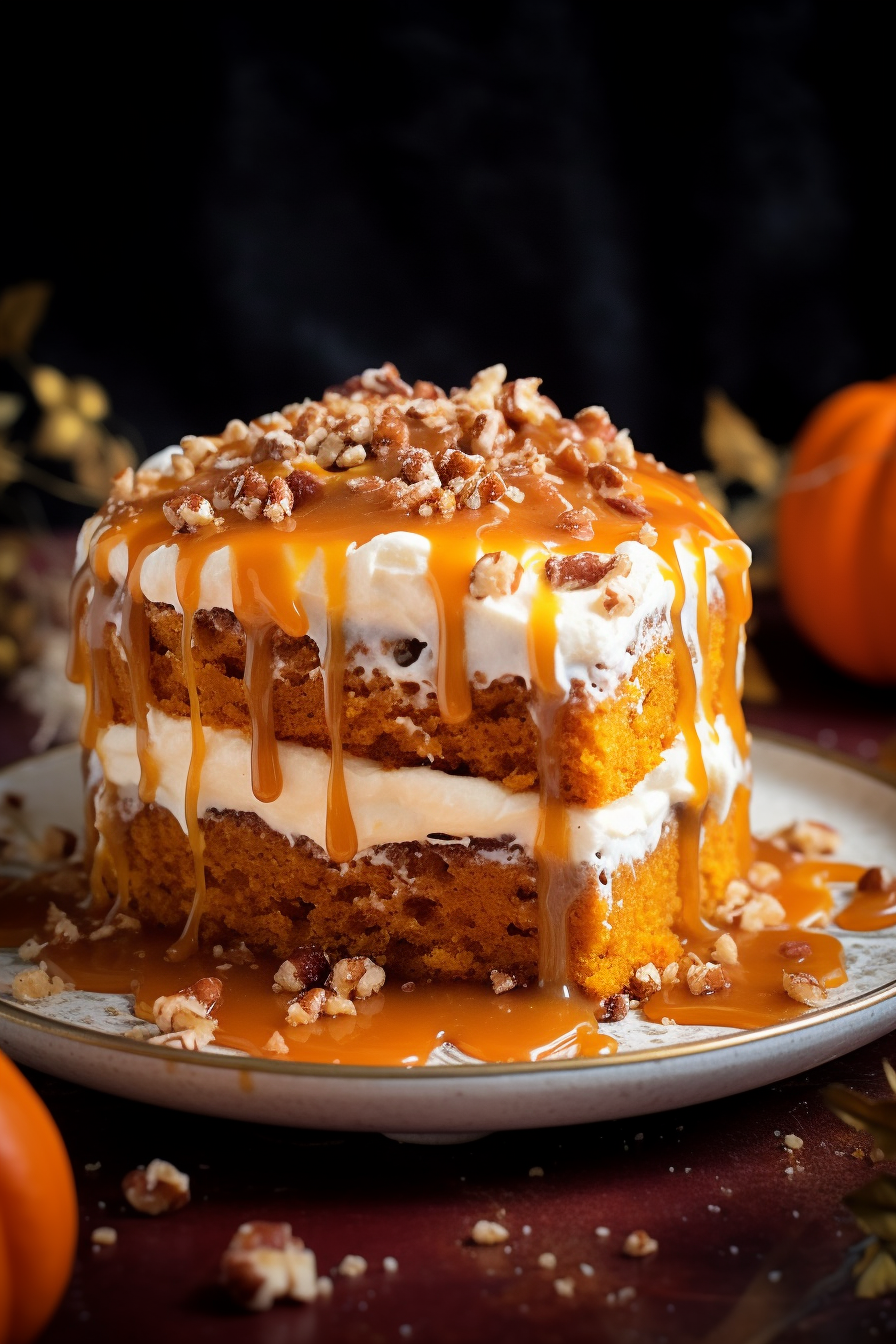 How to make Pumpkin Better Than Sex Cake:
Let's make magic, step by step:
Start with the base: Grab a large bowl and combine your yellow cake mix with the pumpkin puree. Mix till it's smoother than a jazz song and pour that batter into a greased 9×13 baking dish. Pop it into the oven at 350 F. Check the back of the cake mix box for precise timings, usually around 23-28 mins. Let it tan till it's golden and gorgeous!
Let's Poke: Once out and cooled for about 10 minutes, channel your inner woodpecker and poke holes all over with the end of a wooden spoon.
Pour in Sweetness: Time for that gooey sweetened condensed milk to shine. Pour it over so it seeps into those holes, turning our cake into a spongy sweet treat.
Cool it Down: Into the fridge it goes! Let it chill for 30 minutes.
Finishing Touches: Now, spread that Cool Whip like you're icing a cloud. Sprinkle it with Heath bits like autumn leaves, and finally, drizzle that caramel as if you're painting a masterpiece.
Patience: Refrigerate for another 3-4 hours, or overnight if you can resist the temptation!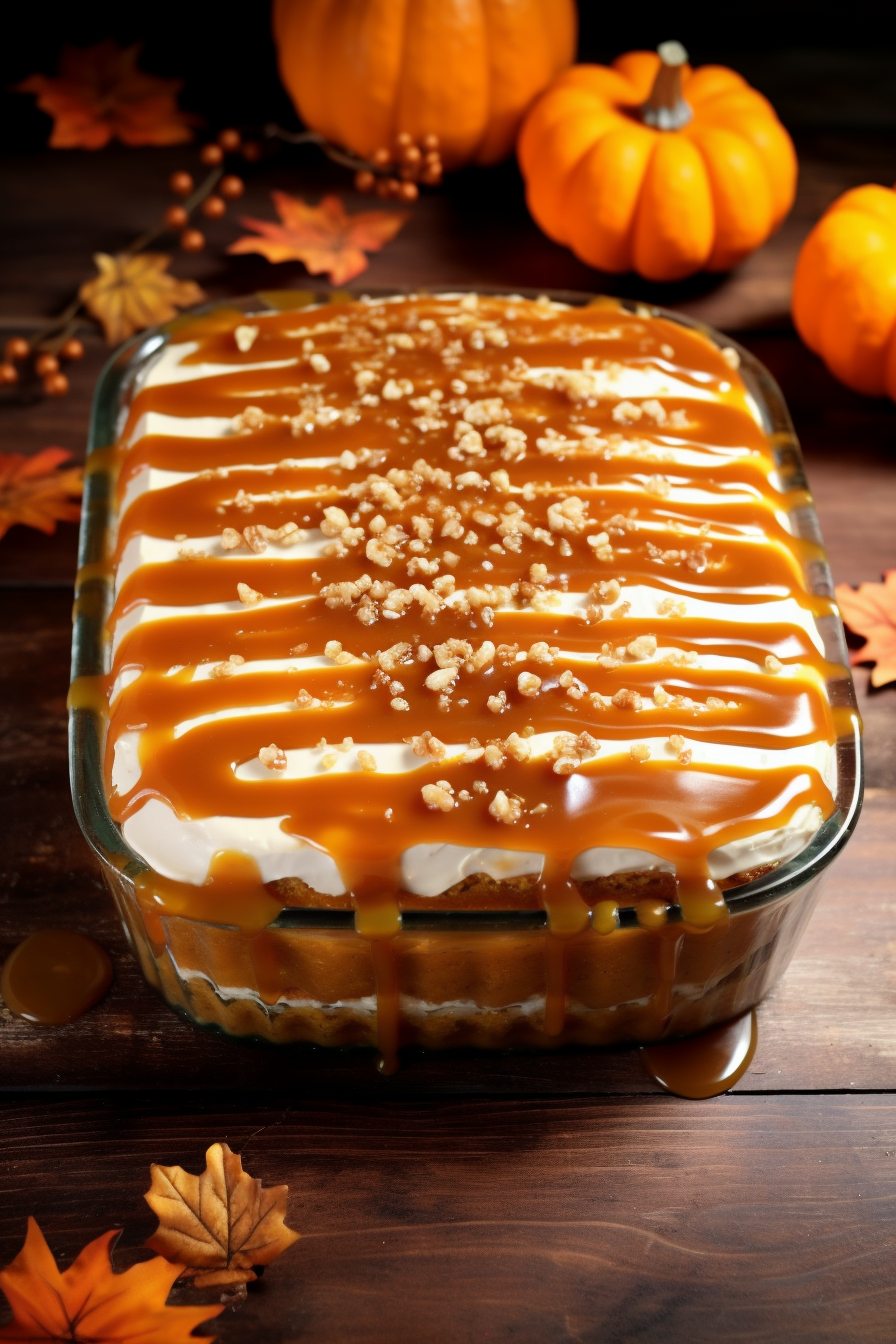 How to store this Pumpkin Better Than Sex Cake:
After impressing everyone with your culinary magic, if there are leftovers, tightly cover your cake and store it in the refrigerator for up to 3 days. For longer storage, though I doubt there will be a crumb left, you can freeze individual slices wrapped in plastic wrap and foil for up to a month.
Variations and Substitutions:
Feeling adventurous?
Cake Mix: Swap yellow for a spiced or chocolate cake mix.
Bits and Bobs: Not a Heath fan? Crushed pecans, walnuts, or even chocolate chips can stand in.
Sauce Swap: Try chocolate or butterscotch instead of caramel.
Go Dairy-Free: Use a dairy-free whipped topping and dairy-free condensed milk. Ensure other ingredients align with your dietary needs!
Alright, future star baker, time to preheat that oven and embark on this sweet journey! Remember, if anyone asks if it's really "Better Than Sex", just wink and say, "Bake it and see!" 😉🎃🍰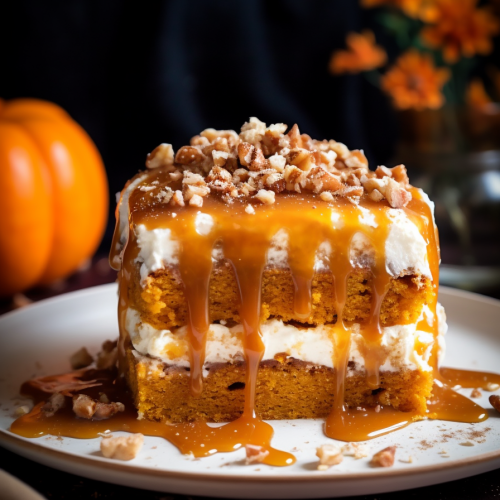 Pumpkin Better Than Sex Cake
Dive into a decadent dessert experience with this Pumpkin Better Than Sex Cake! Made with rich yellow cake mix, authentic pumpkin puree, luscious sweetened condensed milk, fluffy Cool Whip, crunchy Heath bits, and a drizzle of caramel. A dreamy fall treat you won't resist!
Print
Pin
Rate
Ingredients
1

box of yellow cake mix

15.25 oz

1

can of pure pumpkin puree

15 oz. – Note: Avoid using pumpkin pie mix.

1

can of sweetened condensed milk

14 oz. – Fat-free variation is acceptable.

1

package of Cool Whip

8 oz

4

oz

of Heath bits

from an 8 oz bag

Caramel sundae sauce for garnishing
Instructions
In a sizeable mixing bowl, thoroughly combine the yellow cake mix and pumpkin puree to achieve a consistent batter.

Transfer the batter into a suitably greased 9×13 baking dish.

Bake the mixture at a temperature of 350 F, adhering to the duration specified on the cake mix packaging, typically ranging from 23-28 minutes.

Once baked, allow the cake to cool for approximately 10 minutes.

Utilize the handle end of a wooden spoon to create uniform holes across the surface of the cake.

Evenly distribute the sweetened condensed milk over the cake, ensuring it permeates the holes and is absorbed by the cake.

Place the cake in a refrigerator and allow it to chill for a duration of 30 minutes.

After the refrigeration period, uniformly apply the Cool Whip on the cake's surface. Subsequently, garnish with Heath bits and an adequate amount of caramel sundae sauce.

For optimal results, refrigerate the cake for an additional 3-4 hours or let it set overnight.