Delight in a cookie recipe made with the rich flavours of softened unsalted butter, refined caster sugar, zesty lemon hints, and crowned with a dollop of tangy-sweet lemon curd. Yum in every bite!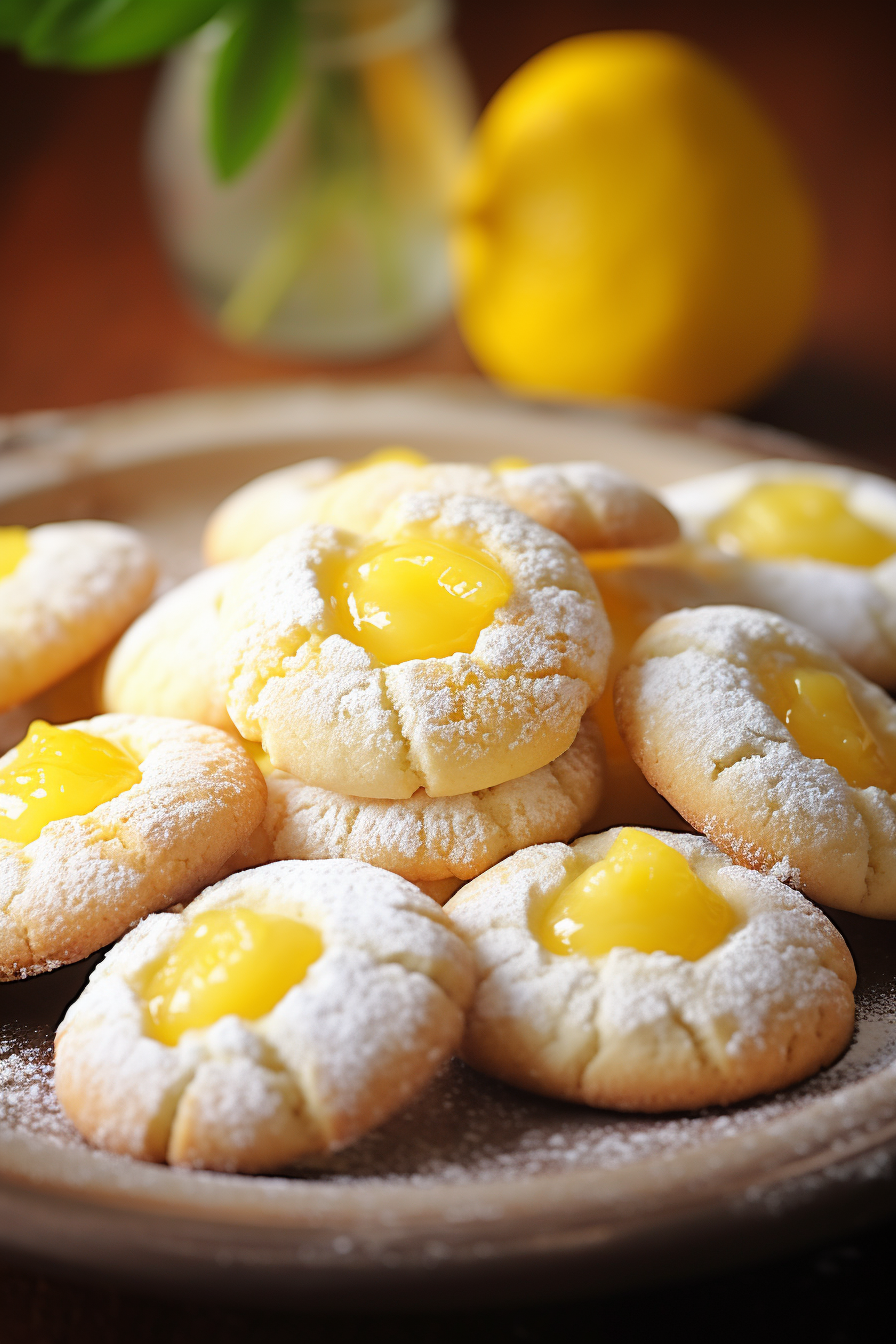 Oh, where do I begin with these Lemon Curd Cookies? They transport me straight back to those long summer days at Grandma's cottage. Every June, when the lemon trees in her backyard would be heavy with fruits, Grandma and I would sneak into the kitchen. She'd hand me a tiny wooden spoon, and we'd embark on our culinary escapades. These cookies were our little secret, our slice of summer in a bite. She'd always say, "It's not just about the lemon, darling, but the memories we bake into it." And each time I bake these, I'm reminded of those golden days, the laughter, the stories, and of course, the unmatched taste of love and lemons. So, here I am, sharing a piece of my heart with you, hoping you too will create memories as sweet as these cookies!
Why You'll Love Lemon Curd Cookies:
What sets our Lemon Curd Cookies apart? Three words: Texture, Taste, and Tradition.
Firstly, they offer a melt-in-the-mouth experience, seamlessly blending the crispiness of the cookie with the smooth, luscious lemon curd.
Then there's the taste – a harmonious fusion of tangy and sweet, a dance of flavours that playfully teases your palate.
And the cherry on top? The age-old tradition. This isn't just a recipe; it's a journey down memory lane. Every cookie is a tale, a golden snippet of yesteryears. Dive in and relive the magic.
Ingredients Notes For Lemon Curd Cookies:
Unsalted butter: Go for the high-quality ones. The better the butter, the richer the cookie.
Caster sugar or powdered sugar: These sugars melt seamlessly, giving the cookies that impeccable melt-in-the-mouth texture.
Egg yolk: Just the yolk, folks! This gives the cookie its rich, golden hue.
Lemon zest & juice: Fresh is best! It gives that zesty, aromatic flair which elevates the cookie.
Salt: A wee bit for balance, because life's all about balance, right?
All-purpose flour: The backbone of our cookie. Make sure it's well-sifted.
Lemon curd: Now, here's the star of our show. Whether you're using store-bought or homemade, make sure it's of top quality for that tangy-sweet punch.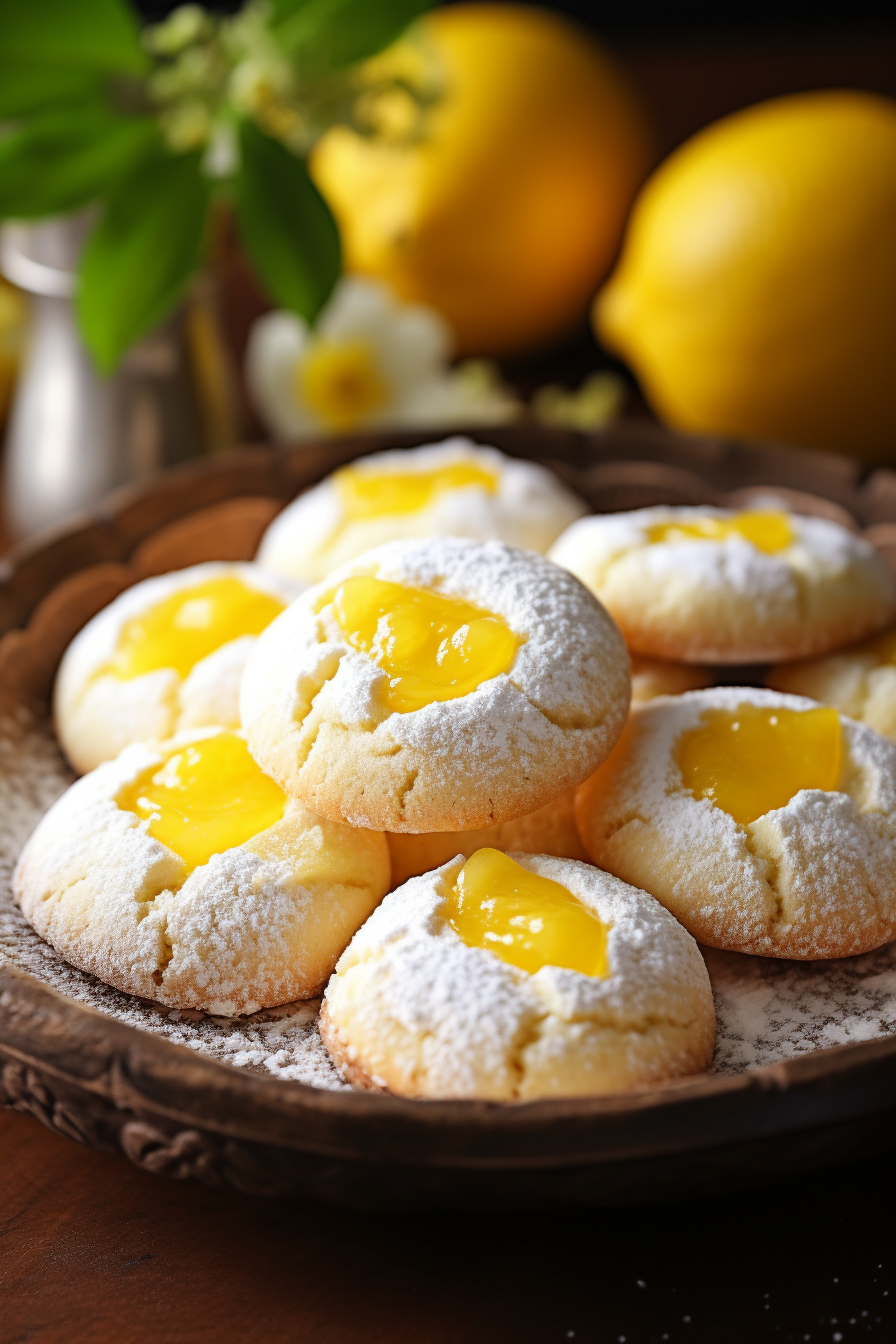 Step-by-step Instructions To Make Lemon Curd Cookies:
Prep Oven: Fire up that oven to 180°C, making sure it's evenly heated. And don't forget to line your tray with a parchment sheet; this is the cookie catwalk, after all.
Creaming Session: In your stand mixer, let the butter and sugar have a little party until they're all smooth and pale. 3-4 minutes should do the trick.
Add The Gold: Time to introduce the yolk, lemon zest, juice, and salt. Give it a gentle beat until they're all mingling well.
Flour Power: On a low mixer speed, incorporate the flour. Mix until those moist clumps form, but don't overdo it. We want gentle clumps, not a flour storm.
Doughy Delights: Gather that dough, treat it like the precious entity it is. Roll it into 1-inch balls, ensuring each one is a perfect little sphere.
Position Perfectly: Space these beauties on your prepped sheet, ensuring there's an inch of space between each. They need their personal space too!
Indentation Creation: Now, with your floured finger, channel your inner sculptor and create a deep indentation in the centre. Perfect for our curd crown!
First Bake: Pop them in the oven and wait for them to get firm with a light golden bottom. 18-20 minutes is the sweet spot.
Lemon Curd Throne: Out they come, and if the indentations have reduced, fret not. While still hot, reshape them a tad with a spoon and fill 'em up with that delicious lemon curd.
Second Bake (Optional): If you want, give them another quick bake for a couple of minutes. But if you're as impatient as I am, skip and dive right in!
Final Touch: Dust those darlings with a sprinkle of icing sugar. Because who doesn't love a snowy touch?
Variety Alert: If you're feeling extra fancy, why not try turning them into Lemon Curd Tartelettes?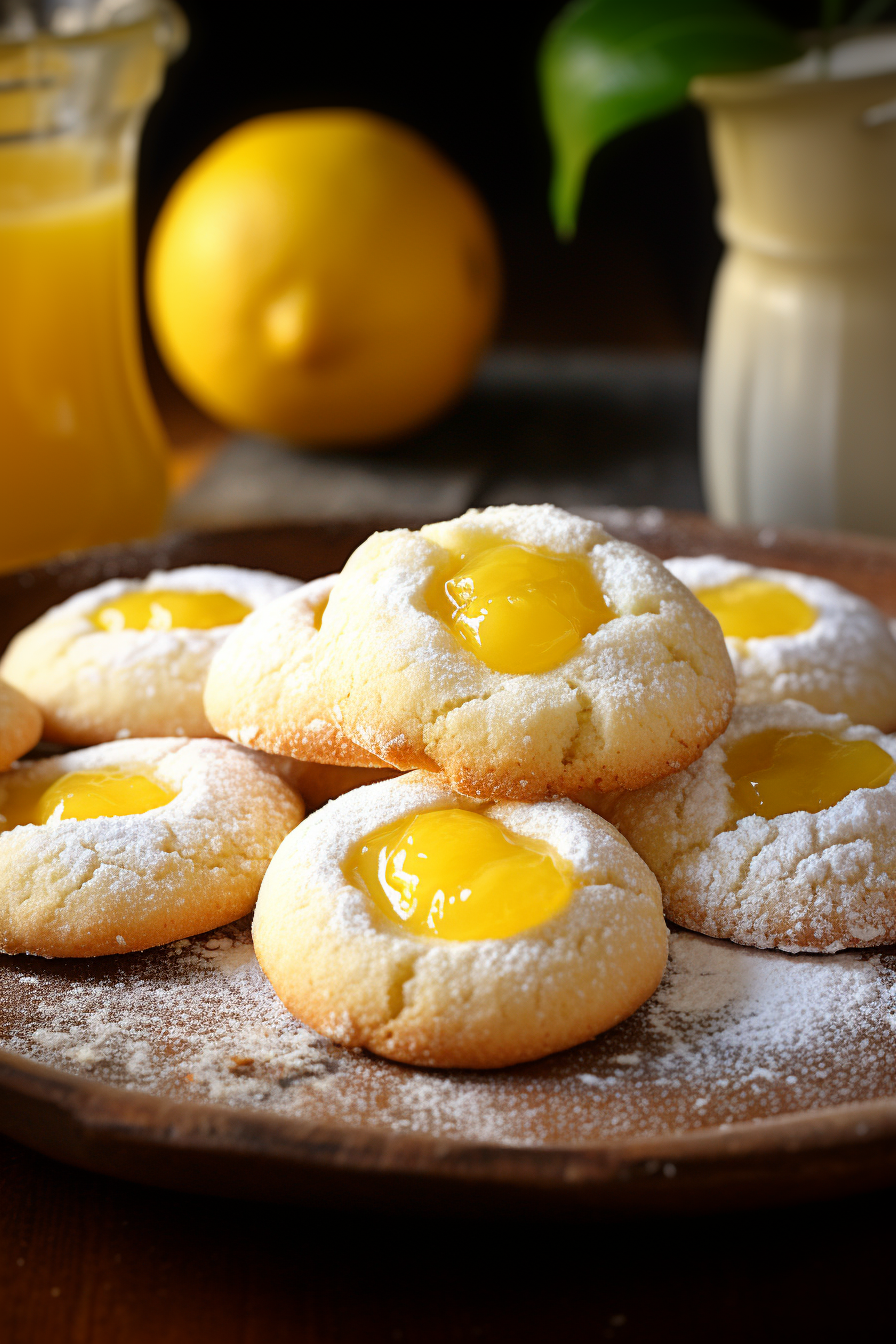 Storage Options:
Wondering where to stash these lemony treasures? Cool them completely and store in an airtight container. They should be good for up to a week. But let's be real, they'll be gobbled up way before that!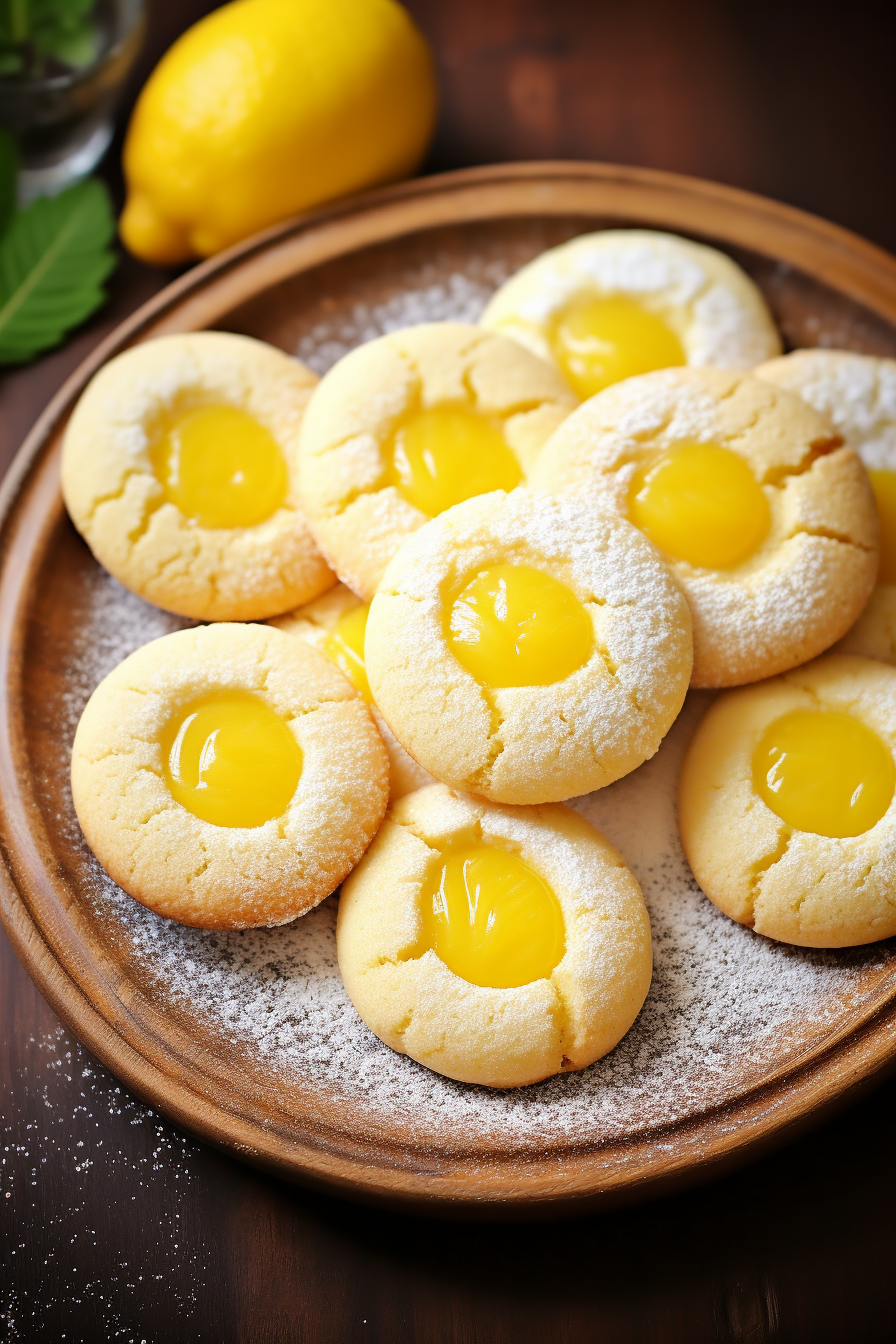 Variations & Substitutions:
Feeling experimental?
Orange or Lime Curd: Swap lemon for a different citrusy twist.
Gluten-Free Flour: For those avoiding gluten, a good quality gluten-free flour blend can be your go-to.
Vegan Version: Use vegan butter, a flax egg, and vegan lemon curd to keep things plant-based.
Add-ins: Feeling nutty? Throw in some crushed almonds or walnuts for an added crunch.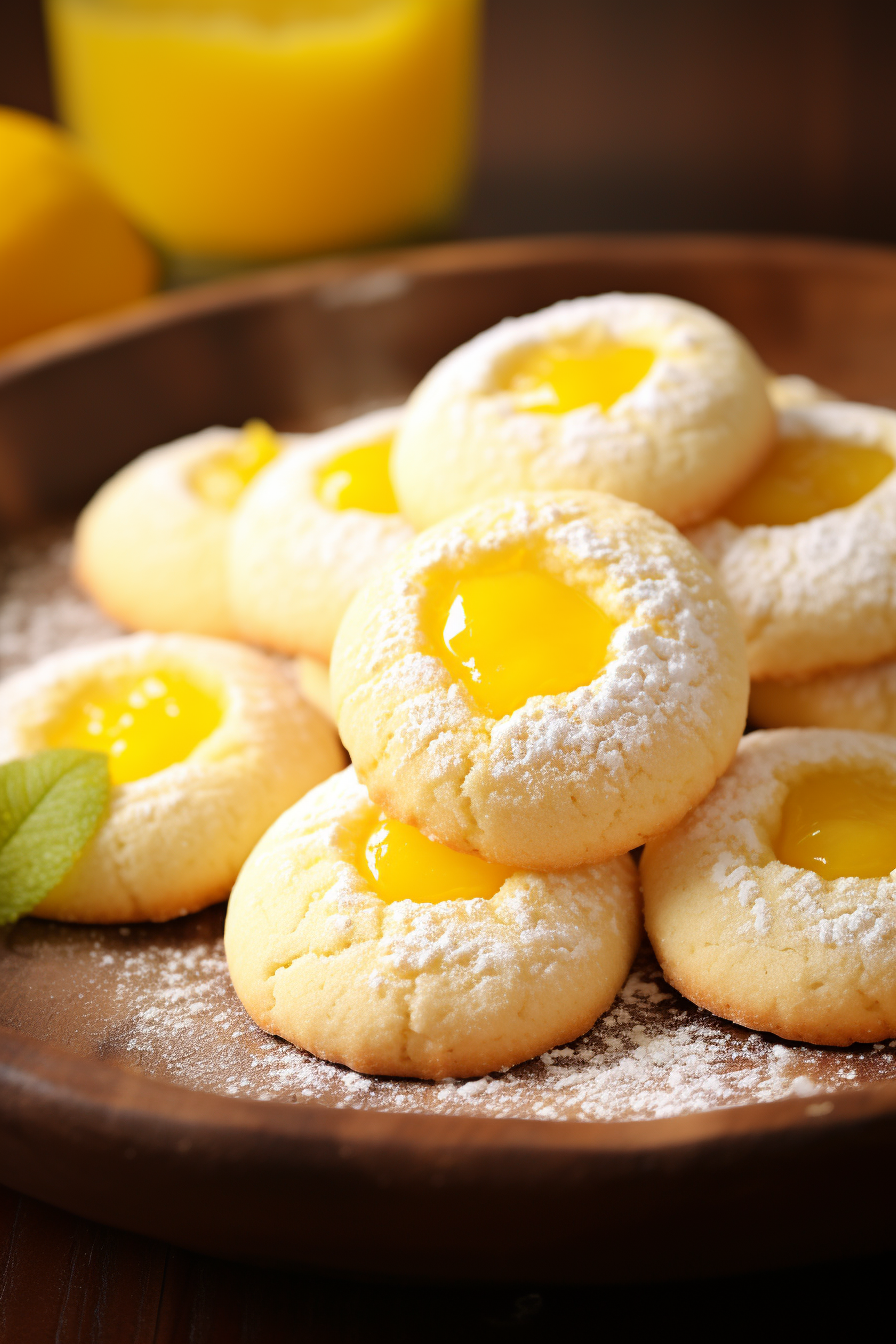 Remember, as Grandma always said, "It's all in the journey, not just the destination." Enjoy every moment of baking these cookies, and even more, the joy of devouring them!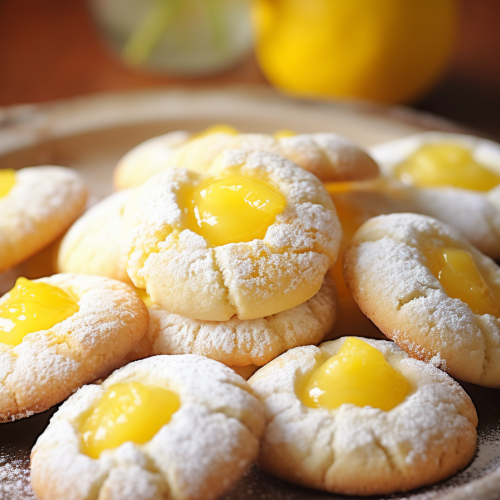 Lemon Curd Cookies
Delight in a cookie recipe made with the rich flavours of softened unsalted butter, refined caster sugar, zesty lemon hints, and crowned with a dollop of tangy-sweet lemon curd. Yum in every bite!
Print
Pin
Rate
Ingredients
½

cup

of unsalted butter

brought to room temperature

¼

cup

of caster sugar or powdered sugar

1

egg yolk

exclude the egg white

½

tablespoon

of grated lemon zest

1

tablespoon

of fresh lemon juice

½

teaspoon

of salt

1¼

cups

of all-purpose flour

½

cup

of premium lemon curd
Instructions
Preparation: Preheat the oven to 180°C. Ensure that a baking tray is adequately lined with a parchment sheet to facilitate the baking process.

Mixture Formation: Utilizing a stand mixer, cream the unsalted butter and sugar together until the consistency is smooth and the color turns pale. This should take approximately 3 to 4 minutes.

Incorporate Additional Ingredients: Proceed to add the egg yolk, lemon zest, lemon juice, and salt to the mixture. Beat these ingredients until they are thoroughly combined.

Flour Integration: While maintaining the mixer on a low setting, incrementally add the all-purpose flour. Continue to mix until moist clusters form. Avoid overmixing.

Dough Preparation: Manually gather the dough to form a cohesive ball. Handle the dough with care, ensuring not to overwork it.

Shaping the Cookies: Measure and take 1 tablespoon of the dough and form it into a ball with a diameter of approximately 1 inch. Place these balls on the prepared baking tray, ensuring they are spaced at least 1 inch apart to avoid merging during baking.

Creating an Indentation: With a floured finger or the back of a spoon, create a deep indentation in the center of each dough ball. The indentation should be deep enough to accommodate 1 teaspoon of lemon curd.

Initial Baking Phase: Place the tray in the preheated oven and bake the cookies until they become firm and the bottoms turn a light golden color. This should take between 18 to 20 minutes.

Adding Lemon Curd: Once removed from the oven and while the cookies are still hot, assess the depth of the indentations. If they appear shallow, re-establish the depth using a spoon. Subsequently, fill each indentation with lemon curd.

Secondary Baking Phase (Optional): If desired, return the cookies to the oven for an additional 2 minutes to set the lemon curd. Alternatively, one can proceed to the next step if the cookies are to be consumed immediately.

Final Presentation: Once fully cooled, dust the top of each cookie with a fine layer of icing sugar to enhance their visual appeal.

Alternative Variation: One may consider crafting Lemon Curd Tartelettes using a similar methodology.