Feast on our Bacon Jalapeño Popper Cheese Balls with cream cheese, sharp cheddar, fresh jalapeños, and crispy bacon – a spicy, creamy appetizer that's sure to disappear quickly at any gathering!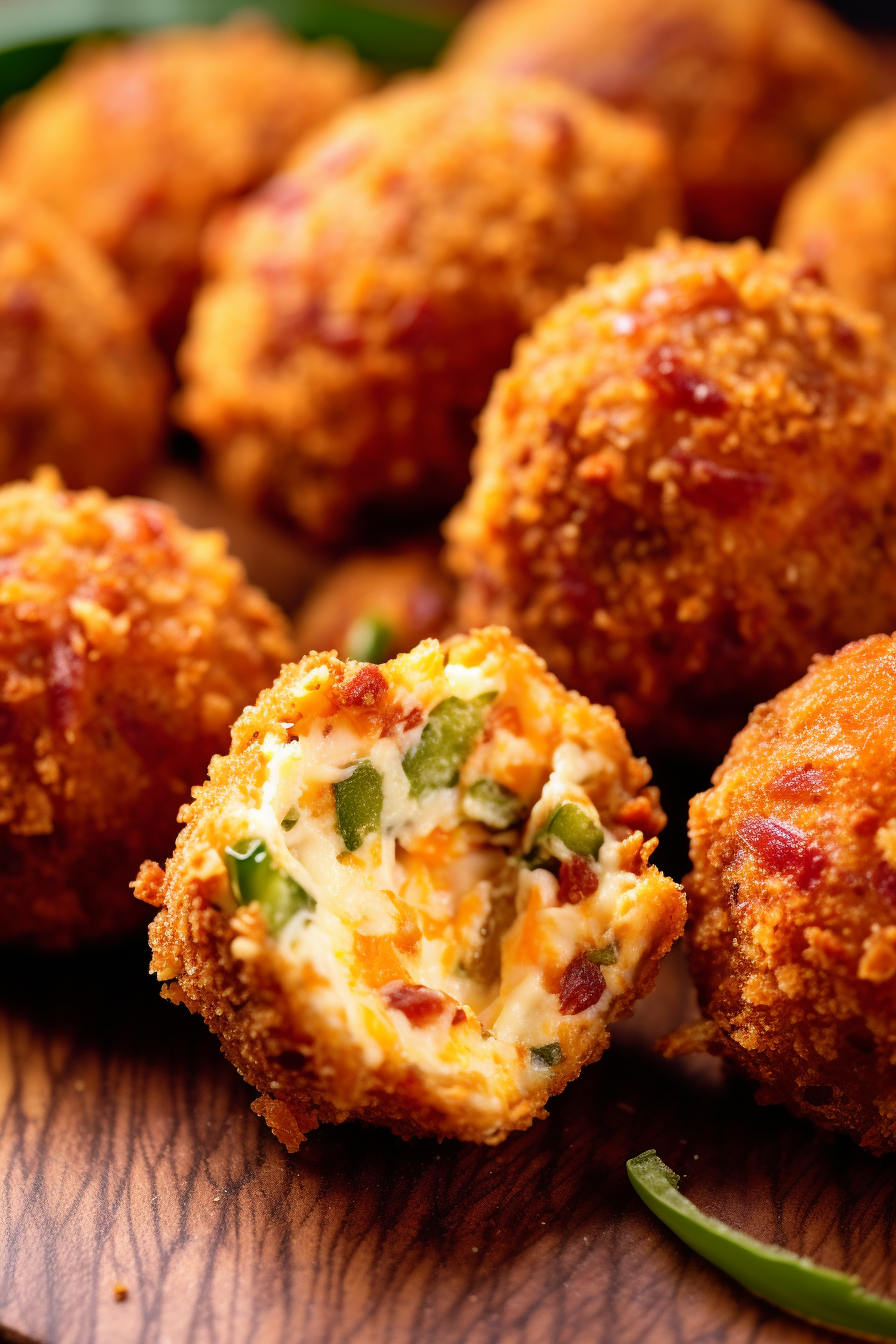 Let's take a little stroll down memory lane to grandma's kitchen, shall we? Now, my grandma was the queen of holiday spreads. Her secret weapon? A recipe for Bacon Jalapeño Popper Cheese Balls that was so hush-hush, it might as well have been a family heirloom. Every Thanksgiving, while the turkey was the main event, these little balls of joy were the undercover stars. Each bite was like a nostalgic hug, a fiery dance of jalapeño and bacon that made you feel alive. Grandma would wink and say, "It's all about balance," as she expertly mixed her ingredients with love and a pinch of sass. When she passed down the recipe to me, it was more than just a list of ingredients; it was a treasure trove of giggles, sneaked bites, and the art of turning simple gatherings into memorable feasts.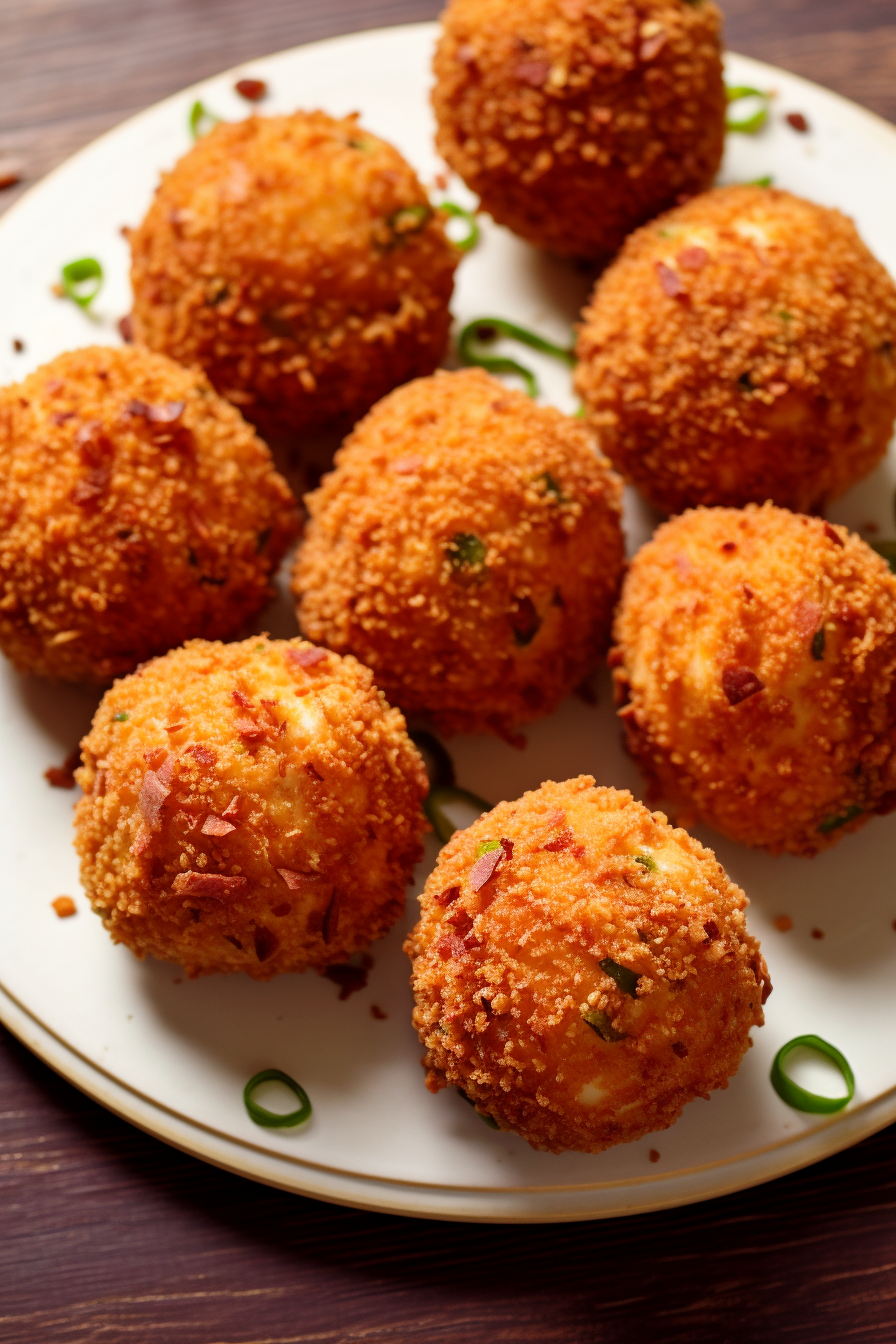 Why You'll Love Bacon Jalapeño Popper Cheese Balls:
Our Bacon Jalapeño Popper Cheese Balls are not your average cheese ball. Here's why they're the ultimate appetizer:
Flavor Explosion: Combining the smokiness of bacon with the kick of jalapeño and the richness of cream cheese, these balls pack a punch of bold flavor.
Easy Peasy: With a prep time of just 10 minutes, these little beauties are all about maximum impact with minimal effort.
Finger Food Fun: Designed for grazing, they're the perfect size for popping into your mouth – no cutlery necessary.
Cheese Please: We go heavy on the cheese factor with both cream cheese and sharp cheddar for that irresistible, cheesy pull.
Festive & Versatile: Whether it's game day or a fancy shindig, these cheese balls fit right in. They're the chameleons of the appetizer world.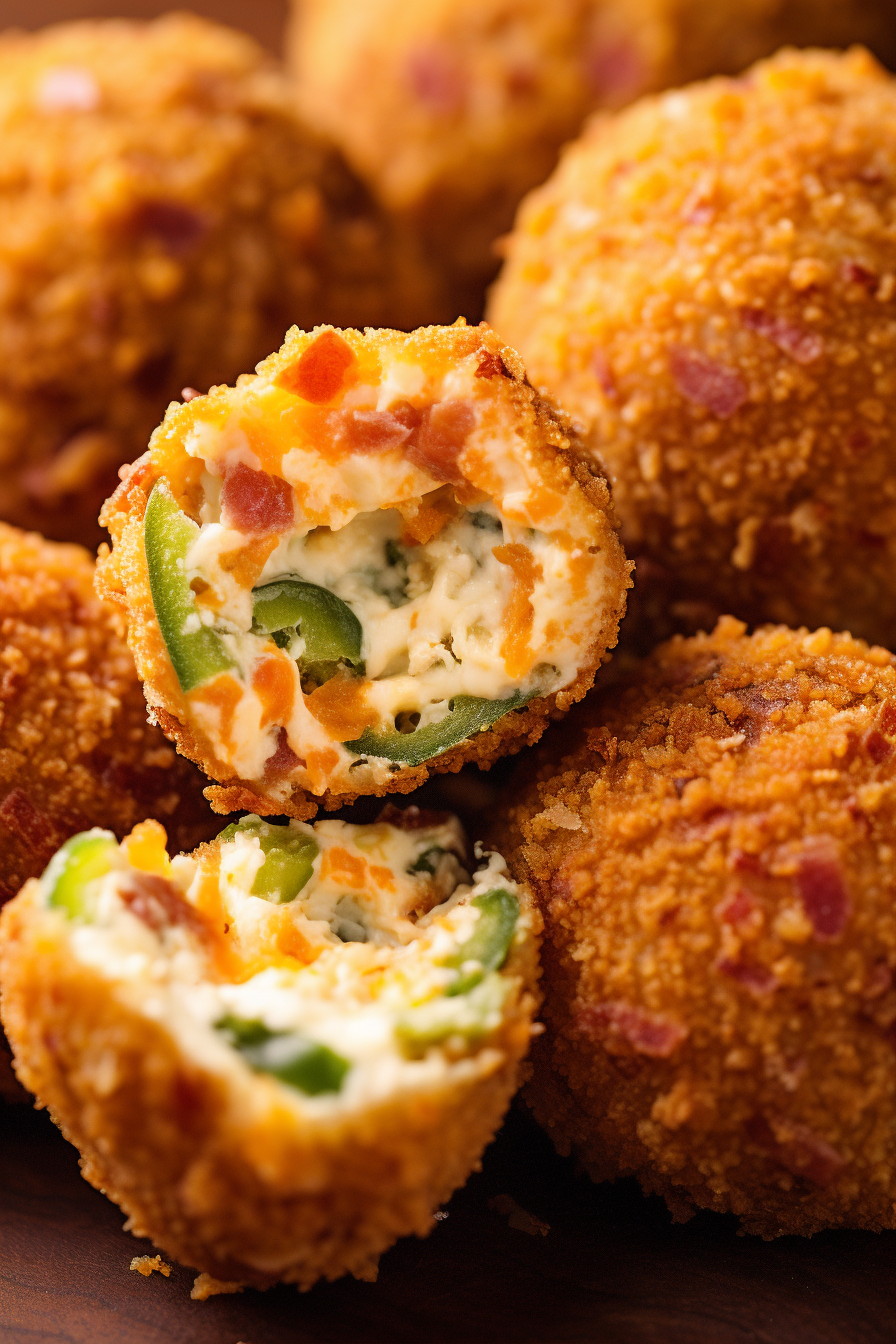 Ingredients Notes For Bacon Jalapeño Popper Cheese Balls:
Okay, fellow foodies, let's dish out some insider info on the stars of our show, the "Bacon Jalapeño Popper Cheese Balls":
Cream Cheese: The backbone of our cheese balls, it brings the creamy dreamy texture we're after. Let it soften to room temperature for easier mixing.
Mayonnaise: Just a dollop does the trick, adding a subtle tang and helping to keep our cheese balls delightfully moist.
Chives & Red Onion: These bring the freshness and a hint of sharpness, perfectly balancing the richness of the cheese and bacon.
Jalapeños: The fire to our firework! Removing the seeds tames them just enough to let everyone enjoy the warmth without the burn.
Crispy Bacon: The more, the merrier, I always say. It's bacon, need I say more? Use it inside for flavor and outside for that irresistible crunch.
Sharp Cheddar: Because if it's worth doing, it's worth doing with extra cheese. It's sharp, it's tangy, it's everything.
Spices: A pinch of black pepper and a whisper of Cayenne pepper unite to give these cheese balls a subtle kick that will keep you coming back for more.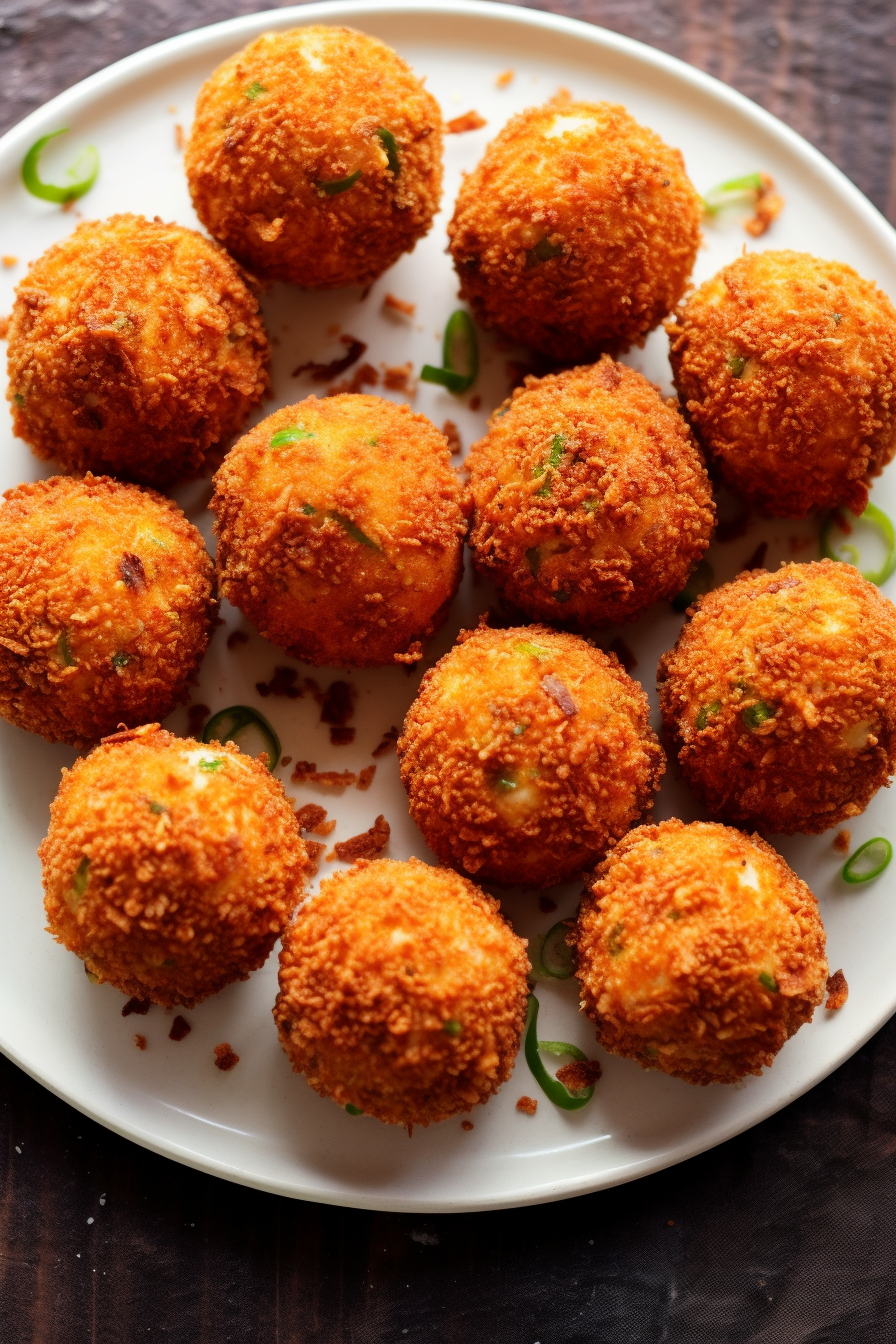 How To Make Bacon Jalapeño Popper Cheese Balls:
Ready to get your hands cheesy? Here's how you whip up these bad boys:
Intro: Imagine the most indulgent cheese ball met a jalapeño popper at a party, and they hit it off immediately. Now, it's your turn to play matchmaker and combine these ingredients to create the ultimate party starter!
Step 1: Start by taking a large bowl and throwing in the softened cream cheese. It's like the pool where all our ingredients are going to take a dip. Add the mayonnaise, shredded cheddar, diced jalapeño, 1/2 cup of the bacon crumbles (save the rest for later – patience is a virtue), red onion if you're using it, and the spices. Now, mix them until they're as fluffy as a cloud in a blue summer sky. This is your cheese ball base – think of it as the canvas for your masterpiece.
Step 2: Next, let's set the stage for the grand finale. Take the remaining bacon crumbles and spread them out on a shallow plate like a bacon blanket. Using a cookie scoop or a spoon if you're old-school, scoop out a portion of the cheese mixture and gently roll it into a ball. Now, give that ball a bacon jacket by rolling it in the bacon crumbles until it's fully coated. It's like a mini spa day for each cheese ball – they'll come out looking (and tasting) better than ever.
Step 3: Once all your cheese balls are rolled and coated, send them off to chill in the fridge. Think of it as a little relaxation time for the flavors to mingle and get to know each other better. Keep them there until it's showtime, then unleash them to your guests and watch them disappear faster than you can say "Bacon Jalapeño Popper Cheese Balls!"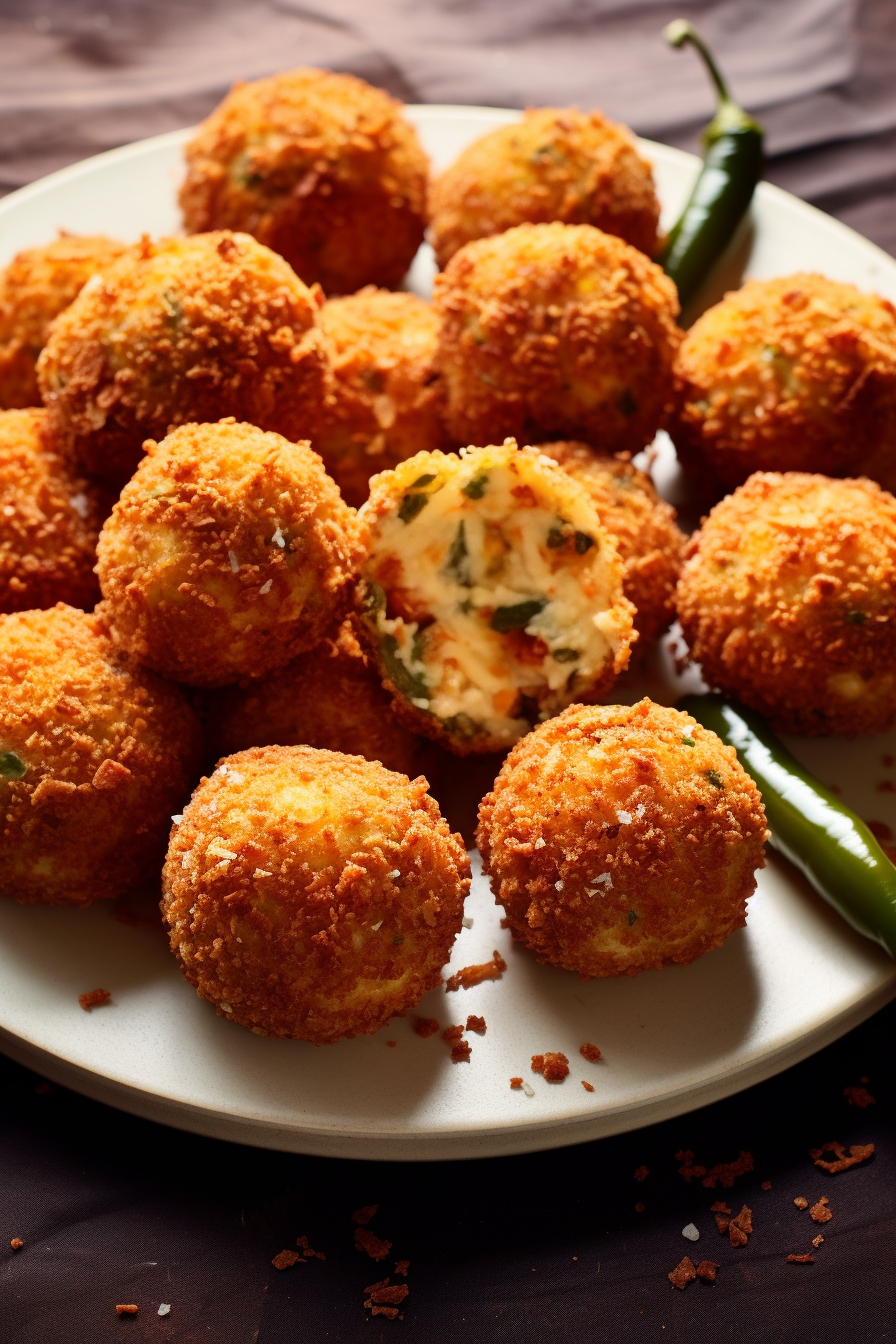 Storage Options:
Storing these little flavor bombs is a breeze, provided you can resist eating them all at once:
Refrigerator: Keep any uneaten cheese balls in an airtight container in the fridge. They'll stay fresh and delicious for up to 3 days – perfect for post-party snacking!
Freezer: If you're a prepper and like to plan ahead, you can freeze the cheese balls before rolling them in bacon. Wrap them tightly and they'll be your flavor-packed secret weapon for up to a month. Thaw in the fridge before rolling in bacon and serving.
Variations and Substitutions:
Let's remix these cheese balls and keep things interesting:
Cheese Varieties: Not a cheddar fan? Try swapping it out for Monterey Jack for a milder taste or pepper jack if you're feeling extra spicy.
Bacon Options: For the vegetarians in the house, switch out the bacon for a veggie alternative, or go for turkey bacon if you're watching the pork.
Veggie Twists: Swap jalapeños for diced bell peppers for a milder taste or add some chopped sun-dried tomatoes for a tangy twist.
Spice It Up or Down: Adjust the Cayenne and black pepper to suit your spice tolerance. A little more, a little less – make it your own!
Herb Your Enthusiasm: Not into chives? Try parsley, cilantro, or dill for a different herby note.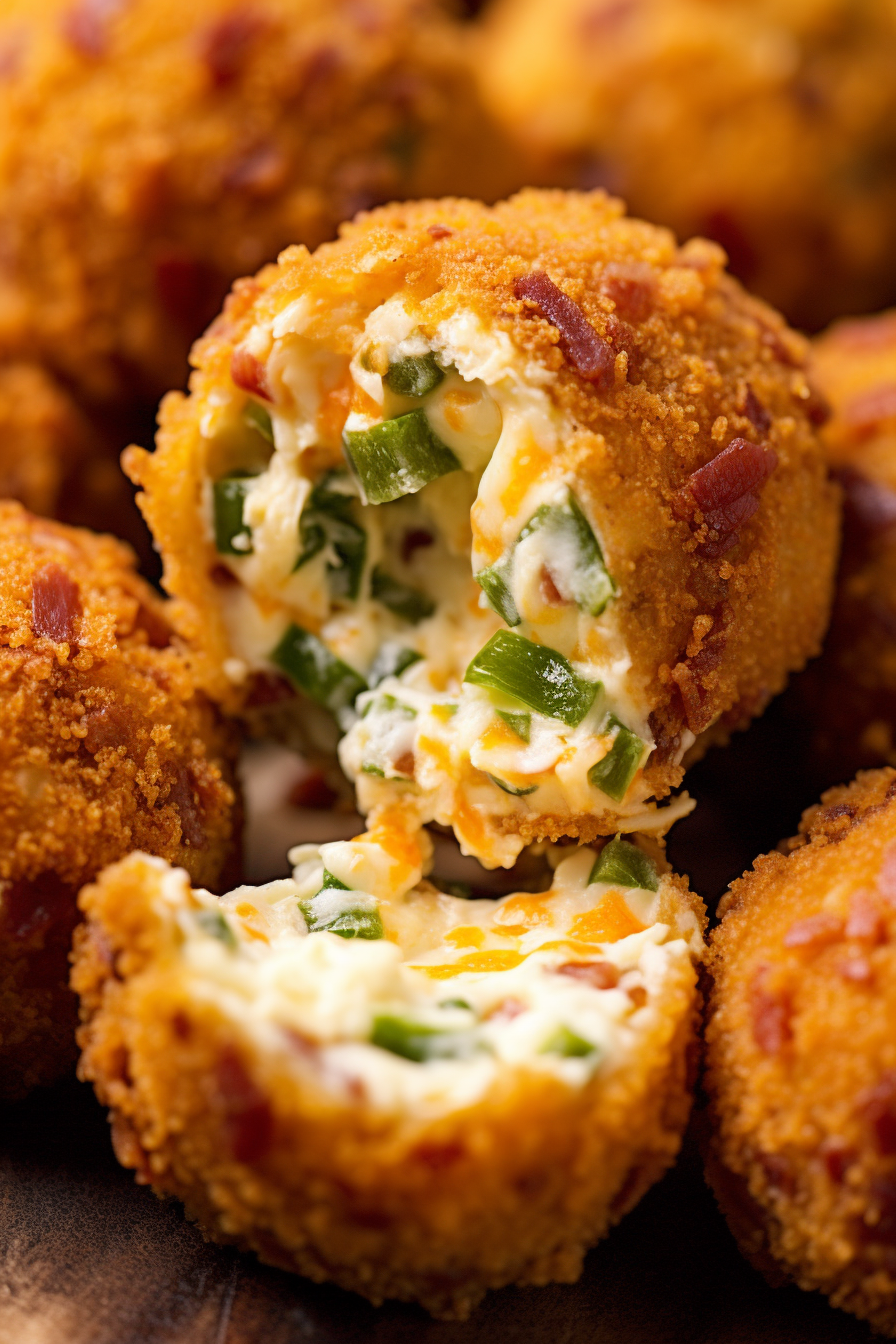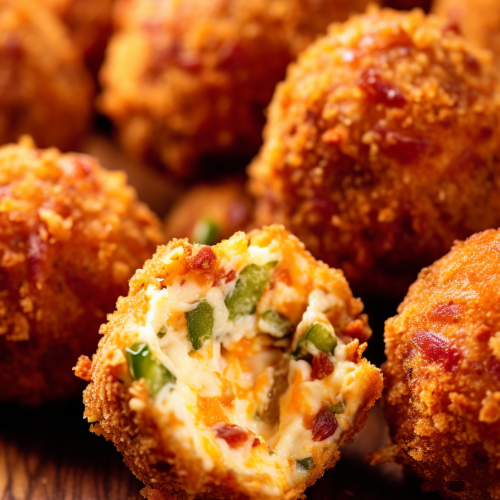 Bacon Jalapeño Popper Cheese Balls
Feast on our Bacon Jalapeño Popper Cheese Balls with cream cheese, sharp cheddar, fresh jalapeños, and crispy bacon – a spicy, creamy appetizer that's sure to disappear quickly at any gathering!
Print
Pin
Rate
Ingredients
450

g

of Cream Cheese

at room temperature

15

ml

of Mayonnaise

120

ml

of fresh Chives

finely minced

240

ml

of Jalapeños

seeds removed and finely diced

475

ml

of Bacon

finely crumbled (additional as needed)

120

ml

of Sharp Cheddar Cheese

finely shredded

1/2

medium Red Onion

finely minced (optional)

5

ml

of ground Black Pepper

5

ml

of Cayenne Pepper
Instructions
Begin by preparing a large mixing bowl. Into this bowl, combine the cream cheese with the mayonnaise, shredded sharp cheddar cheese, diced jalapeños, 240ml of the bacon crumbles, the optional red onion, black pepper, and Cayenne pepper. Stir the mixture thoroughly until it achieves a light and fluffy consistency. This mixture will form the basis of the cheese balls.

Proceed by spreading the remaining bacon crumbles onto a shallow dish, creating an even layer. Utilizing a cookie scoop, portion the previously prepared cheese mixture, shaping each portion into an individual ball. One at a time, roll these cheese balls in the bacon crumbles until they are completely coated, ensuring an even layer on all sides.

Following the coating process, place the bacon jalapeño popper cheese balls into the refrigerator to chill. They should remain there until such time as they are to be served. This will allow the flavors to fully integrate and the cheese balls to firm up, making them easier to handle and consume.