Indulge in the ultimate comfort food with our Loaded Mashed Potato Puffs, featuring creamy mashed potatoes, sharp Cheddar, Parmesan, crispy bacon, and aromatic chives, all baked to perfection. A delightful side dish that turns leftovers into a gourmet experience!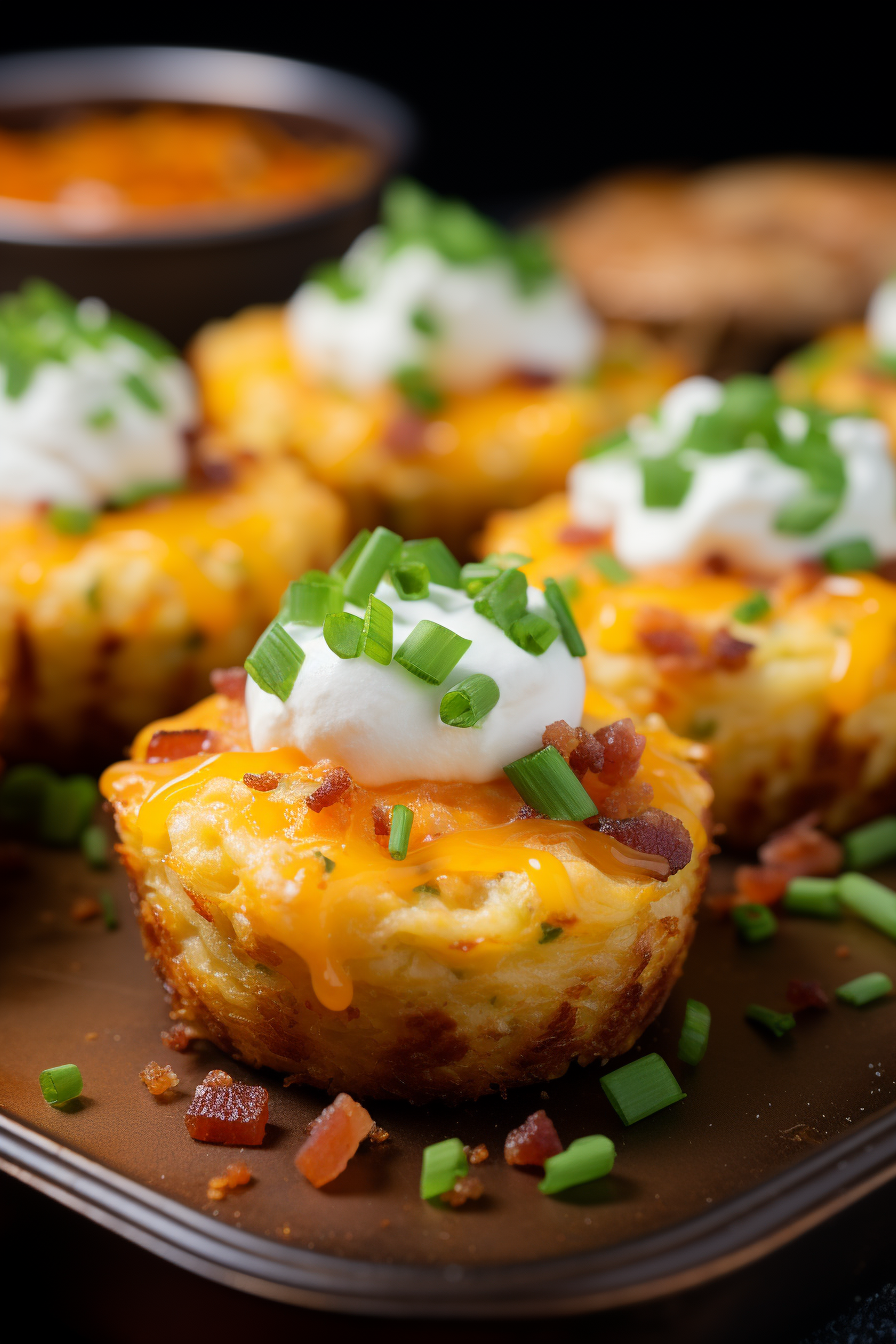 Once upon a brunch, in the kingdom of Comfort Foodia, there lived a quirky dish named Larry the Loaded Mashed Potato Puff. Larry wasn't like your average spud; he was a bit of a maverick, a potato with a plan. He dreamt of the day he'd rise from the mundane leftovers and become the talk of the table. And so, one post-holiday morning, armed with his buddies—crispy bacon, the cheesy twins Cheddar and Parm, and the green-fingered chive clan—he embarked on a culinary adventure. They dove into a creamy pool of mashed potato goodness, got themselves a golden tan in the oven, and emerged as the irresistible Loaded Mashed Potato Puffs. They were an instant hit, becoming the main squeeze at brunches, potlucks, and everything in between. Their legacy lives on in kitchens far and wide, bringing joy and a touch of whimsy to every table they grace.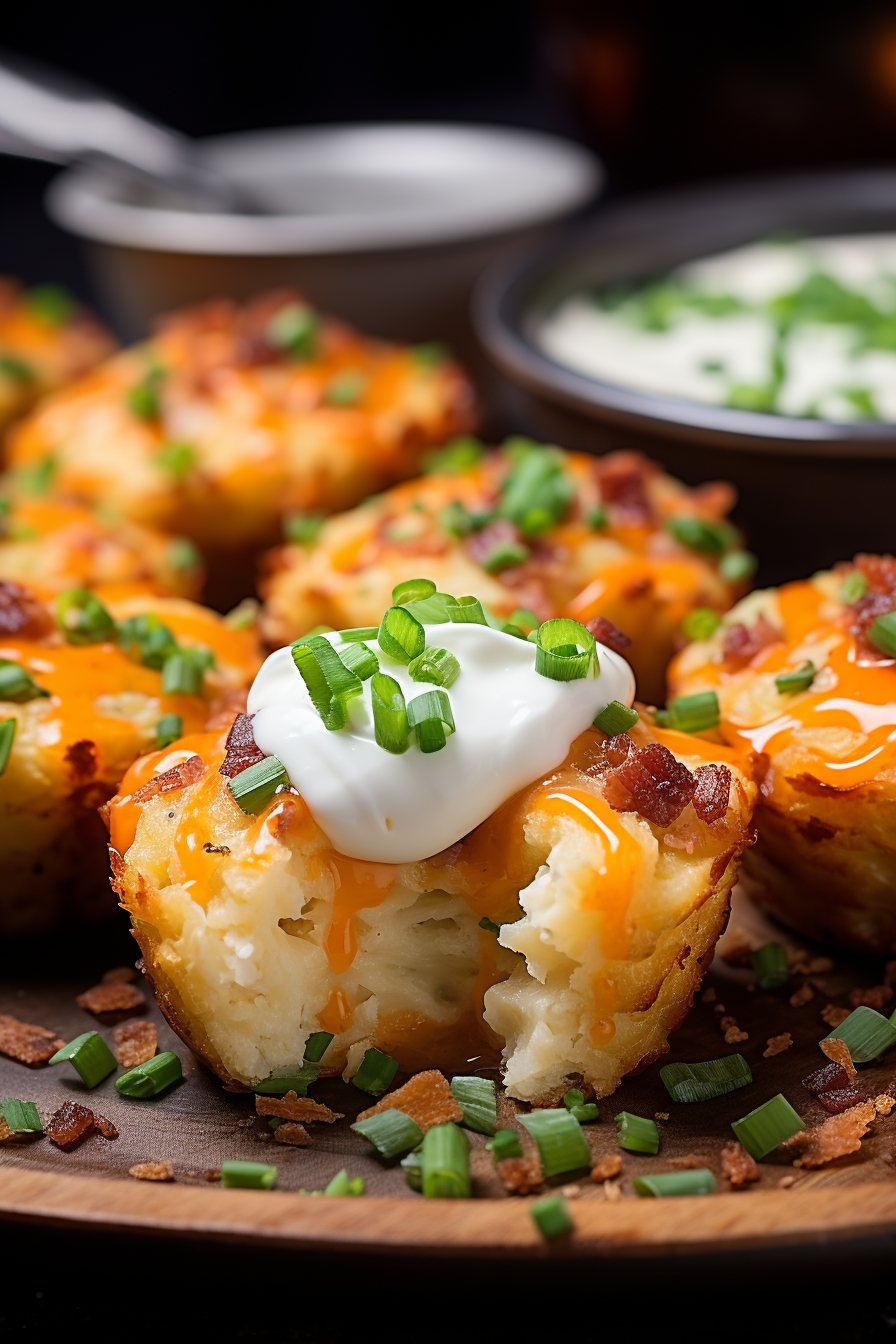 Why You'll Love Loaded Mashed Potato Puffs:
The Loaded Mashed Potato Puffs are no ordinary side dish; they're a flavorful fiesta waiting to happen! What sets them apart is their fluffy texture that creates a cloud-like bite every time. They're a genius way to repurpose leftover mashed potatoes, ensuring no spud is left behind. Infused with the heartwarming smokiness of bacon, a cheesy embrace, and a kiss of spice from cayenne, they promise a sensory overload. Plus, they're customizable! Whether you're team sour cream or a bacon garnish galore, these puffs let you do you. They're not just food; they're tiny potat:o parties in your mouth!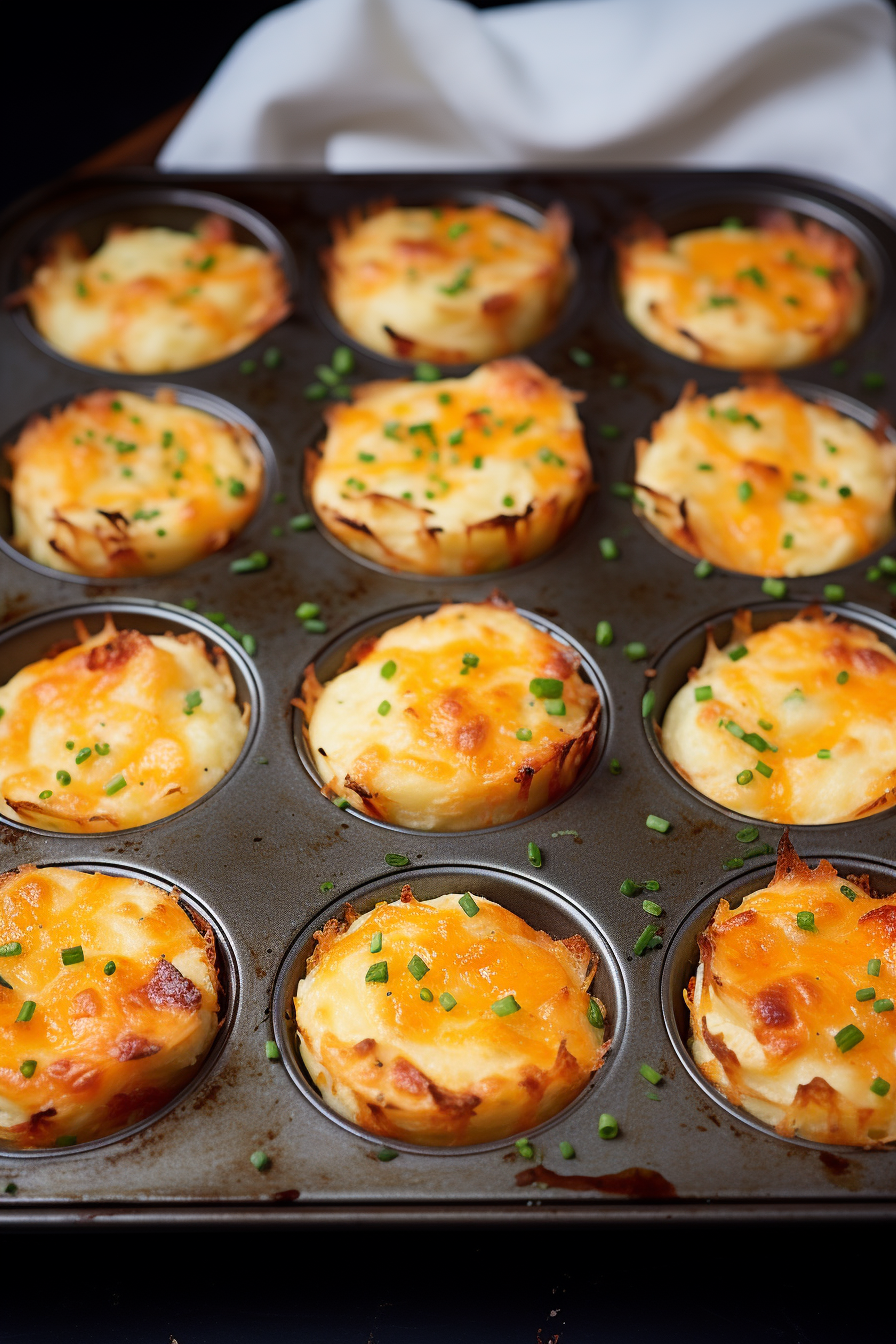 Ingredients Notes For Loaded Mashed Potato Puffs:
Every good story has its characters, and in the tale of our Loaded Mashed Potato Puffs, our cast is stellar. Here's a little dossier on the lineup:
Simply Potatoes Traditional Mashed Potatoes: This 24-ounce package is your time-saver, a base that's prepped and ready for the spotlight.
Eggs: These four wonders are the glue that holds our puffy dreams together.
Granulated Garlic: A teaspoon of this adds a garlicky undertone, because garlic makes everything better.
Fresh Chopped Chives: Two tablespoons for that fresh, oniony zing and a pop of color.
Shredded Cheddar Cheese: A whole cup, because cheese is not just an ingredient; it's a lifestyle.
Shredded/Grated Parmesan Cheese: This quarter cup of Parmesan is the salty, umami-packed confetti in our potato party.
Cooked and Crumbled Bacon: Six slices to bring home the bacon flavor that we all secretly crave.
Fresh Ground Black Pepper & Cayenne Pepper: These two give a little heat and a peppery punch, waking up the potatoes like a morning alarm clock.
Sour Cream, More Chives, Cheese, and Bacon for Garnish: Because dressing up your food is almost as fun as dressing up for Halloween.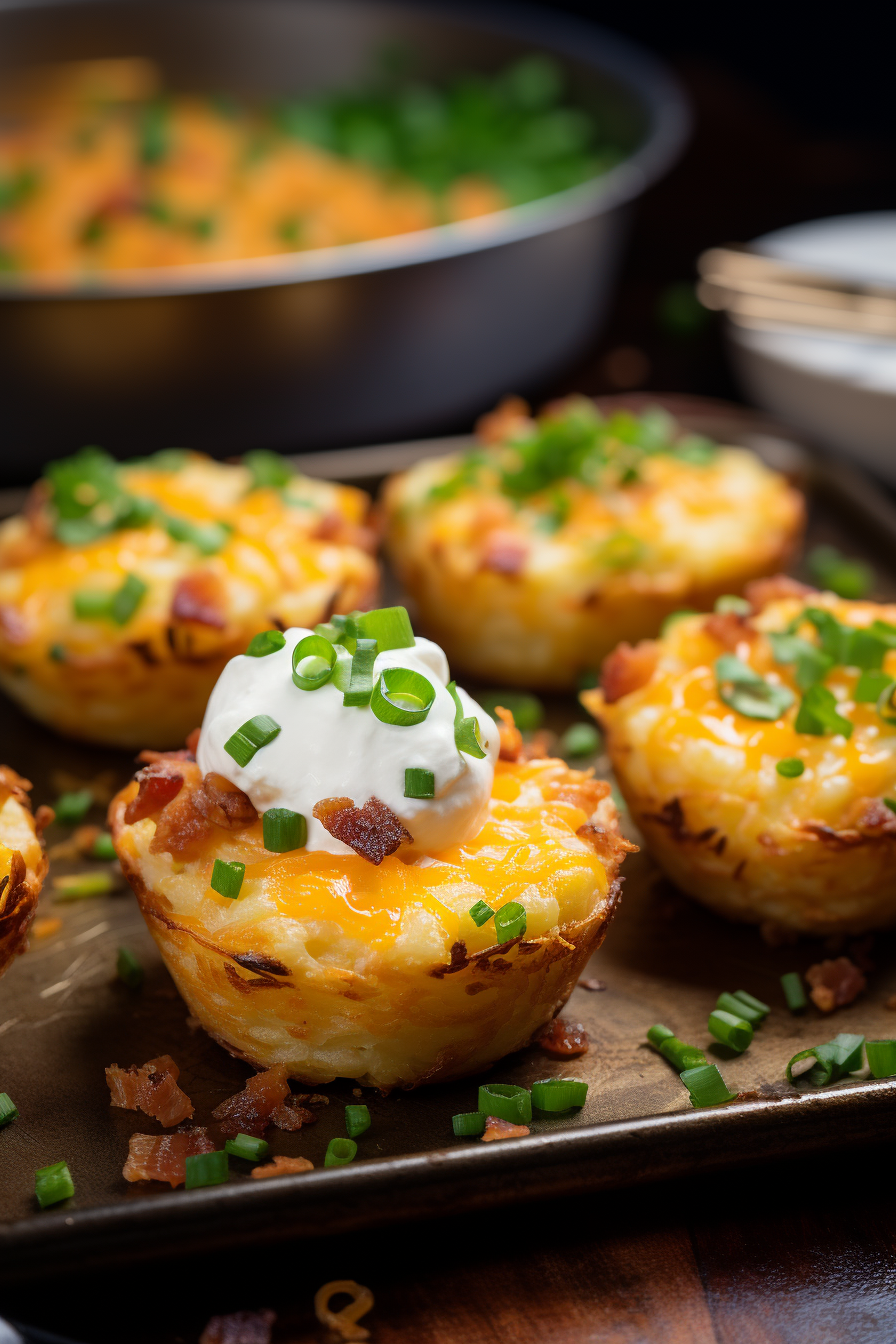 Recipe Steps:
Before you start, preheat your oven to a toasty 400 degrees F. This is the sauna where our puffs will get their golden glow. Get your muffin tin and treat each cup like a VIP, spraying it down generously with nonstick cooking spray. You want these puffs to slide out smoother than a slick salesman. Then, grab a large bowl and let's get the party started! Toss in the mashed potatoes, eggs, granulated garlic, chives, both the Cheddars and Parmesan, bacon, black pepper, and cayenne. Mix it up like you're the DJ at the best foodie rave.
Now, it's time to introduce your potato mixture to their private suites in the muffin tin. Scoop the mixture evenly, giving each one the same VIP treatment. Pop them in the oven and let them bake for 30-35 minutes until they're crispier than autumn leaves. Once done, let them cool just a tad, then coax each puff out with a thin knife if they're being shy. Finally, play dress-up with sour cream, more chives, a sprinkle of cheese, and a rain of bacon bits.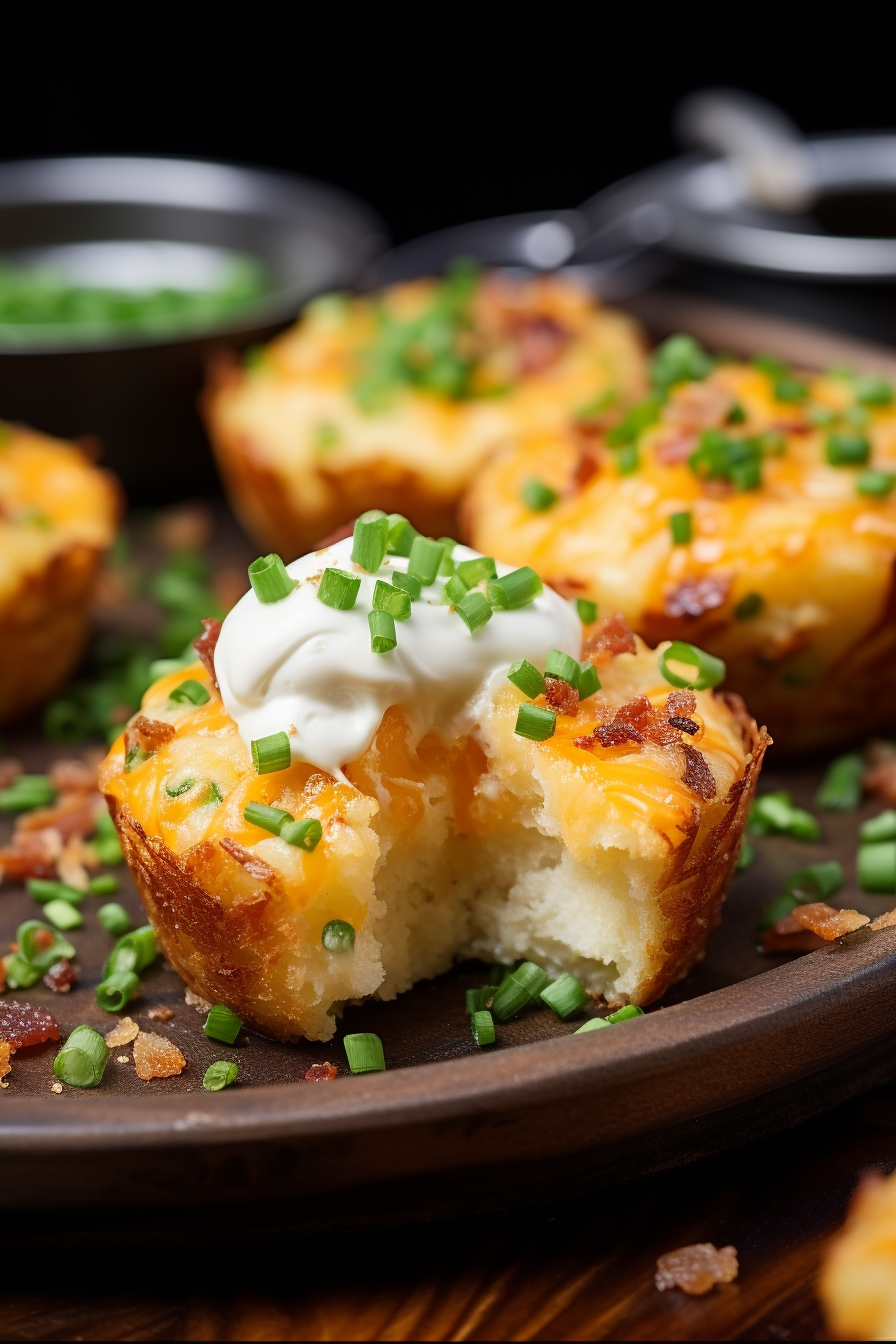 Storage Options:
Our delightful Loaded Mashed Potato Puffs are like most of us after a big meal—they need a good nap. If you've got leftovers, or you're prepping ahead, you can store them in the fridge for up to three days. Make sure to snug them up in an airtight container; they like to keep cozy. Reheat them in the oven or microwave when you're ready for round two. For longer storage, freeze these puffs on a baking sheet before transferring to a freezer bag for up to a month. When the craving hits, reheat from frozen and enjoy that just-baked taste!
Variations and Substitutions:
If the Loaded Mashed Potato Puffs were a band, they'd be known for their remixes. Here's how you can play around with the recipe:
Dairy-Free? Use your favorite non-dairy cheese and a dollop of dairy-free sour cream to garnish.
Gluten-Free? These puffs are naturally gluten-free, but always check your bacon and cheese labels to be safe.
No Chives? Use green onions or finely diced red onion for that crunchy, oniony element.
Vegetarian? Skip the bacon and add a handful of your favorite veggies, like chopped spinach or sun-dried tomatoes.
Spice Level Flex: Not a fan of cayenne? Leave it out or swap it for paprika for a smokier, milder kick.
Cheese Swap: Feel free to use whatever cheese is taking up real estate in your fridge. Gouda, Monterey Jack, or even a spicy Pepper Jack can be the star of the show.
Bacon Alternative: If bacon's not your jam, try diced ham, sausage, or go for a smoky tempeh or tofu to keep it plant-based.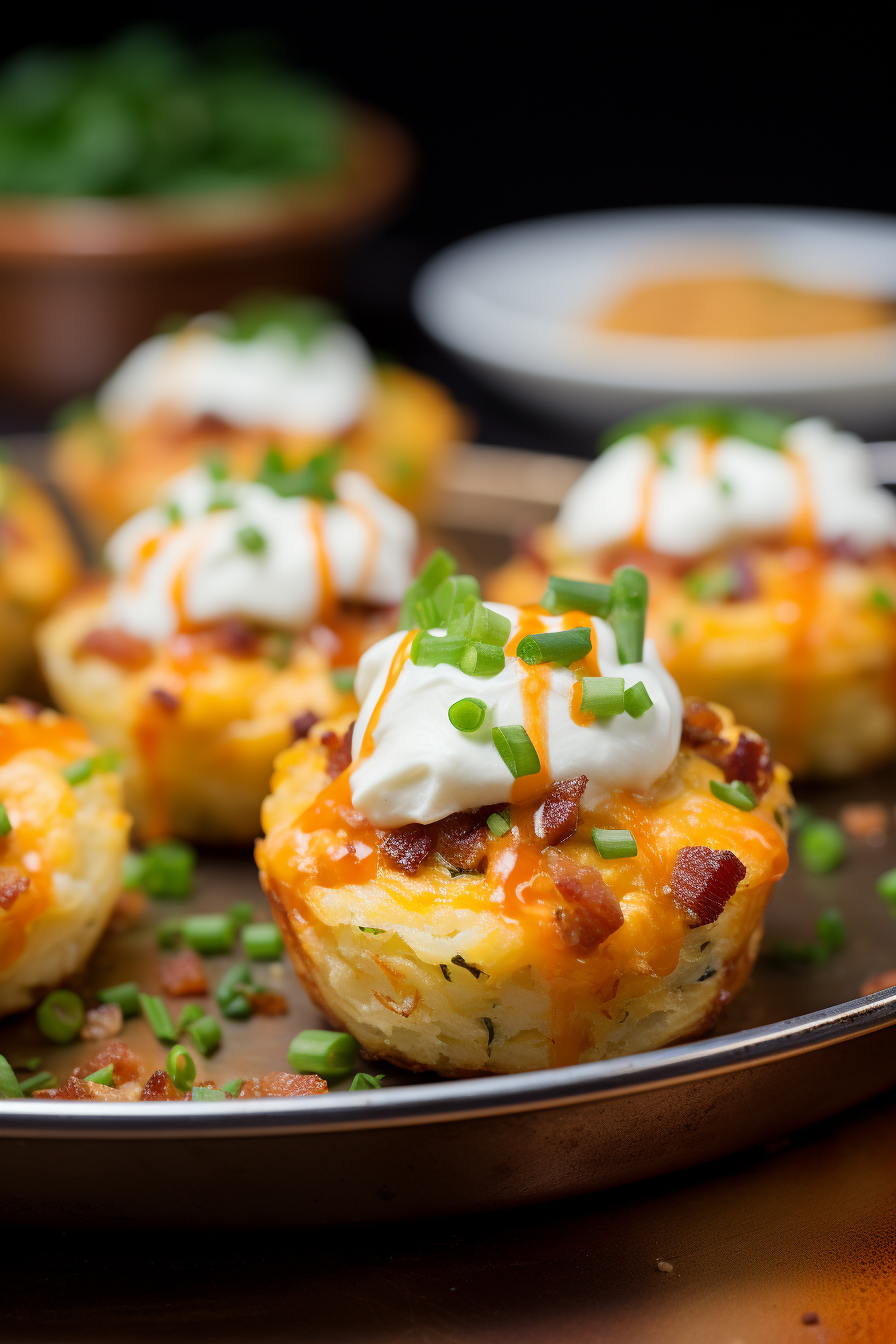 Remember, recipes are like pirate maps; sometimes the real treasure is the creative journey you take!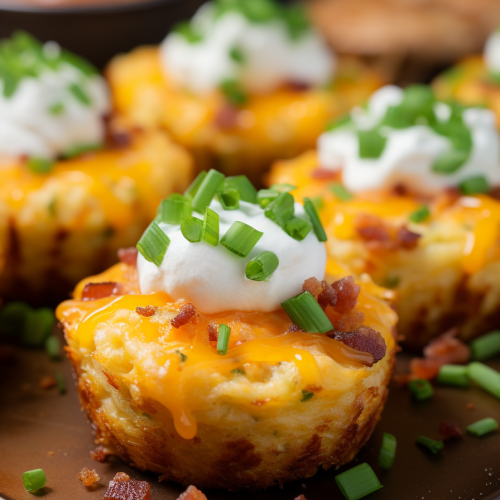 Loaded Mashed Potato Puffs
Indulge in the ultimate comfort food with our Loaded Mashed Potato Puffs, featuring creamy mashed potatoes, sharp Cheddar, Parmesan, crispy bacon, and aromatic chives, all baked to perfection. A delightful side dish that turns leftovers into a gourmet experience!
Print
Pin
Rate
Ingredients
24

ounces

approximately 2 ½ cups of Simply Potatoes Traditional Mashed Potatoes

4

large eggs

1

teaspoon

of granulated garlic

2

tablespoons

of freshly chopped chives

1

cup

of shredded Cheddar cheese

1/4

cup

of shredded or grated Parmesan cheese

6

slices

of bacon

cooked until crisp and then crumbled

¼

teaspoon

of freshly ground black pepper

¼

teaspoon

of Cayenne pepper

Sour cream

additional chives, extra cheese, and/or additional crumbled bacon for garnishing purposes
Instructions
Begin the preparation by preheating your oven to a temperature of 400 degrees Fahrenheit (200 degrees Celsius). Take a 12-cup muffin pan and apply a generous coating of nonstick cooking spray to each cup to prevent sticking. Alternatively, you may grease the cups with butter or vegetable shortening if preferred.

Proceed by taking a large mixing bowl and combining the following ingredients thoroughly: the packaged mashed potatoes, eggs, granulated garlic, chopped chives, shredded Cheddar cheese, grated Parmesan cheese, crumbled bacon, ground black pepper, and Cayenne pepper.

Following the mixture of ingredients, distribute the potato mixture evenly amongst the prepared muffin cups, ensuring an equal amount in each cup for uniform cooking.

Place the filled muffin pan in the preheated oven and allow to bake for 30 to 35 minutes. The goal is to achieve a golden-brown crust on the puffs and ensure they are cooked through.

Upon completion of the baking time, remove the muffin pan from the oven and allow the puffs to cool for a short period. This will make the removal process easier. If necessary, run a thin knife around the edges of each muffin cup to help release the puffs.

As a final touch, each mashed potato puff may be garnished with a dollop of sour cream, a sprinkling of fresh chives, additional shredded cheese, and/or more crumbled bacon, according to individual preference. Serve immediately while warm for best results.