Indulge in bite-sized bliss with our Salted Caramel Brownie Bites recipe, featuring melt-in-your-mouth homemade fudgy brownies filled with a luscious caramel center and a pinch of sea salt.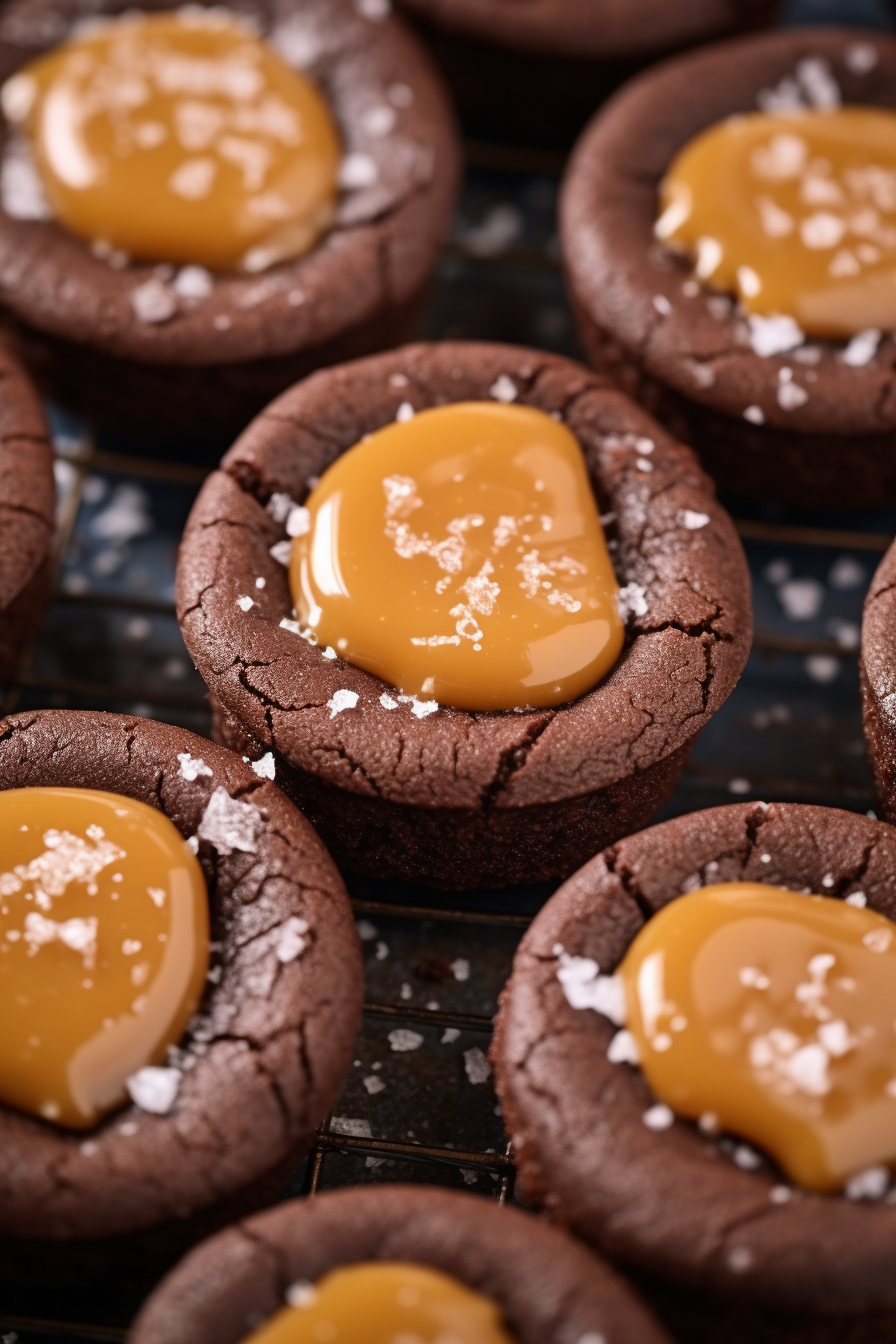 The creation of these Salted Caramel Brownie Bites has a special place in my heart—and my kitchen. It started on a rainy afternoon when the skies were as grey as my mood. I craved something sweet, something that could turn my day around. On a whim, I reached for the cocoa powder and sugar, deciding that if the sun wasn't going to shine outside, I'd make my own sunshine. As I mixed, melted, and tasted, the idea of adding a gooey caramel center came to me—like a culinary light bulb! And so, these little morsels of happiness were born. They weren't just a treat; they became my tiny beacons of joy, each one a reminder that the simplest things can bring the greatest comfort.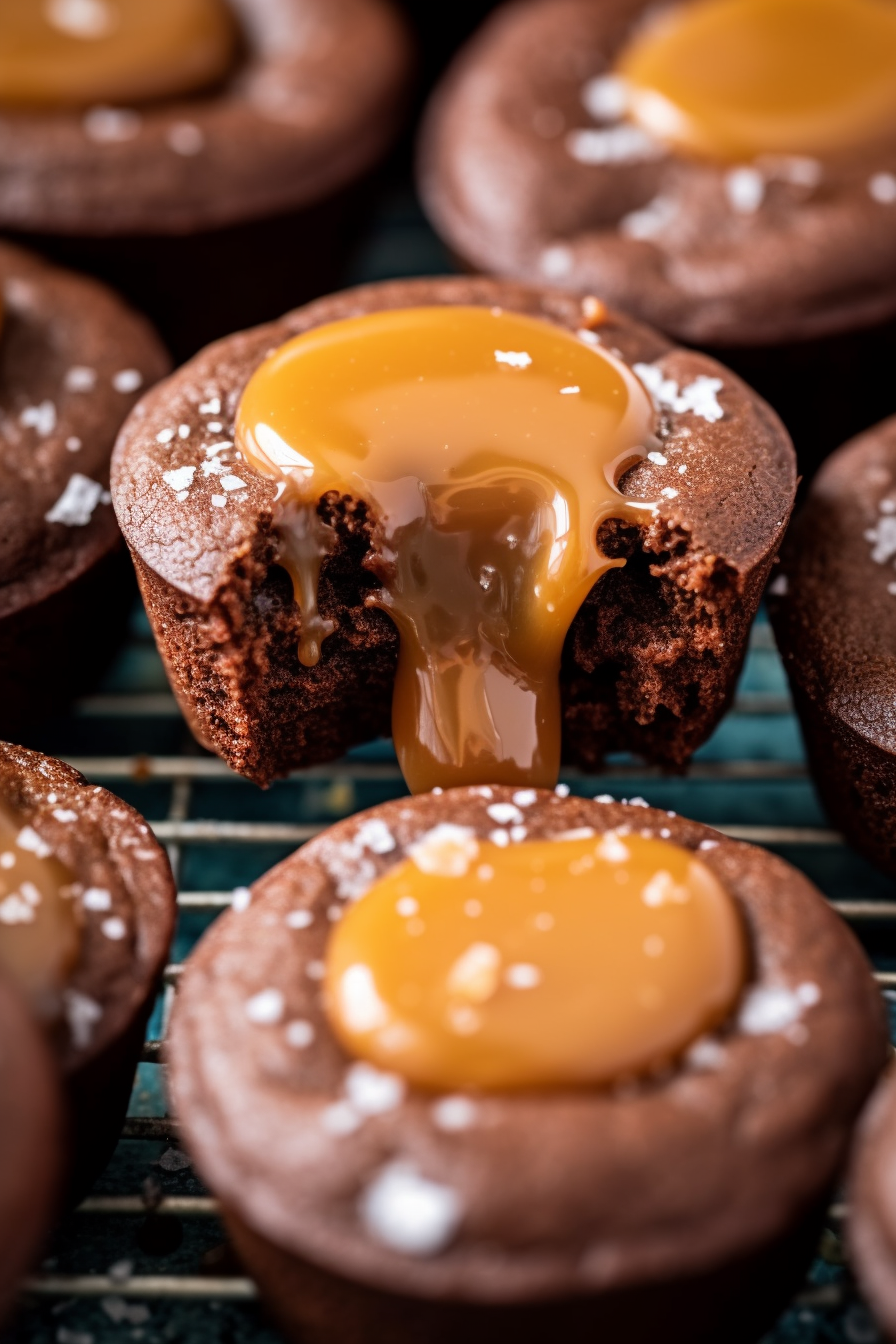 Why You'll Love Salted Caramel Brownie Bites:
The Salted Caramel Brownie Bites are not your average confectionery creation—they are a symphony of contrasts and delights. First off, the texture is sublime, with a crusty exterior giving way to a fudgy heart. Then, the flavor profile is exquisite—a dance of rich chocolate depth punctuated by bursts of buttery caramel, all highlighted by the surprise kiss of sea salt. What's more, their miniature stature makes them adorably poppable and oh-so-shareable, if you're feeling generous. They're the perfect size for when you need just a morsel of decadence without the commitment of a full-sized dessert.
Ingredients Notes For Salted Caramel Brownie Bites:
Before we get our aprons dusted with flour and our hands deliciously sticky, let's talk about the cast of characters in our Salted Caramel Brownie Bites drama. We're going classic with unsalted butter—make sure it's just melted, so we don't cook those eggs prematurely. Granulated sugar will sweeten the deal, and room-temperature eggs will blend more smoothly into our batter. Vanilla extract will add that background note of warmth. As for the dry goods, all-purpose flour is our dependable foundation, unsweetened cocoa powder brings the chocolatey darkness, and a pinch of salt will wake up all the flavors. Now, onto the star of the show: soft caramel candies and heavy cream, which will create a caramel that's rich and creamy enough to make you swoon. And if you're feeling a bit fancy, sprinkle on some sea salt for a gourmet touch.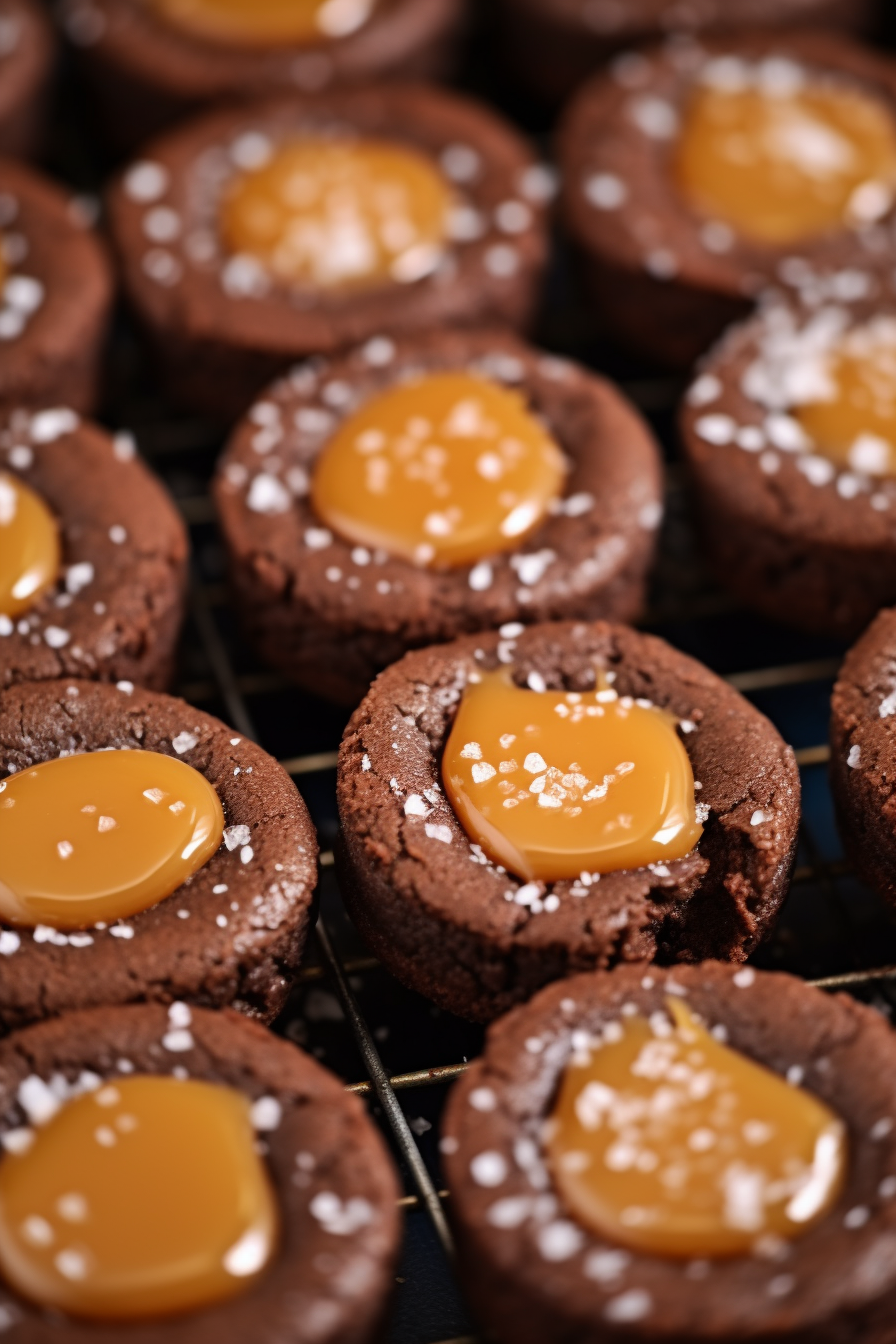 How To Make Salted Caramel Brownie Bites:
Let's embark on our culinary crafting of these Salted Caramel Brownie Bites. Begin by preheating your oven to a cozy 350°F (177°C) to ensure it's ready for our batter. Grab your mini muffin pan and treat it to a little nonstick spray, like buttering up a friend.
Then, beat the butter and sugar in a mixing bowl until they're best pals. Crack in the eggs, add a splash of vanilla, and whip them up until well acquainted. Sift in your flour, cocoa, and salt, folding them together gently—no need for a heavy hand, we want a tender brownie. Now, divvy up that batter into its mini muffin tin homes, slide them into the oven, and bake until they pass the toothpick test with a few moist crumbs attached—brownie perfection. Once baked, give each brownie a gentle nudge in the center to create a cozy nest for our caramel. After a cool-down, they're ready to vacate the tin and hit the wire rack for the next act.
For the caramel, let those candies and cream take a spin in the microwave, stirring between beeps until silky smooth. Spoon the golden liquid into each brownie bite indentation and let it set like a calm sea—about 15 to 20 minutes should do the trick. Finally, crown each one with a sprinkle of sea salt. Now, take a bow; your Salted Caramel Brownie Bites are ready to dazzle.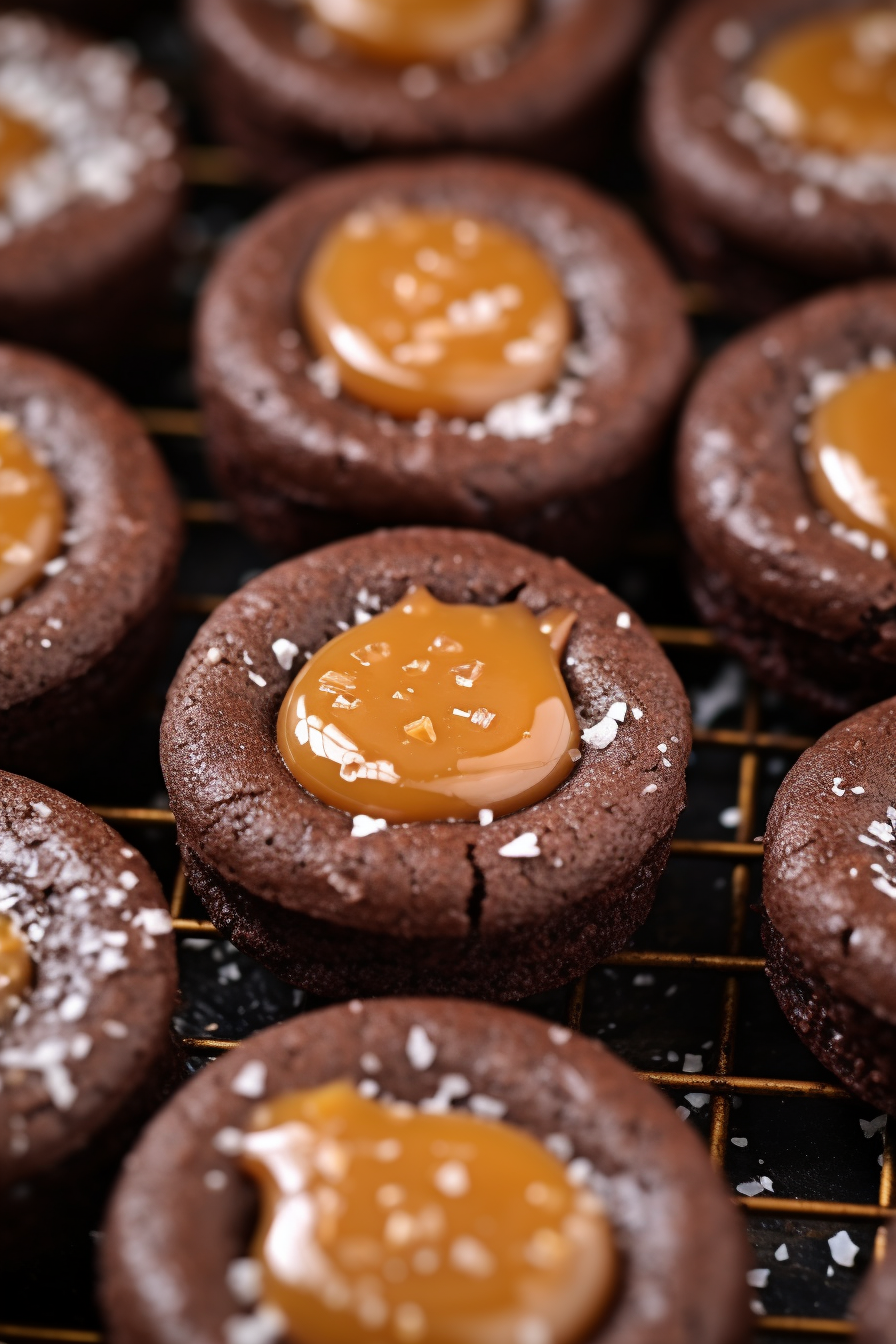 Storage Options:
Once the curtain falls on your baking performance and you're left with the Salted Caramel Brownie Bites, here's how to keep your encores fresh. These guys are pretty low maintenance; simply slide them into an airtight container, and they'll be happy in the fridge for up to 5 days. If you've made a double batch (because why wouldn't you?), you can freeze them for a month. Just make sure they're snug in a container or wrap them up tight in plastic wrap. When the craving hits, let them thaw on the counter, and they'll be ready for their next showtime.
Variations and Substitutions:
If you're feeling adventurous or you're simply out of one of the ingredients, don't fret; improvisation is the spice of life—and cooking!
Swap in dark brown sugar for a deeper, more molasses-like sweetness that plays off the chocolate and caramel like a dream.
Dairy-free or vegan? Use plant-based butter and a reliable egg substitute for the brownie, and opt for dairy-free caramel candies mixed with your favorite plant-based cream.
Out of heavy cream? A dollop of full-fat coconut milk can stand in for cream in the caramel, adding a subtle tropical note.
Gluten-free flour can be used in place of all-purpose flour for those avoiding gluten, ensuring everyone gets a ticket to this flavor show.
For a nuttier twist, sprinkle some toasted chopped pecans or almonds on top of the caramel before it sets.
And if sea salt isn't your thing, try a drizzle of chocolate or a dusting of cocoa powder for a different but equally delightful finishing touch.
Happy baking, and remember, in the world of desserts as in life, it's all about savoring the sweet moments!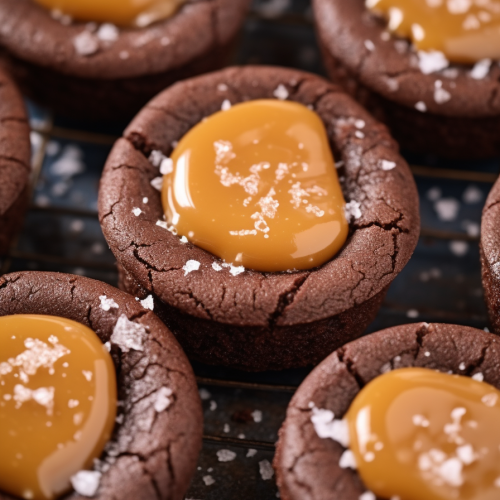 Salted Caramel Brownie Bites
Indulge in bite-sized bliss with our Salted Caramel Brownie Bites recipe, featuring melt-in-your-mouth homemade fudgy brownies filled with a luscious caramel center and a pinch of sea salt.
Print
Pin
Rate
Ingredients
For the Brownie Bites:
115

grams

of unsalted butter

melted and allowed to cool slightly

200

grams

of granulated sugar

2

large eggs

brought to room temperature

1

teaspoon

of vanilla extract

65

grams

of all-purpose flour

properly spooned and leveled

45

grams

of unsweetened cocoa powder

1/4

teaspoon

of salt
For the Caramel Filling:
20

soft caramel candies

unwrapped

45

milliliters

of heavy cream