Several times a year, I drive down to the coast with empty coolers to pick up lots of fresh Louisiana Seafood, the best of Gulf Seafood. Luckily, much of the seafood is in season year-round, so there is never a shortage of domestic fresh fish, shrimp, and crabs. This spring, we've also had countless backyard crawfish boils with friends and family. It's been a great season for mudbugs, so we have been taking full advantage of it.
I'm a big fan of all types of seafood, but oysters have always been my favorite. Even as a young child, I could easily slurp down a dozen raw oysters by myself. When I got older, I started trying other oyster dishes like the spinach-loaded Oysters Rockefeller and Oysters Bienville with shrimp, mushrooms, and Parmesan cheese. Louisiana oysters are in season year-round, but are the largest during the cooler months.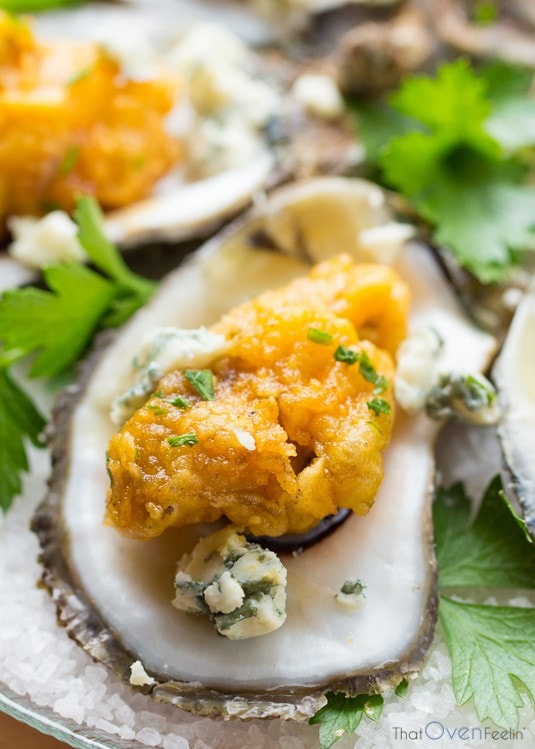 These Louisiana oysters are dredged in a little seasoned flour, then deep-fried until crispy and reach a nice golden color. Then, they are tossed in a homemade buffalo-style sauce and topped with fresh parsley and blue cheese crumbles. Since the sauce is a little spicy, it's a great idea to serve the oysters with a small bowl of blue cheese dressing to cool off your taste buds.
To serve the oysters, I filled a rimmed plate with coarse sea salt and arranged clean oyster shells in a circle with the smallest end facing inward. This impressive presentation is great for parties and celebrations.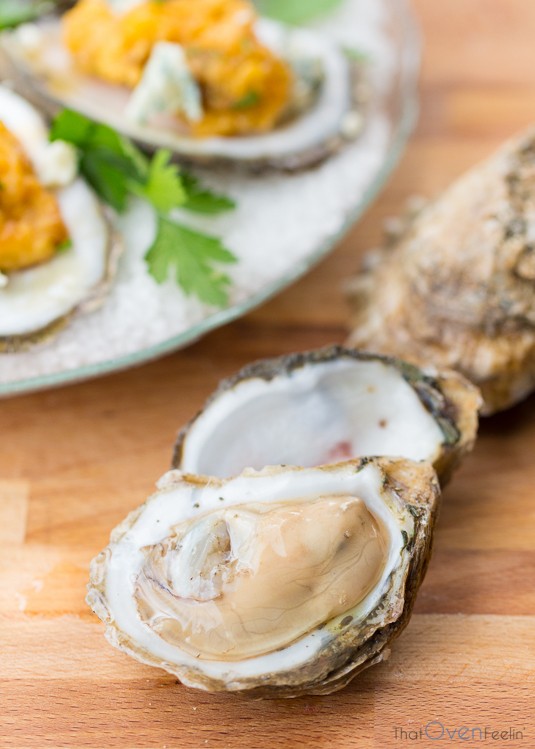 When purchasing oysters, I always prefer domestic seafood over imports. Louisiana's vast network of waterways produces a plethora of high-quality seafood, so there is never a lack of fresh oysters and fish.
Fresh oysters should be stored in an open container in the refrigerator, covered with a damp cloth or towel. They can be stored in the refrigerator for up to two weeks, but are at their best when fresh. Before shucking the oysters, check to make sure that the oysters are still alive. Oysters that are alive will have a tightly closed shell or will quickly close when given a small tap. Any oysters that remain open should be discarded.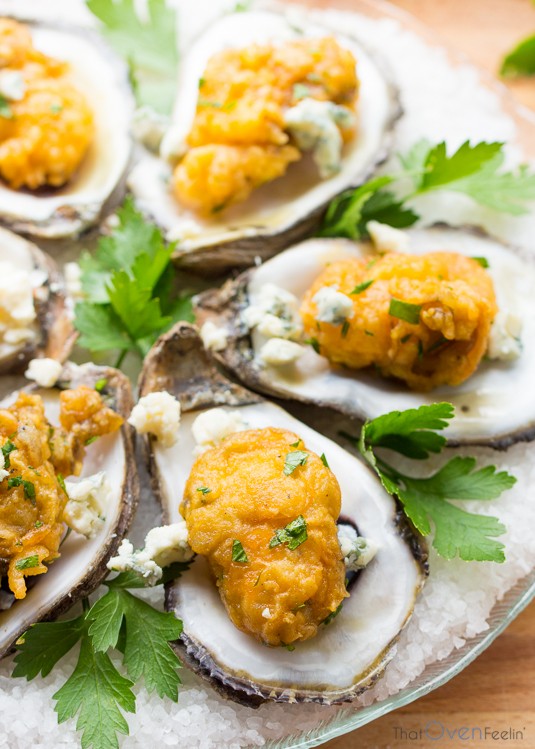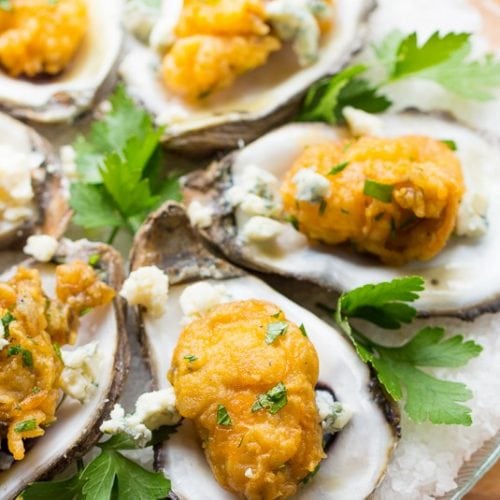 Ingredients
2

inches

canola oil, for deep frying

6

whole Louisiana oysters

⅓

cup

seasoned flour

1

tbsp

fresh parsley, chopped

2

oz

blue cheese, crumbled

blue cheese dressing, for serving
For the Oyster Sauce:
2½

tbsp

honey

3¼

tbsp

clarified butter

5

oz

Tabasco sauce
Instructions
Oyster Sauce:
In a small saucepan, warm the honey and clarified butter over medium-high heat. Bring the mixture to 100 degrees Fahrenheit.

Add the Tabasco sauce in a steady stream to the butter mixture while using an immersion blender to create an emulsion. Cover to keep warm and set aside.
Fried Oysters:
Heat the oil in a deep-fryer or heavy-bottomed saucepan over medium-high heat until it reaches 350 degrees Fahrenheit.

Shuck the oysters and ensure that the oysters are free of any sand and grit. Drain the oysters and dredge them in the seasoned flour.

Carefully slide a batch of the oysters into the hot oil and fry until the oysters are just golden brown and crispy, about 2 minutes. Remove the oysters with a slotted spoon and drain on a paper towel lined plate. Repeat with remaining oysters.

When all of the oysters have been fried, toss them in the warm Oyster sauce and chopped parsley. Serve immediately with blue cheese crumbles and blue cheese dressing.