Indulge in the delightful crunch of walnuts glazed with golden sugar and a hint of salt. A treat that's as perfect on a salad as it is eaten by the handful.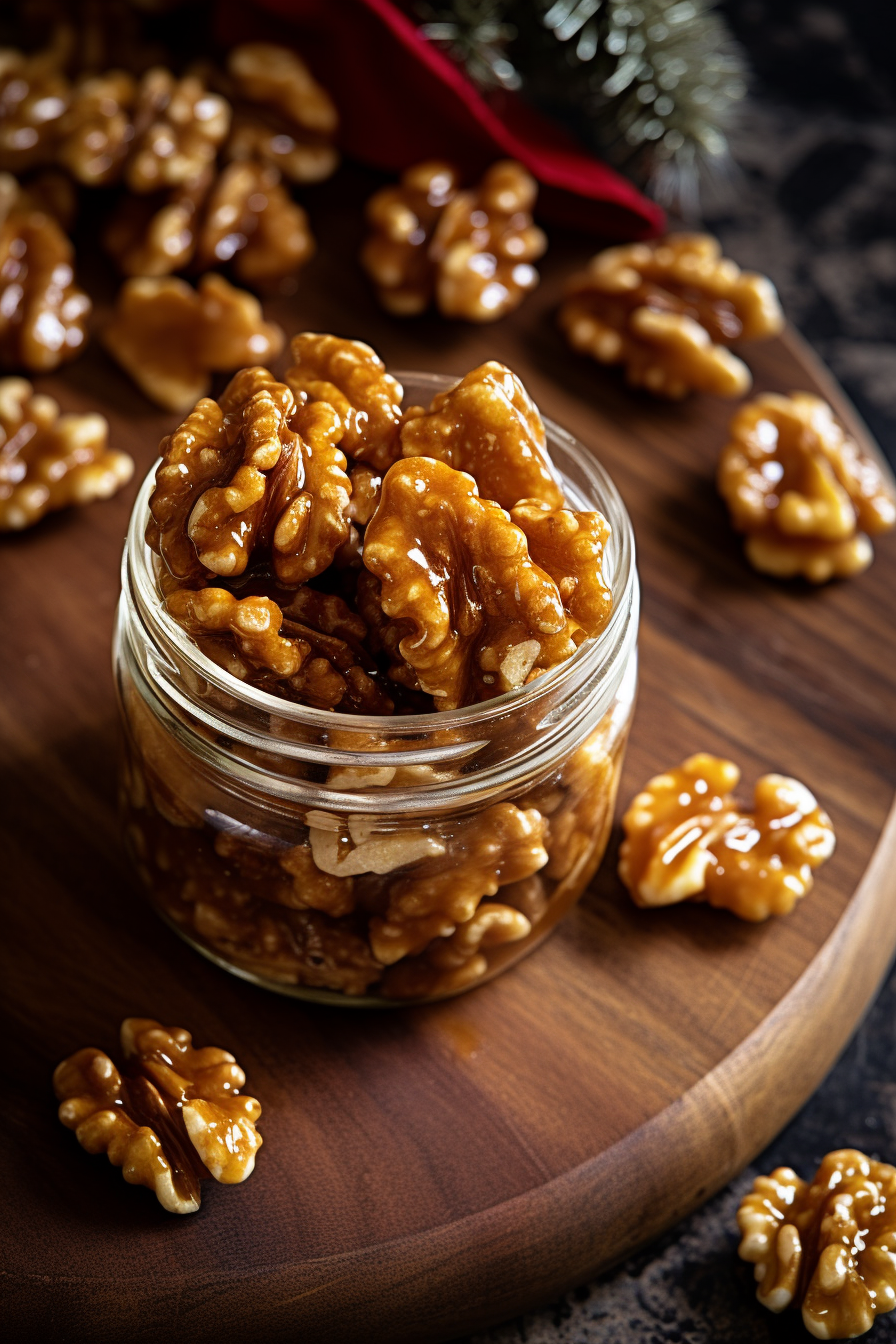 Oh, the nostalgia that comes with candied walnuts! Every winter, as a kid, I'd accompany my grandmother to the farmer's market. Amidst a sea of fragrant spices and fresh produce, her eyes (and nose) would always be drawn towards the candied walnuts stall. Those crystalline, gleaming treasures were her holiday staple, often gifted to neighbors, and of course, sneakily devoured by yours truly. Through trial and error (and quite a few sugar burns), I've recreated grandma's secret recipe. And though she'd never admit it, I think I've come pretty close to the real deal. Now, it's a treat I want to share with all of you!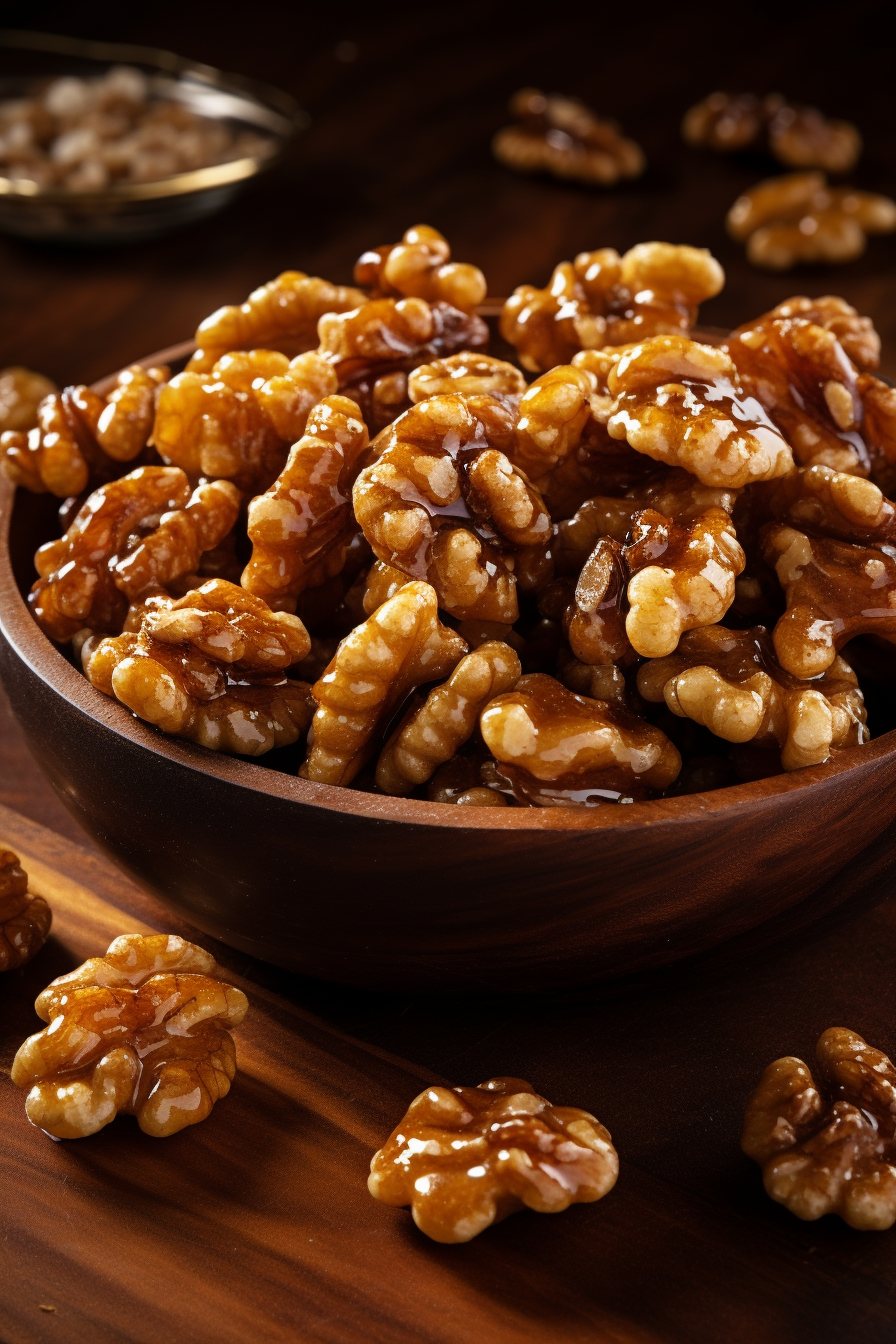 Why You'll Love Candied Walnuts:
Let's get nutty, shall we? What makes this Candied Walnuts recipe stand out?
Simplicity at its Best: With just four ingredients, it's straightforward and hassle-free.
Versatility: Perfect for jazzing up your salads, enhancing your desserts, or simply snacking on-the-go.
All Natural: No preservatives, no weird additives, just pure walnutty goodness.
Texture Galore: The delightful crunch of walnuts complemented by the sugary glaze is pure harmony.
Ingredients Notes for "Candied Walnuts":
Ah, the mighty ingredients. Let's chat about 'em for a sec.
Walnuts: Opt for fresh, whole walnuts. They should be firm, and not soft or shriveled. If you're feeling fancy, toasted walnuts can add an extra layer of depth.
Sugar: Regular white granulated sugar is your BFF here, giving that classic golden caramel hue.
Water: Just your tap's finest! It's essential for getting that sugar to the right caramel-y consistency.
Salt: It subtly elevates the sweetness, making those walnuts pop with flavor.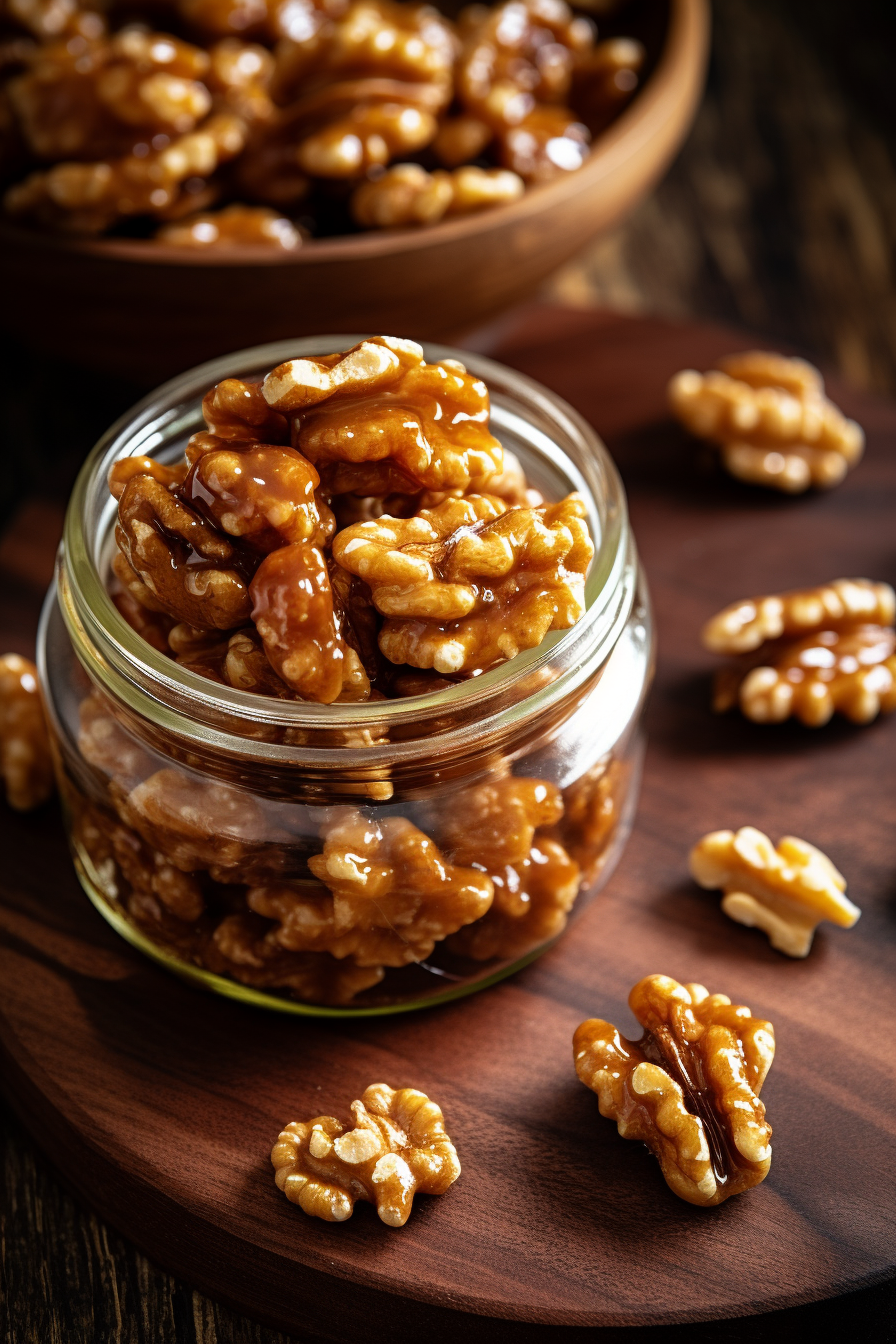 How To Make Candied Walnuts:
Alright, aprons on, let's get down to business!
Setup Station: Start by laying out those 2 sheets of parchment paper or silicone mats. We're talking about melted sugar here, so safety first! A trivet for your pot will be a lifesaver.
Sweet Beginnings: Mix that sugar and water in a medium, heavy-bottomed pot. Give the pot a little swirl to ensure the sugar gets all cozy with the water.
Bubble Time: Place your pot over medium-high heat. As the excitement builds and the sugar starts to boil, it's showtime!
Walnut Dive: Generously introduce your walnuts to the bubbling sugar. Mix them up, ensuring each nut is lovingly coated. Sprinkle in the magic (salt), and stir as the transformation happens before your very eyes.
Golden Perfection: Wait for that sugar to turn a luscious golden brown. Once you hit that sweet spot, turn off the heat. Use forks or tongs (no fingers, please) to place the nuts on your prepped sheets. Quick tip: If any of those walnuts are feeling a bit too clingy, give them some personal space using the forks.
Cooling Off: Let the nuts take a breather and cool down. The hardest part? Waiting to munch on them!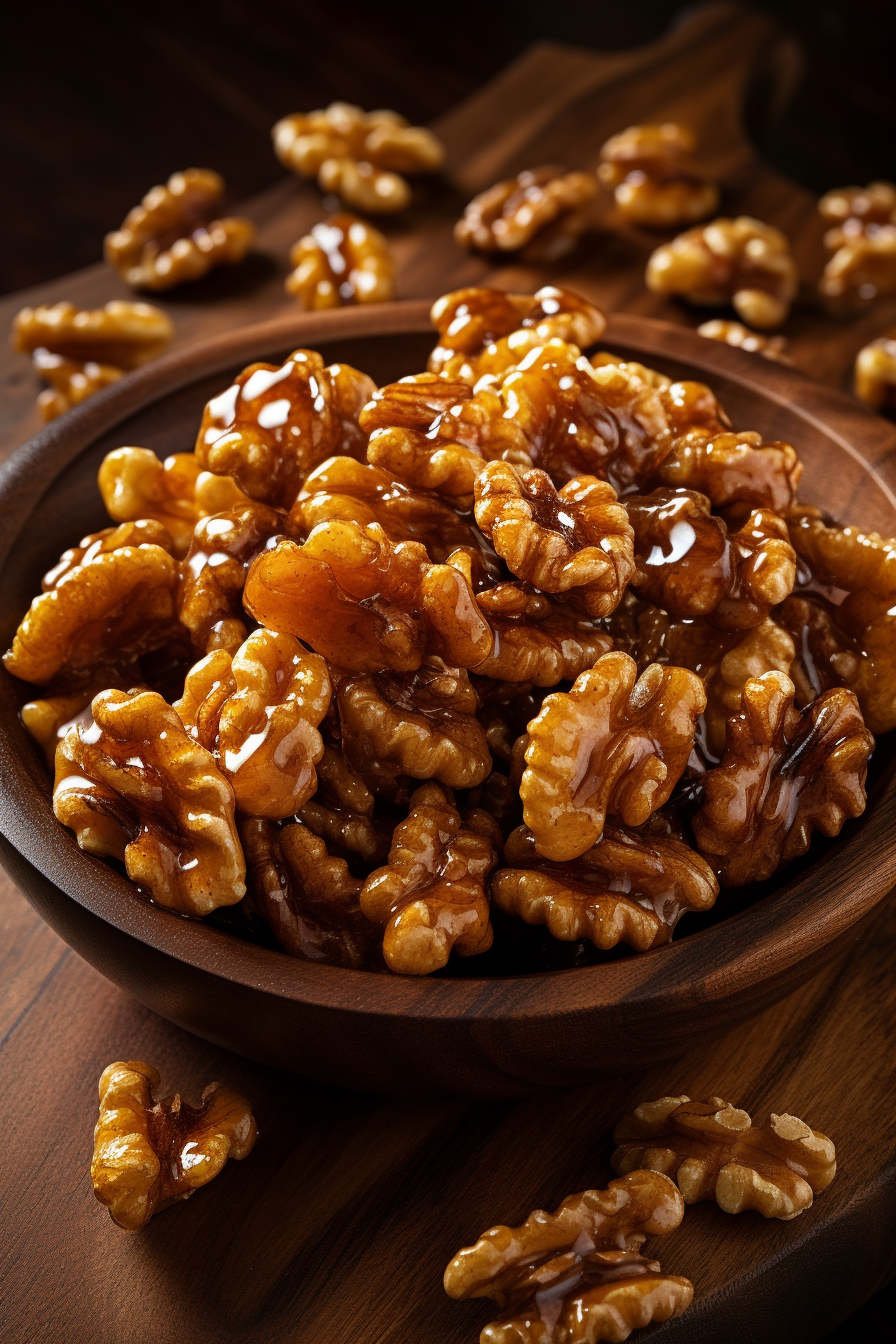 Storage Options for "Candied Walnuts":
If by some miracle you haven't devoured them all, store your candied wonders in an airtight container. They'll keep their crunch and stay fresh for up to two weeks. Though between you and me, I doubt they'll last that long!
Variations and Substitutions for "Candied Walnuts":
Feel like shaking things up? Here are some nutty twists:
Sweeteners: Swap out white sugar for brown sugar or even maple syrup for a different kind of sweetness.
Spices: Feeling spicy? A pinch of cinnamon or cayenne can add an exciting kick.
Other Nuts: Almonds, pecans, or cashews can also be invited to the candied party.
Chocolaty Delight: Once cooled, drizzle some melted dark chocolate over the nuts for an added layer of indulgence.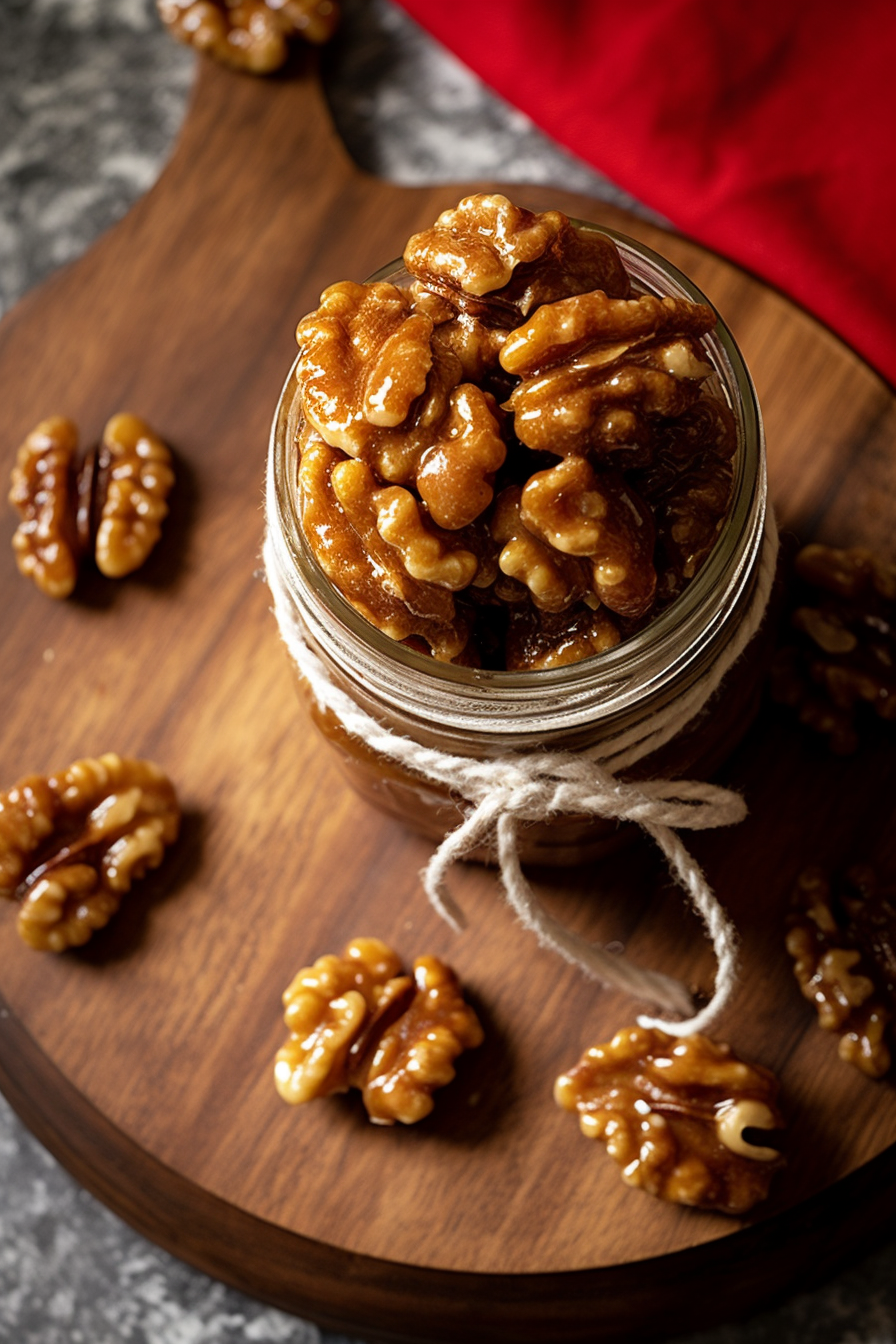 And that's the walnutty tale! Here's to sweet (and slightly salty) success in your kitchen! Happy munching! 🥳🌰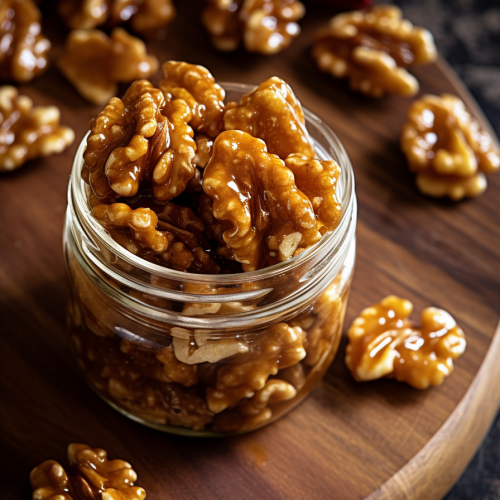 Candied Walnuts
Indulge in the delightful crunch of walnuts glazed with golden sugar and a hint of salt. A treat that's as perfect on a salad as it is eaten by the handful.
Print
Pin
Rate
Ingredients
Walnuts: 1 cup

Granulated Sugar: 1/2 cup

Water: 1/4 cup

Salt: 1/4 tsp
Instructions
Prior to commencing, arrange two sheets of parchment paper or silicone mats on a heat-resistant surface. Also, ensure there is a trivet nearby to place the pot on post-cooking.

Combine the granulated sugar and water in a medium-sized pot with a heavy base. Gently swirl the contents until the sugar is uniformly dissolved in the water.

Place the pot on medium-high heat, allowing the sugar-water mixture to boil.

Once boiling, introduce the walnuts into the pot. Stir the mixture with a wooden spoon to ensure the walnuts are uniformly coated with the caramelizing sugar. Concurrently, add the salt and continue stirring to prevent the mixture from burning and to ensure even caramelization.

Observe the sugar until it reaches a golden brown hue. At this point, promptly remove the pot from the heat.

Carefully, using tongs or forks, extract the walnuts from the pot and place them onto the prepared parchment paper or silicone sheets. Ensure the walnuts are evenly spaced to prevent them from adhering together.

Allow the candied walnuts to cool to room temperature before storing or consuming.