Dive into this classic Apple Slab Pie, baked with love using all-purpose flour, sugar, unsalted butter, and a blend of aromatic spices. Highlighted by a filling of fresh apples and a squeeze of lemon, it's every apple lover's dream come true!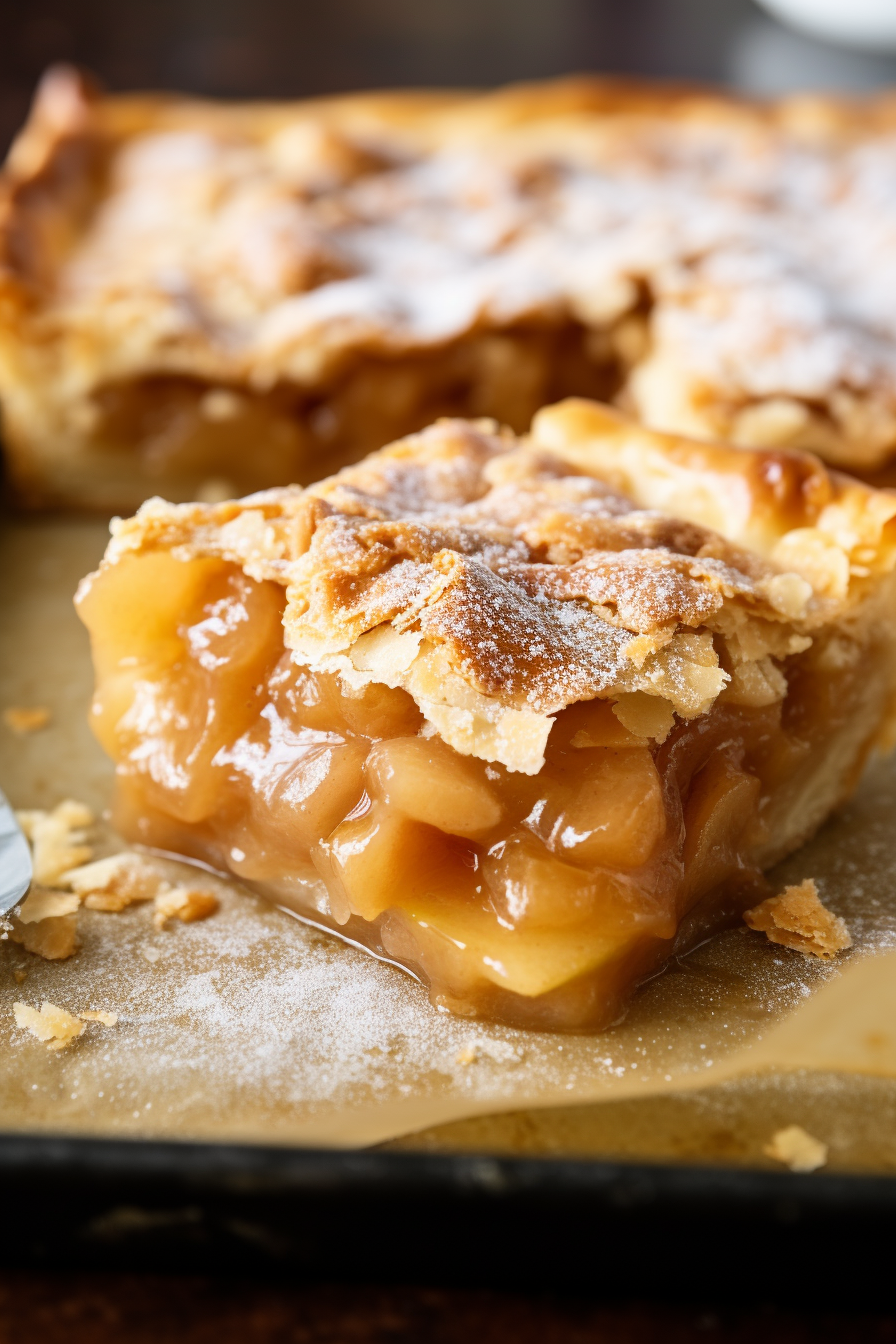 Remember when Grandma used to say, "an apple a day keeps the doctor away"? Well, I took that rather literally! On a nostalgic autumn day, while I was rummaging through Grandma's old recipe cards, I stumbled upon this golden relic – the Apple Slab Pie. It wasn't just any pie; it was the pie, the centerpiece of our large family gatherings. It was like the jigsaw puzzle of desserts – one big piece, but meant to be shared in little squares of happiness. Grandma used to say it was like serving up love on a large baking sheet. Every bite would take me back to those laughter-filled, apple-picking fall afternoons. I hope this pie brings as much warmth and sweet memories to your table as it has to mine!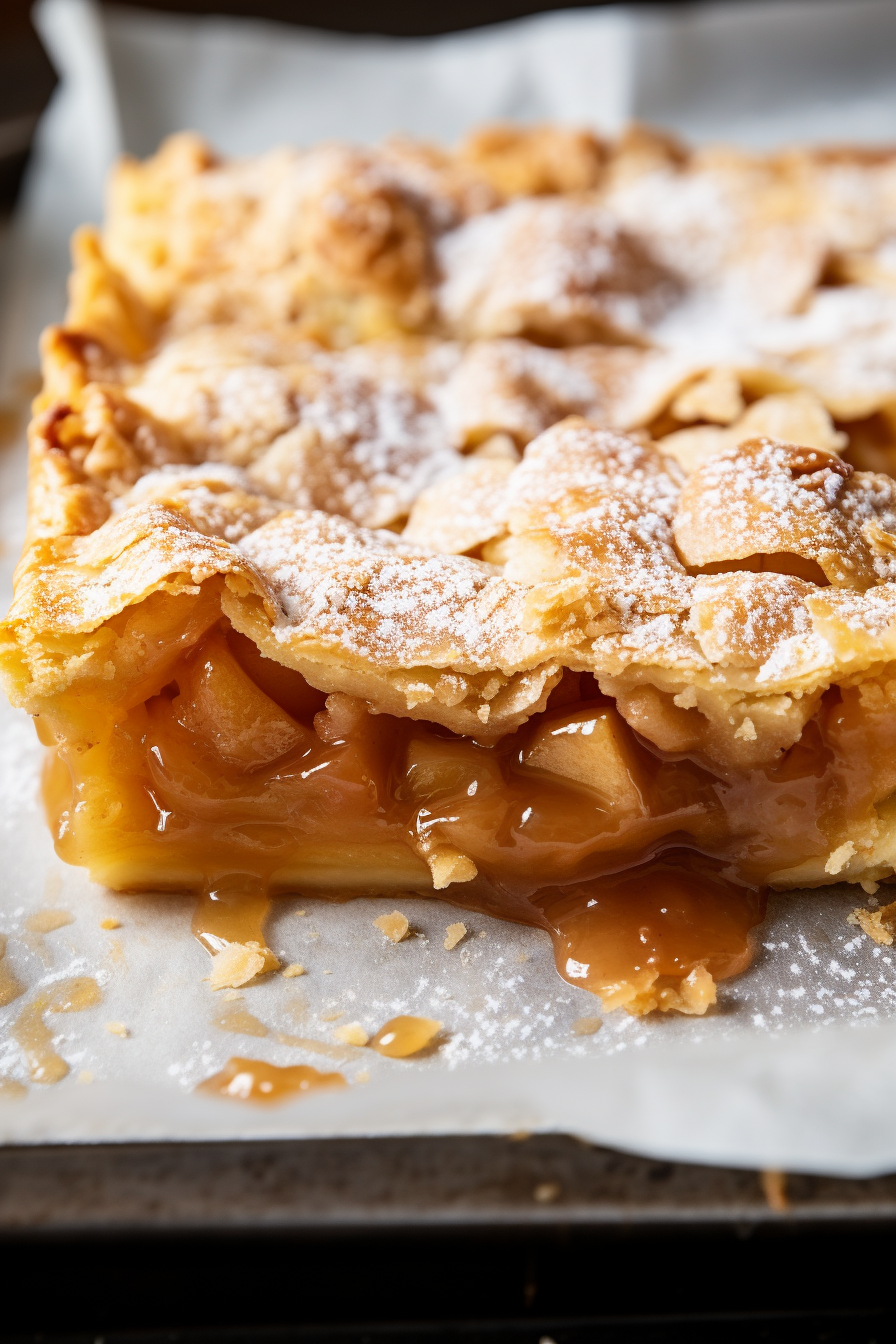 Why You'll Love Apple Slab Pie:
What sets this Apple Slab Pie apart?
Firstly, it's party-sized – enough to feed the entire gang!
Moreover, its crust isn't your ordinary pie shell; it's a perfect blend of flaky and buttery, harmonizing beautifully with the sweet and tangy apple filling.
The hint of lemon and symphony of spices give this pie its signature touch.
And let's not forget – this is not just a pie; it's an experience, a trip down memory lane, each square serving up a slice of nostalgia.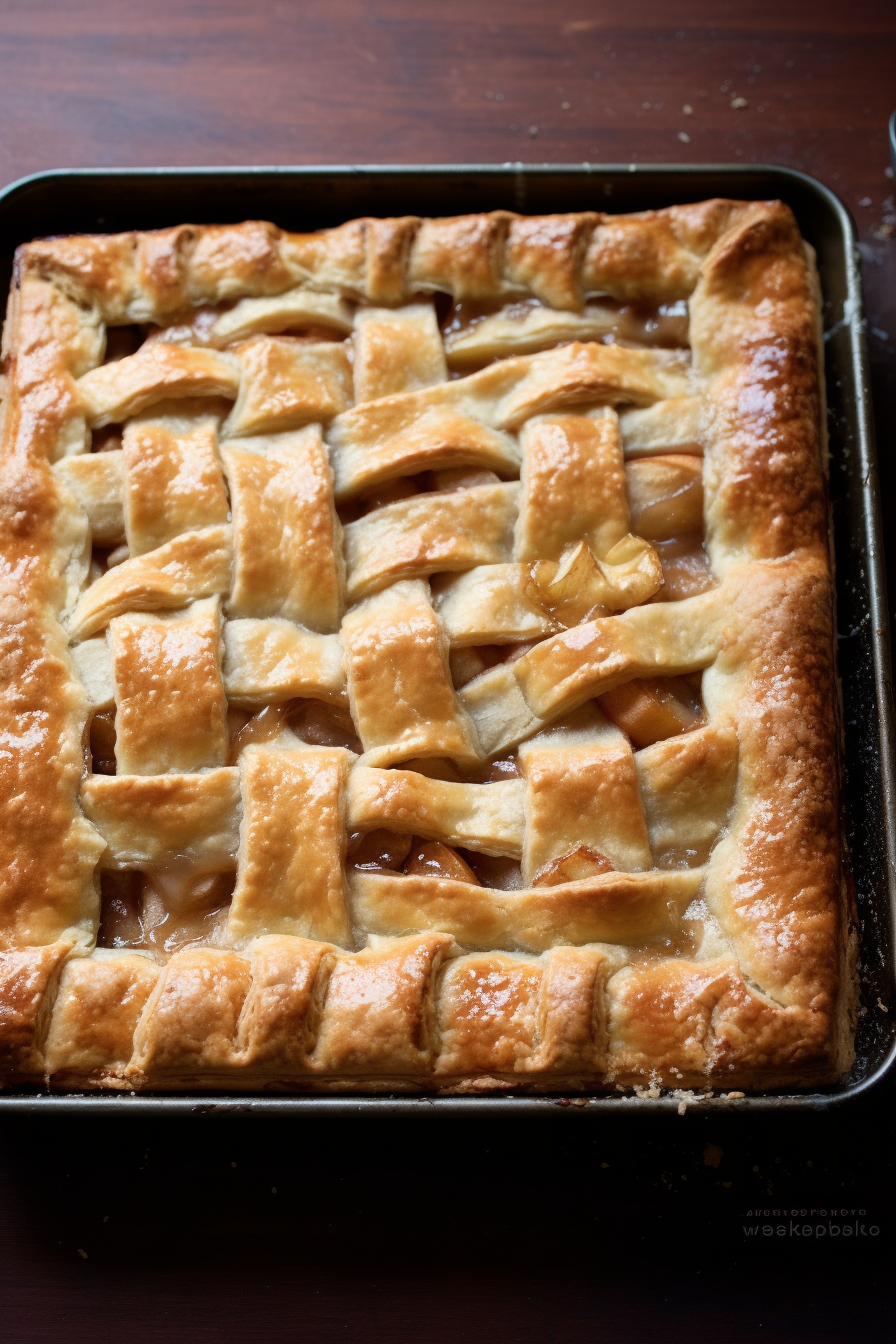 Ingredients Notes for the "Apple Slab Pie":
Flour: Opt for a good-quality all-purpose flour. No need to get fancy!
Apples: A mix of tart and sweet varieties like Granny Smith and Honeycrisp can bring depth to your filling.
Butter: Make sure it's very cold. The colder the butter, the flakier the crust. And we all want that, don't we?
Spices: Freshly ground spices will intensify the flavor, making your pie sing!
Heavy Cream or Egg Wash: This gives the pie its glossy golden finish, making it look as delightful as it tastes.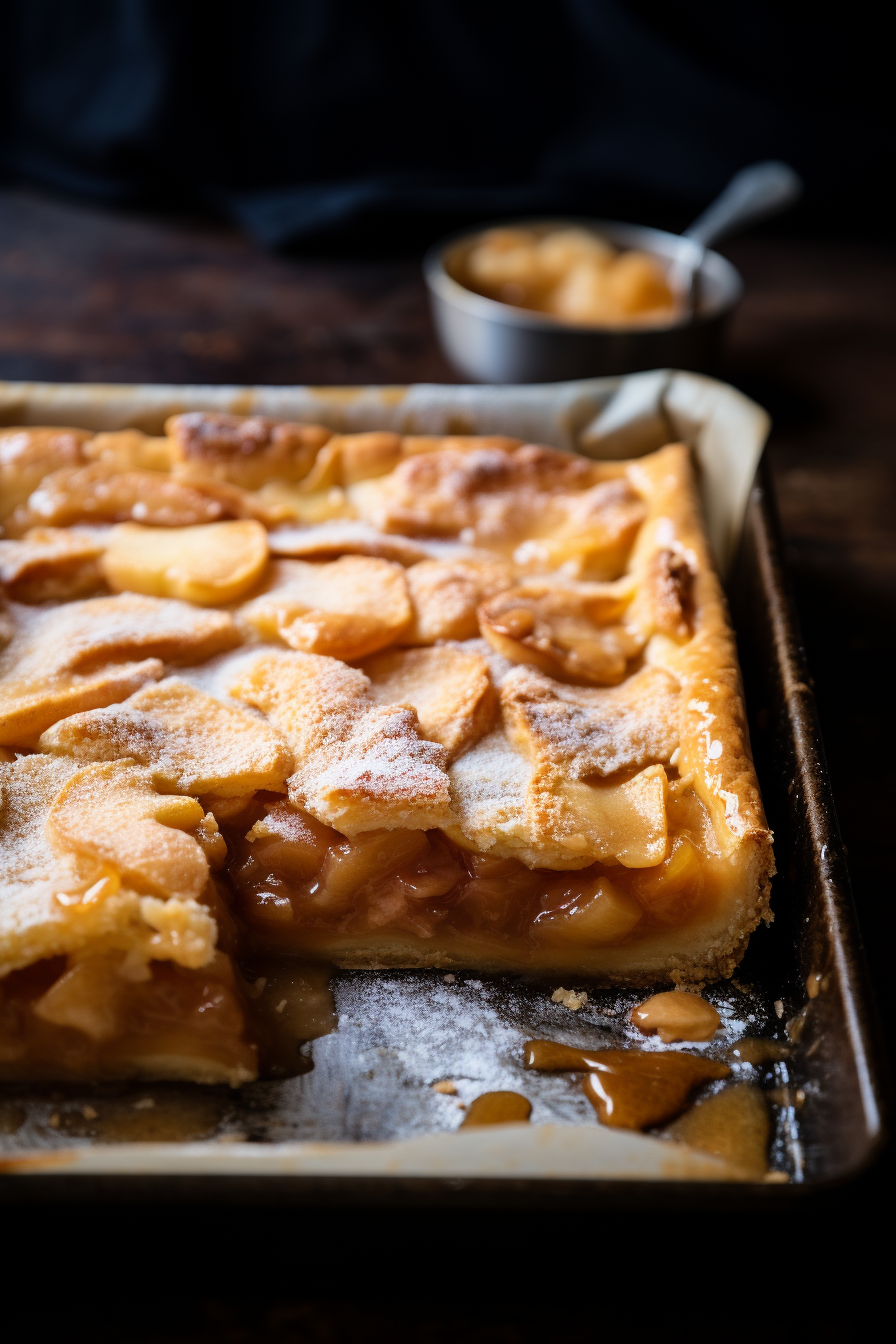 How To Make Apple Slab Pie:
Crust Creation: Begin with the crust by measuring flour into a spacious bowl. After a quick whisk of sugar and salt, give those butter cubes a good old toss. Use your fingers or trusty pastry tools to mash the butter, aiming for pea-sized consistency. Slowly add water, bringing the dough together with tender love and care. Split into two, shape, and refrigerate.
Filling Fun: Toss those freshly chopped apples in a burst of lemon. Blend your sugar and spices, then shower it over the apples. Toss like you're dancing in the autumn leaves!
Pie Assembly: Preheat that oven and get your baking sheet ready. Roll out the dough, fit the larger piece in the pan, then add your apple magic. Top with the second dough piece, seal the deal, and brush with your choice of glossy goodness. Don't forget those steam-escape slits – they're crucial for that perfect bake!
Bake and Patience: Bake until golden perfection. And then, the hard part: wait. Let it cool. No sneaky bites!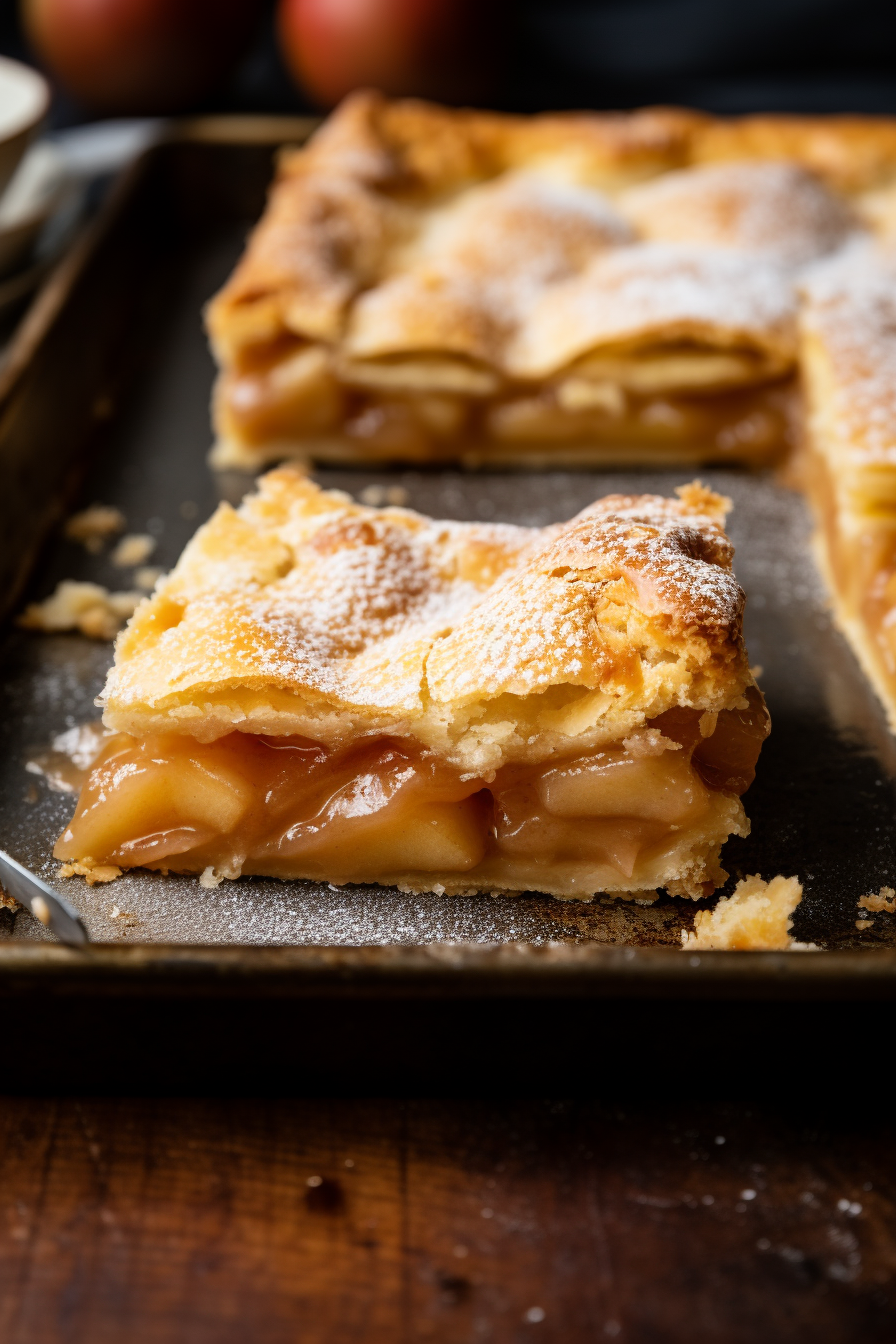 Storage Options for "Apple Slab Pie":
Wrapped snugly in foil or plastic wrap, this pie will last in the fridge for up to 5 days. Want to savor it later? Freeze it! Just ensure it's properly sealed to avoid any frosty encounters.
Variations and Substitutions for "Apple Slab Pie":
Fruit Swap: Feeling adventurous? Mix in some pears with apples.
Spice it Up: Cardamom or cloves can add a delightful twist.
Dough Delight: For an extra crunch, sprinkle the crust with demerara sugar before baking.
Vegan Version: Substitute butter with a vegan alternative and use a plant-based milk wash.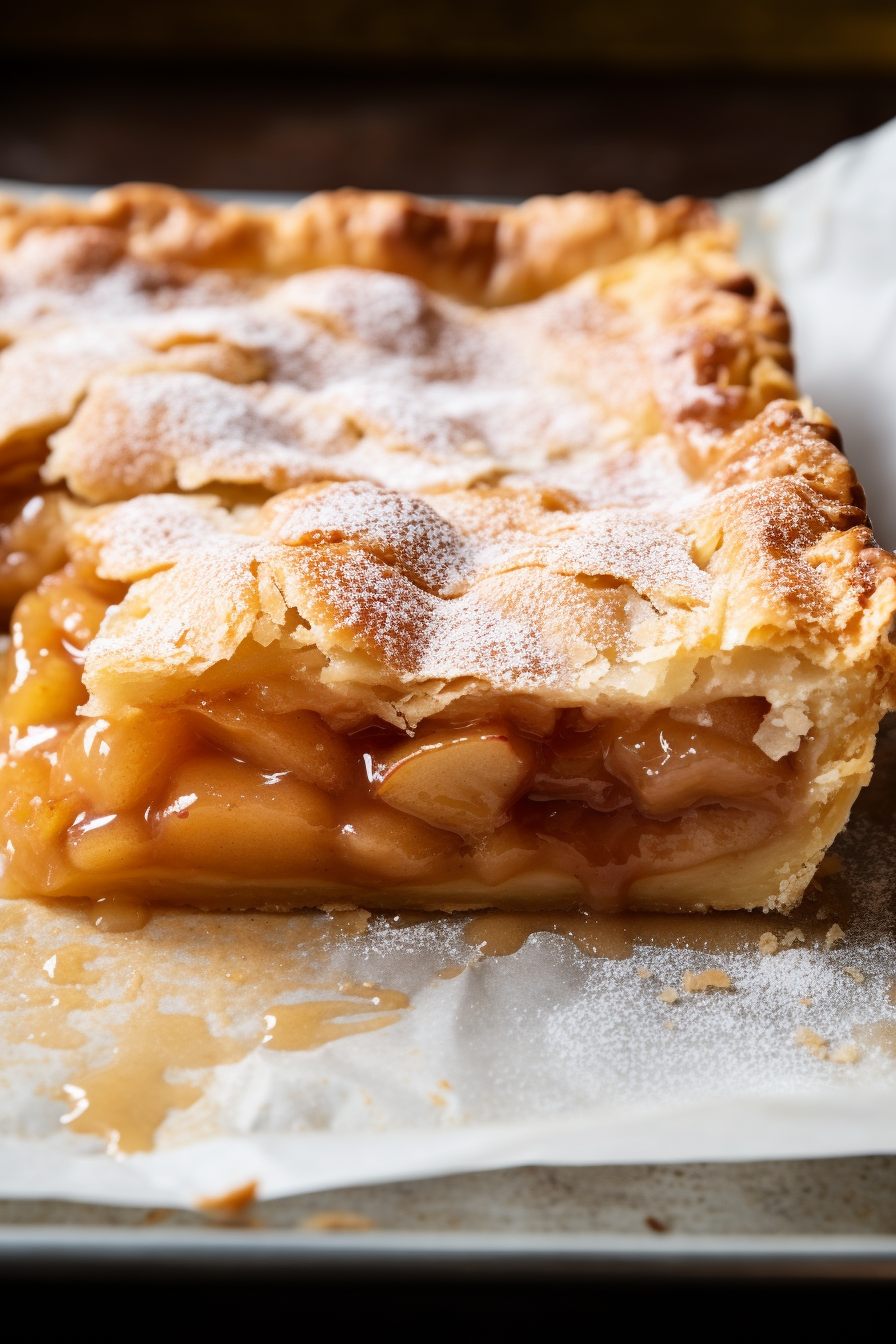 Remember, pies are like stories – personal and meant to be shared. So whether you stick to tradition or venture out, make it your own and serve with a dollop of love (and maybe some vanilla ice cream!). 😉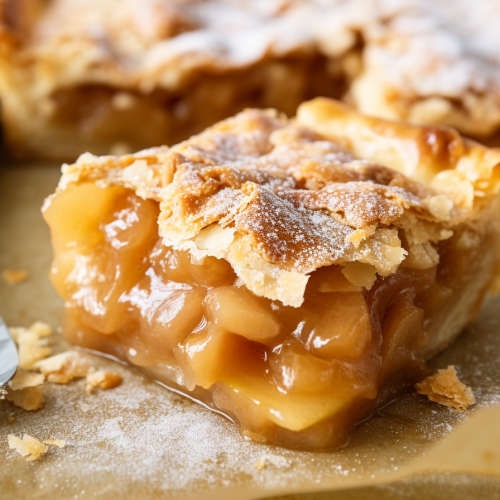 Apple Slab Pie
Dive into this classic Apple Slab Pie, baked with love using all-purpose flour, sugar, unsalted butter, and a blend of aromatic spices. Highlighted by a filling of fresh apples and a squeeze of lemon, it's every apple lover's dream come true!
Print
Pin
Rate
Ingredients
For the Crust:
Flour

all-purpose: 3 ¾ cups (470 grams)

Sugar: 1 ½ tablespoons

Salt

table variety: 1 ½ teaspoons

Butter

unsalted: 3 sticks (12 oz or 340 grams), cubed, ensure it's cold

Water: ¾ cup

maintain a cold temperature
For the Apple Filling:
Apples: 3 ½ to 4 pounds

ensure they are peeled, cored, and cut into roughly ½-inch pieces (equivalent to approximately 10 cups)

Lemon juice: a moderate squeeze

Sugar: between ⅔ to ¾ cup

adjust based on apple sweetness and personal preference

Cornstarch: 3 tablespoons

Cinnamon

ground: 1 rounded teaspoon

Nutmeg

ground: ¼ teaspoon

Allspice

ground: ¼ teaspoon

Salt

table variety: ⅛ teaspoon
To Conclude:
Heavy cream: 2 tablespoons OR

An egg combined with 1 tablespoon of water
Instructions
Crust Preparation: Begin by measuring the flour and placing it in a sufficiently sized bowl. Integrate the sugar and salt via whisking. Introduce the butter cubes to the mixture, ensuring they are coated with flour. Utilize a pastry blender or two knives to break down the butter to achieve a consistent texture, roughly the size of peas. Gradually introduce water and combine until the mixture consolidates into a dough. Subdivide the dough into two portions, one marginally larger than the other. Shape each portion into a rectangle, approximately 1-inch in thickness, and wrap them in plastic. Refrigerate for a minimum duration of 2 hours.

Filling Preparation: Combine the apple pieces with lemon juice in a large mixing bowl. In a separate medium-sized bowl, amalgamate the sugar, cornstarch, cinnamon, nutmeg, allspice, and salt. Distribute this sugar-spice compound over the apples and ensure thorough mixing.

Pie Assembly: Activate the oven's preheating function, setting it to 375° F (190° C). Prepare a 10×15×1-inch baking tray by lining its base with parchment paper. If the tray dimensions slightly vary, proceed without concern, although there might be residual dough. Roll out the larger dough portion on a surface lightly dusted with flour, aiming for a 18×13-inch rectangle. Gently position this over the tray, allowing the dough's edges to drape over the sides. Temporarily place the tray in a refrigerator. Concurrently, roll out the second dough portion into a 16×11-inch rectangle. Retrieve the tray and evenly spread the apple mixture, ensuring the inclusion of the juices. Layer with the second dough portion and trim the excess. Firmly seal the edges of the dough. Conclude by brushing the surface with either heavy cream or the egg-water blend. Incise several 1-inch slits on the dough's surface to facilitate steam release.

Baking Process: Place the prepared tray into a preheated oven and allow it to bake for a duration ranging between 40 to 45 minutes. The desired outcome is a golden-brown crust with a visibly bubbling filling. Upon removal from the oven, the pie should be cooled on a wire rack for a minimum of 45 minutes prior to serving.