Oh, hello there! Craving a bakery-quality treat? Whisk together crescent rolls, cream cheese, vanilla, and a touch of brown sugar for the dreamiest homemade Cheese Danishes. It's a sweet rendezvous in your own kitchen.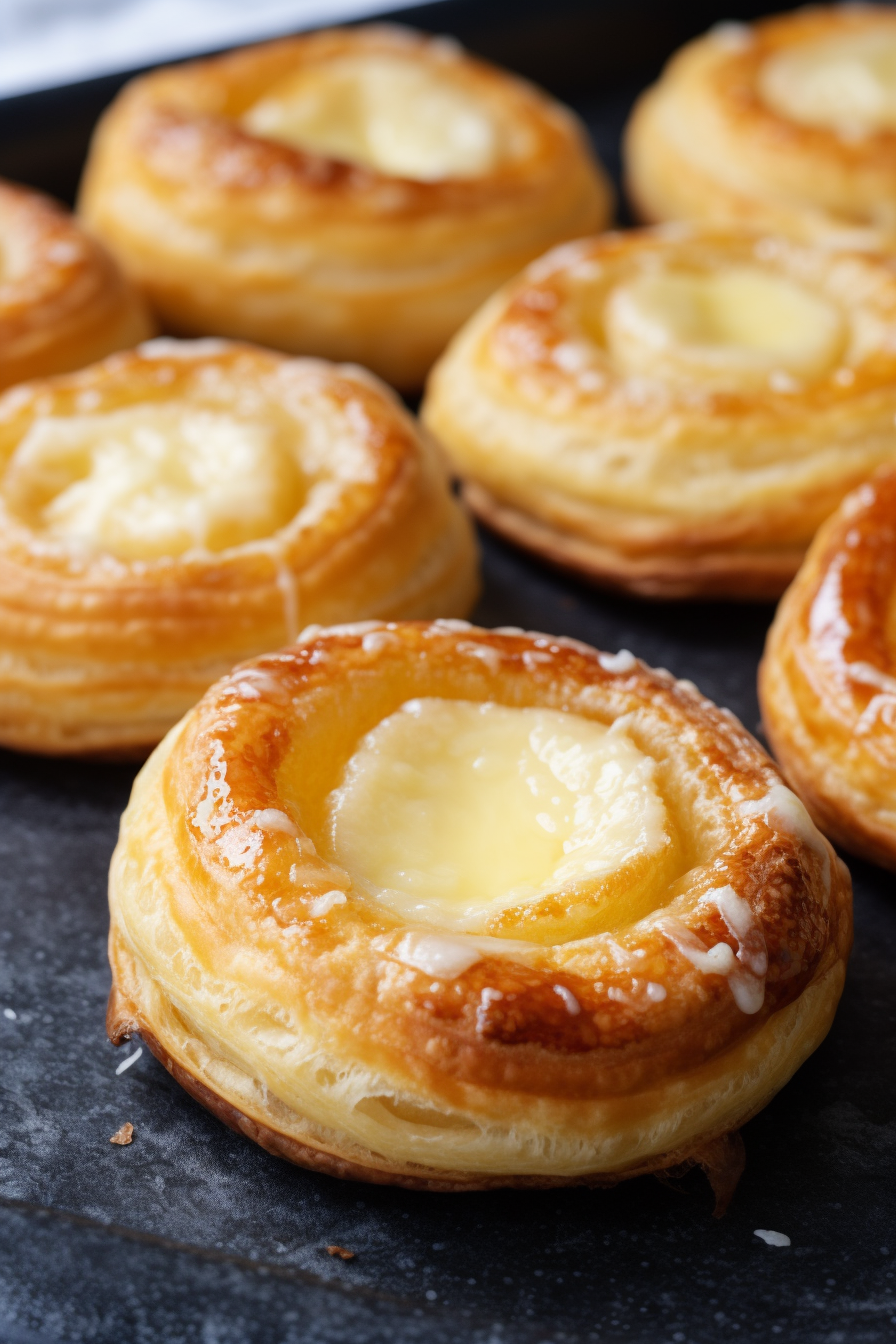 You know, the universe sometimes has a quirky way of throwing things at us. There was this one time when I was absolutely itching for a cheese danish. You know, the kind you'd get from those posh bakeries with fancy French names? But, fate and my pajamas decided I wasn't stepping out that day. So, instead of pouting (okay, after a little pouting), I embarked on a culinary adventure to recreate that flaky, creamy dream, and voila! The birth of the "Easy, Peasy, Cheesy Danish!" Now, every time I bite into these danishes, I'm reminded of that fateful, lazy Sunday. Oh, how sweet serendipity tastes!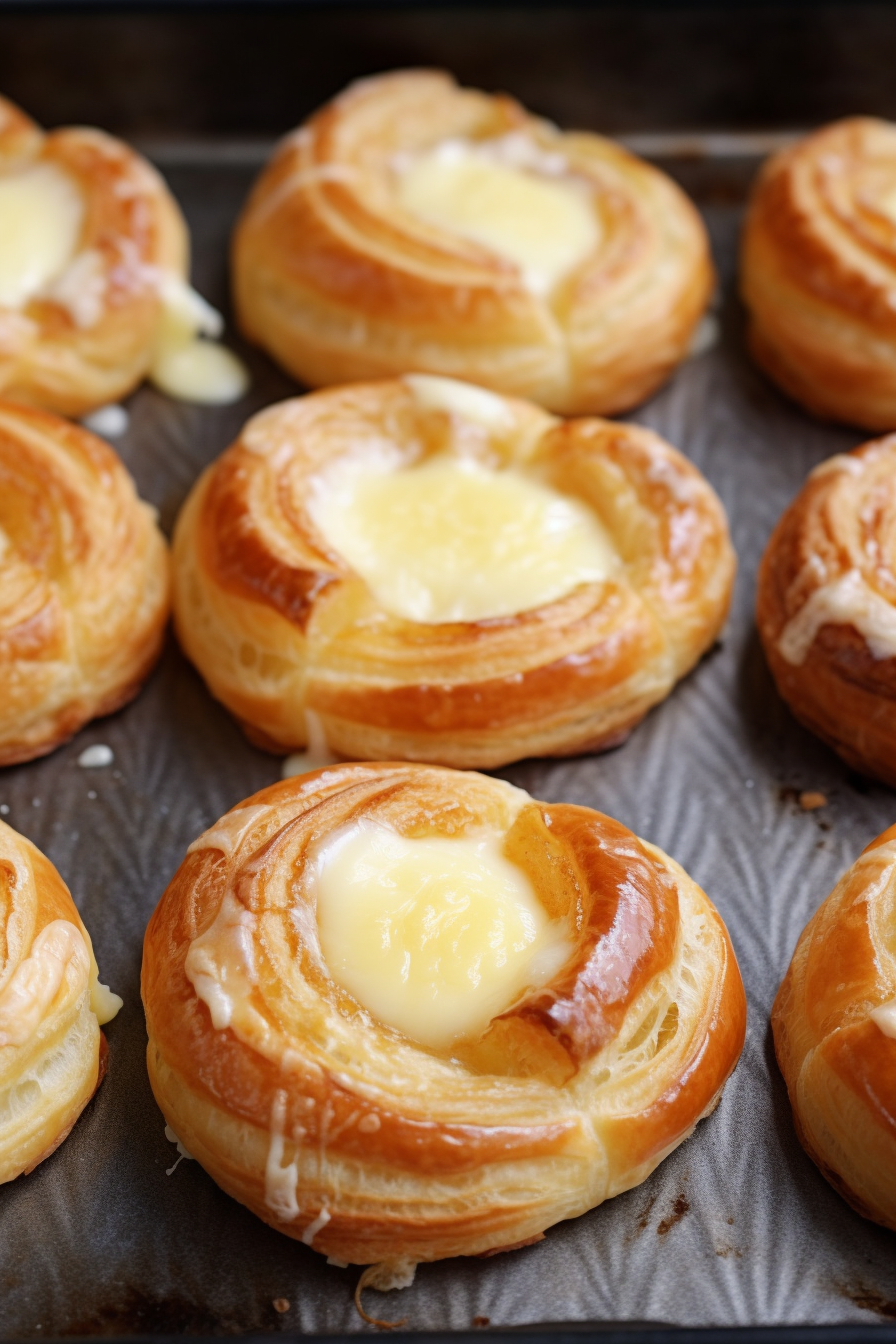 Why You'll Love Cheese Danishes:
The Cheese Danish recipe that I've conjured up for you is not just any ordinary pastry—oh no! For starters, this recipe is easy enough that even your pet cat could probably make it. Well, okay, maybe not Mr. Whiskers, but you get the idea.
Plus, we're working with a crescent roll dough, meaning we're cutting prep time like a ninja. But, here's the clincher: the end result is a danish so rich and creamy, it'll have your taste buds doing the cha-cha! From your kitchen, with love and a sprinkle of genius.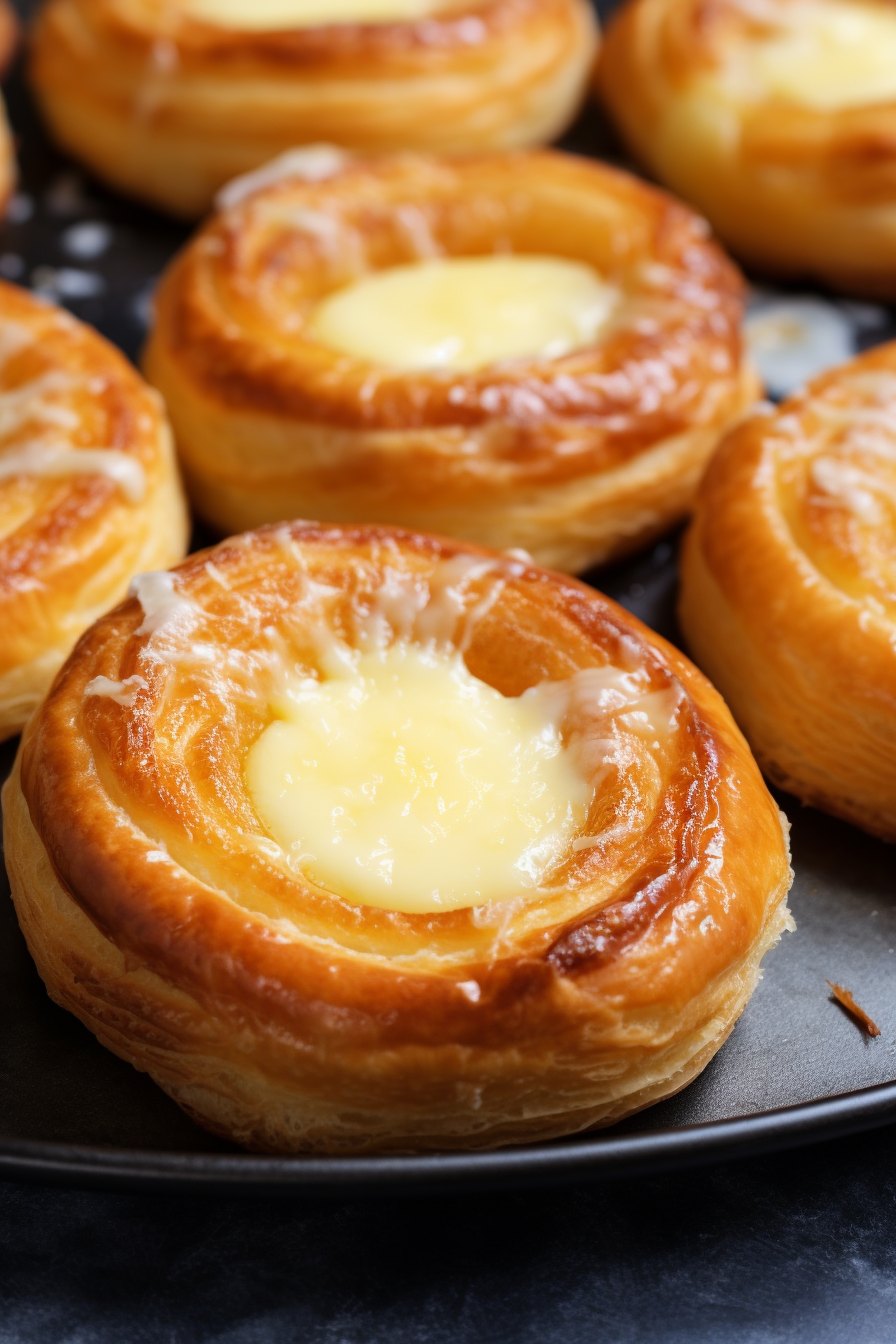 Ingredients Notes For Cheese Danishes:
Alright, Kitchen Warriors, let's dissect this ingredient list. Firstly, when you're shopping for your crescent rolls, any brand will do, but opt for the ones without added flavorings. Plain is perfect for this masterpiece. As for the cream cheese, let it soften, because nothing ruins a baking vibe like trying to blend a rock-hard cheese brick. Now, the vanilla extract – it's like the magic potion in this mix. Always go for pure over imitation; your danishes deserve the best. And finally, if you're feeling a little adventurous, you could swap light brown sugar with dark for a more caramel-esque undertone.
Detailed Recipe Steps
Buckle up, buttercup! It's baking time.
Start by preheating your oven to 350°F. This will give it ample time to warm up while you mix the cream cheese, white sugar, and vanilla in a medium bowl until it's smoother than a jazz tune.
Roll out those crescent dough rectangles and press to seal the perforations. With a brush or even your fingers (who's judging?), slather on some melted butter. Sprinkle each rectangle with brown sugar as if you're dusting them with fairy dust.
Next, roll 'em up from the longer side and coil them just like you'd twirl your hair thinking about your crush. Create a little well in the center and bless each with the cream cheese magic. Lay them on a cookie sheet, and bake until they're golden and singing "Eat me!" Finish off by drizzling that glazy goodness on top.
Storage Options:
If by some strange occurrence you have leftovers (I mean, really?), these danishes can be stored in an airtight container for up to 3 days. They also freeze well! Just let them cool down, skip the glaze, pop them in a freezer-safe bag, and they'll be good for a month. When you're ready to indulge, just thaw, warm slightly in the oven, and glaze away!
Variations and Substitutions:
Feeling jazzy? Here are some remix ideas: Swap cream cheese for mascarpone or ricotta. For a fruity twist, add a dollop of raspberry or apricot jam on top of the cheese filling before baking. And if you're out of crescent rolls, puff pastry can make a posh stand-in. For a zestier glaze, add some lemon or orange zest. The world's your danish – play around!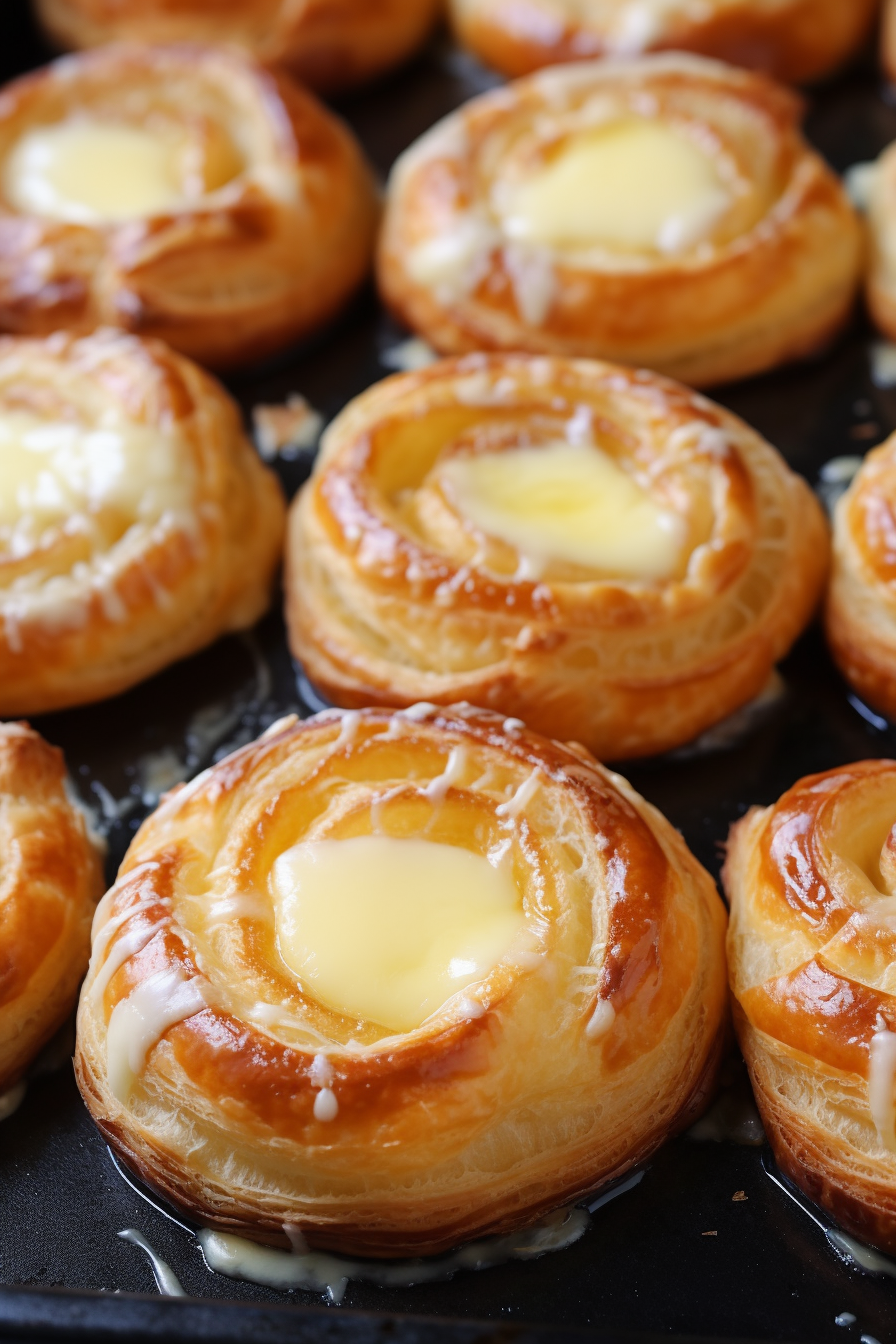 Well, there you have it! From my kitchen chronicles to yours, happy baking, you fabulous home-baker, you!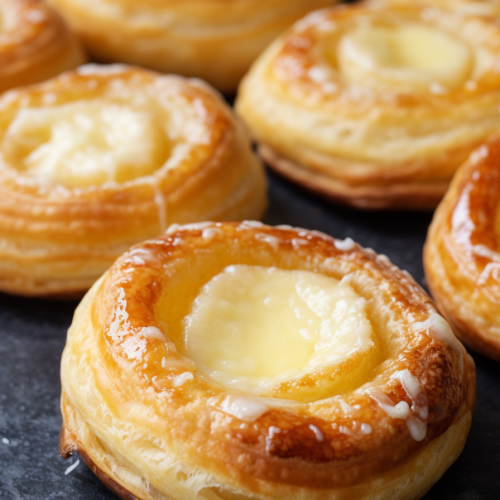 Cheese Danishes
Oh, hello there! Craving a bakery-quality treat? Whisk together crescent rolls, cream cheese, vanilla, and a touch of brown sugar for the dreamiest homemade Cheese Danishes. It's a sweet rendezvous in your own kitchen.
Print
Pin
Rate
Ingredients
Danish Components:
Two 8-ounce tubes of crescent rolls

One 8-ounce package of cream cheese

ensured to be at room temperature

¼

cup

of granulated white sugar

1

teaspoon

of pure vanilla extract

2

Tablespoons

of salted butter

melted

8

Tablespoons

of light brown sugar
Glaze Components:
½

cup

of powdered sugar

1

teaspoon

of pure vanilla extract

4

teaspoons

of milk
Instructions
Initiate by preheating the oven to a temperature of 350°F (177°C).

In a medium-sized mixing bowl, blend the room temperature cream cheese, white sugar, and vanilla extract until achieving a uniform consistency.

Carefully unroll the crescent dough. Each tube should yield four rectangles, making a total of eight. Ensure to firmly seal the perforations between the triangles.

Use an appropriate brush to apply melted butter uniformly over the surface of the crescent rectangles.

Equitably sprinkle approximately 1 Tablespoon of brown sugar onto each rectangle.

Commence rolling from the extended side of each rectangle and finalize by sealing the edges.

By holding one end, coil each rectangle with gentle care.

Delicately adjust the center of the dough to accommodate the filling.

Position the prepared coils on a baking sheet that has been treated with nonstick spray. Administer roughly 2 tablespoons of the cream cheese mixture atop each coil.

Bake in the preheated oven for a span of 15-18 minutes, monitoring for a golden-brown finish.

For the glaze preparation: In a separate bowl, amalgamate the powdered sugar, vanilla, and milk. Stir to achieve a smooth consistency and subsequently drizzle over the warm danishes.