Dive into the zesty world of Lemon Cream Cheese Bars! Fresh lemons and creamy cheese blend beautifully atop flaky crescent roll dough for a citrusy delight.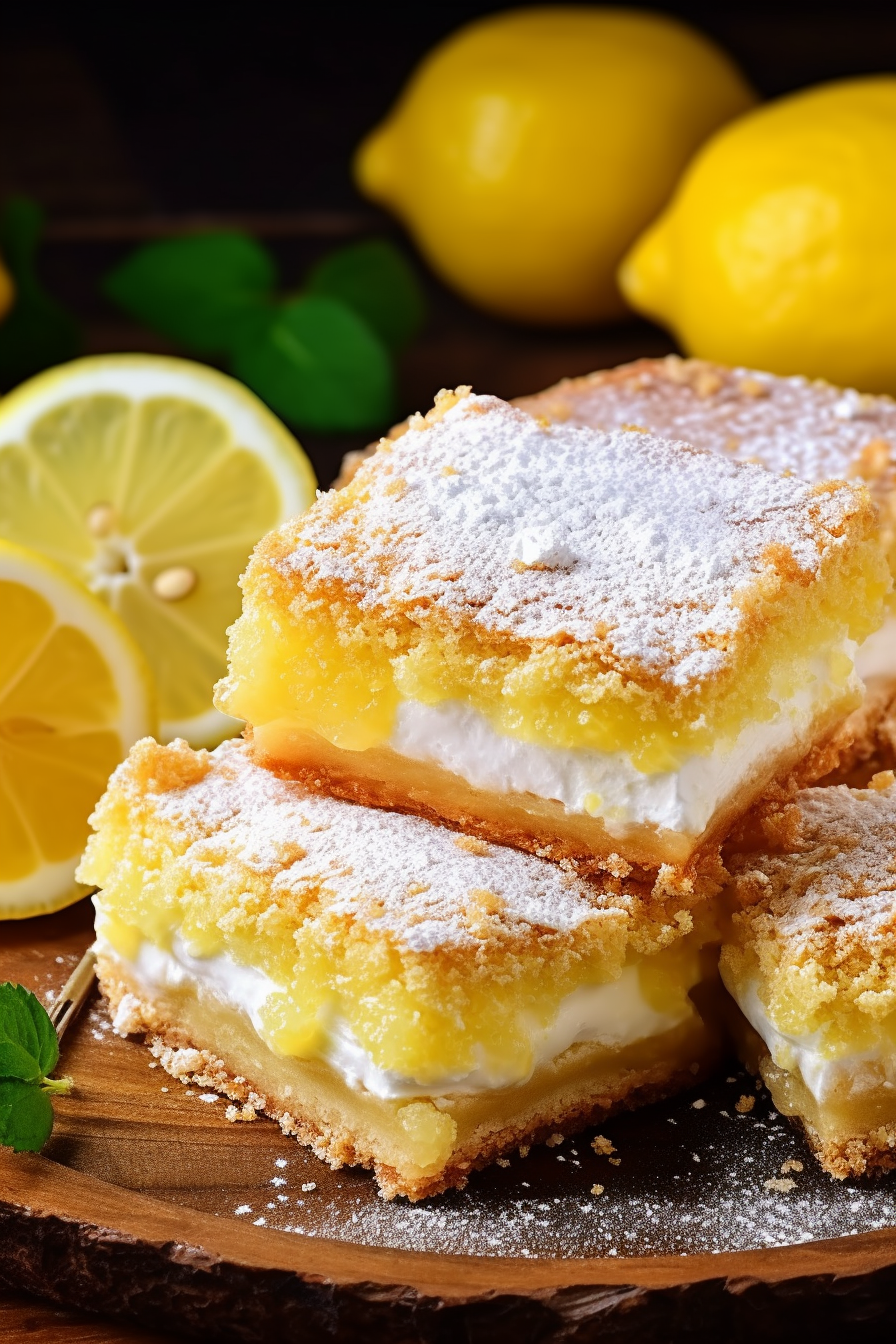 Oh, how I cherish the memories of summer! There was this one particular sun-drenched day during my childhood when my grandmother, a culinary wizard in her own right, handed me a square of something that looked plain but tasted like a burst of sunshine. Yep, you guessed it! It was her version of the Lemon Cream Cheese Bars. As the bright flavors danced on my tongue, I remember thinking, "This isn't just a dessert. It's like a sunny day captured in a bite!" Years later, armed with nostalgia and her scribbled recipe, I decided to recreate that magic. And, folks, today I share this golden memory (quite literally) with all of you!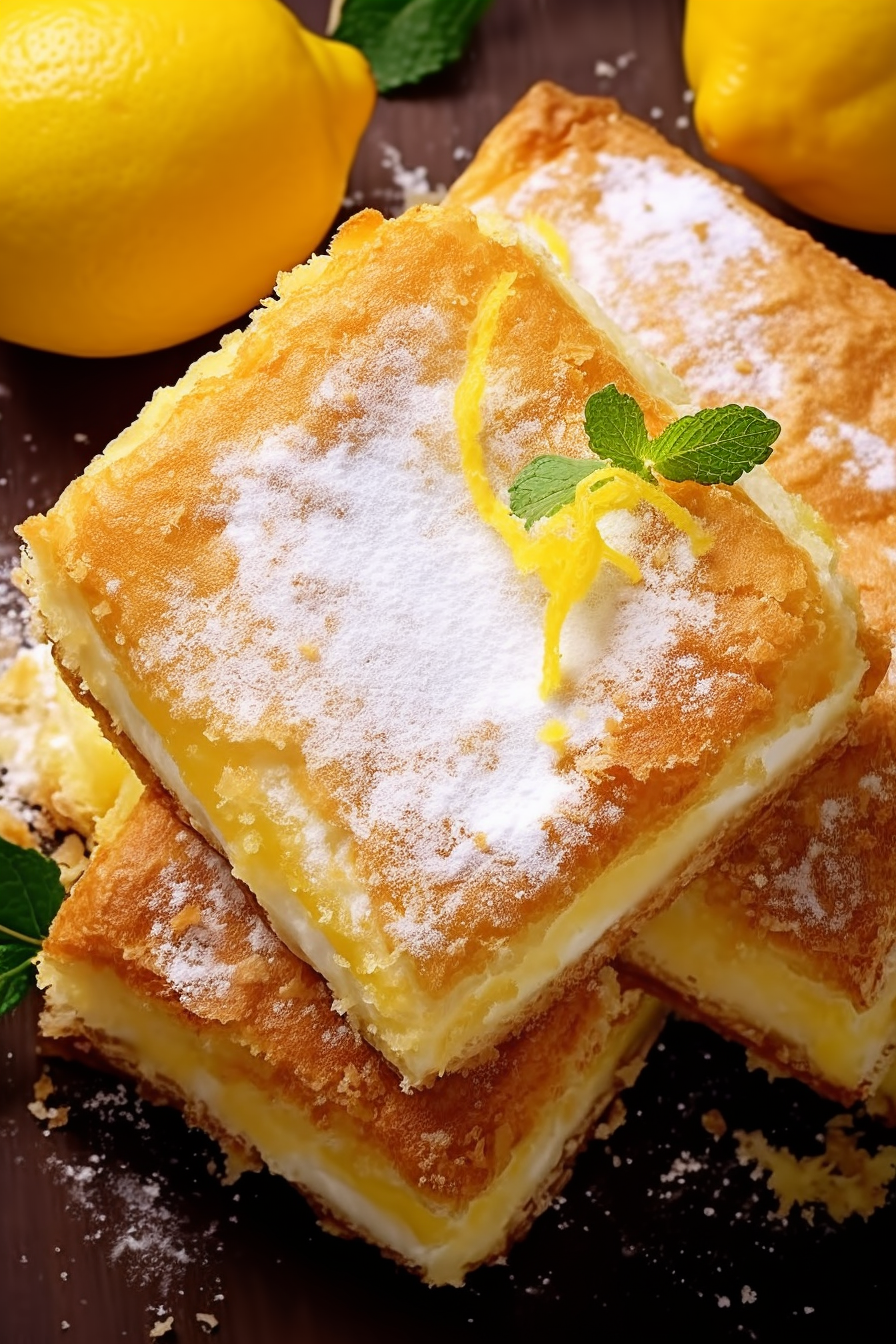 Why You'll Love Lemon Cream Cheese Bars:
Are you tired of the same ol' desserts? Say hello to our Lemon Cream Cheese Bars – where zesty freshness meets creamy luxury! These bars are a three-fold wonder:
Unapologetically Lemony: Thanks to real lemon zest and juice, these bars aren't just "kinda lemony", they're a full-blown citrus party!
Creamy yet Crispy: With a soft cream cheese layer nestled between crispy crescent roll dough, you get the best of both worlds in one bite.
Easier than Pie: Literally. No fancy techniques or hours of baking. They're refreshingly easy and dangerously addictive!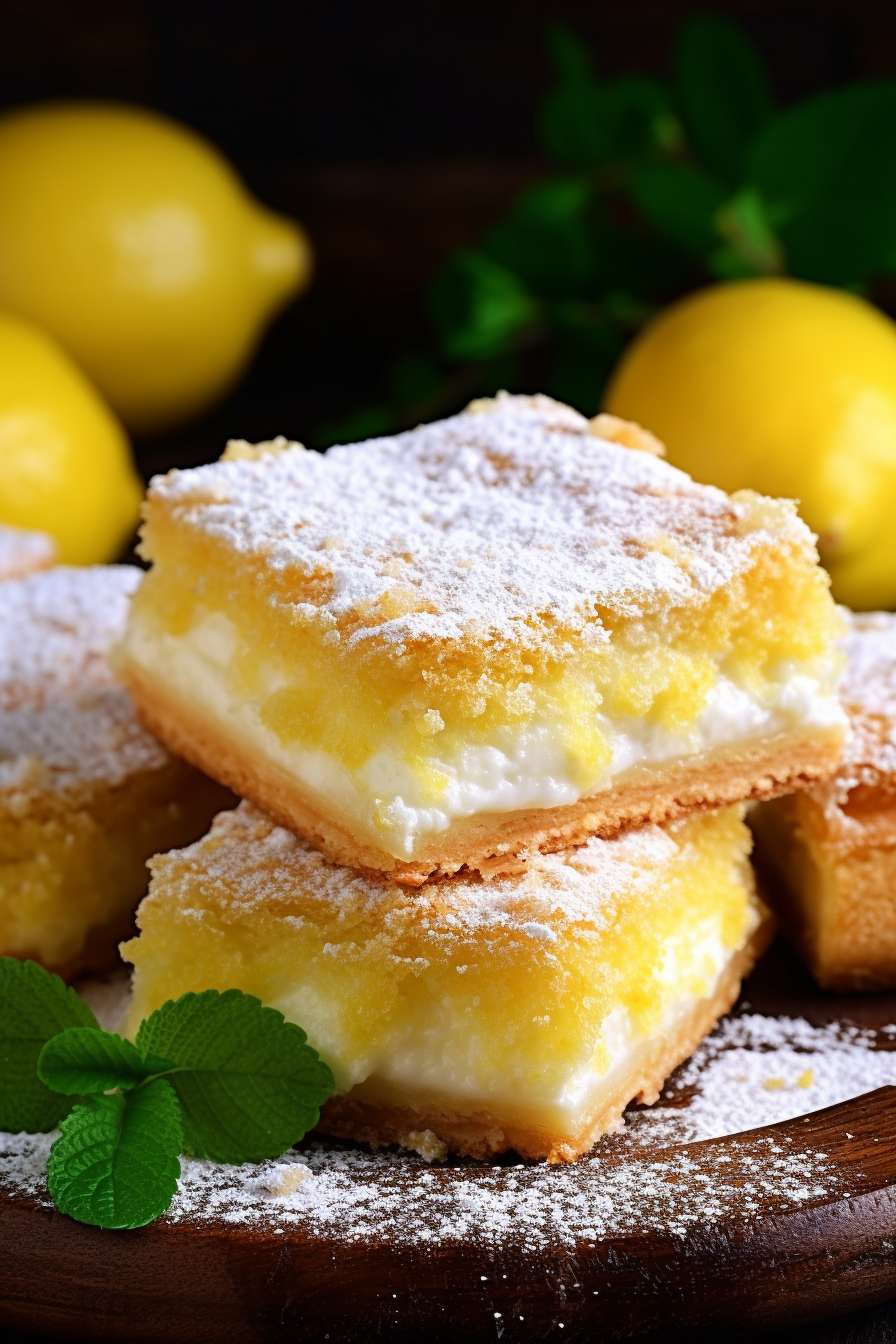 Ingredients Notes For Lemon Cream Cheese Bars:
Ah, the game-changers in our lemony tale!
Crescent Roll Dough: Now, if you're feeling fancy, you can make your own. But, honestly? The store-bought version is your bestie for a quick treat.
Lemons: Fresh is best! The zest and juice elevate the bars, so don't skimp or go for bottled ones.
Cream Cheese: Soften it to ensure smooth blending. A lump-less cream cheese layer is the dream!
White Sugar: Ah, the sweet counterpart to our tangy lemons. You can experiment with the quantity based on your sweet tooth.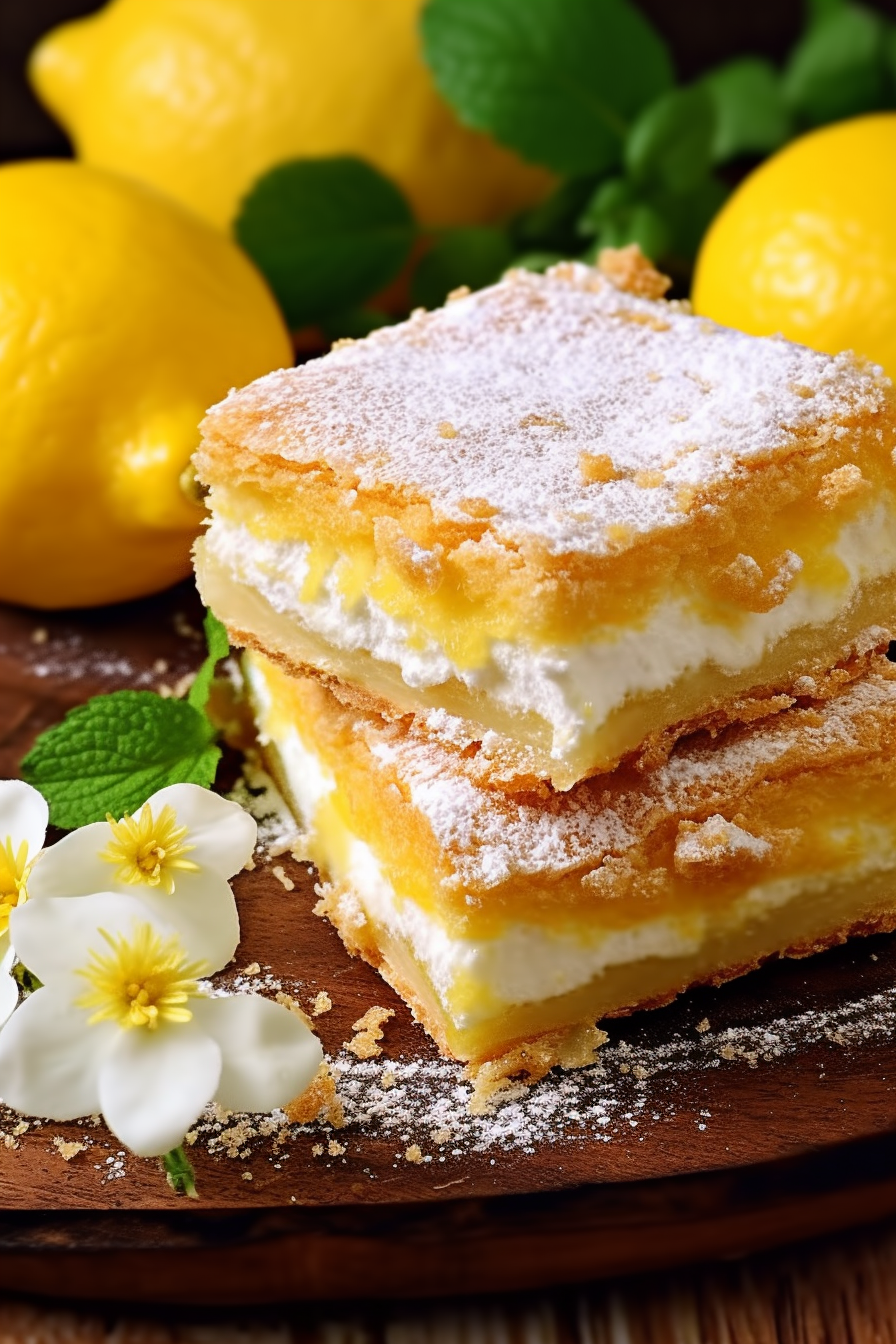 How To Make Lemon Cream Cheese Bars:
Let's unravel the magic, one step at a time, shall we?
Step 1: Warm up that oven to 350°F (175°C). That foil lining in your baking dish? It's a sneaky trick to lift and cut the dessert later. Don't forget the cooking spray – no one likes a sticky situation!
Step 2: The crescent roll dough gets the red carpet treatment here. Lay the first one as your base, ensuring it covers all edges.
Step 3: Time for the star of the show! Whip up that cream cheese, sugar, and most of the lemon (save some zest for the final touch) till it's smoother than a jazz tune. Layer this dreamy mix over the dough.
Step 4: Now, crown it with the other crescent roll dough. Drizzle the melted butter over this royal ensemble and sprinkle the sugar-lemon zest mixture for that golden finish.
Step 5: Into the oven, it goes for about 30 minutes. You're looking for a golden top. Not too tan, just sun-kissed.
Step 6: Patience, dear friend! Let it cool a bit before lifting with the foil. Then, onto a cutting board and cut those sunny squares. Chill in the fridge to set the creamy layer. Oh, the anticipation!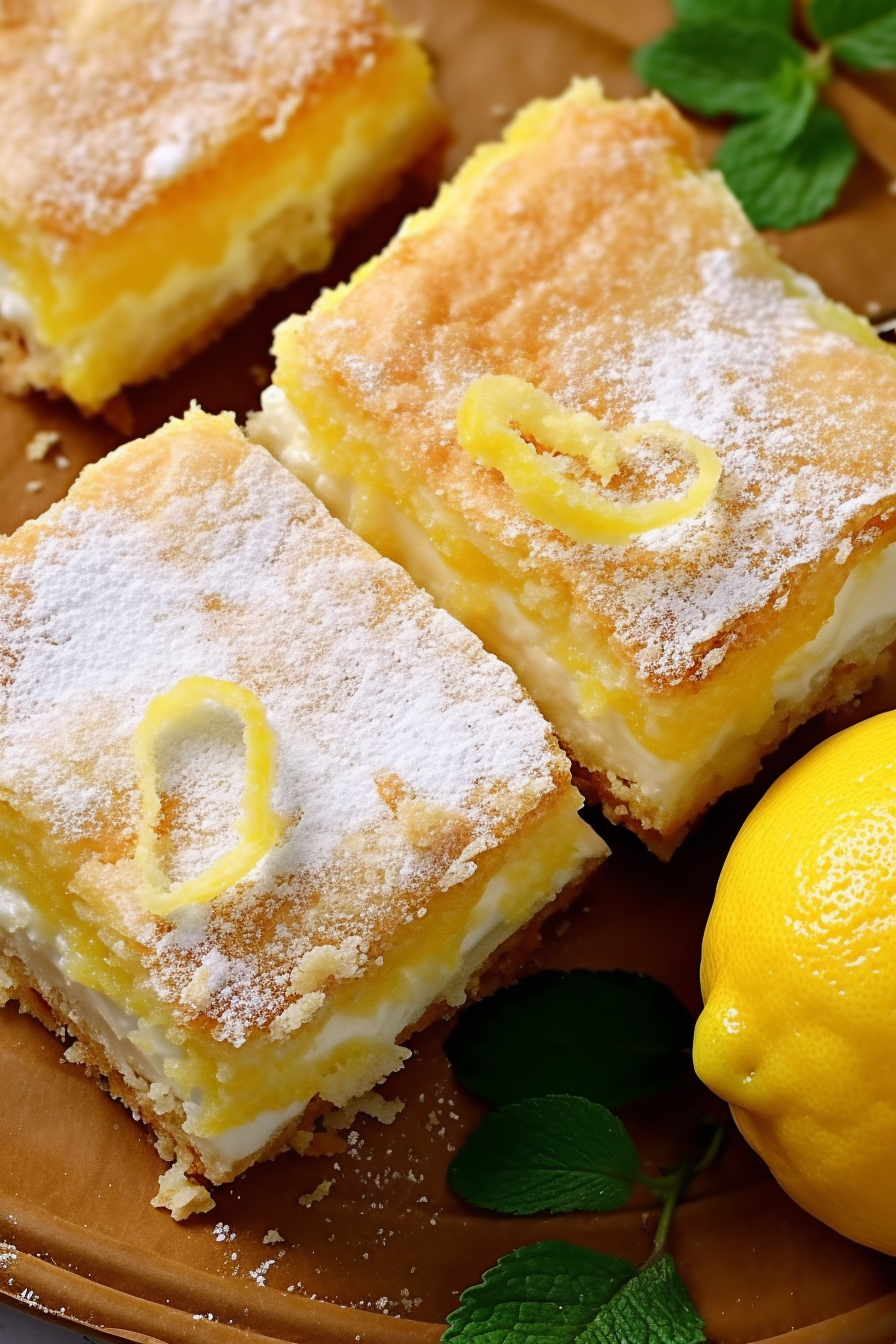 Storage Options:
Got leftovers? (Unlikely, but just in case!) Store these lemony squares of happiness in an airtight container in the fridge. They're best enjoyed within 3-4 days – but I'd be surprised if they last that long!
Variations & Substitutions:
For the adventurers out there:
Orange Cream Cheese Bars: Swap out lemons for oranges and step into a different citrus dimension.
Reduced Sugar: Use a sugar substitute or lessen the quantity for a tangier bite.
Vegan Version: Vegan cream cheese and vegan crescent roll dough are your allies. Replace butter with coconut oil or a vegan alternative.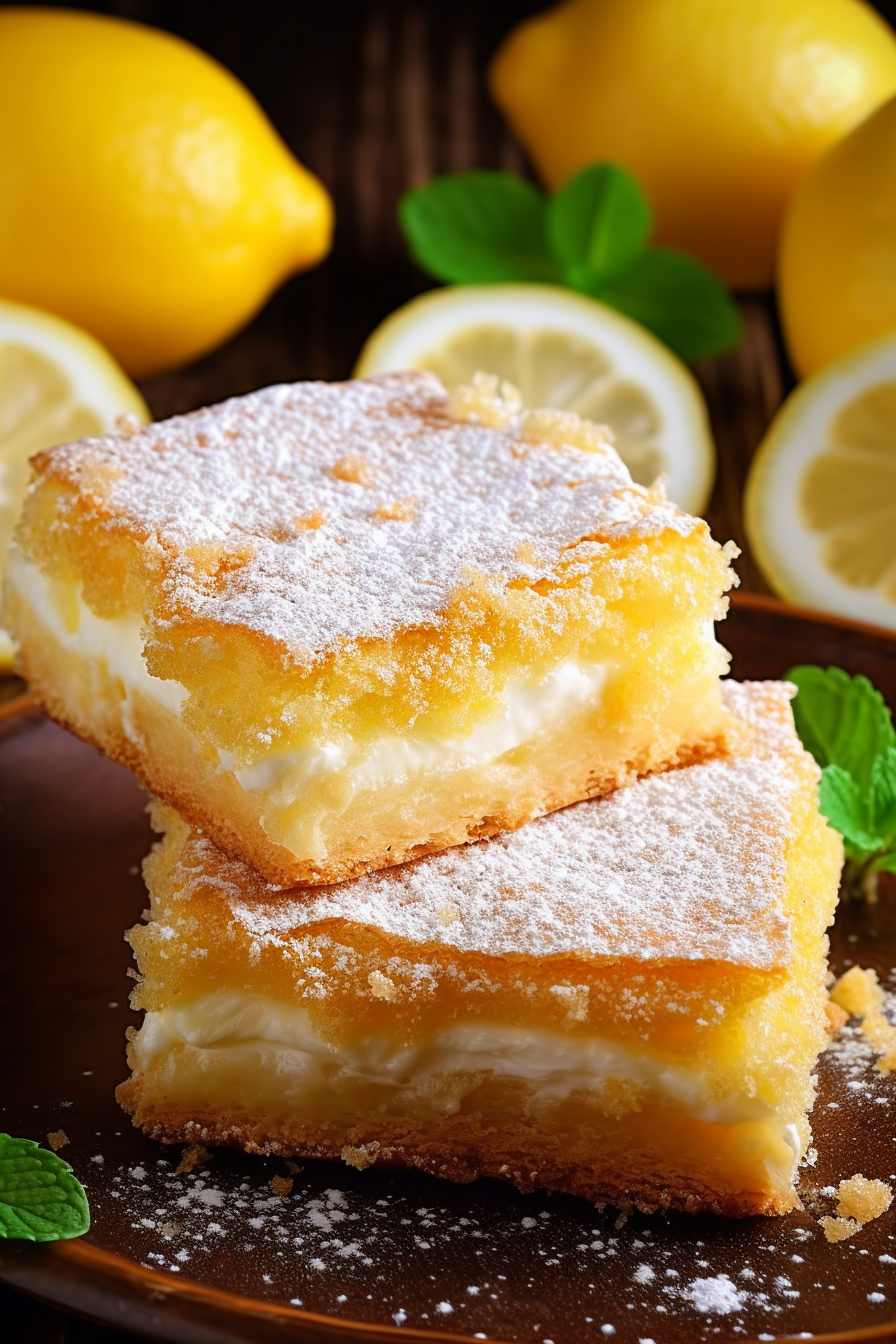 Remember, in the world of baking, you're the artist and the kitchen is your canvas. Paint your masterpiece! 🍋🖌️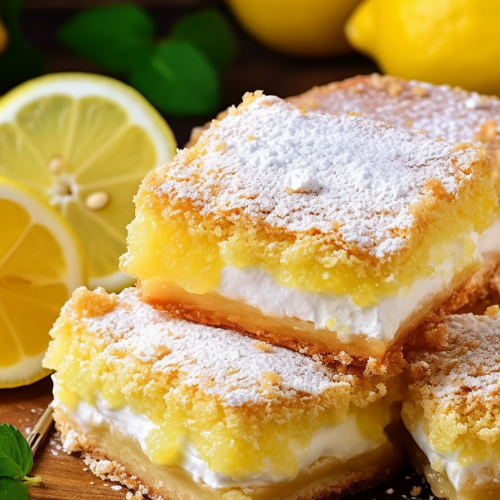 Lemon Cream Cheese Bars
Dive into the zesty world of Lemon Cream Cheese Bars! Fresh lemons and creamy cheese blend beautifully atop flaky crescent roll dough for a citrusy delight.
Print
Pin
Rate
Ingredients
Cooking spray for preparation

2

packages

8 ounces each of refrigerated crescent roll dough, divided

2

lemons

both zested and juiced

2

packages

8 ounces each of cream cheese, softened

½

cup

of granulated white sugar

2

tablespoons

of unsalted butter

melted

3

tablespoons

of granulated white sugar

for topping
Instructions
Preheat the oven to 350°F (175°C). Prepare a 9×13-inch baking dish by lining it with aluminum foil and spraying it with the cooking spray to prevent sticking.

Carefully unroll one package of the crescent roll dough. Position it at the base of the aforementioned baking dish, ensuring it reaches the edges uniformly.

In a mixing bowl, combine the juice from the lemons with 3/4 of the lemon zest. Following this, integrate the softened cream cheese and the 1/2 cup of granulated sugar. Utilize an electric mixer to achieve a consistent, creamy texture. Once mixed, evenly spread this mixture over the crescent roll dough positioned in the baking dish.

Proceed to unroll the second package of crescent roll dough. Layer it over the cream cheese mixture, ensuring again that it reaches the edges of the dish uniformly. Subsequently, brush the melted unsalted butter over the surface.

In a separate small bowl, combine the 3 tablespoons of granulated white sugar with the remaining lemon zest. Distribute this sugar-zest mixture evenly over the layer of melted butter on the crescent roll dough.

Bake the composite in the preheated oven until the top layer develops a golden-brown hue, approximately 30 minutes. After baking, it is recommended to let it cool for roughly 20 minutes.

Using the edges of the aluminum foil, lift the baked dessert from the dish and relocate it to a cutting board. Divide the dessert into evenly-sized squares. Place these squares back into the baking dish and refrigerate for a minimum of 1 hour to ensure optimal consistency before serving.