Dive into this mouthwatering Meatloaf recipe crafted with ground beef, zesty Worcestershire sauce, panko breadcrumbs, aromatic garlic, and topped with a caramelised tomato ketchup glaze. A comforting classic taken to the next level!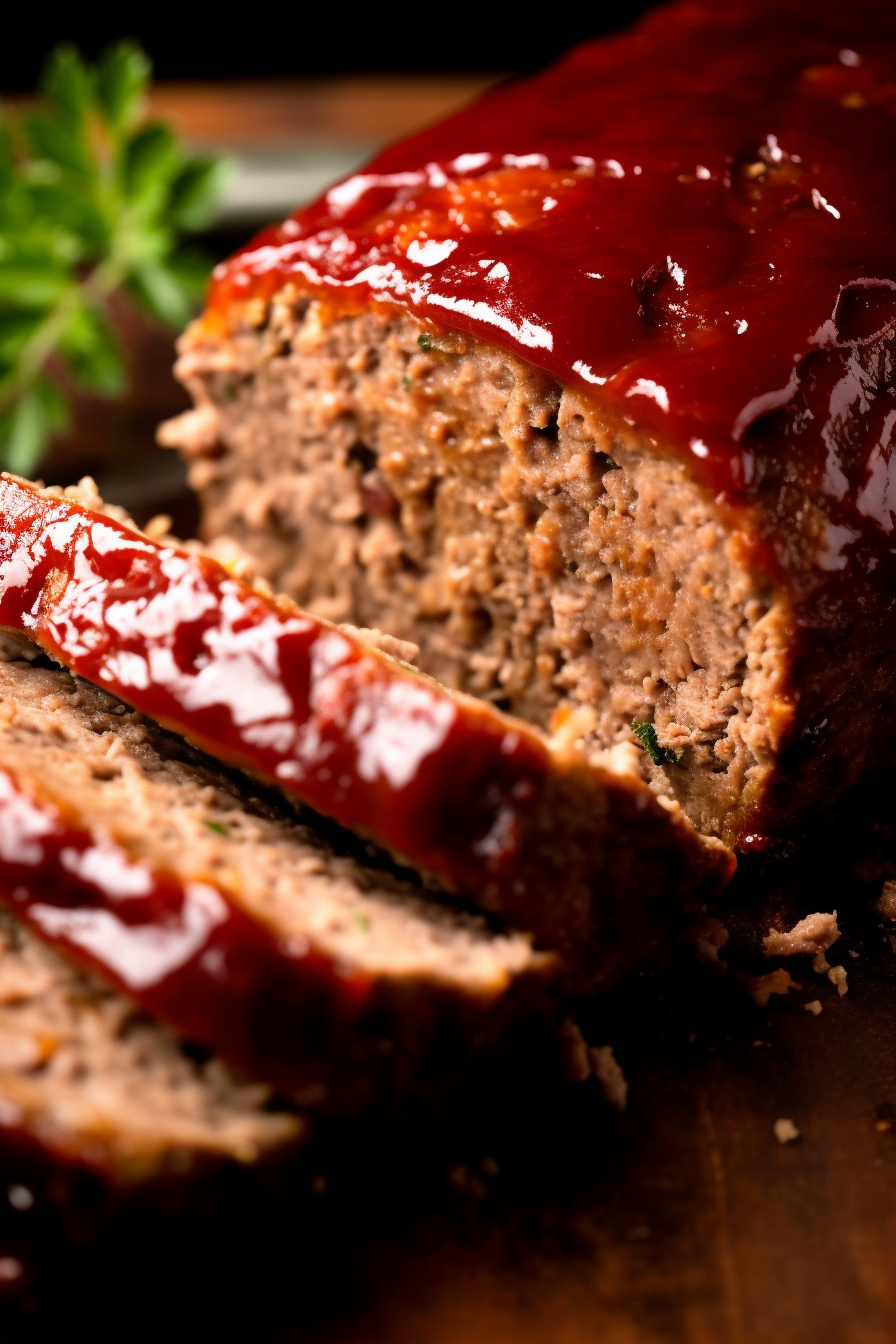 Growing up, Meatloaf Mondays were a tradition in our home. Not because it was easy for my mom to whip up after a long day at work (though it definitely was), but because my little brother, Timmy, deemed himself the "Meatloaf Maestro". He'd wear a chef's hat, dramatically present the meatloaf to the table, and ask everyone for a rating. The glint in his eyes when we all declared it a 10/10 was priceless. This particular recipe carries those fond memories. Each bite is a nostalgic trip back to those simple, yet precious, family dinners.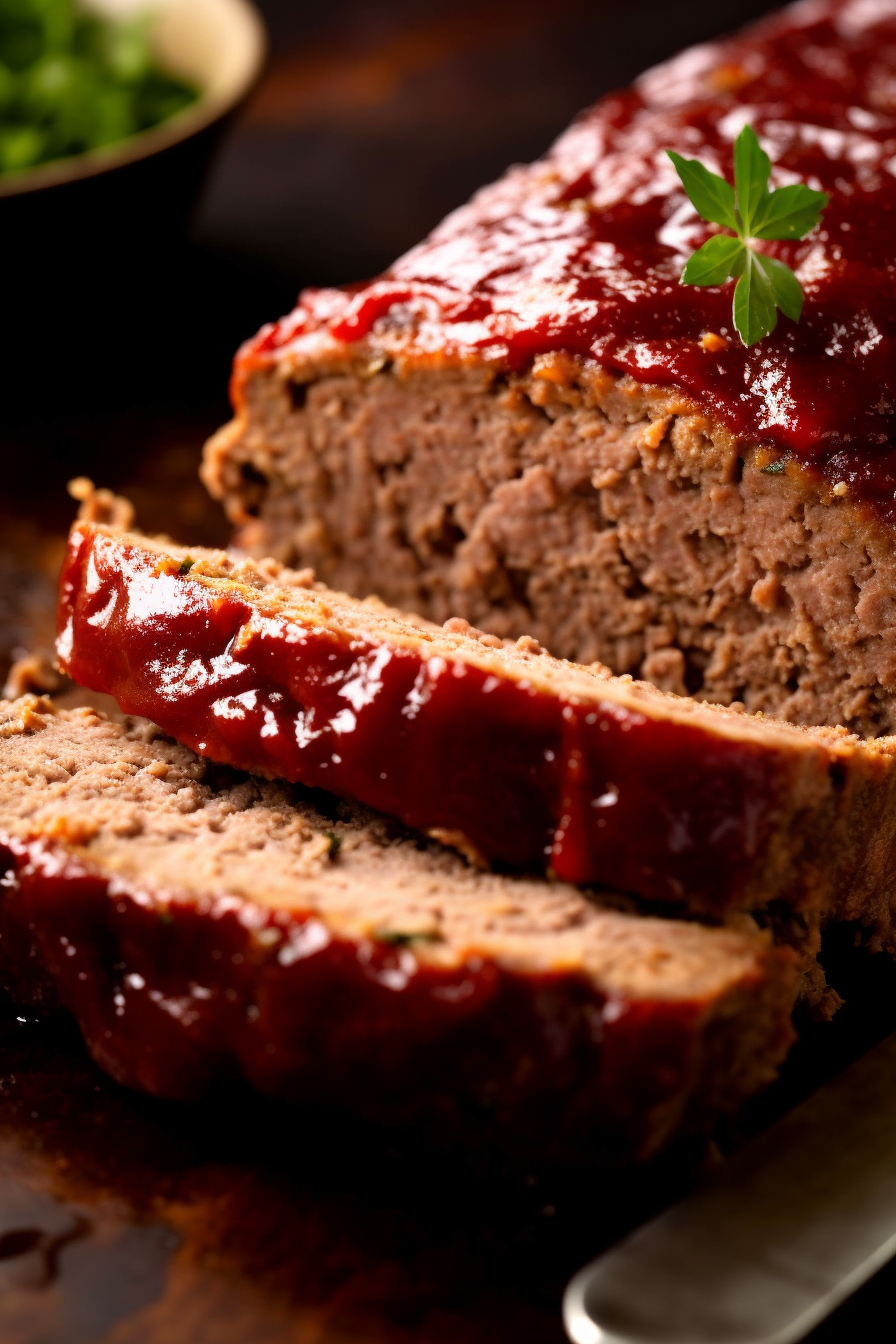 The Best Meatloaf Recipe:
The true magic of this Meatloaf recipe lies in its unparalleled tenderness, ensuring it doesn't just crumble apart like a heartbroken poet's diary. The panko breadcrumbs, combined with the grated onion, promise a moistness you didn't know meatloaf could achieve. But what truly sets it apart is the glaze – it's not just an afterthought. It's a sweet, tangy revelation that turns this dish from a mere dinner choice to an absolute must-have.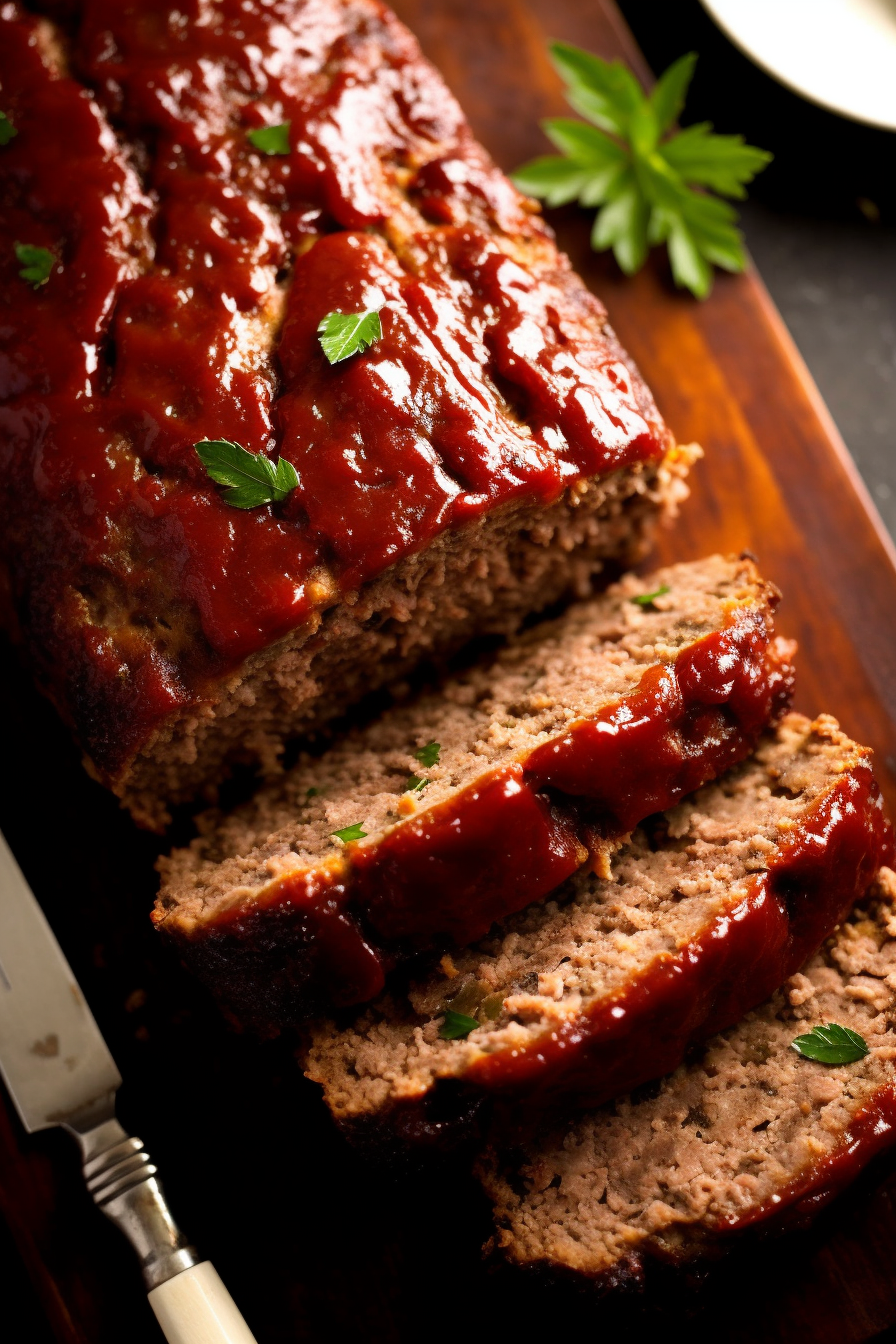 Ingredients Notes For The Best Meatloaf Recipe:
Panko breadcrumbs are the unsung heroes here – they're fluffier and larger than regular breadcrumbs, ensuring your meatloaf remains soft. Opt for ground beef that's not too lean; a little fat marbling enhances flavour and juiciness. And those beef bouillon cubes? They're like tiny treasure chests of intense beefiness. If you can't find them, beef powder will do, but treasure chests are more fun, right?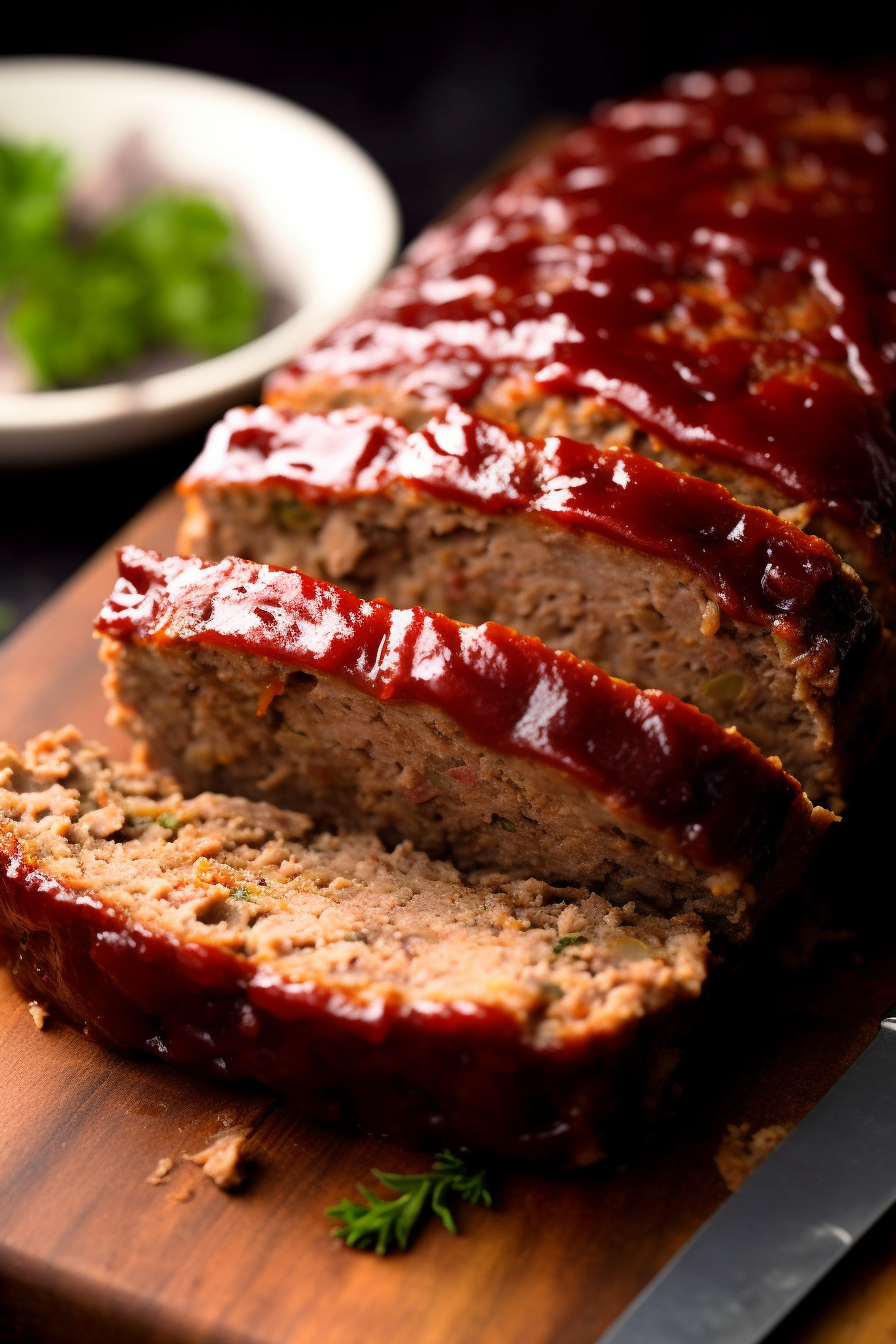 Easy-to-follow Steps:
Preparation: Firstly, channel your inner rock star because it's time to heat things up! Preheat that oven to 180C/350F. Grab your loaf tin and give it a good ol' spritz of oil or cooking spray. This will ensure your meatloaf will slide out effortlessly, like a diva on rollerblades.
Glaze Galore: In a bowl, unite the tomato ketchup, cider vinegar, and brown sugar. Mix them like they're at a dance party until they're perfectly blended. Set this saucy concoction aside. It's got a big role later.
Meaty Mix: Now, for the star of the show! In a massive bowl, throw in those panko breadcrumbs. Grate your onion over them, ensuring the breadcrumbs soak up all the oniony goodness. Throw in all those other delicious ingredients and get in there with your hands. Feel every ingredient, blend them together, and once done, shape them into a fabulous loaf.
Into the Tin and Glazing: Lovingly transfer your meaty masterpiece into your prepared tin. Paint it generously with half of your glaze like you're Picasso.
Baking Round 1: Bake for 45 minutes. Retrieve your semi-cooked creation, gaze at its beauty, then lavish it with the majority of the remaining glaze. Notice any excess fat? Scoop it out. It's like the unwanted party crasher – show it the door!
Baking Round 2: Return your glazed wonder to the oven for another 30 minutes. Once done, be patient. Give it a 10-minute rest – think of it as a mini spa break.
Serving Time: Now, the moment you've been waiting for. Slice that beauty up, ensuring each slice is thick and inviting. Serve with a side of creamy mashed potatoes, steamed veggies, and a dollop of ketchup, because, why not?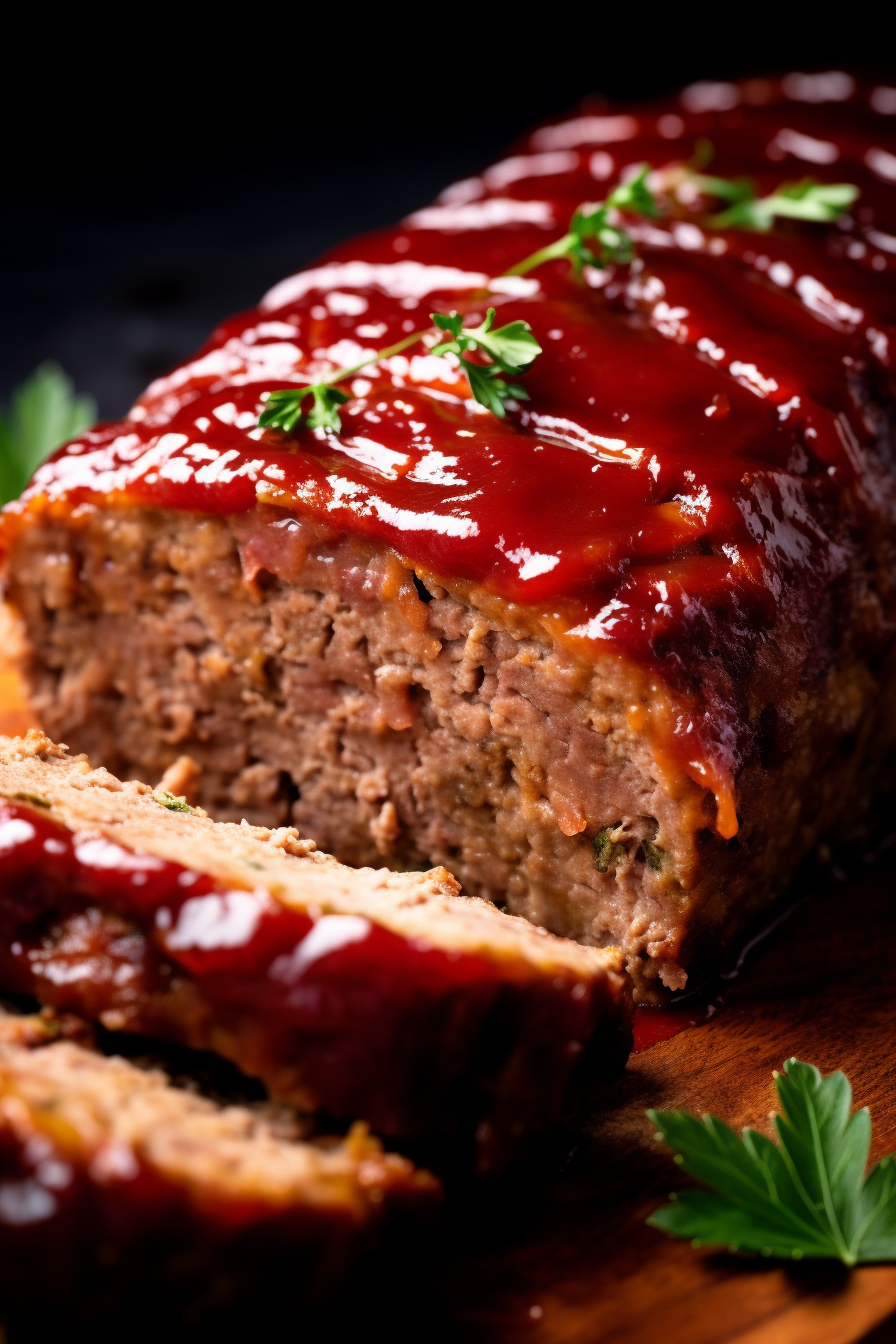 Storage Options:
Got leftovers? Lucky you! Wrap that meatloaf up in foil or place it in an airtight container. It will sit happily in your refrigerator for up to 3 days. For longer storage, consider freezing individual slices. Then, when you're hit with a meatloaf craving (which, trust me, will happen), just thaw, reheat, and devour.
Variations and Substitutions:
Not a beef fan? Ground turkey or chicken is a fantastic substitute. Can't find panko? Regular breadcrumbs or even crushed saltine crackers can pinch-hit. For a spicy kick, mix in some diced jalapeños or a splash of hot sauce. The world is your meatloaf – or rather, your meatloaf is your world, and you can spice it up however you like!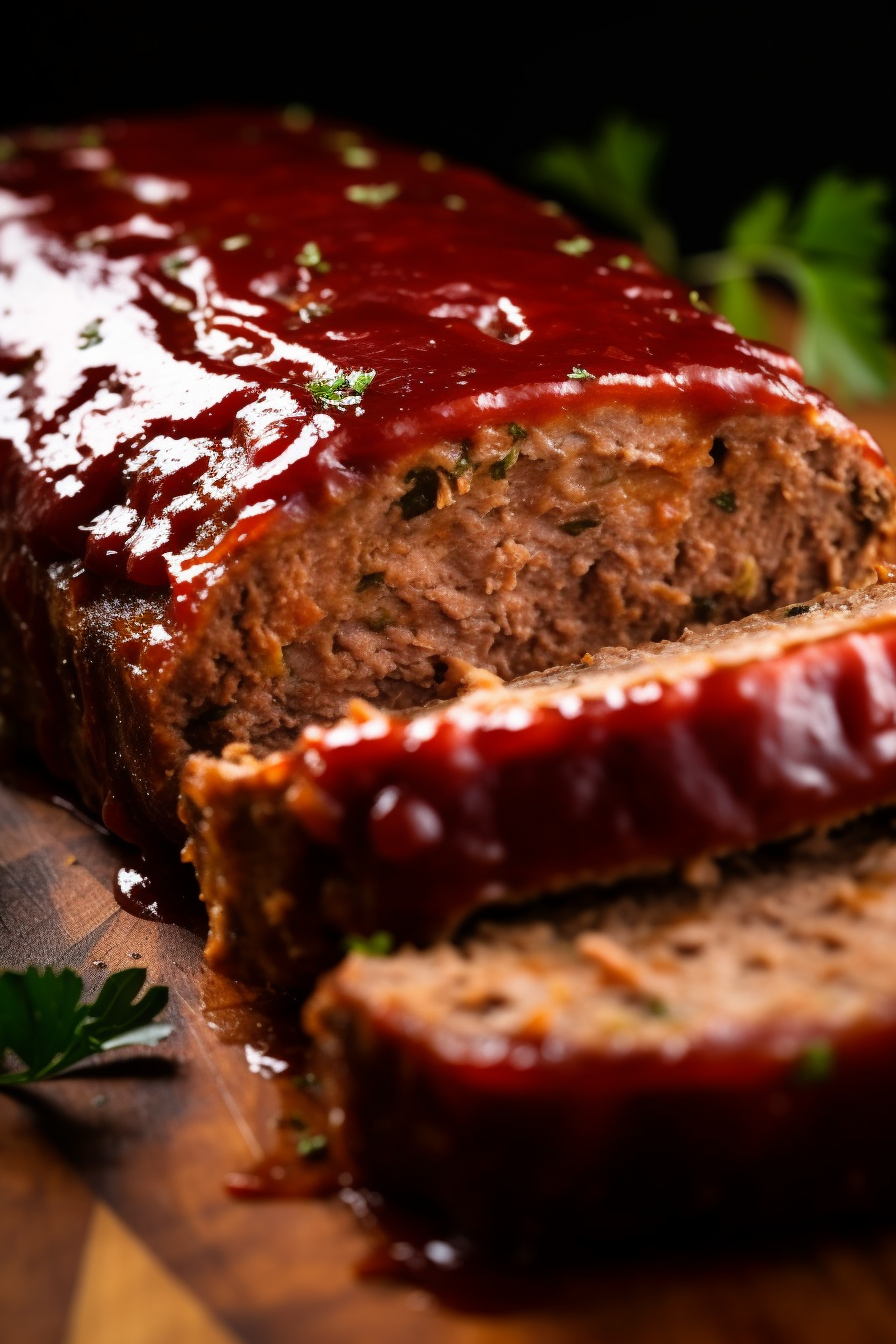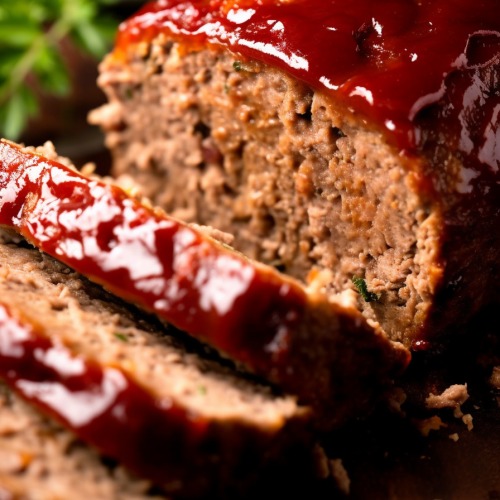 The Best Meatloaf Recipe
Dive into this mouthwatering Meatloaf recipe crafted with ground beef, zesty Worcestershire sauce, panko breadcrumbs, aromatic garlic, and topped with a caramelised tomato ketchup glaze. A comforting classic taken to the next level!
Print
Pin
Rate
Ingredients
1

cup

of panko breadcrumbs

1

large onion

preferably brown or yellow, finely grated

1

kilogram

or 2 pounds of ground beef

It is recommended to use non-lean

2

eggs

preferably at room temperature

3

cloves

of garlic

minced

1

teaspoon

of Worcestershire Sauce

1/4

cup

of tomato ketchup

1/4

cup

of freshly chopped parsley

Alternatively, 2 teaspoons of dried parsley or basil may be used

1

teaspoon

of dried thyme

2

beef bouillon cubes

crumbled (Alternatively, 2 teaspoons of beef powder may be used)

1

teaspoon

of black pepper

freshly ground
Glaze Ingredients:
1/2

cup

of tomato ketchup

2

tablespoons

of cider vinegar

1

tablespoon

of brown sugar
Instructions
Preparation of Oven: Preheat the oven to a temperature of 180°C or 350°F. Apply a light coating of oil to a loaf tin or use a non-stick spray to prepare it for the meatloaf.

Preparation of Glaze: In a separate, small mixing bowl, combine the tomato ketchup, cider vinegar, and brown sugar. Mix until homogeneous and set aside for later use.

Meatloaf Mixture: In a large mixing bowl, introduce the panko breadcrumbs. Grate the onion over these breadcrumbs, ensuring the moisture from the onion is absorbed. Subsequently, incorporate all remaining ingredients, mixing thoroughly until well combined. The mixture should then be molded into a loaf shape, ensuring that the surface is smooth to minimize potential cracking during baking.

Transfer to Loaf Tin: Carefully relocate the prepared meat mixture into the previously prepared loaf tin. The surface should then be generously coated with approximately half of the earlier prepared glaze.

Initial Baking: Insert the loaf tin into the preheated oven and bake for a duration of 45 minutes. At this juncture, remove the loaf tin and, if noticeable, discard any accumulated excess fat. The meatloaf should then be brushed with a majority of the remaining glaze.

Secondary Baking: Return the loaf tin to the oven for an additional baking duration of 30 minutes.

Resting Period: Post baking, it's crucial to allow the meatloaf to rest for approximately 10 minutes prior to serving. This ensures optimal texture and ease of slicing.

Serving: Turn the meatloaf out and slice it into thick portions. It's ideal to accompany the meatloaf with side dishes of choice, such as mashed potatoes and steamed vegetables.