"Dive into a delicious blend of spaghetti noodles, tender chicken, zesty Rotel tomatoes, creamy mushroom and chicken soup, and melty cheddar and Velveeta cheeses. A flavorful explosion in every bite!"
"So, there I was one evening, rummaging through my kitchen cabinets with an overzealous appetite and hungry family members giving me those 'when's dinner?' eyes. My thoughts darted between different family recipes, but then it hit me — why not take a trip down memory lane? I remembered this Chicken Spaghetti Casserole my grandma used to make. The kind of dish that made our tummy rumble just by its aroma wafting through the house. Grandma, with her pearl necklace and infectious laughter, was a whiz in the kitchen. And this dish? It was the embodiment of her warmth and love. Every time I make it, I swear I can hear her humming her favorite tune."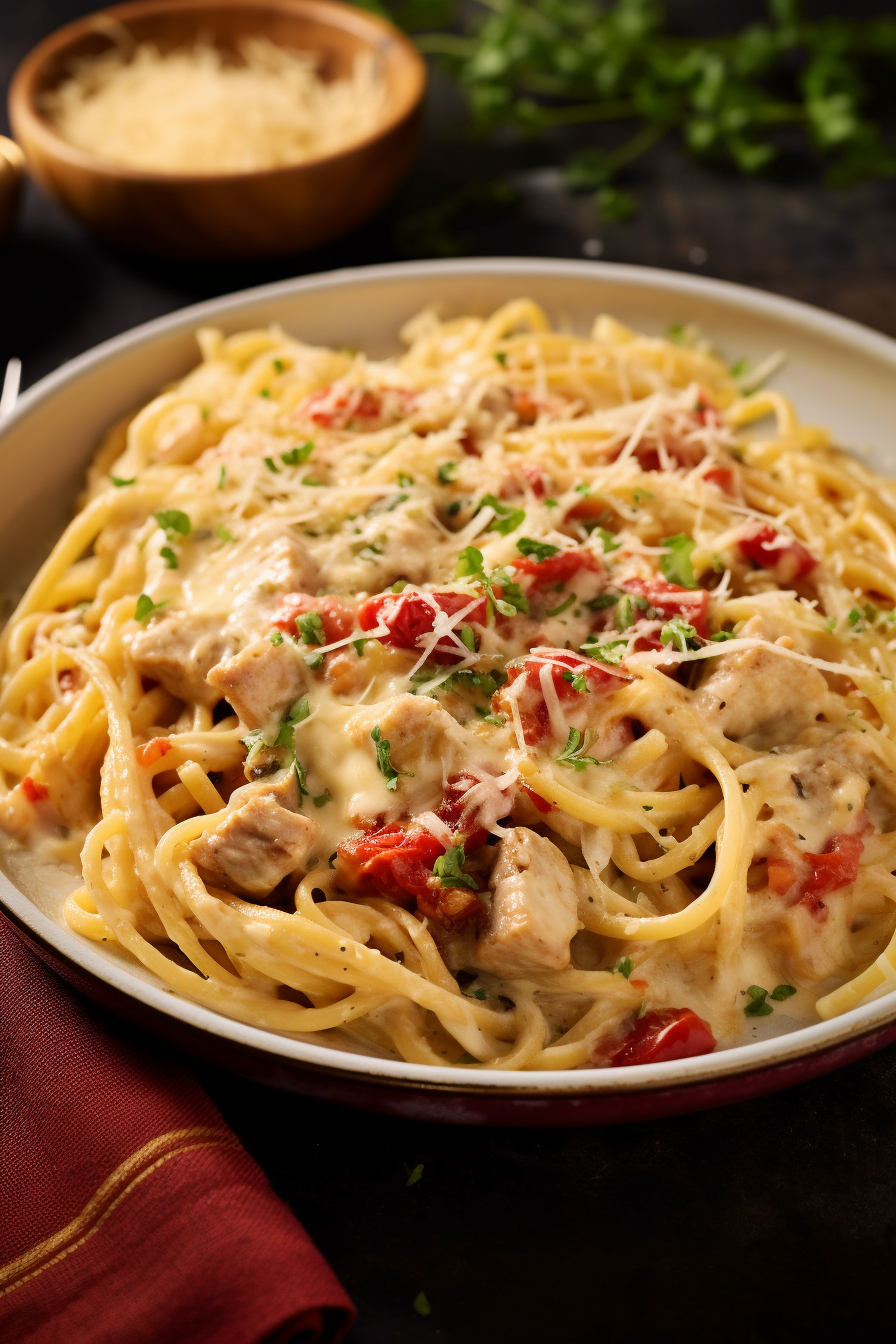 Why You'll Love Chicken Spaghetti Casserole
"Now, you might be thinking, "Another casserole? Why is this one special?" Oh honey, let me count the ways! First, it seamlessly combines both Italian and Southern comfort in one dish. The spicy kick from the Rotel gives it a zestiness that dances on your palate, while the creaminess of the mushroom and chicken soup alongside gooey cheeses assures comfort in every bite. And the best part? It's flexible! Have leftover turkey from Thanksgiving? Pop it in. Looking for a dish that both kids and adults will adore? This is the ticket. Plus, it's a lifesaver for busy weeknights, making you look like a top chef with minimal effort!"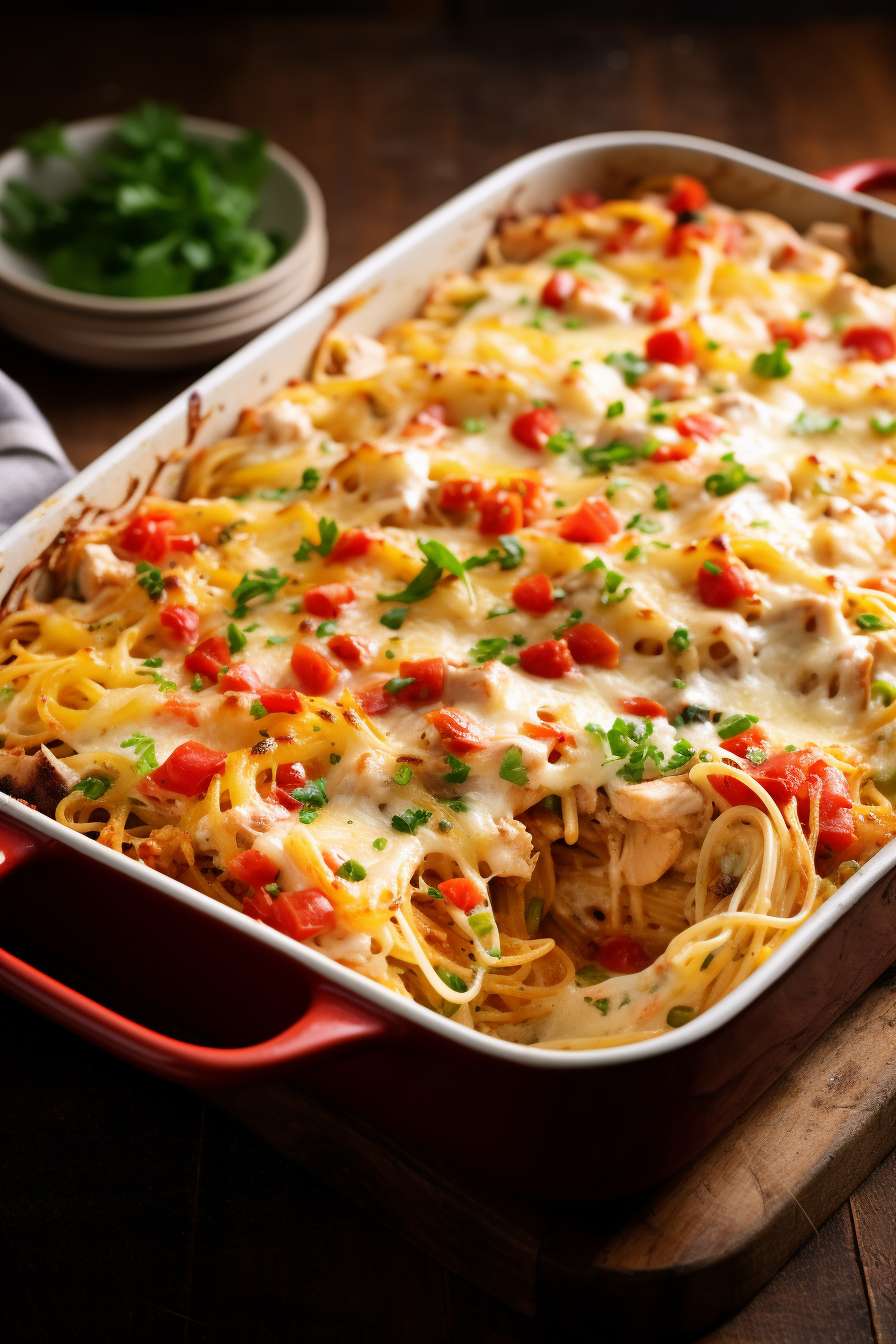 Ingredients For Chicken Spaghetti Casserole:
"Alright, budding chefs, let's break this down! For the spaghetti, I find that thin spaghetti noodles hold the sauce best, but if you're a fan of a thicker noodle, that works too. As for the Rotel, it's a spicy little number, but if you want to keep things on the milder side, opt for a can without the green chilies. Can't find Velveeta? Trust me, it's worth the hunt. But if you're in a pinch, you can swap in some cream cheese or another melty cheese, though Velveeta brings that distinct creaminess to the party. For the chicken, leftovers, rotisserie, or freshly cooked—all work wonders."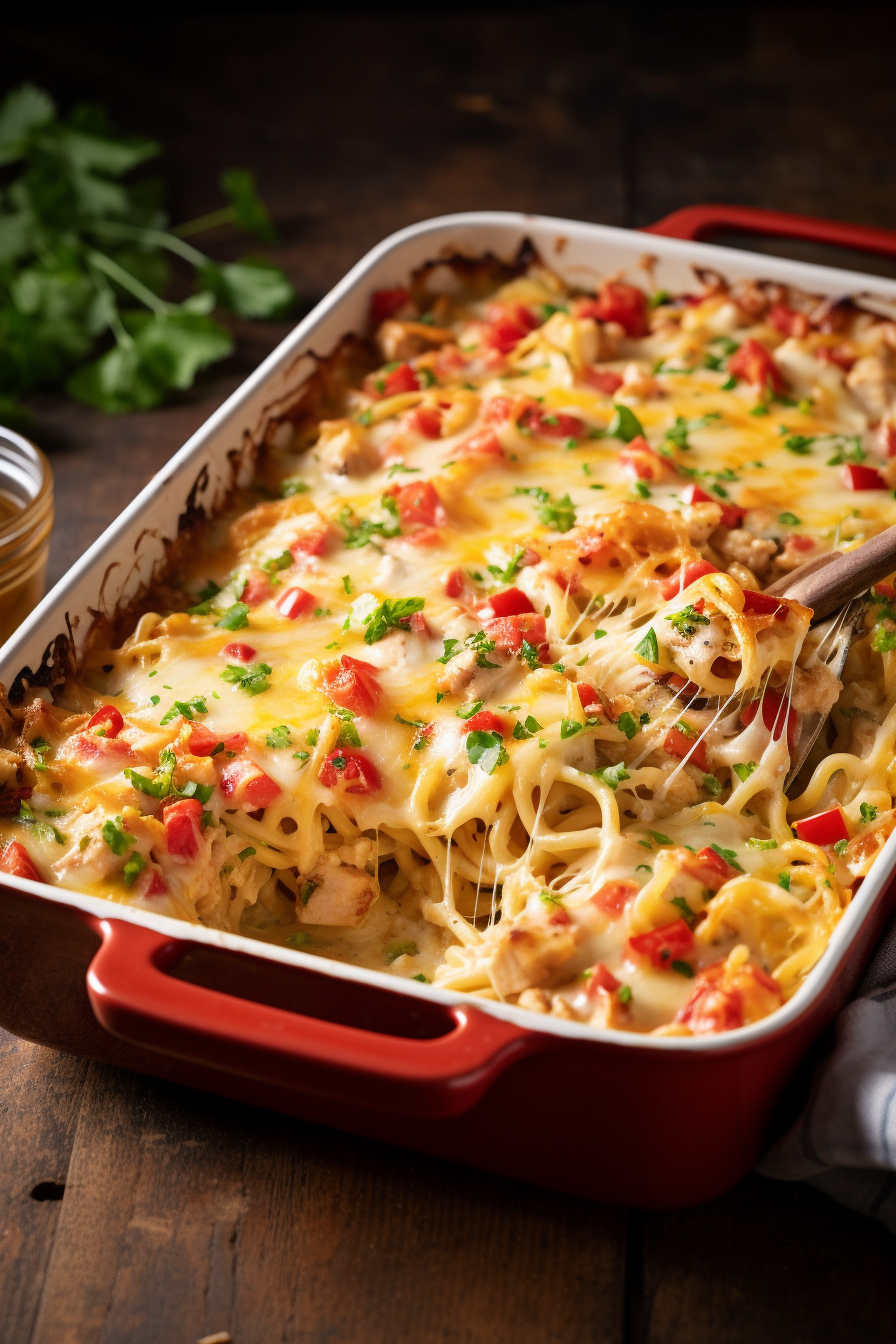 How To Make Chicken Spaghetti Casserole:
"Let's get cooking! Start with a pot of boiling, well-salted water — think seawater. Pop in the spaghetti and cook it till it's shy of al dente. We're aiming for firm but not 'whoa, it's crunch time!' levels. Drizzle with olive oil to prevent a noodle catastrophe (aka sticking together).
Switching gears, let's heat up that oven. We're aiming for a cozy 350°F. A little non-stick spray on your baking dish, and you're golden. Or, at least, your casserole will be!
Back on the stove, heat some olive oil in a dutch oven (or a big pot, no judgment). Add onions and bell peppers, sautéing them till they're as soft as your favorite blanket. Time for the Rotel! Sizzle until the liquid is nearly gone — we don't want a soggy casserole.
Creamy magic time! Pour in both soups and the chicken stock. When it starts to feel like a spa, sprinkle in those cheeses. And who could forget the chicken? Season to your heart's content. Remember, the salt shaker is your best friend, but don't invite it to every party.
Combine the spaghetti and this creamy goodness. A tad too thick? The reserved pasta water comes to the rescue. Transfer to the baking dish, and into the oven it goes. Wait for that golden crust and bubbling edges, then you're set for a feast!"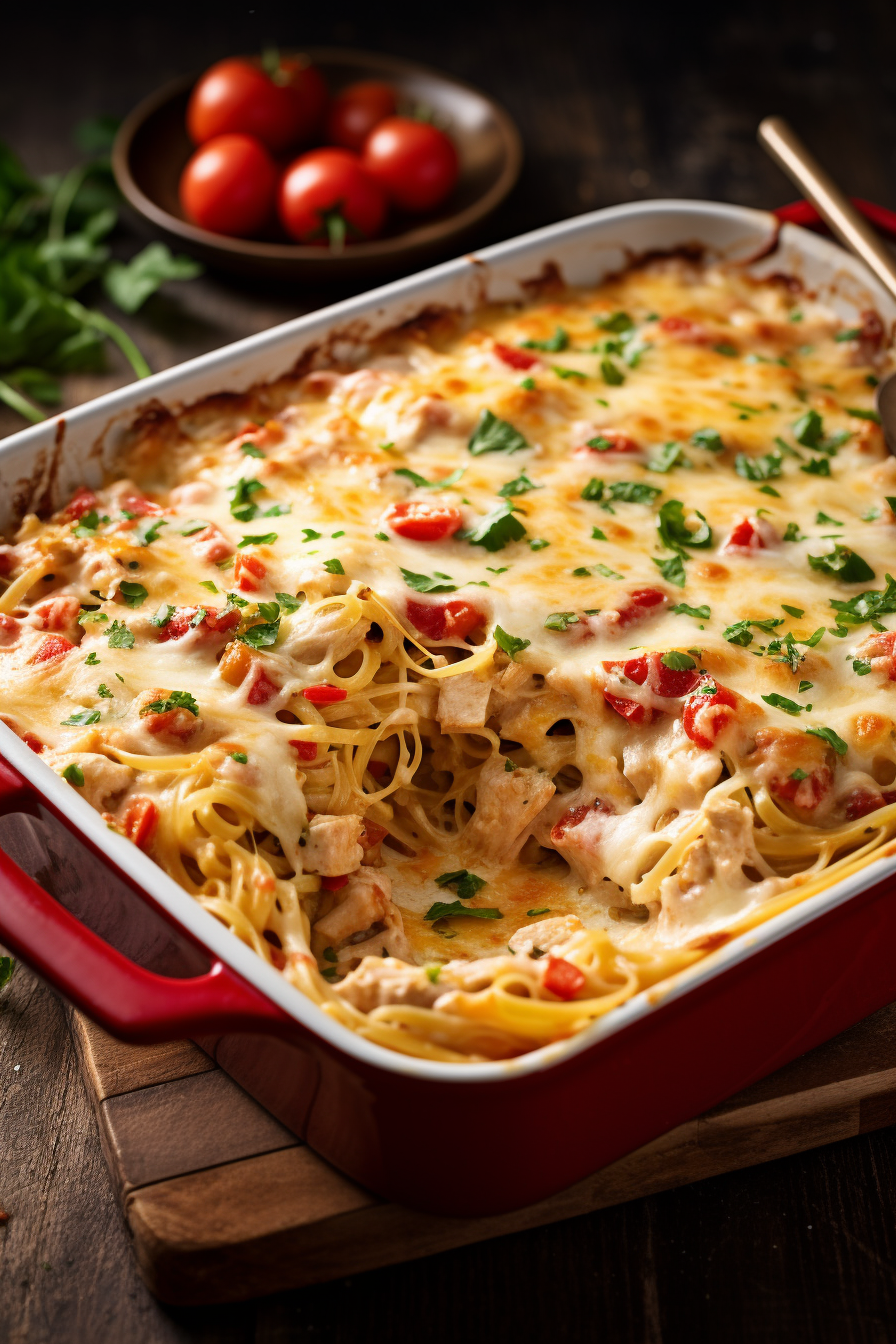 Storing Leftovers:
"Here's a bit of casserole wizardry: this dish tastes even better the next day. Once cooled, you can refrigerate it in an airtight container for up to 3 days. To reheat, pop it in the microwave or oven until warmed through. And guess what? It's freezer-friendly too! Before baking, wrap it up tight and freeze. When you're ready, thaw it overnight in the fridge and bake as directed. Voilà, dinner on demand!"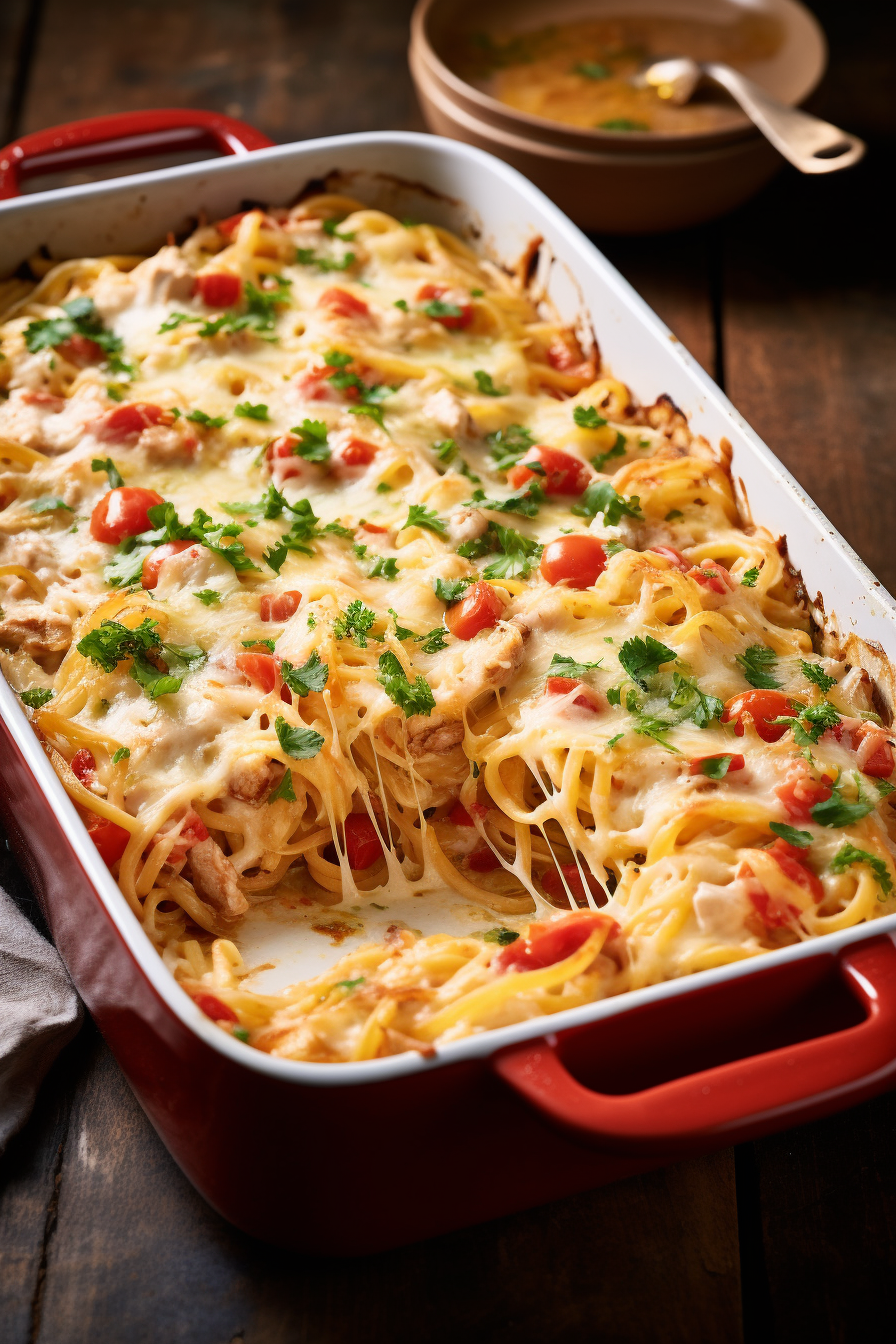 Variations and Substitutions
"Variety is the spice of life! Swap chicken for turkey, especially after those holiday feasts. Want to go meatless? Try sautéed mushrooms or tofu. Not a Rotel fan? Use plain diced tomatoes and toss in some red pepper flakes for that zing. If you're feeling adventurous, mix up the cheeses or add veggies like zucchini or spinach. You're the chef, so paint this canvas however your taste buds desire!"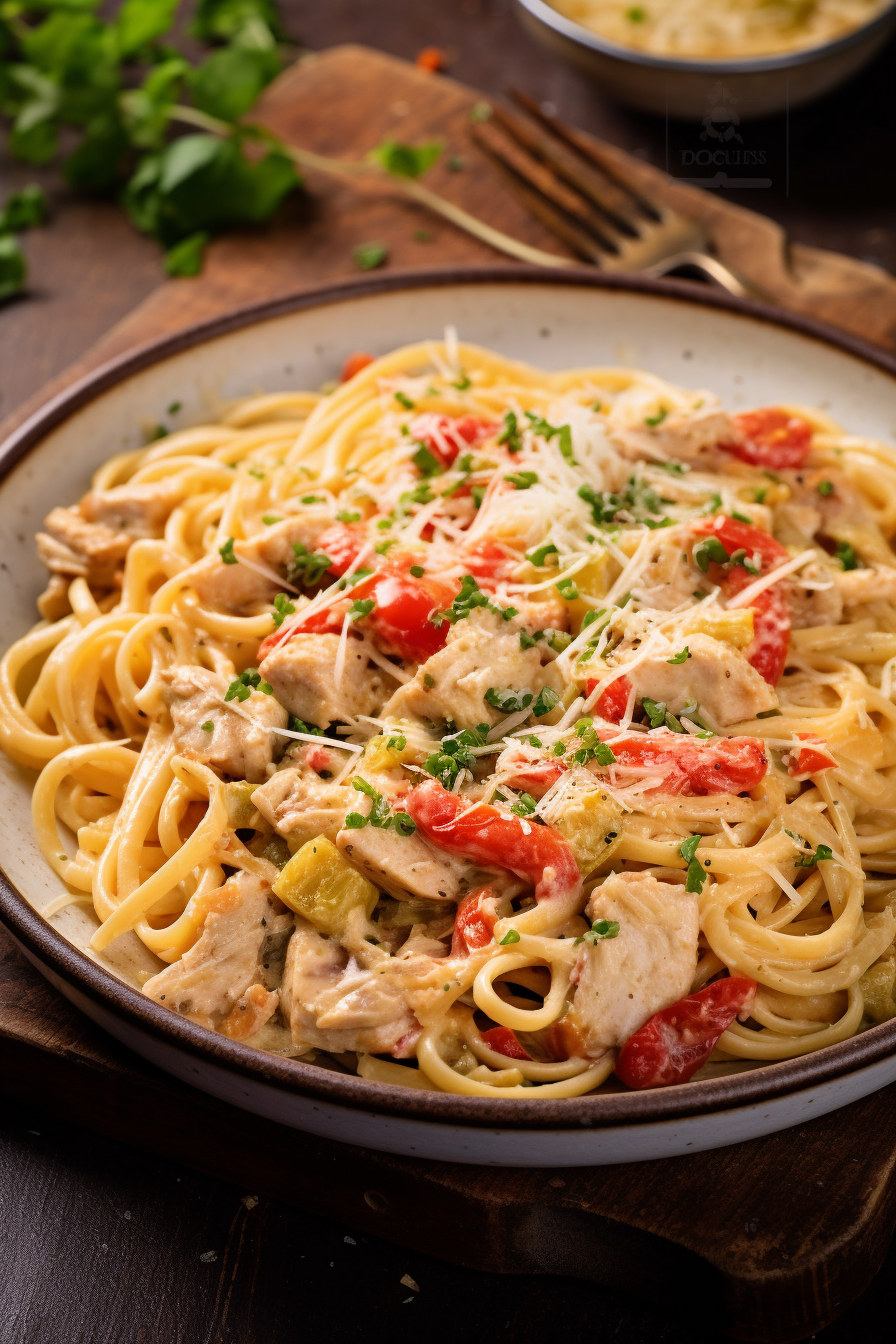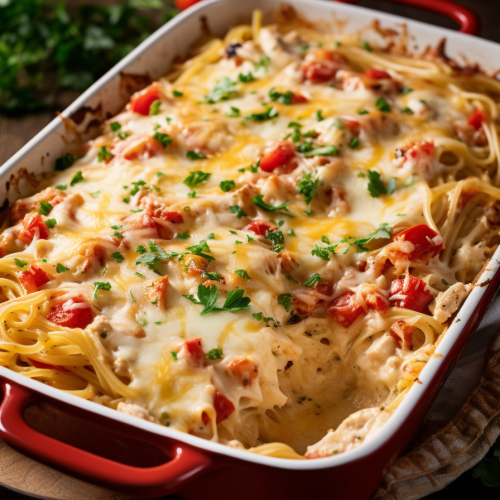 Chicken Spaghetti Casserole
"Dive into a delicious blend of spaghetti noodles, tender chicken, zesty Rotel tomatoes, creamy mushroom and chicken soup, and melty cheddar and Velveeta cheeses. A flavorful explosion in every bite!"
Print
Pin
Rate
Ingredients
1

pound

of spaghetti noodles

2

tablespoons

of extra virgin olive oil

divided

1

finely diced yellow onion

1

diced red or green bell pepper

2 10-

ounce

cans of diced tomatoes with green chilies

Rotel brand preferred

1 10.5-

ounce

can of cream of mushroom soup

1 10.5-

ounce

can of cream of chicken soup

2

cups

of chicken stock

preferably homemade or high-quality store-bought

2

cups

of finely shredded cheddar cheese

4

ounces

of Velveeta cheese

cubed

2

cups

of cooked

diced or shredded chicken (either from a roast or boiled preparation)

Salt and black pepper

adjusted to preference
Instructions
Commence by bringing a sizable pot of water, amply salted, to a rolling boil. Subsequently, introduce the spaghetti into the boiling water. Permit the spaghetti to cook for approximately 10 minutes, ensuring it remains slightly firmer than al dente. Retain roughly ½ cup of the cooking water and then drain the noodles. Dress the noodles with one tablespoon of the allocated olive oil to prevent adhesion. Set aside for later use.

Prior to commencing the cooking process, ensure the oven is preheated to a temperature of 350°F (175°C). Take a 13×9-inch baking dish and prepare it by administering a light coating of nonstick spray.

In a robust Dutch oven or an equivalent large pot, heat the remaining tablespoon of olive oil over a medium-high flame. Following this, incorporate the diced onion and bell pepper into the pot, seasoning lightly with salt and black pepper. Allow the mixture to sauté for a duration of approximately 5 minutes or until the onions adopt a translucent appearance.

Introduce the diced tomatoes with chilies to the pot and maintain cooking until the majority of the liquid has been reduced, which typically takes an additional 5 minutes.

Carefully integrate the cream of mushroom soup, cream of chicken soup, and chicken stock into the mixture. Reduce the heat slightly to maintain a gentle simmer.

Add both the cheddar and Velveeta cheeses to the mixture, ensuring consistent stirring to facilitate even melting. Once a smooth sauce is achieved, introduce the prepared chicken to the mixture. Taste and season further with salt and pepper according to preference.

Incorporate the previously set-aside spaghetti into the sauce, ensuring it is evenly coated. If the consistency appears overly thick, judiciously add some of the retained pasta water to achieve the desired consistency.

Transfer the entire mixture to the pre-prepared baking dish, ensuring an even distribution.

Place the dish in the preheated oven and allow it to bake for a duration of 30-40 minutes. The dish is adequately baked when the sauce displays a bubbly nature and the surface possesses a golden hue. It is advised to serve the dish while still warm.
Nutrition
Calories:
548
kcal
|
Carbohydrates:
56
g
|
Protein:
27
g
|
Fat:
24
g
|
Saturated Fat:
10
g
|
Polyunsaturated Fat:
3
g
|
Monounsaturated Fat:
8
g
|
Trans Fat:
0.03
g
|
Cholesterol:
62
mg
|
Sodium:
1052
mg
|
Potassium:
563
mg
|
Fiber:
3
g
|
Sugar:
7
g
|
Vitamin A:
1080
IU
|
Vitamin C:
27
mg
|
Calcium:
331
mg
|
Iron:
3
mg