This Chilean Sea Bass is gently steamed in its own juices with white wine and aromatics. This is a wonderful recipe to serve for guests since everyone can get their own little parchment packet. Cutting the bags open tableside makes for an impressive presentation, filling the room with steam and aromatics. In these packets, I've added artichokes, tomatoes, onions, olives, lemons, and dill. The flavors are fresh, complementing the white, flaky fish.
While doing a bit of research about Chilean Sea Bass, I found that 'Chilean Sea Bass' is the market name for Patagonian Toothfish. Apparently Patagonian Toothfish was not an appealing name, so a name was invented that would appeal to the American market. It was approved by the FDA in 1994.
Although the meat is delicious, the Chilean Sea Bass is not an attractive fish. He looks quite prehistoric with a toothy underbite. Maybe Patagonian Toothfish is more fitting after all.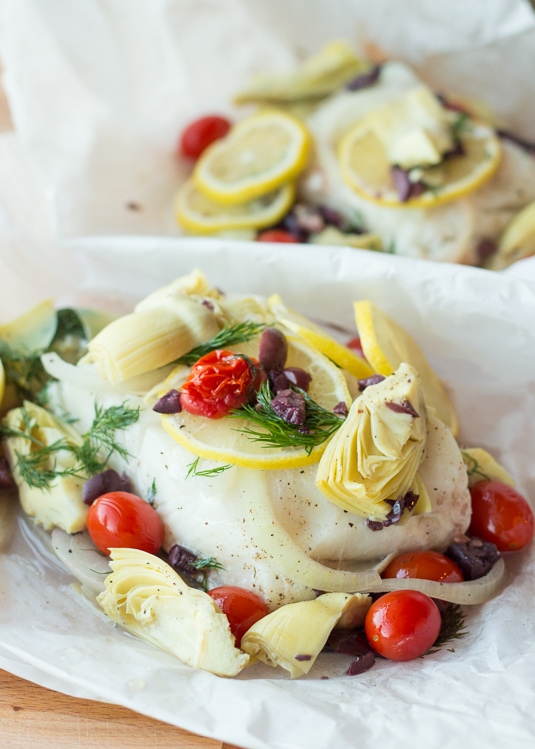 This is such a versatile recipe. You can use any vegetable that cooks within 15 minutes. Vegetables that take longer (for example, potatoes) will need to be cooked beforehand or cut into small pieces.
Try these variations:
Dill and Summer Squash
Shitake Mushroom with Soy Sauce
Baby Kale and Rosemary
Tomatoes and Capers
Citrus and Thyme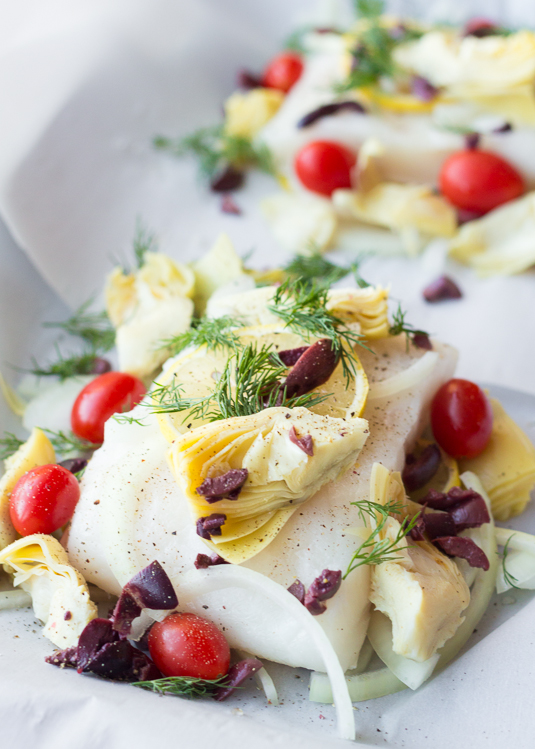 Since the fish is tucked away in its own little sauna, you can't test it for doneness without letting the steam escape. That is probably the only tricky part of this recipe. Thicker filets will need additional time, but I usually insert a digital thermometer into one of the filets at about 20 minutes. Just make sure the internal temperature reaches 145 degrees Fahrenheit or the flesh flakes easily with a fork.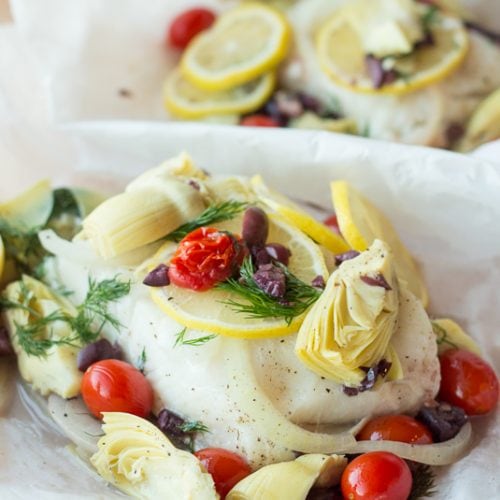 Chilean Sea Bass In A Bag (En Papillote)
This Chilean Sea Bass en papillote is steamed with dry white wine, lemons, herbs, and vegetables. It's a simple, but incredibly healthy dish.
Print
Pin
Rate
Ingredients
2

filets

Chilean Sea Bass (about 6 oz. each)

½

lemon, thinly sliced

1

cup

artichoke hearts, quartered

2

tbsp

kalmata olives, chopped

½

cup

cherry tomatoes, whole

½

yellow onion, thinly sliced

¼

cup

fresh dill sprigs

¼

cup

dry white wine

salt and pepper, to taste
Other:
2

large sheets of parchment paper
Instructions
Preheat the oven to 400 degrees Fahrenheit.

Place the two large sheets of parchment paper onto a baking sheet. Place a filet onto the center of each piece of parchment paper and season with salt and pepper. Then, top each filet with half of the lemon slices, artichoke hearts, olives, tomatoes, onion, and dill sprigs. Drizzle 2 tbsp of dry white wine over each filet.

Fold the paper over the fish and fold the edges to seal (for the perfect parchment packet, follow the infographic above). Once sealed fully, place the baking sheet into the oven and cook for about 20 to 25 minutes until the fish is flaky (thicker filets may need additional time).

Note: Be careful of any escaping steam when opening the bags.