Dive into layers of indulgence with homemade shortbread, gooey caramel, and luscious chocolate. Our Chocolate Caramel Shortbread Bars are every dessert lover's dream come true!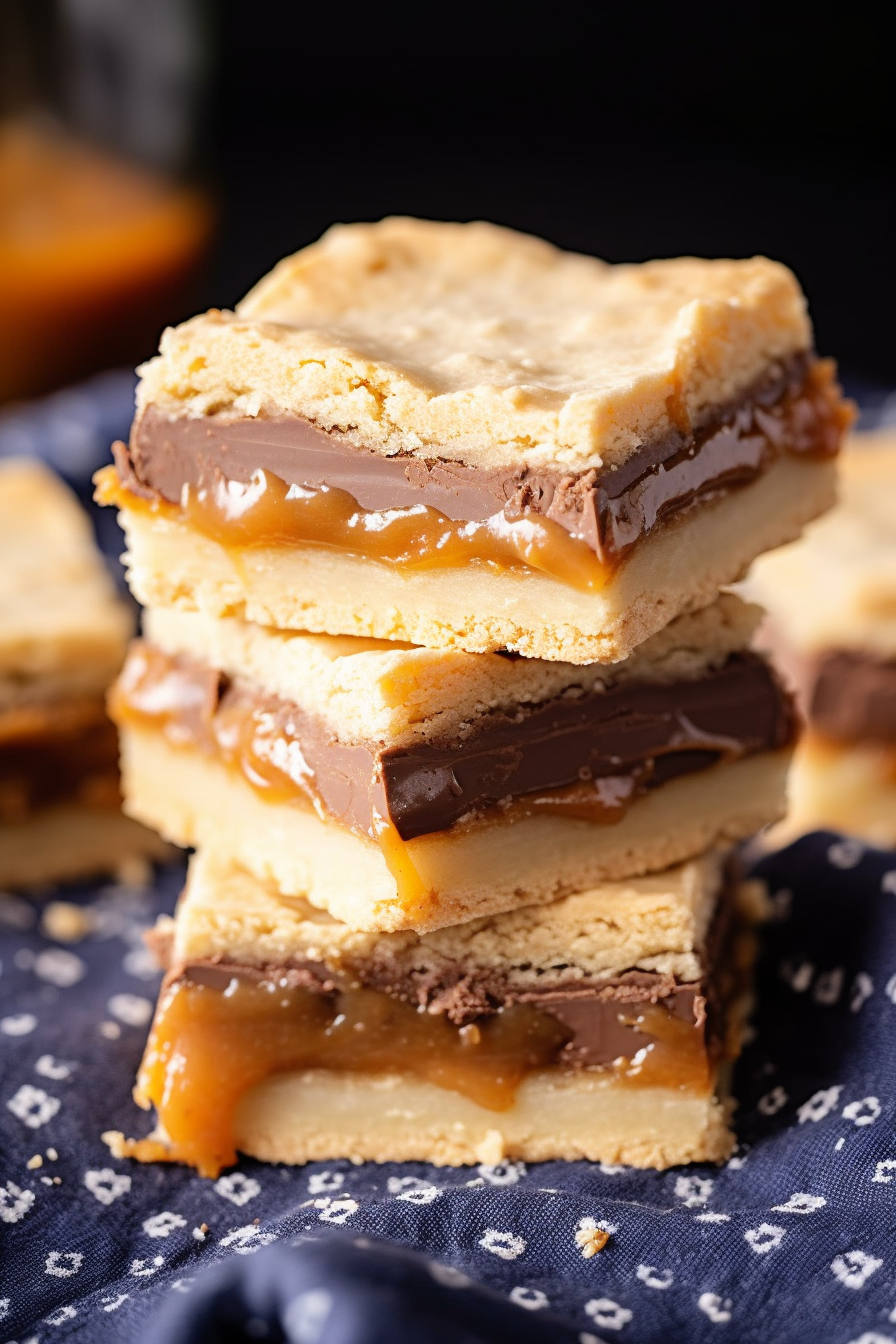 Oh boy, where do I begin? The saga of the Chocolate Caramel Shortbread Bars is one for the ages! You see, these bars have been a family secret for generations. Picture this: A rainy evening, gathered around the fireplace, my great-great-grandma pulled out these very bars, and a family tradition was born. It was the one dessert that united the family across generations, from little Timmy's toothless grin to Grandma's satisfied nod. We'd fight over the corner pieces (because who doesn't love a little extra crunch?), debate the perfect caramel consistency, and dream about them in our sleep. Years later, during my rebellious teenage phase, I decided to sneak into the kitchen at midnight and recreate this forbidden dessert. Spoiler alert: I set off the smoke alarm. But hey, each bite of these bars is like a trip down memory lane, reminding me of love, laughter, and the importance of reading the recipe twice before baking!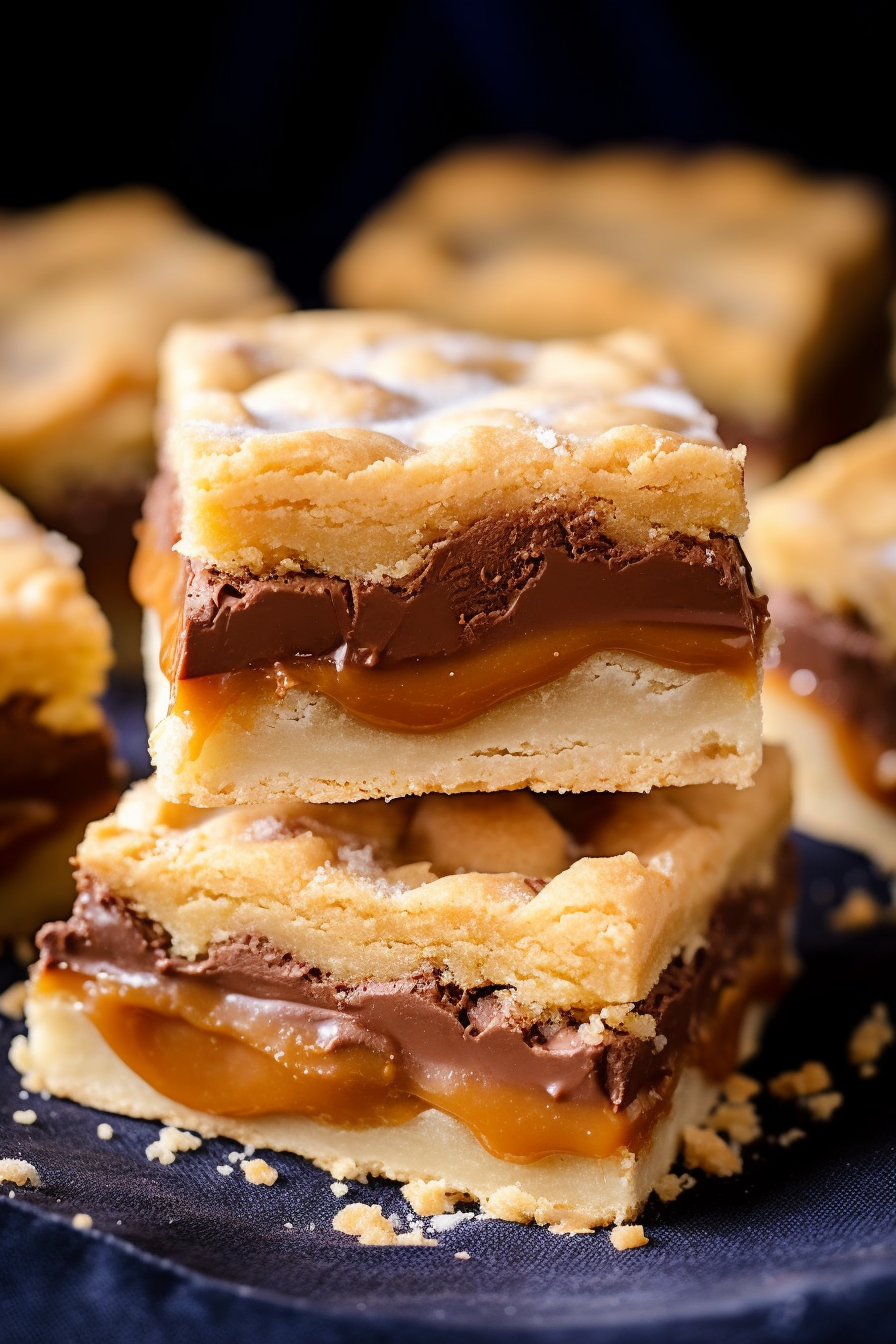 Why You'll Love Chocolate Caramel Shortbread Bars:
Not just your run-of-the-mill bars, folks! Our Chocolate Caramel Shortbread Bars are:
Triple-layered goodness: Crumbly shortbread, silky caramel, and rich chocolate.
A timeless classic with a modern twist.
Perfect for every event: Be it a classy soirée or a cozy movie night.
A delightful sensory experience with every bite: The juxtaposition of textures and flavors will have your tastebuds dancing!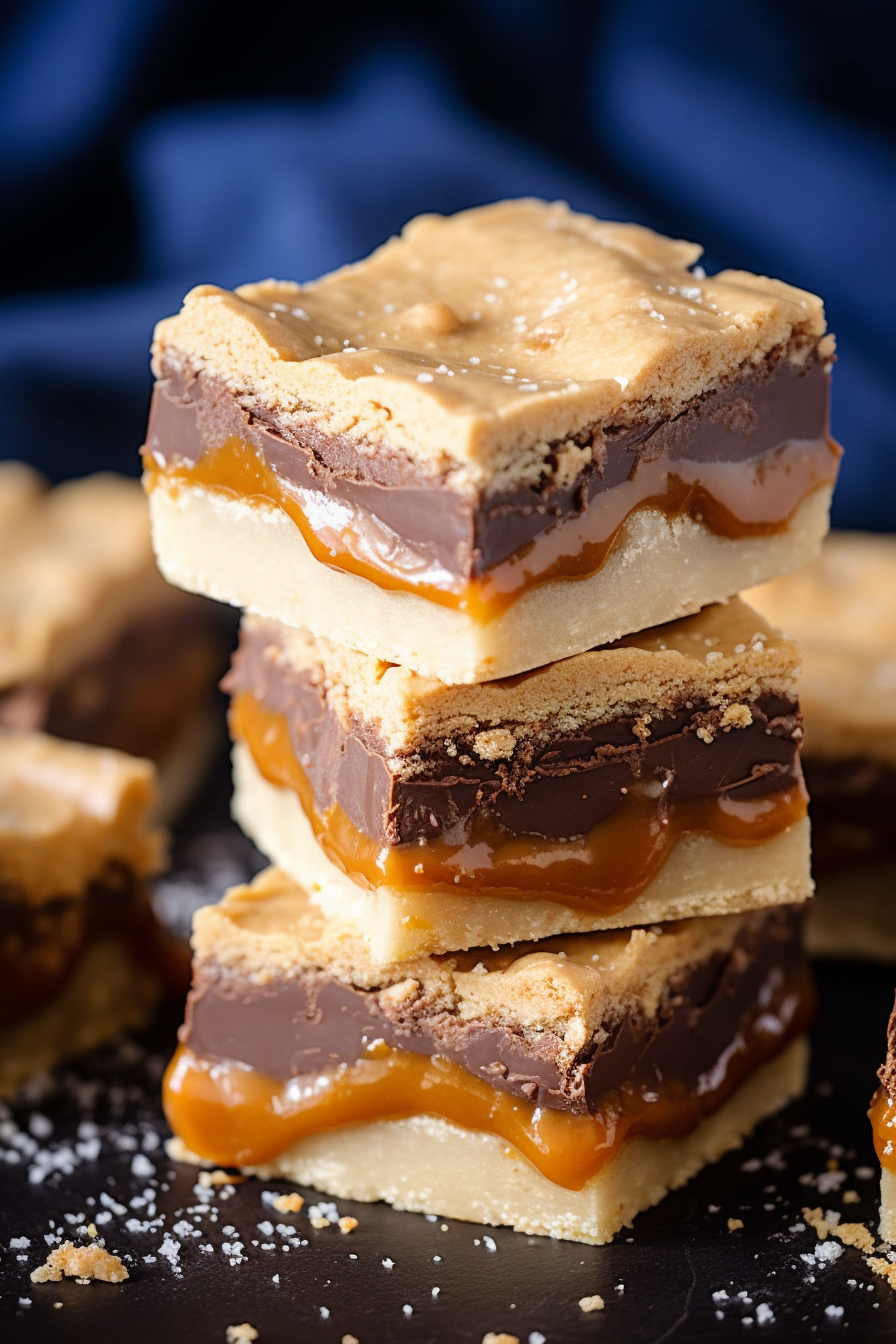 Ingredients Notes:
Butter: Always opt for room temperature for that creamy blend.
Powdered Sugar: Gives the shortbread its delicate texture.
Vanilla Extract: Quality matters! Go for pure vanilla for that rich aroma.
Baking Caramel Bits: These little gems melt effortlessly but if unavailable, wrapped caramels can work, though they might need extra effort (and patience) to melt.
Semi-Sweet Chocolate Chips: Balances out the sweetness of the caramel. You can go darker if you're feeling daring!
Recipe Breakdown:
The Prep: Always start by preheating that oven and lining your baking dish. Trust me, nothing's worse than a ready batter and a cold oven!
Shortbread Base: Cream together butter, both sugars, and vanilla till fluffy. Add flour gradually to avoid a floury explosion. Remember, the dough will be crumbly – it's not you, it's the shortbread! Press 3-4 cups of the dough onto the dish and bake till golden. Ah, that glorious aroma!
Caramel Layer: Combine caramels and cream on the stove. Slow and steady wins the race here. Pour it over the shortbread, spreading evenly.
Chocolate Galore: Sprinkle those chips generously over the caramel. Go wild!
Top Layer: The fun part! Scoop, roll, flatten, and lay the remaining dough discs over the chips. Bake until golden brown. Patience is key during cooling. It's tough, I know!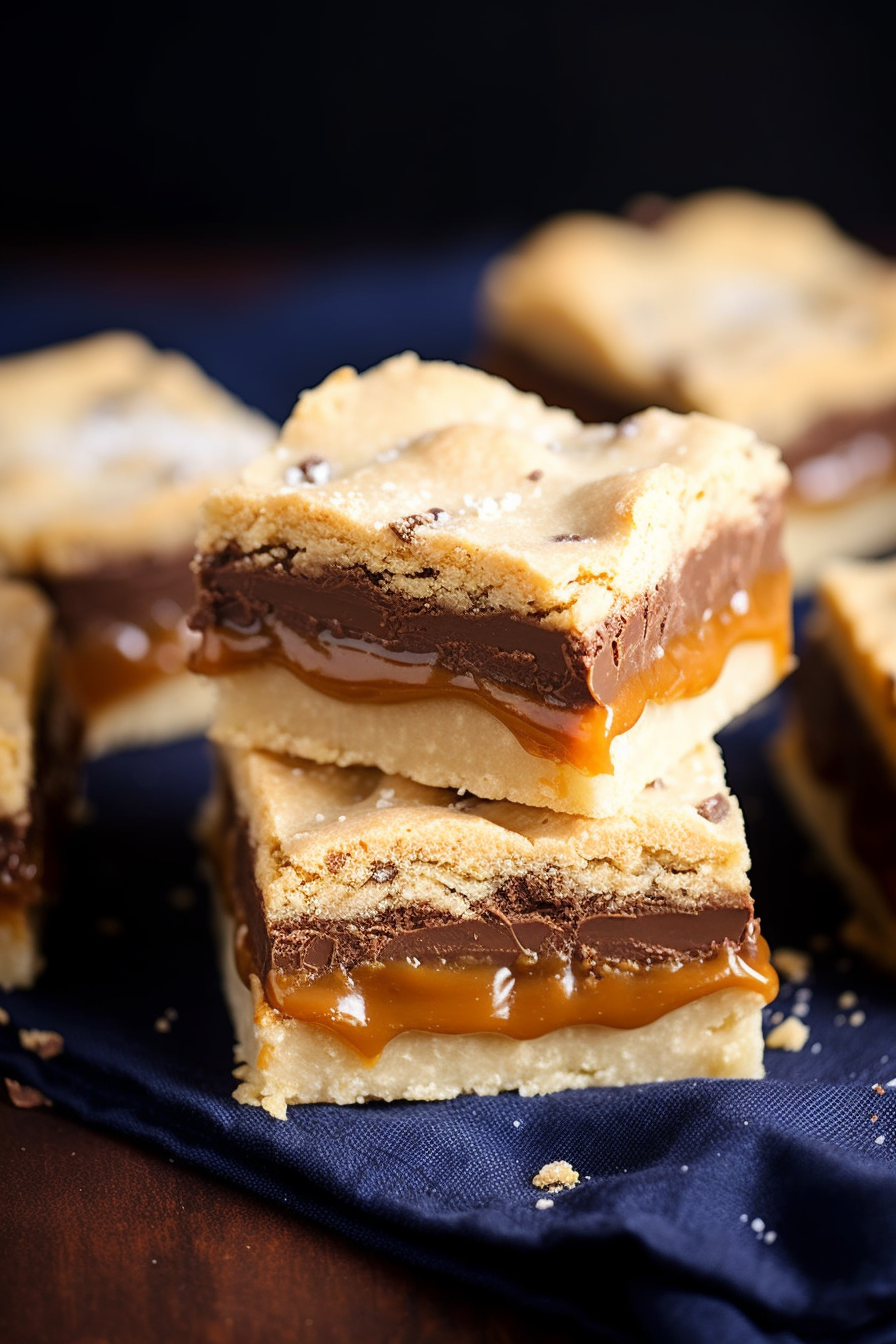 Storage Options: Here's the thing, if by some wild chance you have leftovers (I rarely do), these beauties can be stored in an airtight container at room temperature for up to 5 days. If you want them to last a tad longer, pop them in the fridge. Though, between you and me, they taste best when shared with loved ones immediately!
Variations and Substitutions: Feeling creative? Why not!
Swap semi-sweet chips for dark or white chocolate.
Add a pinch of sea salt to the caramel layer for a salted caramel twist.
If you're out of baking caramel bits, traditional wrapped caramels can pinch-hit. Just increase your melting time.
For a festive touch, sprinkle some crushed peppermint candies on top during the holidays.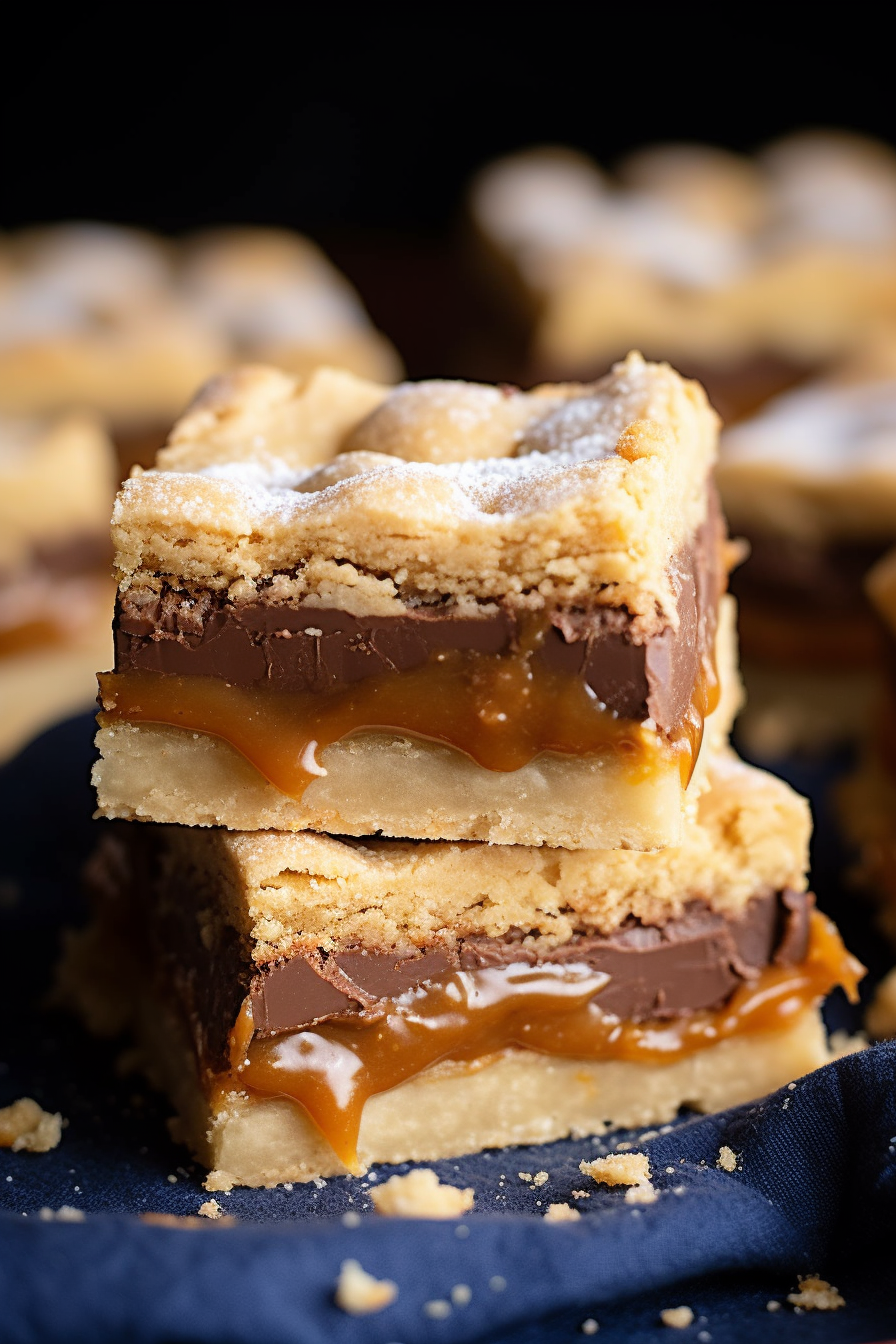 Remember, baking is an art, but eating is pure joy. Happy baking! 😉🍫🍪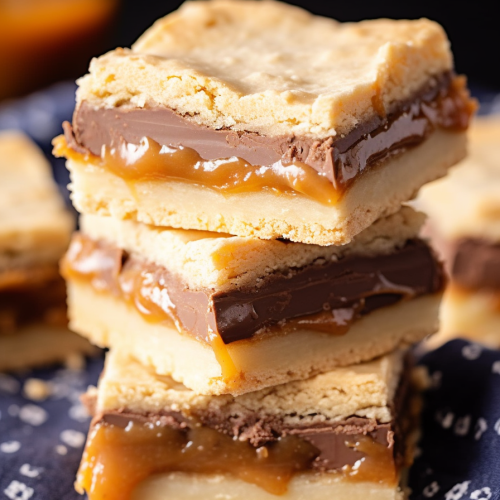 Chocolate Caramel Shortbread Bars
Dive into layers of indulgence with homemade shortbread, gooey caramel, and luscious chocolate. Our Chocolate Caramel Shortbread Bars are every dessert lover's dream come true!
Print
Pin
Rate
Ingredients
2

cups

of butter

brought to room temperature

1 ½

cups

of confectioners' sugar

1

cup

of granulated sugar

6

teaspoons

of pure vanilla extract

4

cups

of all-purpose flour

14

ounces

of baking caramel bits

⅓

cup

of heavy whipping cream

12

ounces

of semi-sweet chocolate chips
Instructions
Preheat the oven to a temperature of 325°F (163°C). Prepare a 9×13-inch baking dish by lining it with parchment paper. To ensure ease of removal of the bars post-baking, lightly spray the parchment paper with a non-stick baking spray.

In a sizable mixing bowl, combine the room temperature butter, confectioners' sugar, granulated sugar, and pure vanilla extract. Utilize an electric hand mixer on medium speed to achieve a consistent and well-combined mixture.

With caution, introduce the all-purpose flour to the mixture, ensuring to add it in gradually. Continue to mix until the flour is fully integrated. It should be noted that the resulting shortbread mixture may appear crumbly in texture. However, it should maintain its form when pressed together.

Transfer approximately 3-4 cups of the shortbread mixture to the prepared baking dish, pressing it uniformly to form the base layer.

Place the baking dish in the preheated oven and allow the shortbread base to bake for roughly 25 minutes. The end result should reflect a firmly set base with edges that exhibit a golden hue. Once achieved, set the dish aside to facilitate cooling.

In a medium-sized saucepan, introduce the baking caramel bits and the heavy whipping cream. Consistently stir the mixture over medium heat until the caramels have melted completely, forming a smooth sauce.

Gently pour the resulting caramel sauce over the cooled shortbread base, ensuring an even spread that reaches the edges.

Distribute the semi-sweet chocolate chips evenly across the caramel layer.

From the reserved shortbread mixture, use a small scoop to extract portions of the dough. These portions should then be shaped into balls, which should subsequently be flattened into discs. Arrange these discs over the layer of chocolate chips, allowing for slight overlap where necessary.

Place the baking dish back into the oven for an additional 35-40 minutes, or until the top layer of shortbread achieves a golden-brown finish.

Once baked, remove the dish from the oven and set it aside. Allow the Chocolate Caramel Shortbread Bars to cool to room temperature prior to slicing and serving.