During our honeymoon, we stopped at a little boutique chocolate factory in the Marlborough region of New Zealand. They offered free tastings, so we tried a variety of confections. However, our favorite was the Macadamia Toffee. As if one side wasn't enough, they coated both sides of toffee with milk chocolate and finely chopped macadamia nuts.
Months later, we are still dreaming about that toffee. I decided to recreate the toffee, but with my own twist.
This Macadamia Nut English Toffee has chopped nuts mixed right into the toffee layer and is coated with semi-sweet chocolate and more macadamia nuts. One bite and it's almost like we are back in New Zealand.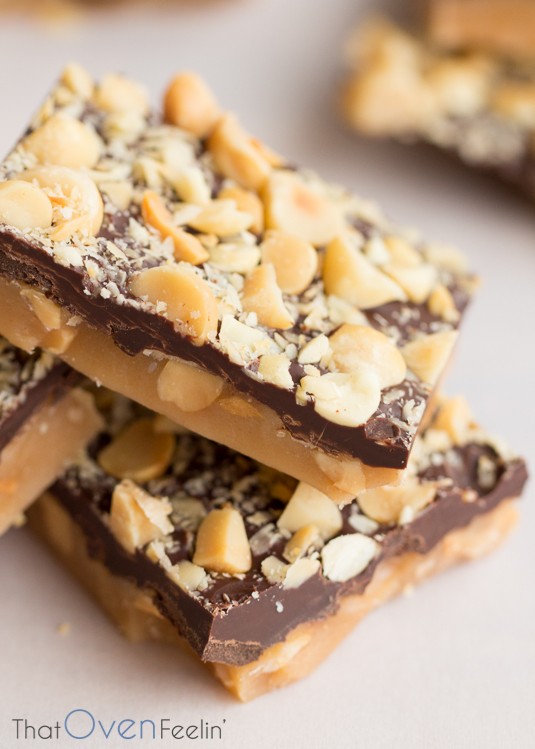 The first time I ever made toffee was a disaster. I remember half-reading the recipe and just throwing all of the ingredients into a hot saucepan. I had no idea that butter and sugar are so temperamental. The butter separated and the toffee ended up super-grainy.
Oops.
Because of my little mishap years ago, I thought it would be important to share a few tips and tricks that I've learned along the way.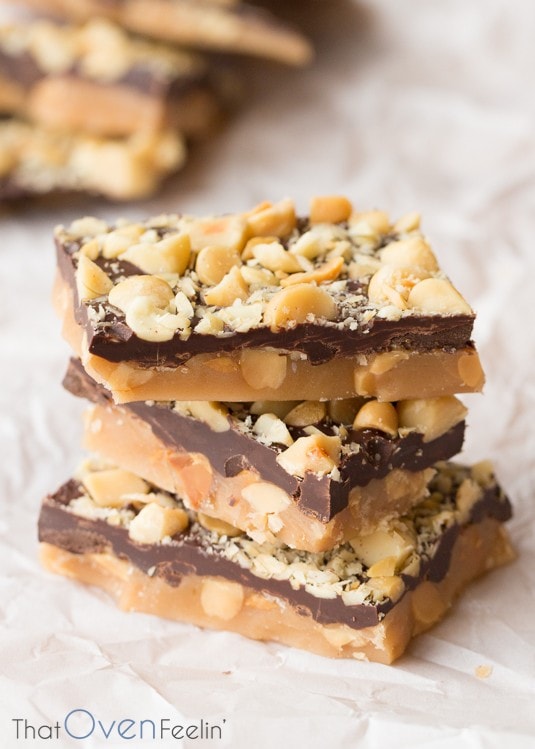 First, you need the right equipment: a heavy-bottomed saucepan and candy thermometer. I can't stress both of those enough.
A heavy-bottomed saucepan will help distribute the heat evenly. A thin saucepan will have hot spots, which can cause the sugar to burn or separate from the butter. You don't need a $200 copper saucepan to make great toffee, but a good heavy-bottomed saucepan will make a big difference.
A candy thermometer is also important in making sure that you reach the hard crack stage. Sure, you can estimate the temperature by looking at the color of the sugar, but that's not an accurate method. Using a candy thermometer will ensure that you get consistent results. I use this one. It's inexpensive, but works great.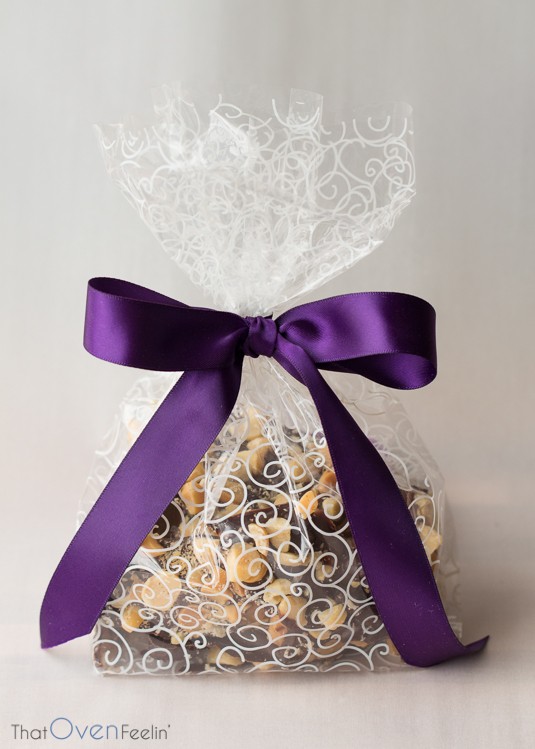 I also love using my silicone baking mat and offset spatula to make toffee, but they are not necessities. Parchment paper and a regular silicone spatula will work just fine.
If you want to get serious about candy-making, then I would definitely look into these gadgets. It will make the recipe much easier.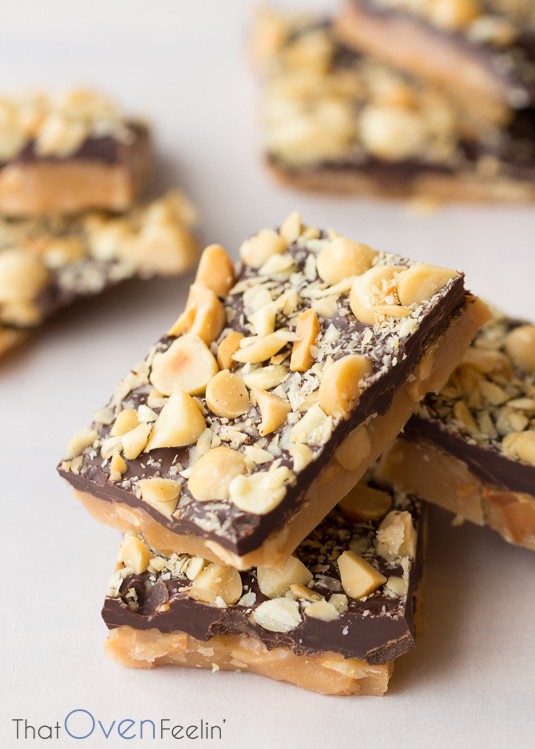 Make sure that you take your time when heating up the butter and sugar mixture. For my stove, I heat the mixture over medium-low heat (this will vary depending on your stove). Gently stir the mixture with a wooden spoon every couple of minutes, but you don't need to stir constantly until the temperature reaches 265 degrees Fahrenheit. Then, it becomes more important to stir to make sure the sugar doesn't burn. If you think that some of the sugar crystals are starting to burn on the sides of the saucepan, use a pastry brush dipped in water to gently push them back into the mixture.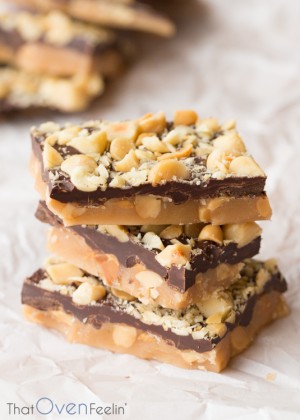 I also added a splash of water and a teaspoon of light corn syrup to this toffee recipe. The water helps the butter and sugar melt together and prevents them from separating during cooking. Don't worry, it will completely evaporate out of the toffee by the time you are done. The corn syrup helps keep sugar crystals from forming, which will make your toffee grainy instead of smooth. I use a light corn syrup that contains no high fructose corn syrup and it works just fine.
Most traditional toffee recipes don't include water and corn syrup, so it's fine to leave them out. However, you will run a higher risk of the butter and sugar separating or making grainy toffee.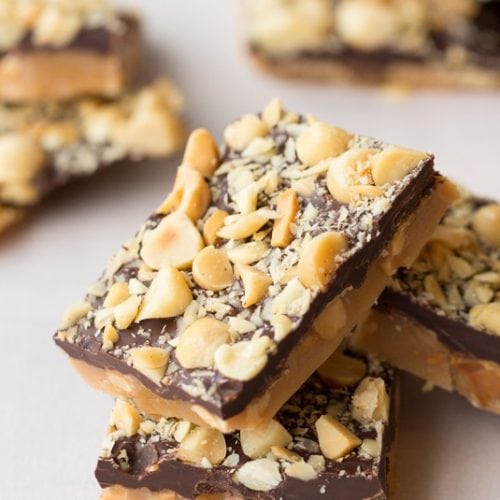 Macadamia Nut English Toffee
This Macadamia Nut English Toffee has chopped nuts mixed right into the toffee layer and is coated with semi-sweet chocolate and more macadamia nuts.
Print
Pin
Rate
Ingredients
1

cup

unsalted butter

1

cup

sugar

1

tbsp

water

1

tsp

light corn syrup (optional)

½

tsp

salt

7

oz

macadamia nuts, coarsely chopped

8

oz

chocolate, (chips or chopped baking bar)
Instructions
Line a rimmed baking sheet with a silicone baking mat or parchment paper. Set aside.

Heat a heavy-bottomed saucepan over medium or medium-low heat. Add the butter, sugar, and water. Stir together the ingredients with a wooden spoon as they melt. Once melted, stir in the corn syrup and salt.

Slowly bring the mixture to a boil, stirring occasionally (avoid vigorous stirring). Use a wet pastry brush to brush down any sugar that adheres to sides of the saucepan to prevent burning.

Once the sugar reaches 265 degrees, stir in 3 ounces of the chopped macadamia nuts. Slowly stir the sugar mixture until it reaches 290 degrees, then pour the mixture over the lined baking sheet. Use an offset spatula to smooth the toffee into a thin, even layer and allow to cool for about 3 to 4 minutes.

Sprinkle an even layer of chopped chocolate or chocolate chips over the hot toffee. Once the chocolate has melted, use a spatula to smooth the chocolate into an even layer. Sprinkle the remaining macadamia nuts over the chocolate and gently press them down with a clean spatula to make them stick.

Place the baking sheet into the refrigerator to cool for about 30 to 40 minutes. Once the chocolate is hard, use a knife to cut the toffee into pieces.

Store in an airtight container at room temperature for up to 2 weeks. Alternatively, you may freeze the toffee for up to 2 to 3 months.