Dive into a delightful concoction of stale challah bread, rich whole milk, heavy cream, vanilla essence, white sugar, aromatic cinnamon, and plump raisins, all baked to perfection in this Cinnamon Raisin Bread Pudding recipe. A classic made simple!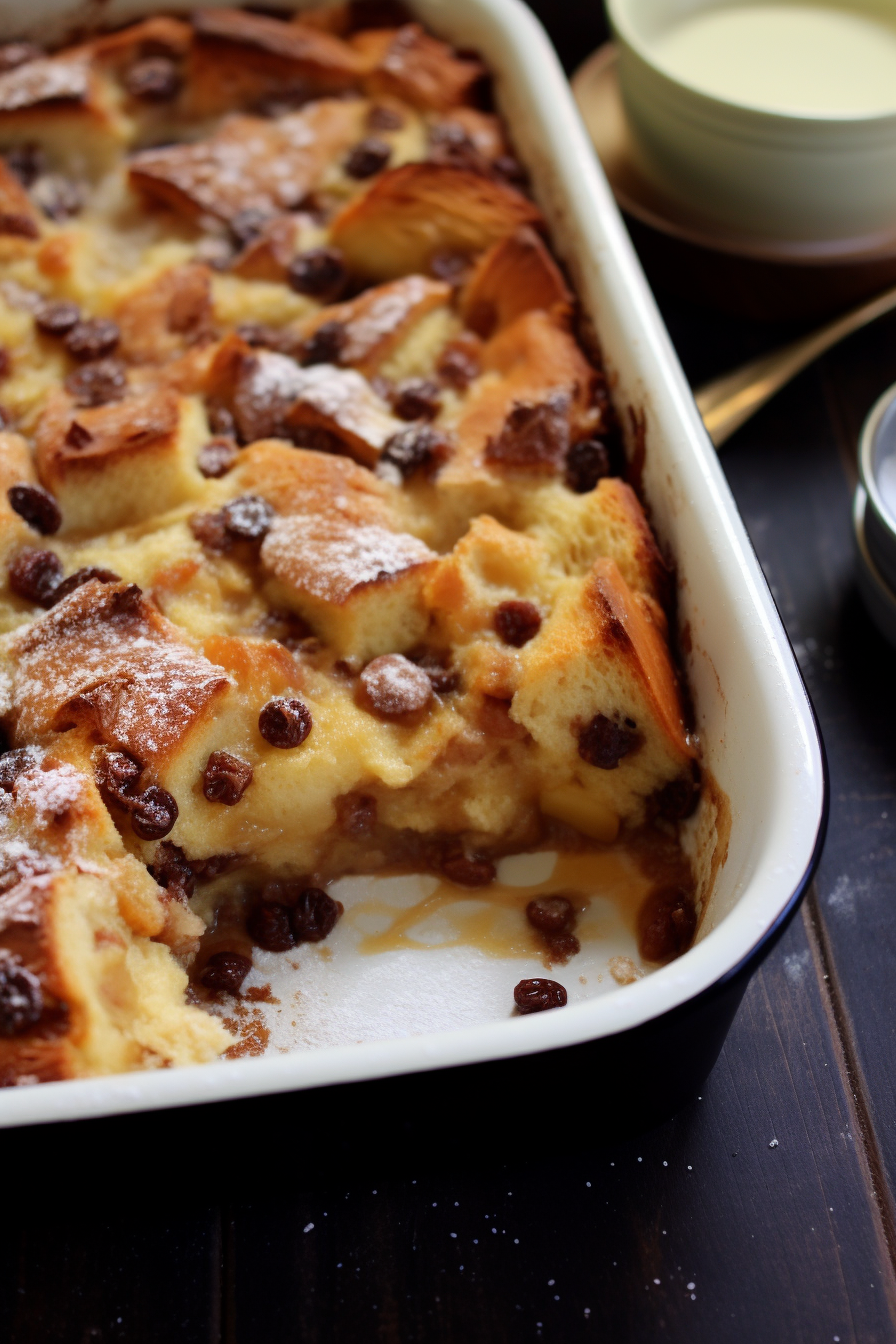 Ah, bread pudding, the underdog of desserts, yet a star in its own right. Growing up, I recall weekend brunches when my grandmother would effortlessly repurpose stale bread. I remember the aroma of cinnamon wafting through the house, signaling that a warm, comforting treat was soon on its way. This Cinnamon Raisin Bread Pudding isn't just a dish; it's a cherished memory, a testament to the magic that can emerge from simplicity. Every bite teleports me back to those sunny mornings, watching grandma whisk, stir, and bake with her trademark apron and infectious smile. And now, it's time to pass that experience onto you.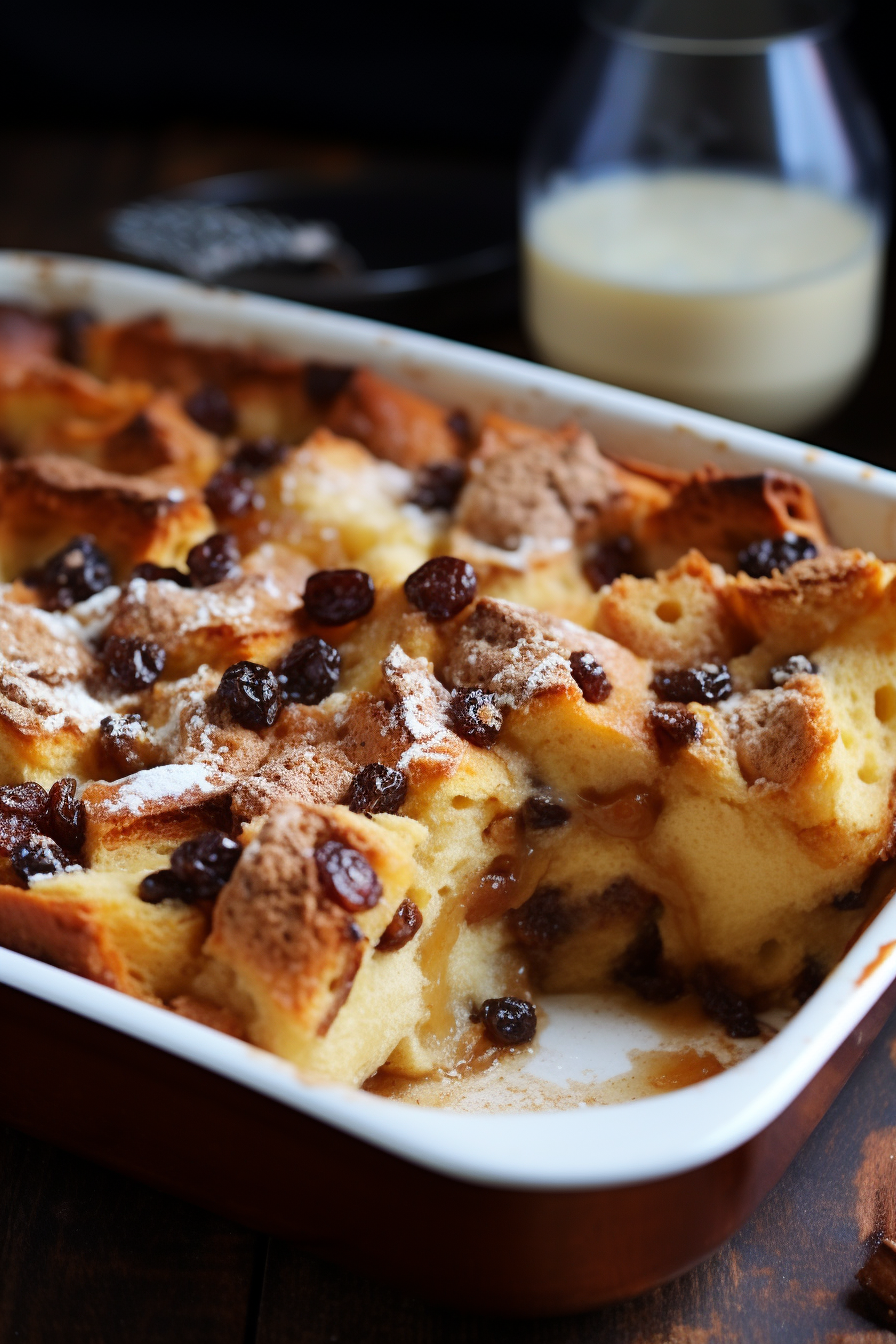 Why You'll Love Cinnamon Raisin Bread Pudding:
Think bread pudding is just for your grandma's generation? Think again! Our Cinnamon Raisin Bread Pudding isn't just a dessert; it's a rendezvous of textures and flavors. First off, we use challah bread, which gives this pudding a delightful richness not found in other variations. Secondly, the plumped-up raisins are not mere bystanders; they're the juicy burst amidst the soft bread and creamy base. Plus, this recipe maintains that perfect balance: moist but not soggy, rich but not overpowering, and sweet but not tooth-aching. Lastly, it's a forgiving dish, ideal for beginners or those who just want a no-fuss, delicious dessert.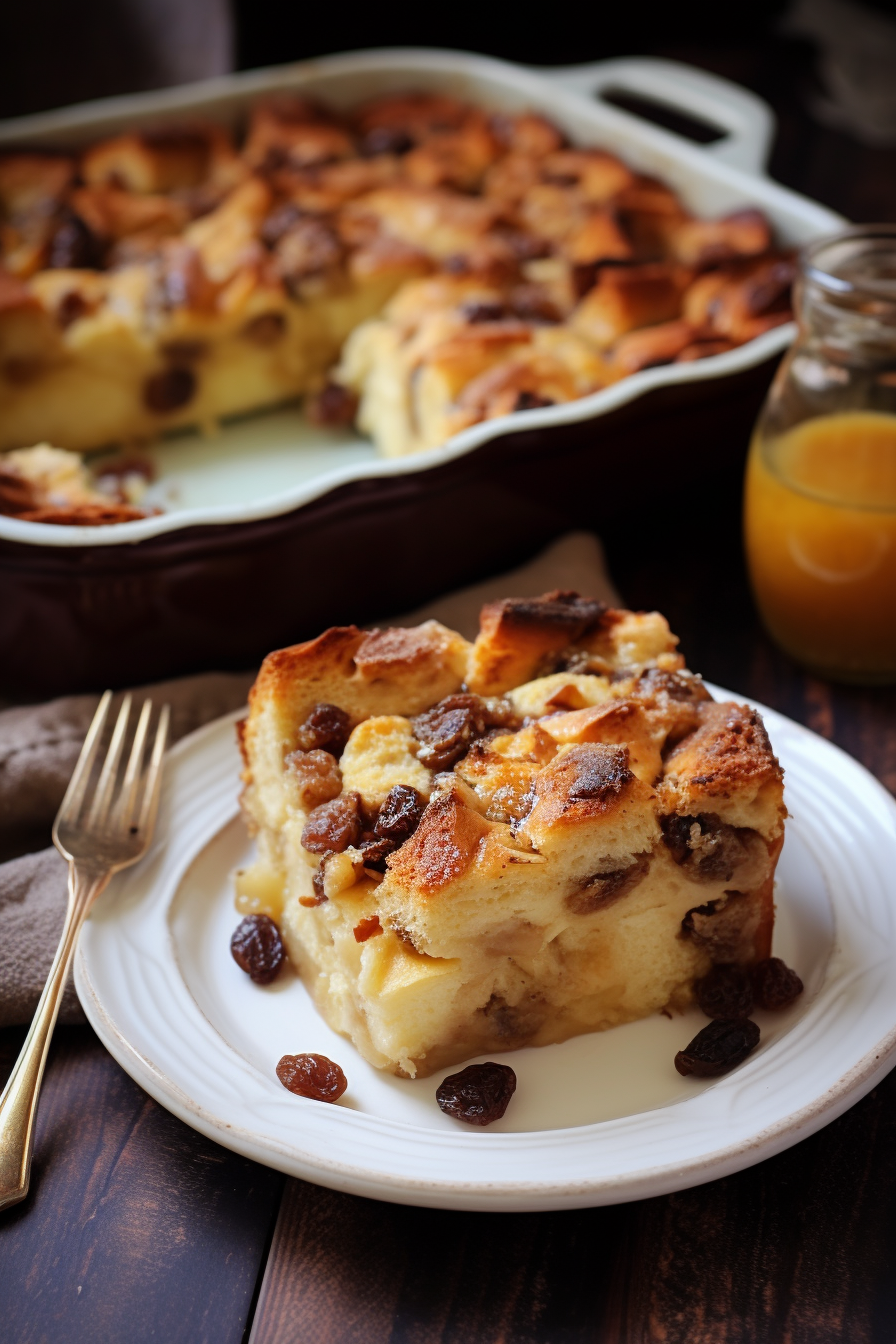 Ingredients Notes For Cinnamon Raisin Bread Pudding:
Challah Bread: This Jewish bread, often braided, is mildly sweet and beautifully rich due to the eggs, making it a top choice for this pudding.
Whole Milk & Heavy Cream: Combining these ensures a creamy, thick consistency for your pudding. Dreamy, right?
Raisins: Make sure they're seedless. Their role is crucial – they add a surprise sweetness and texture.
Vanilla Extract: Go for pure vanilla extract over the imitation for a richer flavor profile.
Cinnamon: This spice is what sets our pudding apart. It adds a warmth and spice that perfectly complements the sweetness of the raisins.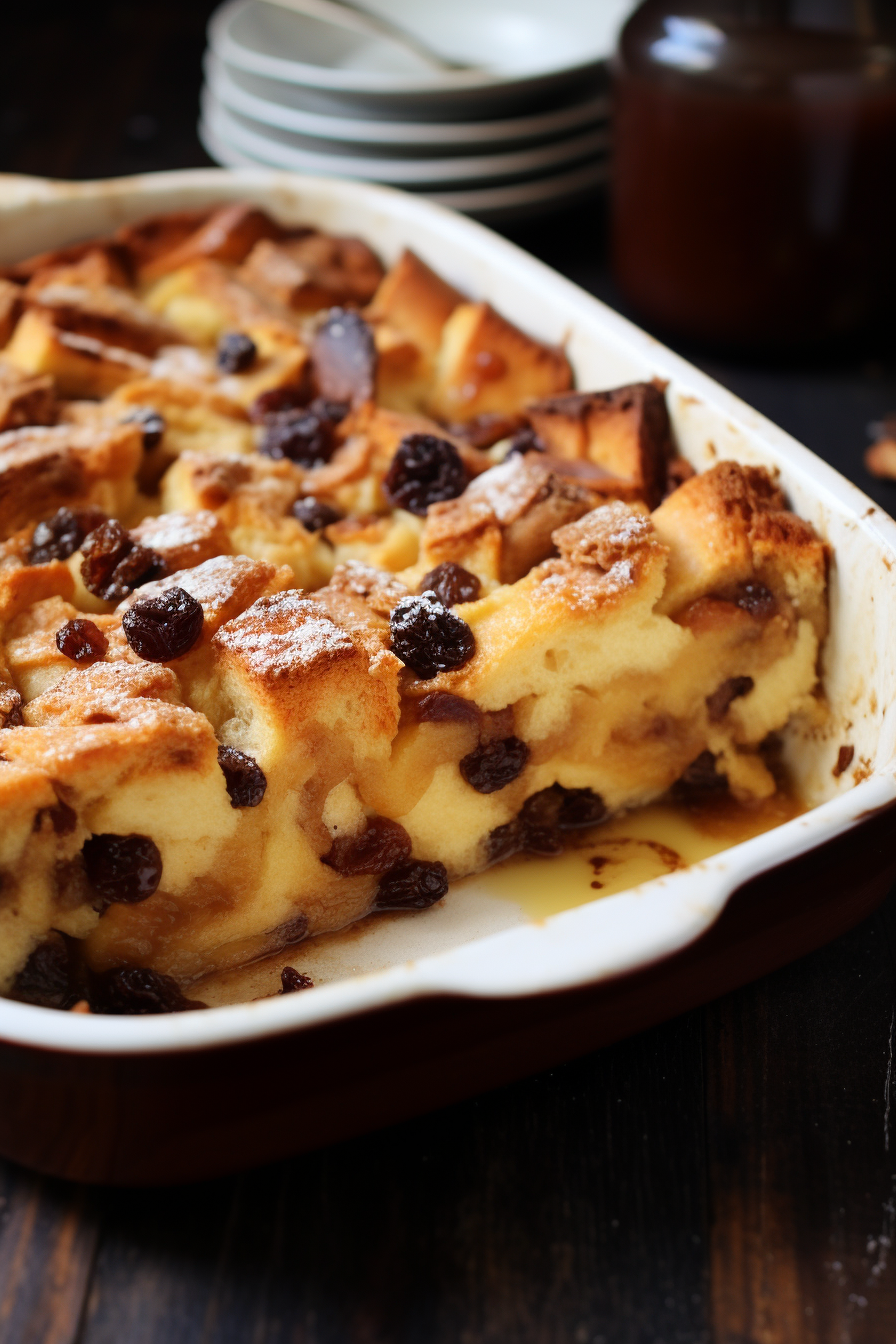 Step-by-step Directions For Cinnamon Raisin Bread Pudding:
Setting the Stage: Begin by preheating your oven to 350 degrees F, ensuring a warm welcome for your pudding mixture. While you're at it, grease a 9×13 baking dish, so your pudding doesn't cling to the sides later.
Raisin Magic: In a saucepan, combine raisins, water, butter, and that teaspoon of cinnamon. The aim? Plump, juicy raisins that are doubly delicious. Bring it to a boil, watching as the raisins soak up the moisture and expand. Once they've achieved their plump stature, set aside.
Whisking Wonderland: Grab the biggest bowl you've got. Whisk together eggs, milk, heavy cream, vanilla, sugar, and that tablespoon of cinnamon. Add in the raisin mixture, ensuring the water joins the party too.
Bread Bath: Now for the bread. Stir in those challah cubes into the creamy concoction, ensuring every piece gets drenched. Let them soak in this goodness for about 10 minutes.
Baking Bliss: Transfer your soaked bread mix into the prepped baking dish. Cover this treasure with foil, ensuring it's well protected. Let it bake for 50 minutes. After that, uncover and allow it to bask in the oven's warmth for another 10-15 minutes.
Glorious Glaze: You must be thinking there's no glaze in the recipe. But, let's just say, whisk together some powdered sugar, a touch of milk, and a dash of vanilla and drench your warm pudding in this silky goodness before serving. Because why not?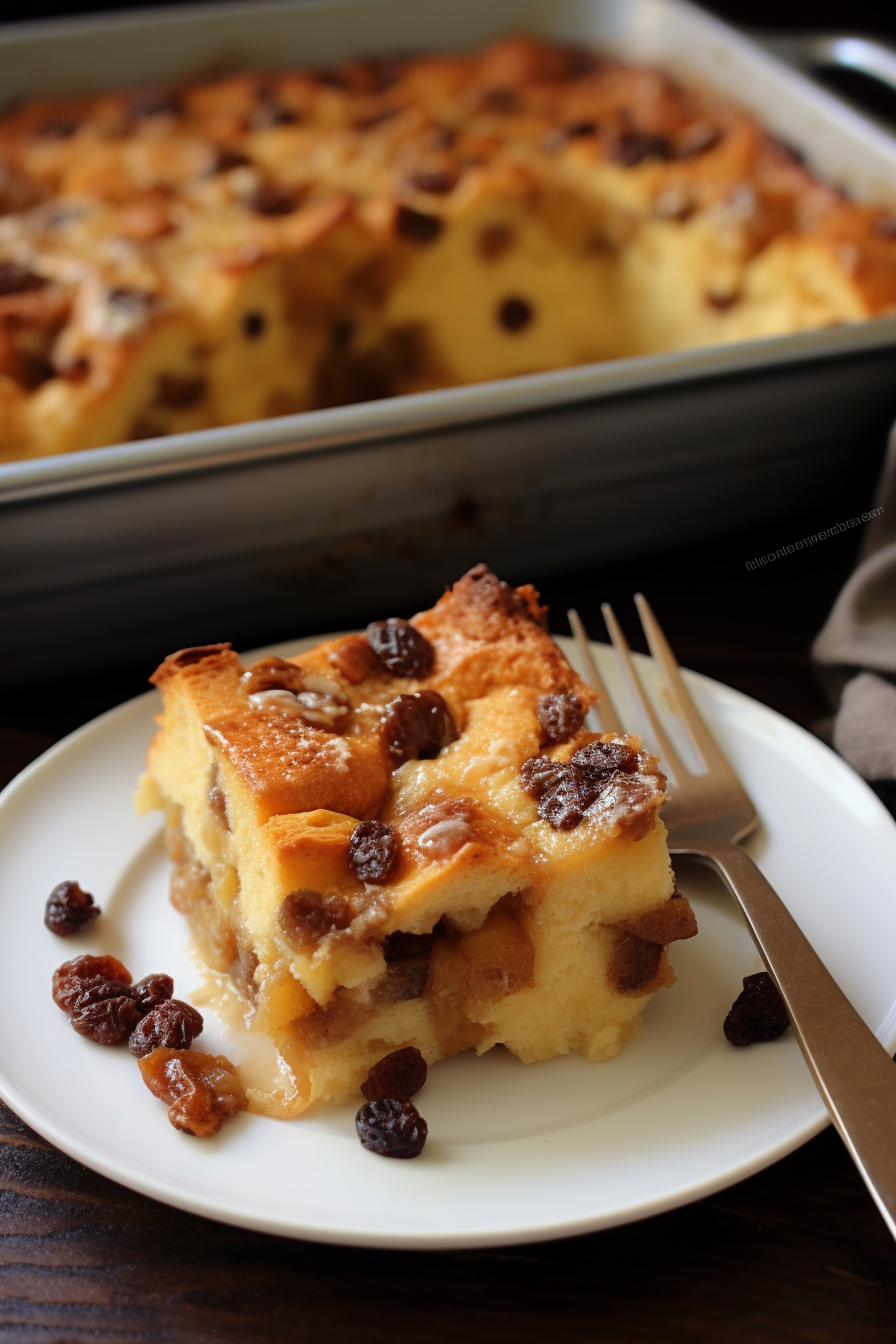 Storage Solutions:
Alright, let's talk leftovers, if by some miracle you have any. This pudding stores well in the fridge for up to 3 days. Just ensure it's in an airtight container. When ready to dive in again, reheat in the microwave or oven until warmed through. Alternatively, individual slices can be frozen, but I dare you to try and resist eating it all in one go!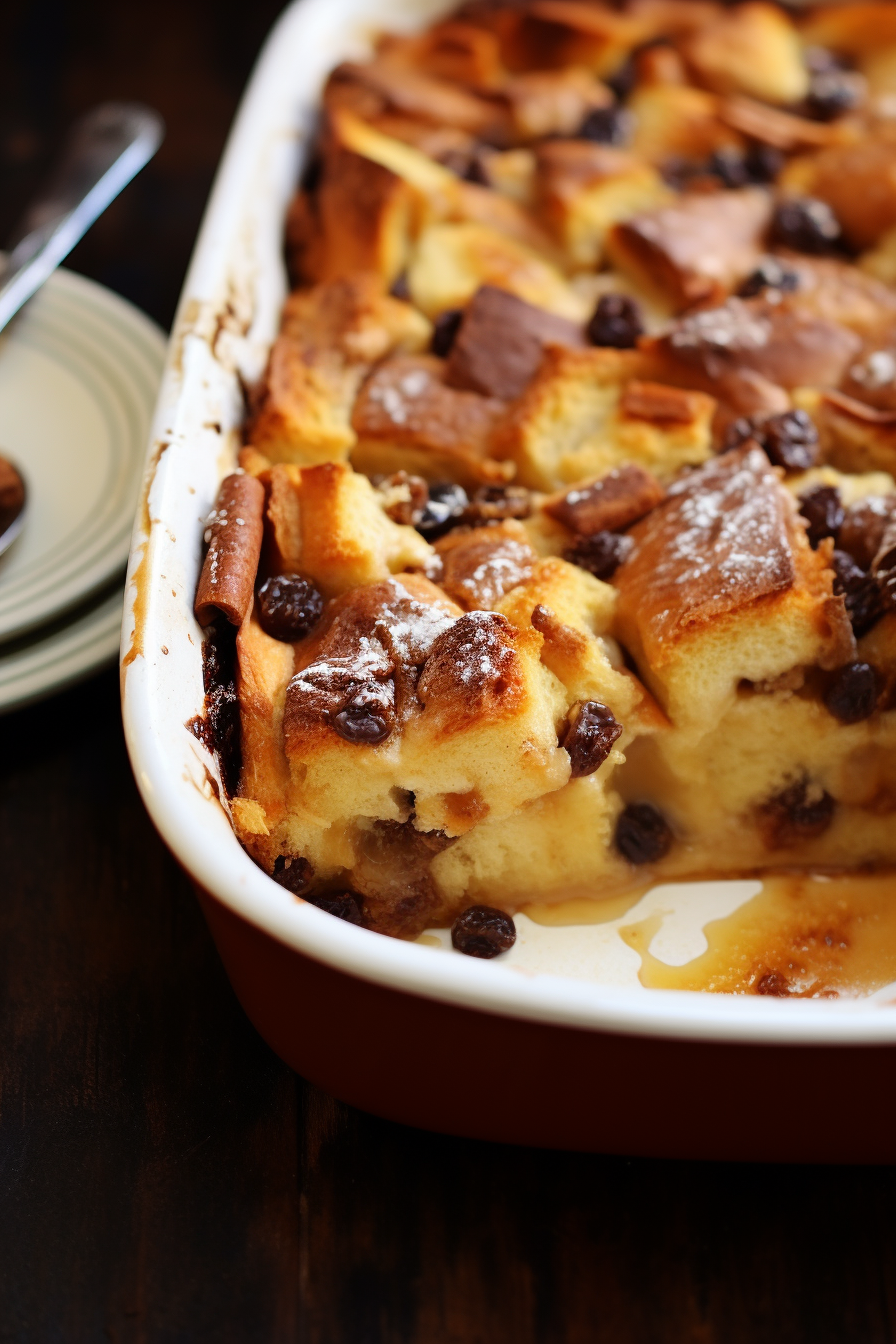 Variations and Substitutions:
Craving a twist on our classic?
Bread Options: While challah is champion here, brioche or even stale croissants could bring their own charm.
Spice it Up: Nutmeg or cardamom can add a delightful twist.
Fruits Galore: Swap raisins for dried cranberries, chopped dried apricots, or even chocolate chips for a different vibe.
Dairy Delights: Almond or oat milk can replace whole milk for a lighter, dairy-free version. Just ensure you keep that heavy cream for the rich texture we all adore.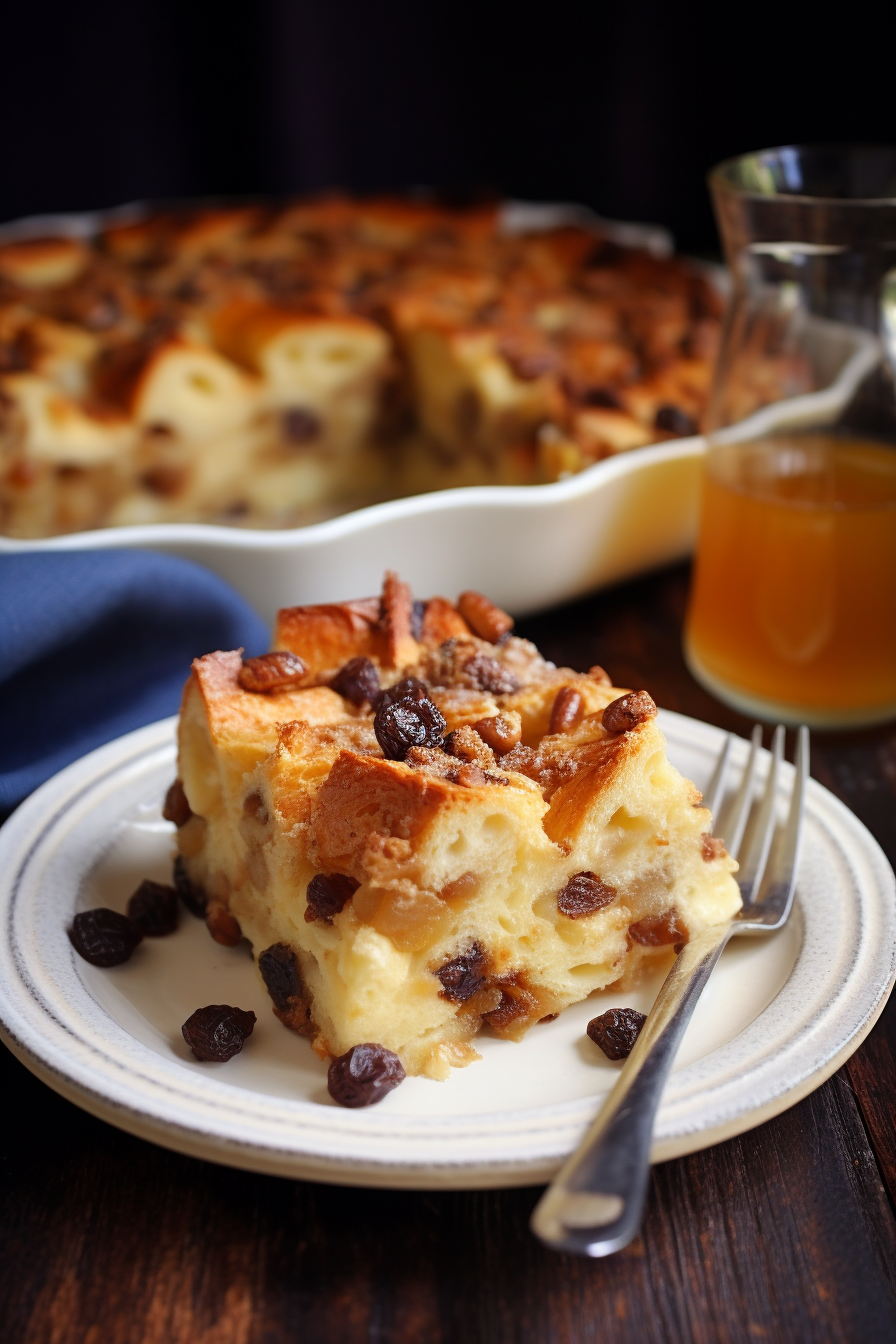 Remember, it's bread pudding – it's hard to mess up, and it's easy to make it your own. Happy baking, pudding pals! 🍞🍇🎉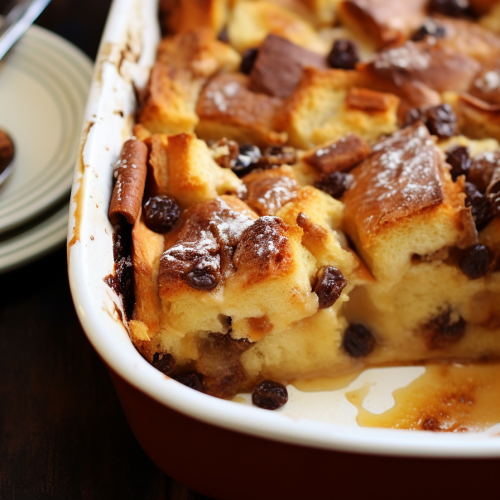 Cinnamon Raisin Bread Pudding
Dive into a delightful concoction of stale challah bread, rich whole milk, heavy cream, vanilla essence, white sugar, aromatic cinnamon, and plump raisins, all baked to perfection in this Cinnamon Raisin Bread Pudding recipe. A classic made simple!
Print
Pin
Rate
Ingredients
1

loaf of stale challah bread

cut into cubes

5

large eggs

2

cups

of whole milk

2

cups

of heavy cream

1

tablespoon

of pure vanilla extract

½

cup

of granulated white sugar

1

tablespoon

of ground cinnamon

1

cup

of seedless raisins

1

cup

of water

2

tablespoons

of unsalted butter

1

teaspoon

of ground cinnamon
Instructions
Begin by preheating the oven to a temperature of 350 degrees Fahrenheit. Concurrently, prepare a 9×13 baking dish by greasing it uniformly.

In a medium-sized saucepan, combine the raisins, water, butter, and the measured teaspoon of cinnamon. Place the saucepan over medium-high heat. Once the mixture reaches boiling, allow it to cook until the raisins have swollen and approximately doubled in size. Once achieved, remove the saucepan from the heat source.

In a separate, larger mixing bowl, combine the eggs, milk, heavy cream, vanilla extract, granulated sugar, and the tablespoon of ground cinnamon. Vigorously whisk these ingredients together to ensure an even mixture. Following this, incorporate the previously prepared raisin mixture, ensuring to include the water as well.

Gradually introduce the cubed challah bread into the liquid mixture. Ensure that the bread is submerged and saturated thoroughly with the liquid. Allow this mixture to stand for approximately 10 minutes to ensure the bread absorbs the liquid adequately.

After the soaking period, transfer the saturated bread mixture into the pre-greased baking dish. Cover the dish with a piece of aluminum foil.

Place the covered dish into the preheated oven. Allow it to bake for a duration of 50 minutes. Subsequently, remove the aluminum foil and permit the pudding to bake for an additional period of 10-15 minutes.

The accompanying glaze, if desired, can be prepared by whisking together the respective ingredients. This glaze should be applied atop the bread pudding immediately prior to serving.
Notes
Please note that the precise baking time might vary depending on the individual oven. It is recommended to check for the bread pudding's readiness using a toothpick or knife. If it emerges clean from the center of the pudding, the dish is fully baked.