Dive into a delightful fusion of graham cracker crust, sumptuous full-fat cream cheese, and a dash of vanilla, all rounded off with a cherry on top! These Mini Cheesecakes are pure bliss in every bite.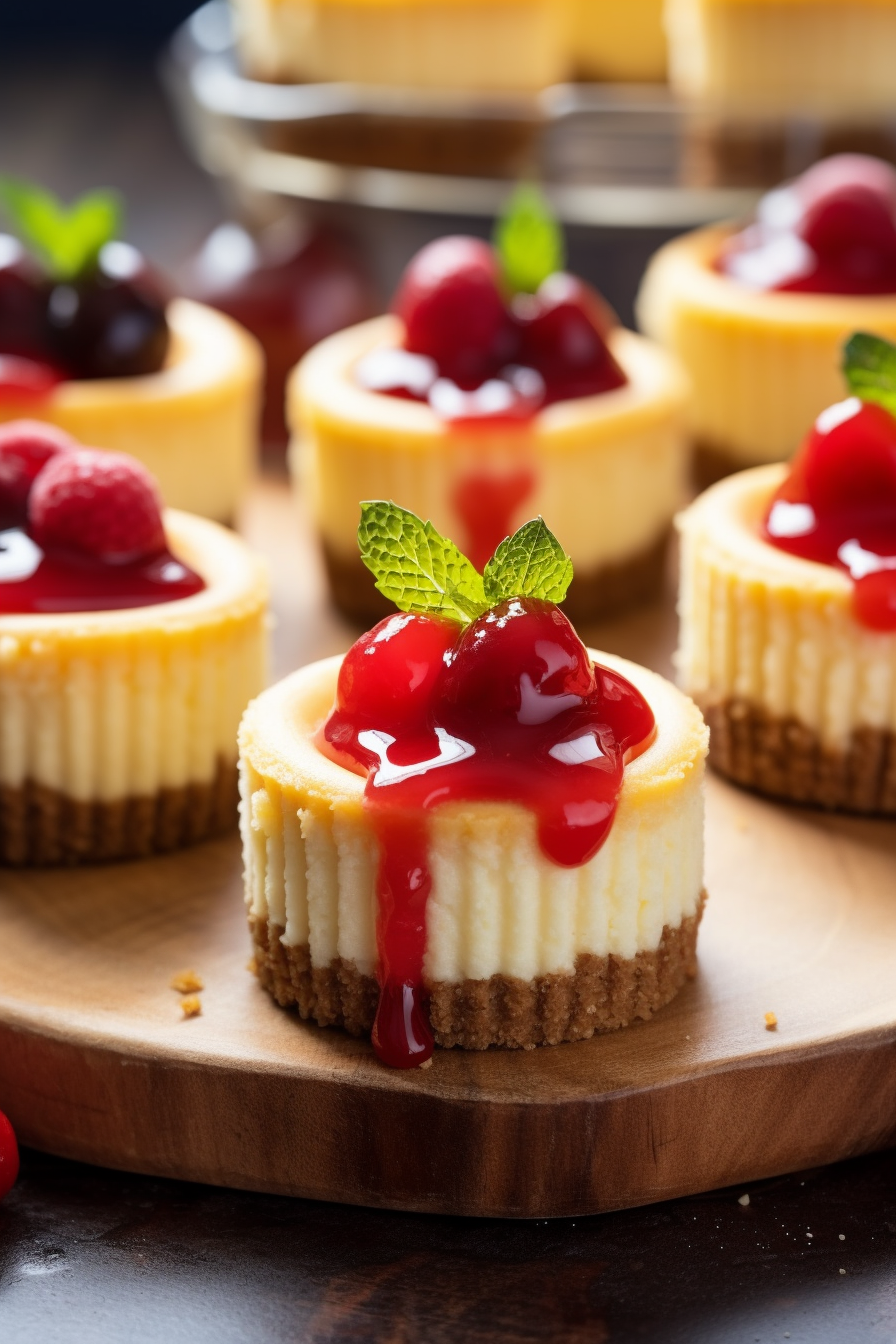 Ah, Mini Cheesecakes! These little wonders transport me straight back to summer vacations at Grandma's. I remember the golden rays of sunshine filtering through the curtains, revealing the glistening tops of these cheesecakes on her rustic kitchen counter. As a child, I would always try to sneak one or two before dinner, though Grandma's watchful eye rarely let me get away with it. It's funny how certain tastes and scents can encapsulate moments from our past. And now, every time I whip up a batch, it's like taking a little trip down memory lane. It's not just a dessert; it's nostalgia on a plate.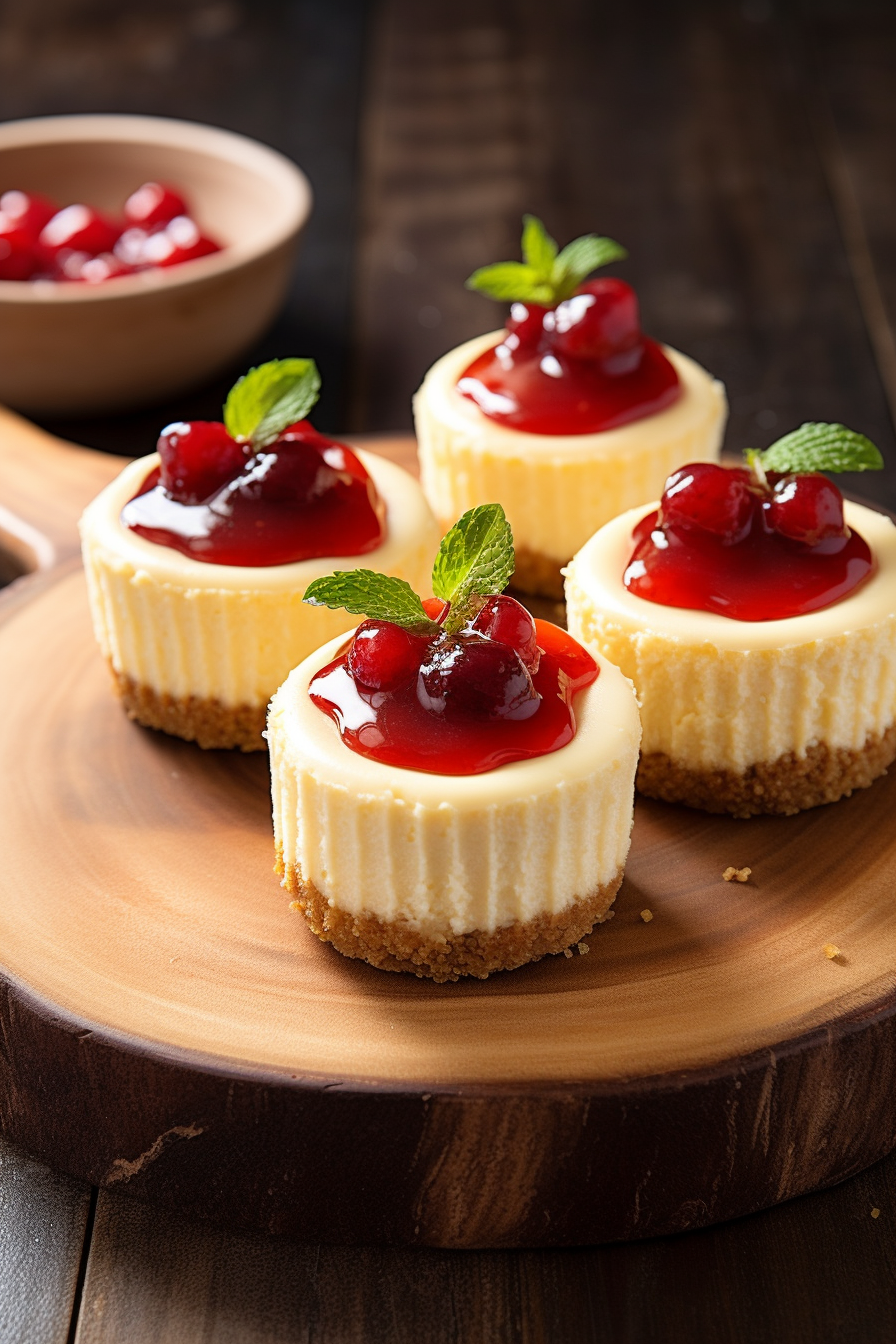 Why You'll Love Mini Cheesecakes:
What sets our Mini Cheesecakes apart?
For starters, these aren't just any regular cheesecakes; they're individually crafted delicacies, giving each its moment of glory. Their petite size means they're perfect for portion control (although I dare you to stop at just one!).
Baked with love, this small batch recipe ensures quality and freshness in every bite.
Moreover, with the classic graham cracker crust and a garnish of cherry pie filling, we're playing a delightful homage to tradition while keeping things fresh and contemporary.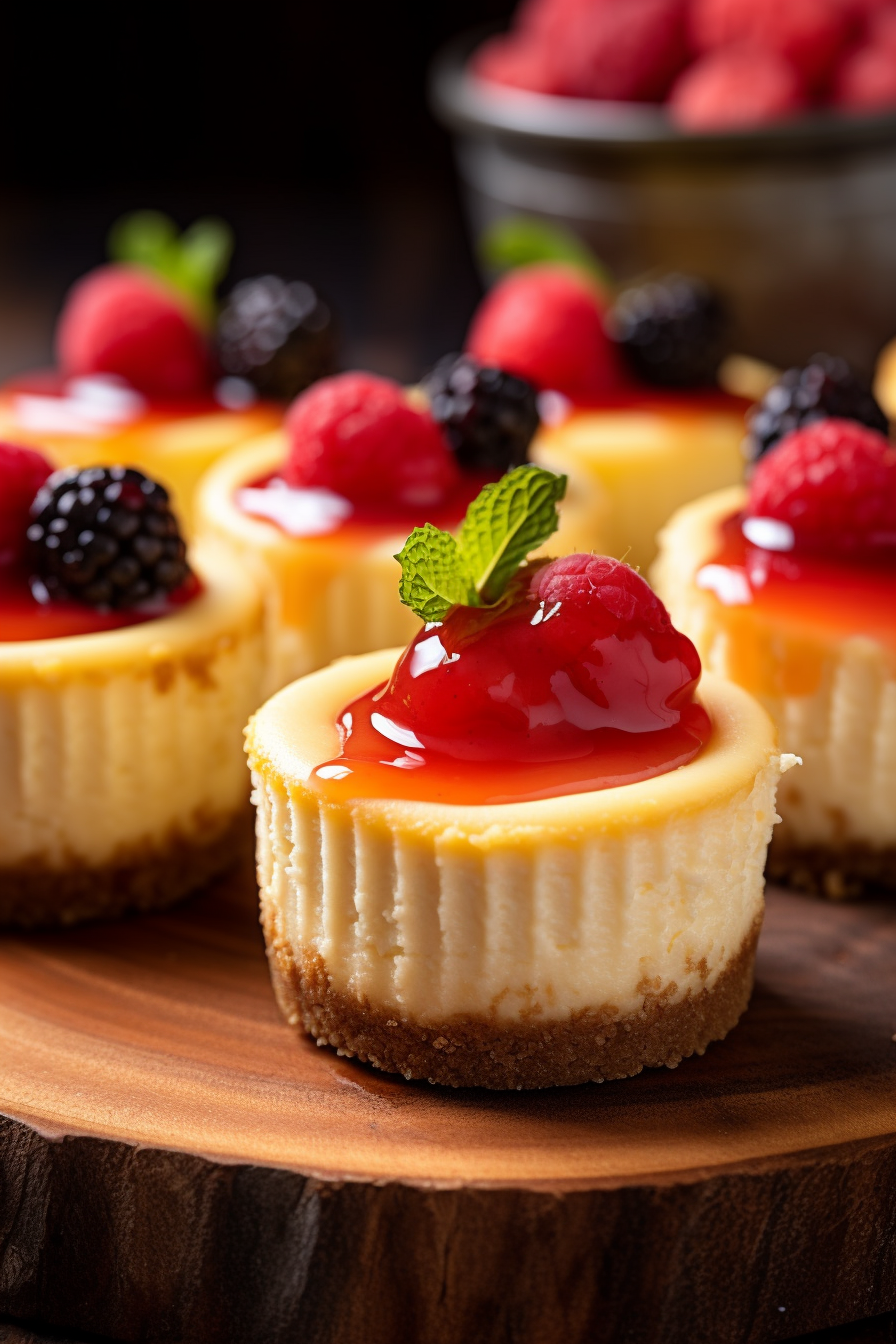 Ingredient Notes For Mini Cheesecakes:
Let's delve into our star ingredients.
The graham cracker crumbs provide that familiar crunchy base that's the foundation of any good cheesecake. Opt for good quality crumbs to ensure that perfect texture.
The unsalted butter complements the crumbs, binding them together and adding a hint of richness.
Now, the full-fat cream cheese: no compromises here! This is where the magic happens. Ensure it's room temperature for a smoother consistency.
As for the sugar, granulated works best here, giving our cakes that subtle sweetness.
The egg should also be at room temperature to blend effortlessly into the batter.
Lastly, the vanilla extract: an essential for that aromatic undertone.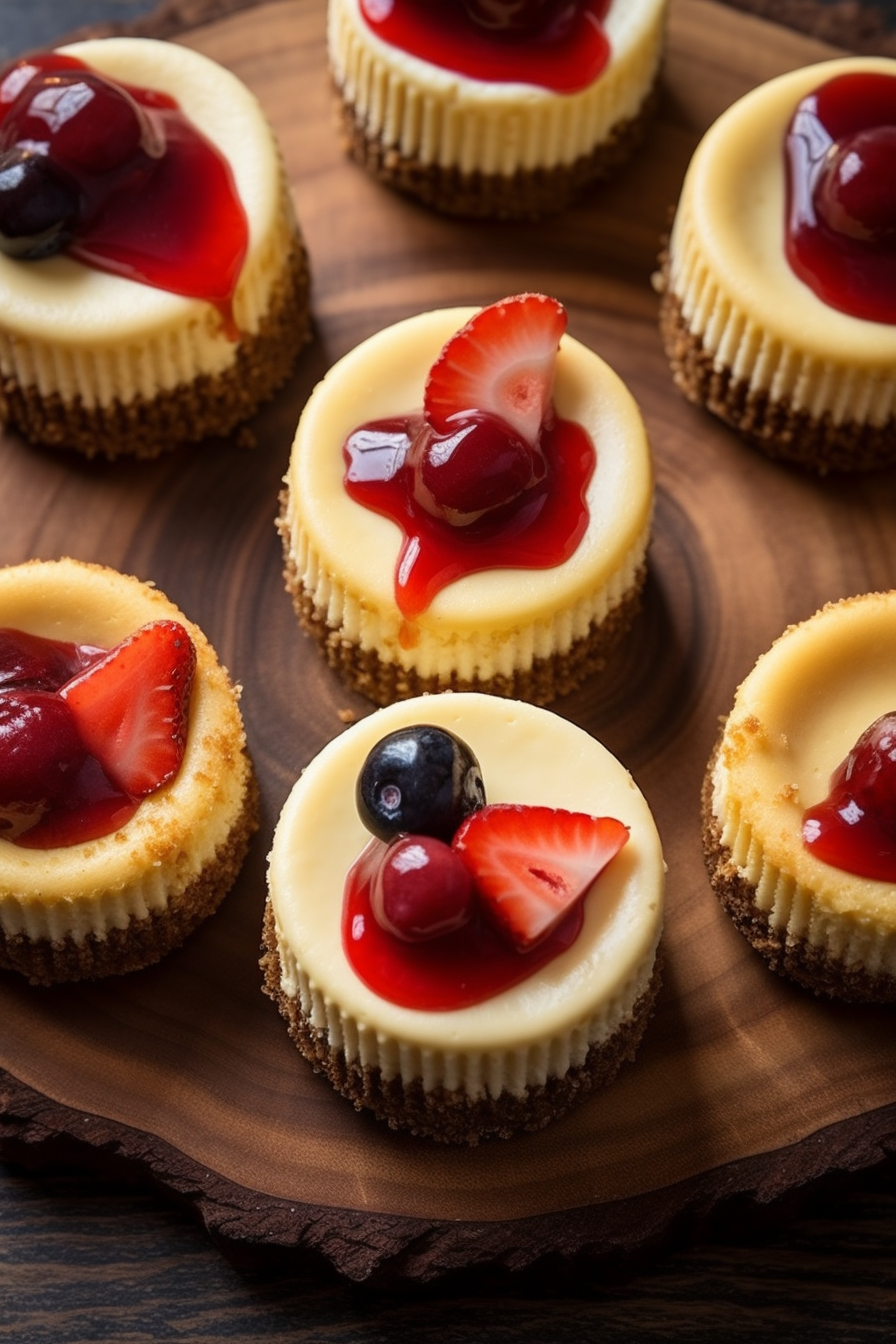 How To Make Mini Cheesecakes:
Let's get that apron on and dive straight in!
Step 1: Set that oven to 325F. And hey, don't forget those cute little muffin liners in your muffin pan! They make everything so much tidier.
Step 2: Mix those graham cracker crumbs and butter like they're the dynamic duo of the dessert world. Once they're looking all moist and clumpy, you know you're on the right track.
Step 3: Time to get pressing! Add about 2 tablespoons of your crumbly concoction to each muffin liner. Give them a short bake (5-8 minutes) until they're just set. Patience, my dear, they need a breather while you prep the filling.
Step 4: Bring out your mighty mixer and beat that cream cheese and sugar like there's no tomorrow! Aim for a light and fluffy texture. Get those sides scraped and everything well incorporated.
Step 5: Gently beat in the egg; we want it smooth but not overmixed. And of course, can't forget our aromatic buddy, vanilla extract!
Step 6: Portion out the creamy filling among your prepped liners. Yes, fill 'em up to the brim! Into the oven they go for 22-25 minutes. Keep an eye out for firm edges, a slight jiggle in the center, and that magical internal temp of 150F.
Step 7: After their hot adventure, let them cool at room temperature. And here's the hard part: you've got to let them chill in the fridge for a good 4 hours or overnight. But trust me, it's worth the wait!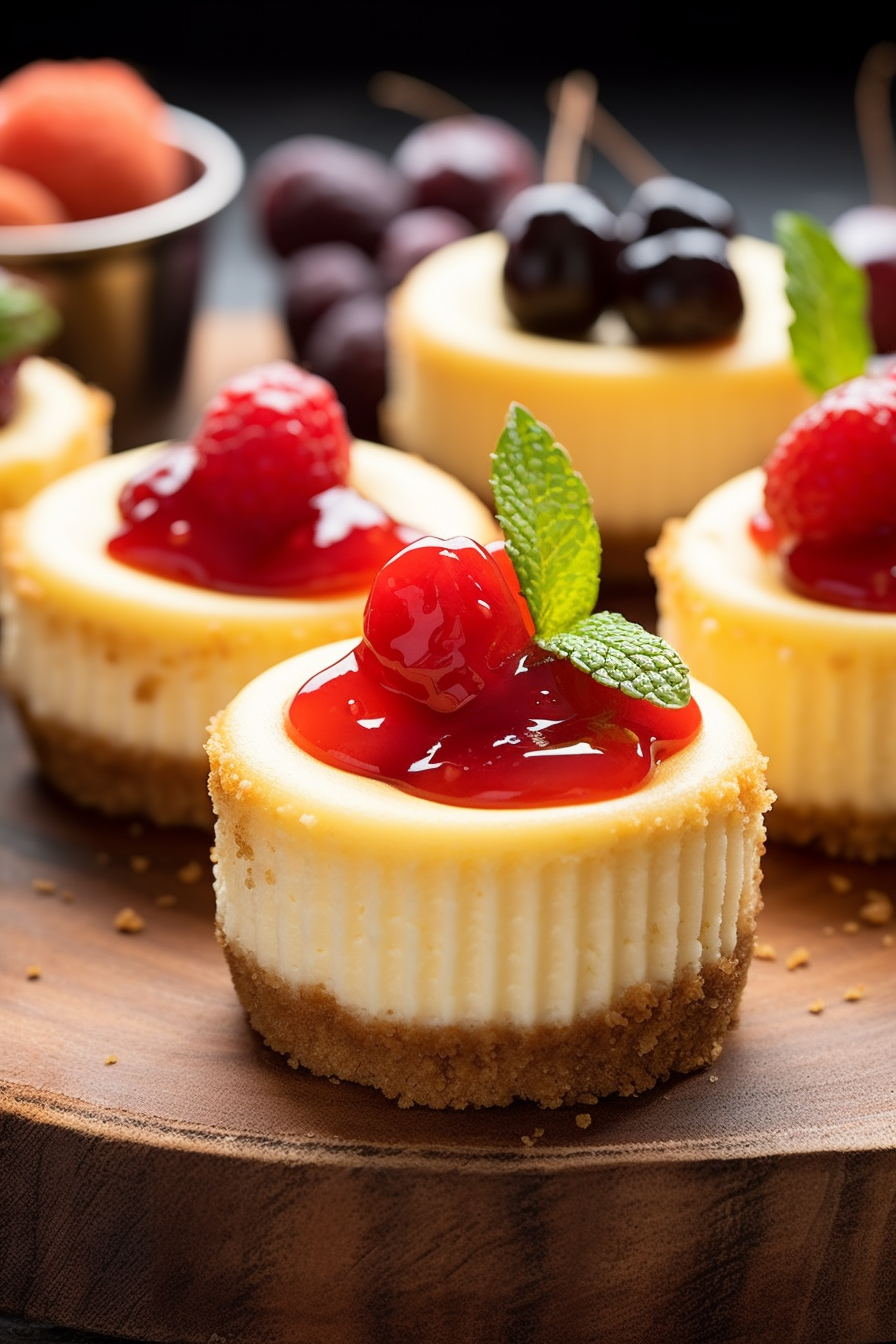 Storage Options:
Store these Mini Cheesecakes in the refrigerator, preferably in an airtight container to maintain their freshness. Planning to devour them later? They also freeze well! Just wrap them individually in plastic wrap and pop them in a freezer bag. When the craving hits, defrost in the refrigerator.
Variations and Substitutions:
Variety is the spice of life! Fancy a chocolatey crust? Use chocolate graham crackers instead. For a tangy twist, try adding a bit of lemon zest to the batter. Not a fan of cherries? Blueberry or raspberry compote works wonders as a topping. If you're looking to cut down on sugar, a natural sweetener like stevia can be a worthy substitute. And hey, if you're feeling extra fancy, a dollop of chocolate or caramel sauce won't hurt anyone, right?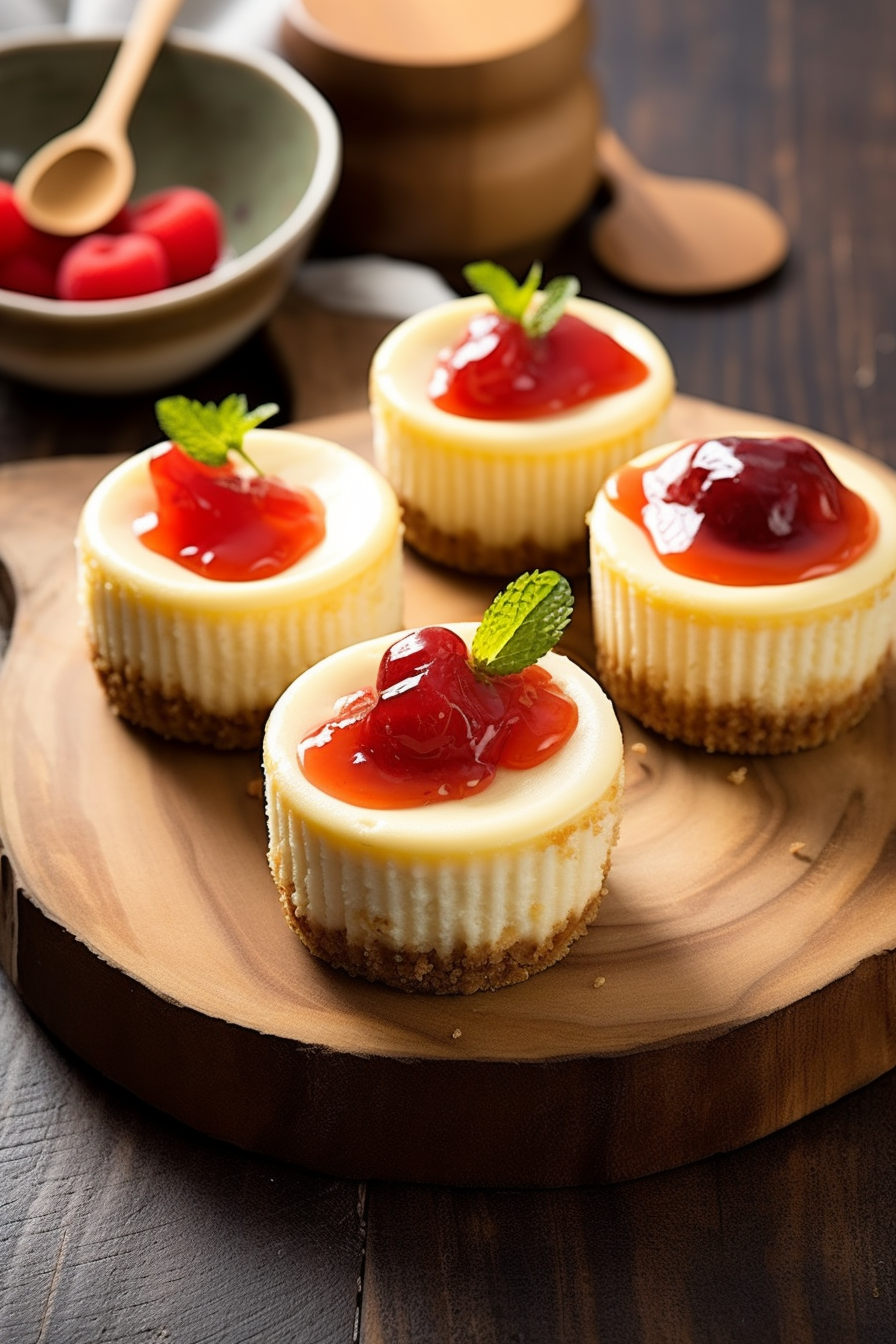 Happy baking, cheesecake lovers! 🍰🍒
Mini Cheesecakes
Dive into a delightful fusion of graham cracker crust, sumptuous full-fat cream cheese, and a dash of vanilla, all rounded off with a cherry on top! These Mini Cheesecakes are pure bliss in every bite.
Print
Pin
Rate
Ingredients
1/2

cup

graham cracker crumbs

2

tablespoons

unsalted butter

melted

8

ounces

full-fat cream cheese

room temperature

1/2

cup

granulated sugar

1

egg

room temperature

1/2

teaspoon

vanilla extract

Cherry pie filling or whipped cream

optional for garnishing
Instructions
Preheat the oven to a temperature of 325°F. Prepare a muffin pan by lining it with five paper liners. Alternatively, if paper liners are not being used, ensure the muffin pan is well-greased.

In a suitable bowl, combine the graham cracker crumbs with the melted unsalted butter. Mix until the texture is consistent.

Carefully distribute approximately 2 tablespoons of the graham cracker mixture into each paper liner. Place the muffin pan in the preheated oven and bake for a duration of 5 to 8 minutes or until the crust has set and does not exhibit a wet appearance. Once baked, set aside for cooling.

In a larger mixing bowl, combine the room temperature cream cheese with the granulated sugar. Utilize an electric mixer on high speed to ensure the mixture becomes light and fluffy. This process should take about 2 to 3 minutes. Ensure the sides of the bowl are occasionally scraped to guarantee even mixing.

Introduce the egg into the cream cheese mixture. Mix well for approximately one minute, ensuring a smooth consistency. Avoid overmixing. Incorporate the vanilla extract into the batter.

Equally distribute the cream cheese filling amongst the prepared paper liners. It is recommended to fill each liner to its maximum capacity. Return the muffin pan to the oven and bake for a time span of 22 to 25 minutes. The cheesecakes are deemed ready when their tops and edges are firm, there is a slight jiggle at the center when moved, and an internal temperature of 150°F is achieved.

Upon completion of baking, allow the cheesecakes to cool at room temperature. Subsequently, place them in the refrigerator for a minimum duration of 4 hours, or preferably overnight, prior to serving. If desired, garnish with cherry pie filling or whipped cream before serving.