Dive into a delectably cheesy experience with our French Onion Mac & Cheese! Infused with the flavors of Cuisine Adventures French Onion Soup, buttery Cavatappi noodles, and sumptuous Swiss or Gruyere cheese, it's a delightful twist to your classic mac.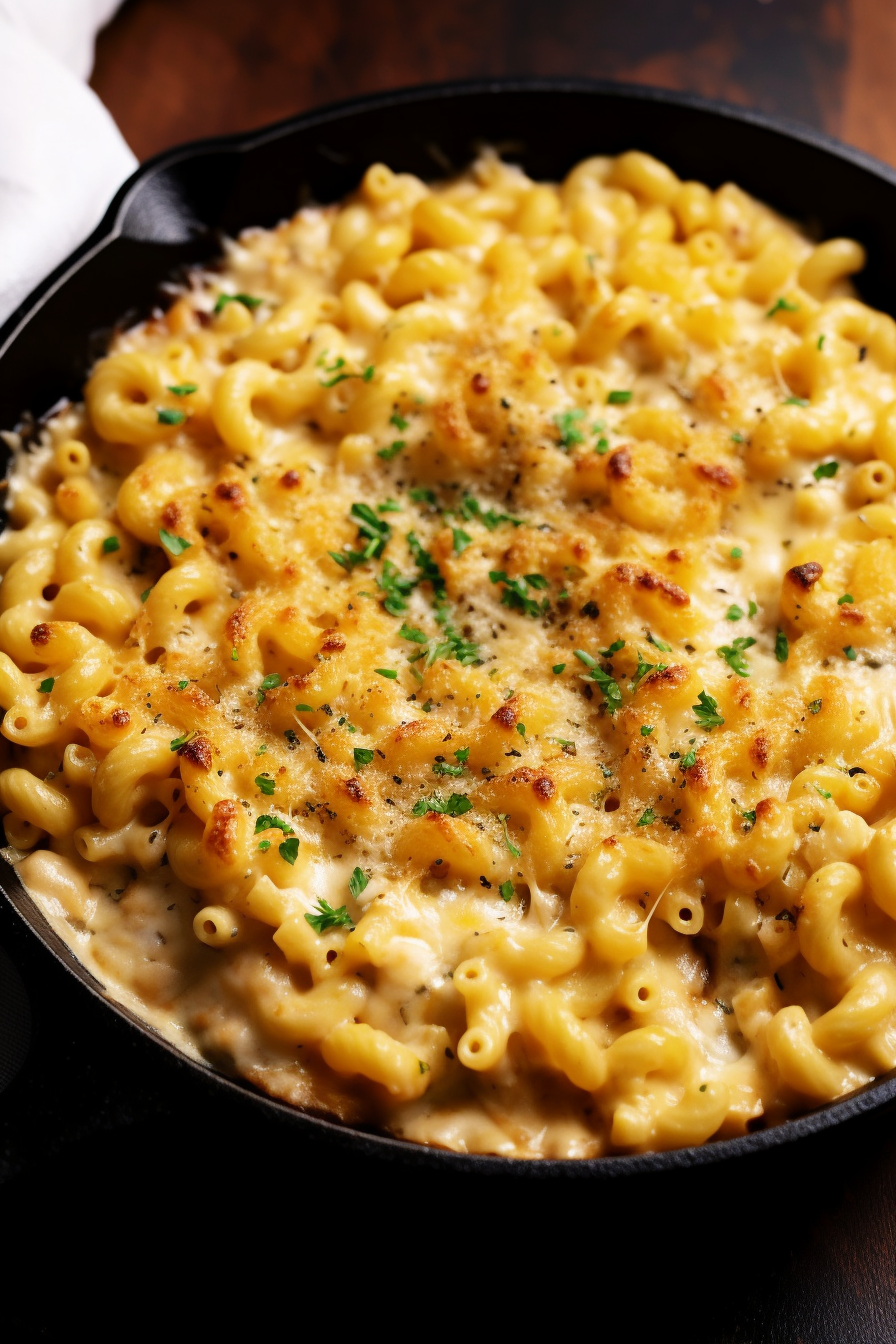 Ah, the whimsical days of yore! I remember when I stumbled upon this recipe quite by accident. It was a chilly winter evening, my fridge was echoing its emptiness, and my growling tummy was impatient for some comfort food. I had a couple of opti-packs of French Onion Soup lying around (doesn't everyone?), a bag of curly pasta, and a hunk of Swiss cheese. Voilà! An experiment began, and the result was this incredibly heartwarming dish. Now, whenever the chilly wind rustles the leaves, my family huddles around the table, eagerly awaiting their dose of French Onion Mac & Cheese. A serendipitous discovery turned into a cherished family tradition!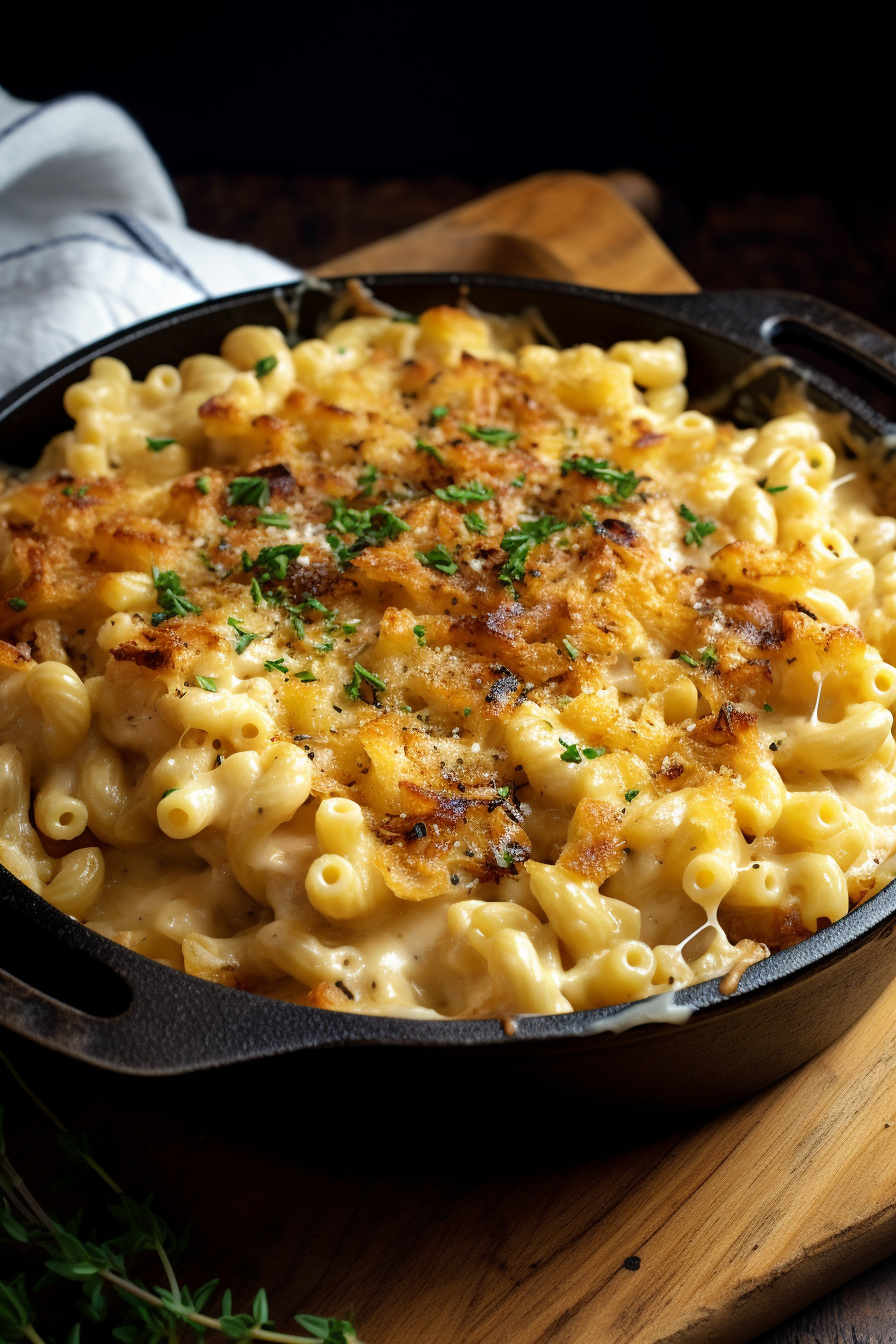 Why You'll Love French Onion Mac & Cheese:
Why settle for ordinary when you can dine extraordinare? Our French Onion Mac & Cheese offers:
Quick n' Easy: Thanks to the French Onion Soup base, you cut the cooking time in half! Perfect for those busy weekdays when you'd rather not be Gordon Ramsay.
Rich Flavors: Combining the deep, savory tones of the French Onion Soup with the creamy Swiss or Gruyere? That's a culinary love story for the ages!
Pasta Perfect: The curly Cavatappi noodles aren't just for the looks; they're like little cheese traps, ensuring you get a delightful cheesy bite every time.
Ingredient Notes For French Onion Mac & Cheese:
Cuisine Adventures French Onion Soup: The game-changer! It brings a depth of flavor that'll make your tastebuds sing the Marseillaise.
Cavatappi Noodles: A must for cheesy adventures. Their spiraled form ensures they hold onto the cheesy goodness like a clingy ex. But in a good way.
Swiss, Gruyere or Similar: These cheeses bring a smooth and creamy texture, with a hint of nutty undertones. The more, the merrier. Always.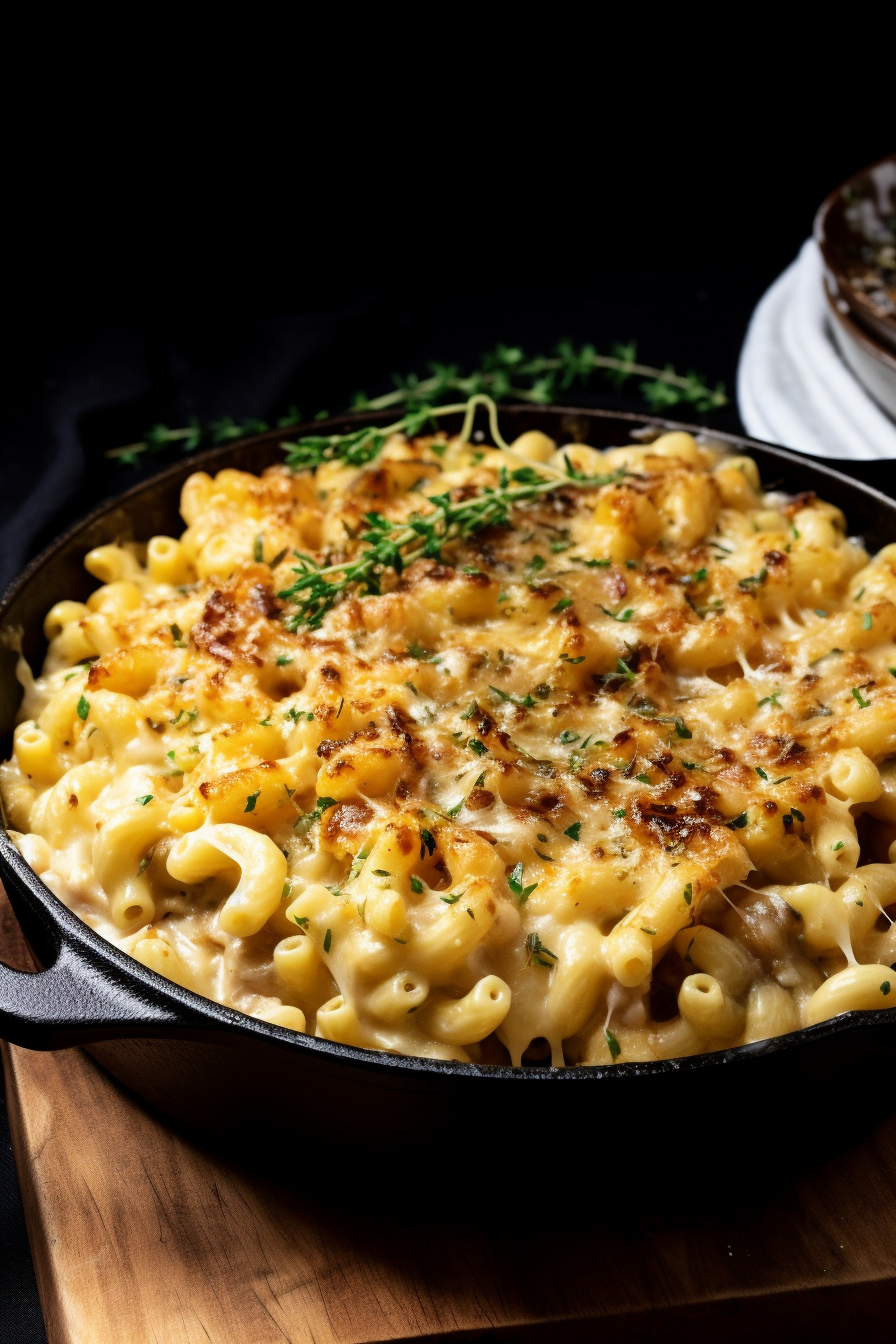 Cooking Steps:
Oven Lovin': Start by preheating your oven to 400F (200°C). Because nobody likes a cold oven greeting their dish.
Soup Meets Pasta: In your big ol' skillet, pop in those French Onion Soup packs. Add water and set it on high. Once it's boiling and bubbling like a witches' brew, it's pasta time. Toss in those curly beauties and let them swim.
Stir it Up: Keep an eye on your pasta. Stir occasionally. They like a little attention now and then.
Buttery Bliss: Once the pasta's done, reduce the heat. Now, for some buttery magic! Stir in the butter, and then play 'cheese waterfall'. Add the cheese bit by bit, stirring continuously. Once it's all gooey and melted, season as you like. Salt? Pepper? Go wild!
Baking Time: Butter up your 8×8 baking dish. It's showtime! Pour in your mac n' cheese masterpiece, spread evenly. Top it with some more cheese because, let's face it, there's no such thing as too much cheese.
Golden Glory: Pop the dish into the oven. Let it bake until it's bubbly and brown on top. About 15 minutes should do the trick. Serve it warm, take a bite, and let the cheesy symphony begin!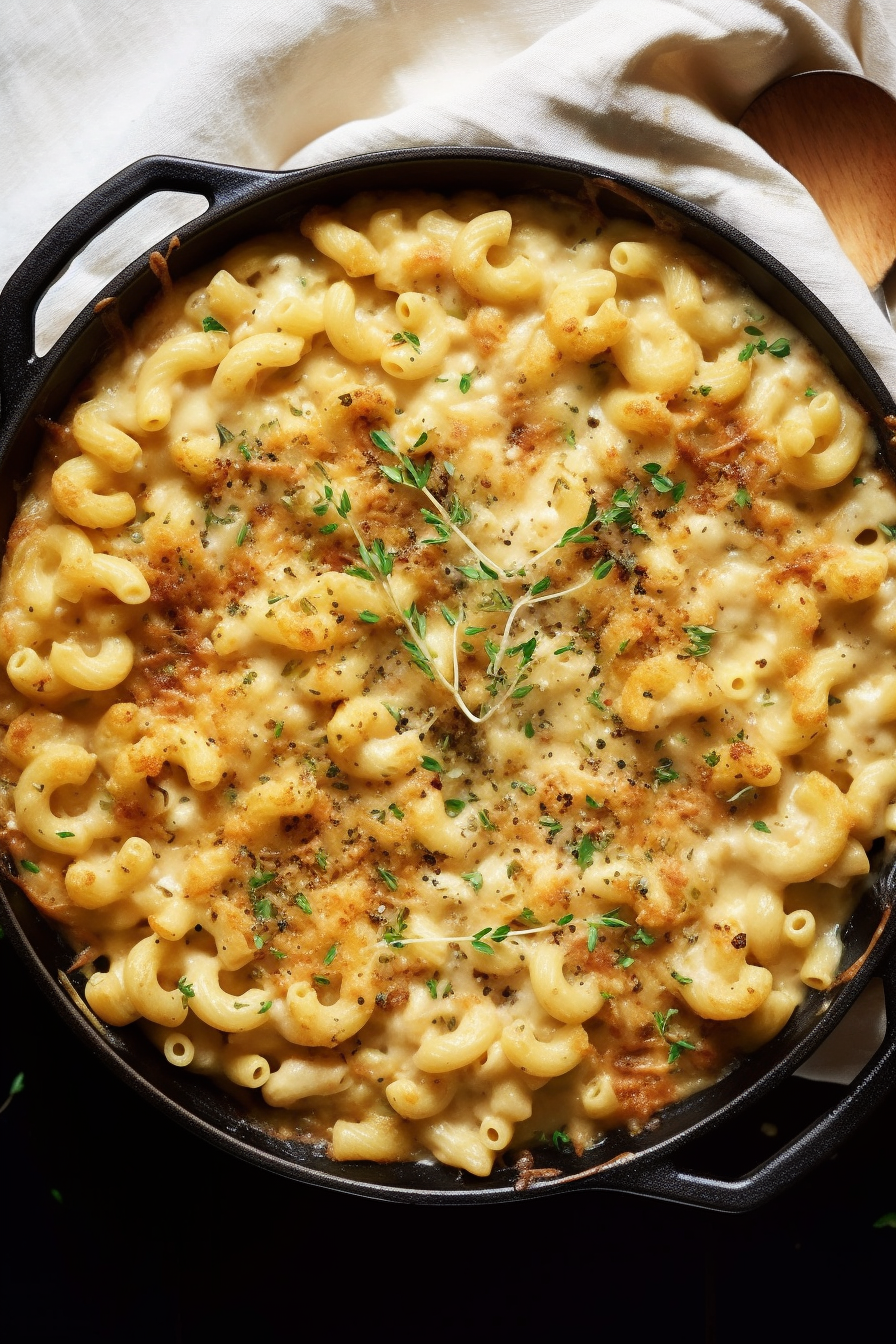 Storage Options:
Got leftovers? (Doubtful, but just in case.) Seal it in an airtight container and refrigerate. It should be good for about 3 days. For longer storage, you can freeze it. Just reheat in the oven until it's all bubbly again. Pro-tip: Sprinkle a bit of milk or water before reheating to retain its creamy goodness.
Variations and Substitutions:
Cheese: Not a fan of Swiss or Gruyere? Try a sharp cheddar or a creamy mozzarella.
Veggies: Want a green twist? Toss in some steamed broccoli or sautéed spinach.
Pasta: Out of Cavatappi? No worries. Penne, fusilli, or even good ol' macaroni will work just fine.
Vegan Version: Swap out regular butter for vegan butter, use plant-based cheese, and find a vegan French onion soup. Who said vegans can't join the cheesy party?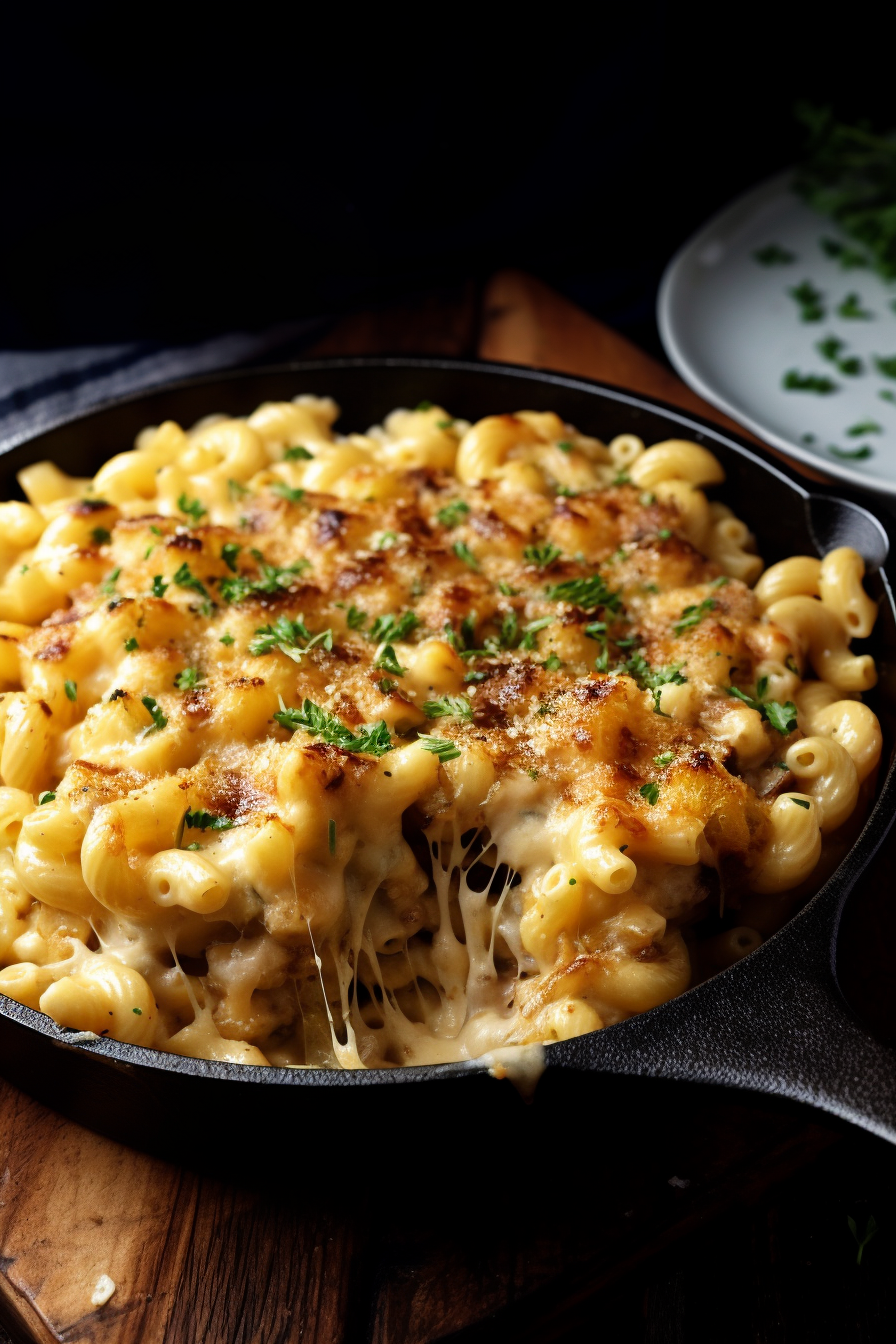 And remember, cooking is like jazz – it's best when you improvise! Happy cooking, fellow food lover! 🍲🧀😄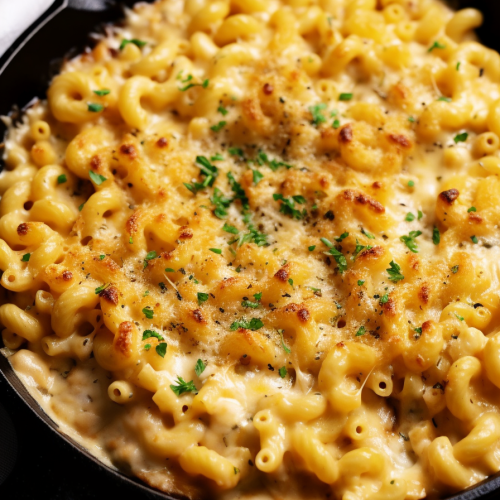 French Onion Mac & Cheese
Dive into a delectably cheesy experience with our French Onion Mac & Cheese! Infused with the flavors of Cuisine Adventures French Onion Soup, buttery Cavatappi noodles, and sumptuous Swiss or Gruyere cheese, it's a delightful twist to your classic mac.
Print
Pin
Rate
Ingredients
2

packets of Cuisine Adventures French Onion Soup

500

ml

of water

750

ml

of uncooked Cavatappi noodles or other short pasta

30

ml

of unsalted butter

340

g

of shredded Swiss cheese

Gruyere, or an equivalent cheese

Salt and black pepper

adjusted according to preference
Instructions
Begin by setting the oven to a temperature of 400°F (200°C) to preheat.

Using a skillet of twelve-inch diameter that comes with a cover, carefully unpack and place the frozen French Onion Soup in the pan. Introduce the 500ml of water. Over a high flame, bring the water to a boiling point and subsequently incorporate the pasta.

Ensure the skillet is covered and monitor the pasta as it cooks. Adhere to the package's guidance regarding cooking time, and intermittently stir to avoid the pasta from adhering to the skillet's base.

Once the pasta has achieved the desired consistency, turn off the heat. Introduce the unsalted butter, ensuring it is thoroughly integrated by stirring. The cheese should be added in small quantities, preferably in 2 or 3 batches, and continue stirring until a majority of the cheese has melted. This process should take approximately 2 minutes. Conclude by seasoning with salt and black pepper according to personal preference.

Thoroughly grease an 8×8 baking dish with butter. Transfer the macaroni and cheese mixture into this dish, ensuring even distribution.

Garnish the mixture with an extra 113g of your chosen cheese. Bake the dish for 15 minutes or until the top layer achieves a browned appearance and exhibits a bubbly texture. It is recommended to serve this dish while still warm.