This spicy Indian chicken curry is pretty incredible. The chicken is stewed in a onion-tomato sauce and flavored with a variety of spices. As an added bonus, the aromatics in this dish make the whole house smell phenomenal. I was even laying in bed last night salivating.
This is also one of those dishes that gets better with time. The spices mellow and meld together, making the leftovers even better.
The first step in preparing this chicken curry is to make a curry paste. This paste is made by puréeing onions, tomatoes, and green chilis with aromatic spices (the stuff that makes the house smell so good!). Then, the chicken is simmered in the purée and a little yogurt or heavy cream is added for that extra-goodness.
I may or may not have eaten spoonfuls of the sauce straight out of the pan.
If you can't find fresh green chilis, serrano peppers will work just fine. For a milder curry, you can use jalapeños with their seeds and veins removed.
I served this Indian chicken curry with a simple side of basmati rice. Then, you can slather on extra curry sauce and mix it all together so every bite is packed with flavor. You can also serve it with my stovetop naan, which is simple to make.
There's not much that's better than homemade bread. YUM.
I also have a little news:
We are in the process of finishing up our complete rebranding. Within the next couple of weeks, you'll see a whole new website, URL, name, and logo. We are very excited about the changes to come and even more excited to bring you a better website!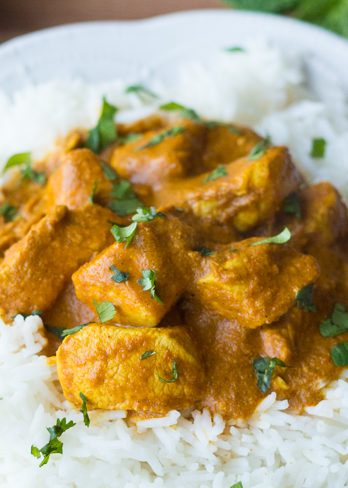 Spicy Indian Chicken Curry
Ingredients
3

tbsp

oil, divided

1

tsp

cumin seeds

¼

tsp

ground cinnamon

2

medium yellow onions, diced

1

fresh green chili, chopped

5

roma tomatoes, chopped

1

tsp

turmeric

2

tsp

chili powder

2

tsp

garam masala

2

tsp

curry powder

2

tbsp

water

3

boneless skinless chicken breasts, cut into bite-sized pieces

2

tbsp

Greek yogurt

chopped cilantro, for garnish
Instructions
In a large skillet, heat 2 tablespoons of oil over medium-high heat. Add the cumin seeds and cinnamon, stirring constantly. Cooking until the cumin seeds just start to brown, then add the onions and green chili. Season with salt, to taste.

Once the onions start to become tender (about 4 minutes), add the chopped tomatoes and cook until soft. Reduce the heat to medium. Add the turmeric, chili powder, garam masala, and curry powder and continue cooking for about 5 minutes to bring the flavors together, stirring often.

Transfer the onion mixture to a bowl to cool. Once cool, transfer the mixture to a blender and pulse until the mixture turns into a smooth paste. Add two tablespoons of water to thin and continue blending. Set aside.

In the same large skillet, heat the remaining tablespoon of oil over medium-high heat. Add the chicken pieces and cook until nearly fully cooked, about 4 to 5 minutes. Lower the heat to low and add the curry paste from the blender. Add the Greek yogurt, stir, and cover. Allow the mixture to simmer for about 5 to 10 minutes, then remove from heat.

Serve with a side of basmati rice or naan. Enjoy!