Indulge in a tantalizing journey of creamy mayonnaise, zesty cheddar cheese, refreshing green onions, crunchy toasted almonds, and delectable bacon crumbles. Dip, eat, repeat!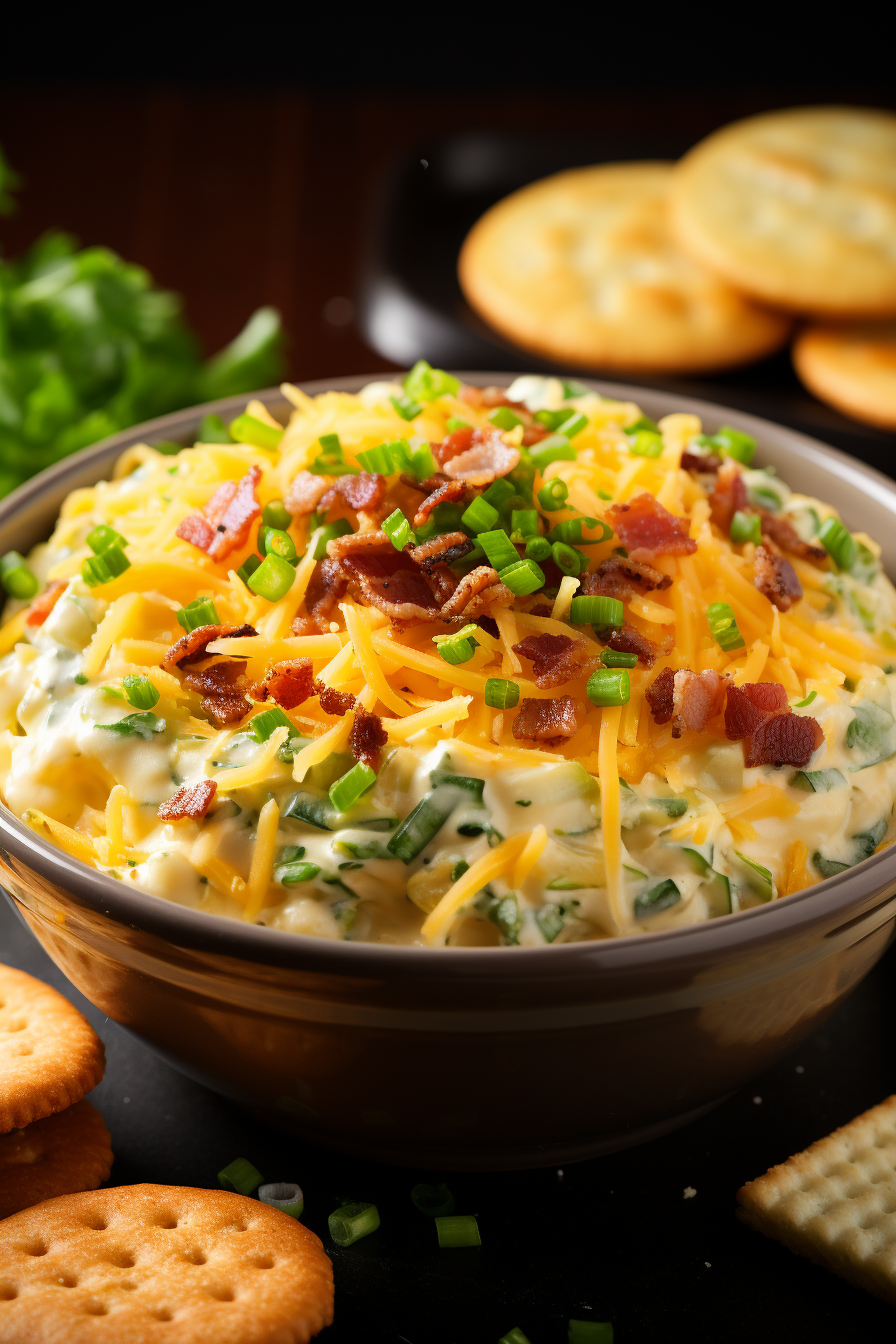 Oh, how I remember the day I first tasted this heavenly concoction! It was during one of those family potlucks where Aunt Martha surprised us all with an unassuming bowl of dip. The first bite was an explosion of flavors, and before we knew it, there was a mini stampede around her dish. When asked about the secret, she coyly called it her "Million Dollar Dip". At first, we thought she'd splurged on some exotic, pricey ingredient. But nah, Aunt Martha was just cheekily hinting at its unbeatable taste. Every family gathering since then hasn't been complete without the Million Dollar Dip. Now, I'm sharing this treasure with you, but shhh! Let's keep Aunt Martha's secret between us!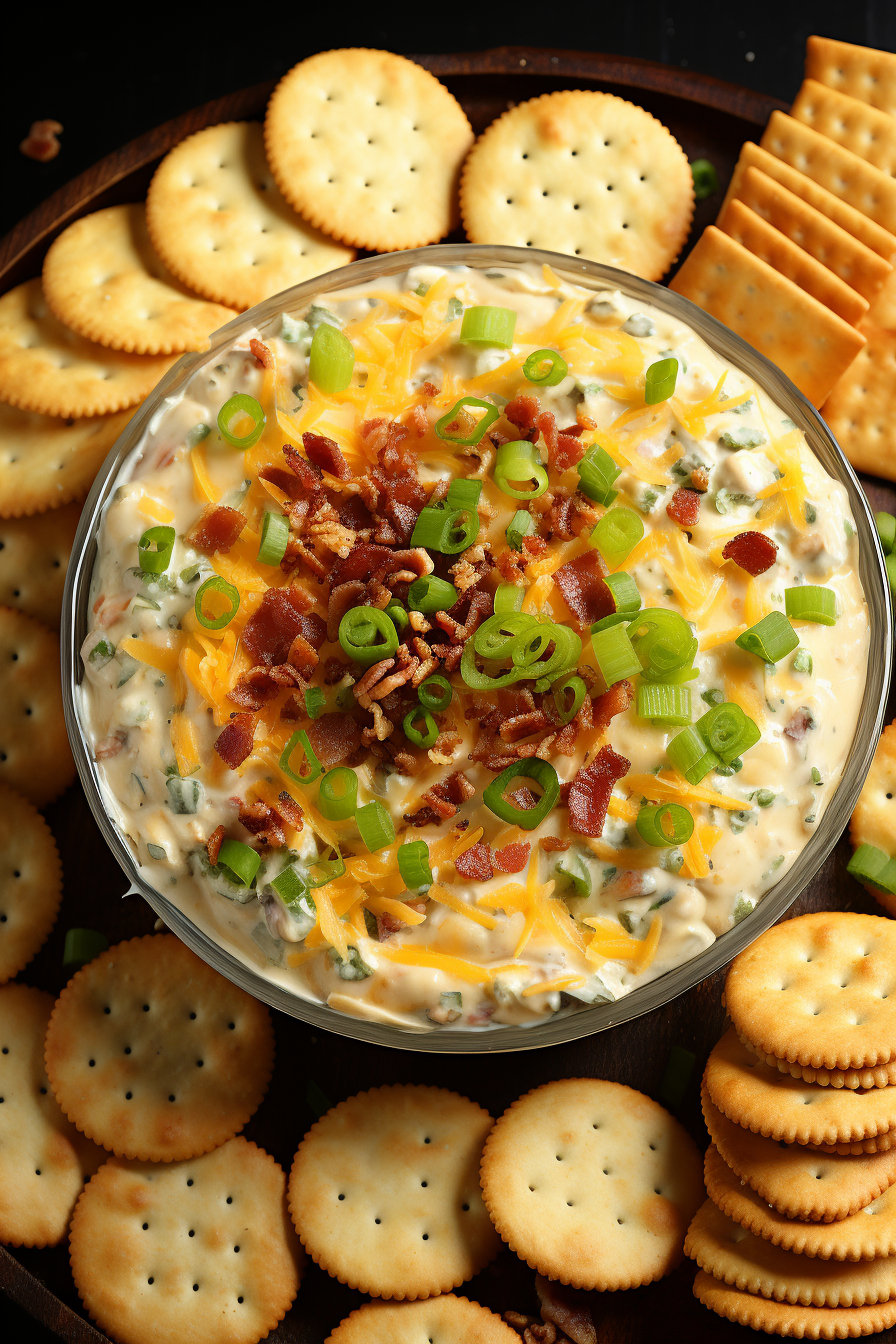 The best Million Dollar Dip Recipe:
Let's talk dollars and cents here, foodie friends. What makes our Million Dollar Dip Recipe the caviar of dips? For starters, it's effortlessly easy with a prep time faster than you can say "Million Dollar" three times. Then there's the explosion of contrasting textures – creamy mayo, crunchy almonds, crispy bacon, and that smooth cheddar cheese. Not to forget the balance of flavors – savory, nutty, with just a hint of freshness from the green onions. And here's the cherry on top: this dip pairs perfectly with just about anything, though butter crackers elevate it to billionaire status!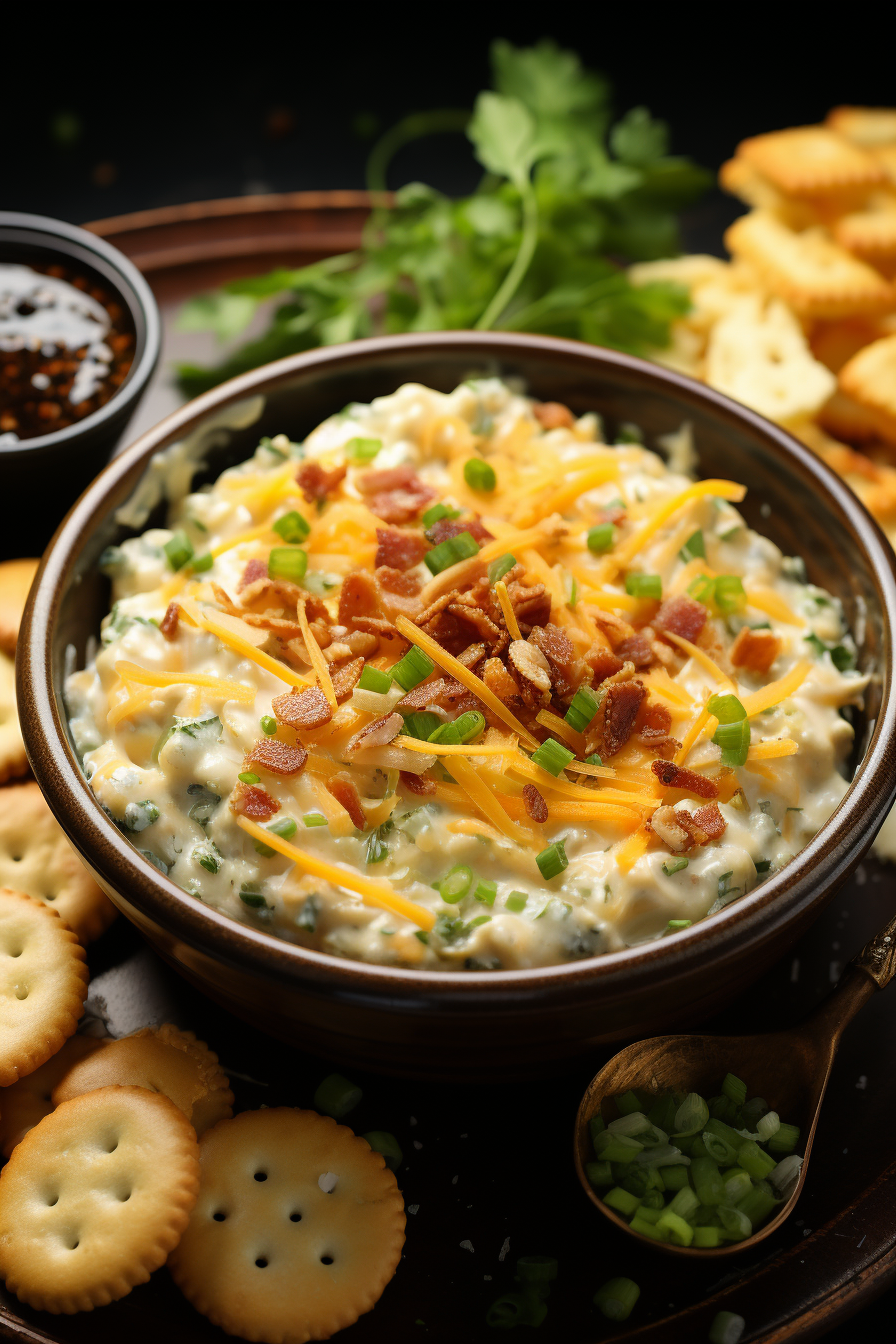 Ingredients for Million Dollar Dip Recipe:
Mayonnaise: Opt for full-fat mayo for that creamy richness. If you're health-conscious, a light version works too but expect a slight difference in taste.
Cheddar Cheese: The sharper the better! A good cheddar is like the cash in our million-dollar vault.
Green Onions: Fresh is best! Ensure they're crisp and brightly colored.
Almonds: Toasting is key. It elevates the almond's natural flavor and adds a delightful crunch.
Bacon Crumbles: Go for quality! Cook your bacon until crisp, then crumble. If you're feeling sneaky, store-bought bacon bits can be our little secret.
How to make Million Dollar Dip Recipe:
Step 1: Start by preparing your stage. Grab a large mixing bowl and ensure all your ingredients are at hand. Who doesn't love a little mise en place?
Step 2: Pour in all the ingredients, but hey, hold back a little. Reserve some almonds, bacon bits, and green onions for the grand finale – garnishing!
Step 3: This is where the magic happens. Stir everything together with love (or a spatula) until you get a smooth, unified dip.
Step 4: Transfer your masterpiece to an airtight container. This keeps it fresh and ensures those flavors meld together perfectly.
Step 5: Just before serving, sprinkle the reserved almonds, bacon bits, and green onions on top for that Instagram-worthy touch.
Step 6: Now, go forth and serve with some buttery crackers. Let the adulation begin!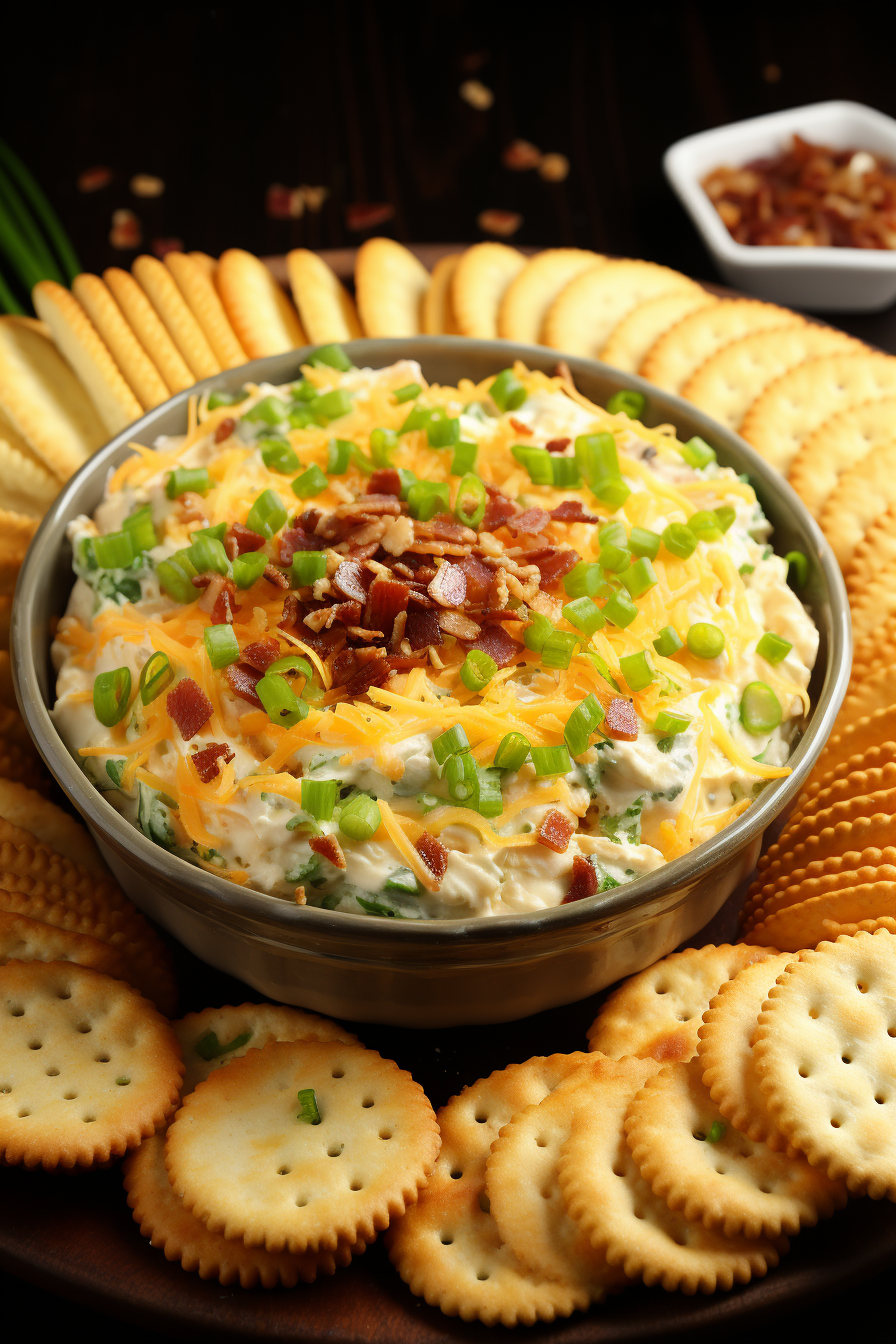 Storage Options:
All done with the feasting? If, by some miracle, there's any dip left, store it in the fridge in an airtight container. This little treasure will stay fresh for up to 3 days. But, let's be real – it probably won't last that long!
Variations and Substitutions:
Feeling adventurous or missing an ingredient? No worries!
Mayonnaise: Greek yogurt or sour cream can be a good alternative. It changes the flavor profile but in a tangy, delightful way.
Cheddar Cheese: Feel free to experiment with other cheeses, like mozzarella or pepper jack for a spicy kick.
Almonds: Walnuts or pecans can step in for our almond friends.
Bacon Crumbles: For our vegetarian buddies, sun-dried tomatoes or mushroom bits can give that umami kick.
Remember, cooking is all about experimenting and finding what tickles your taste buds!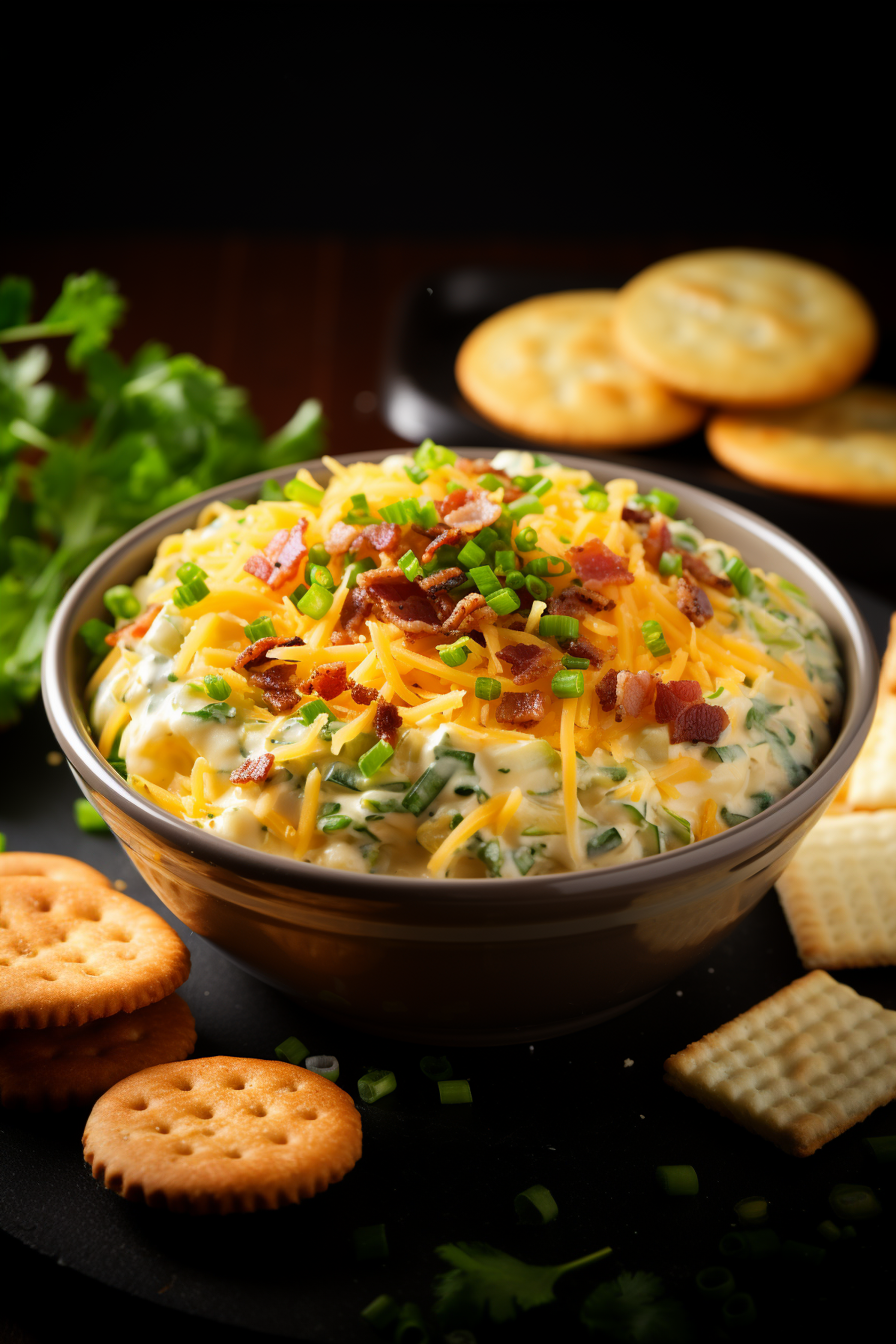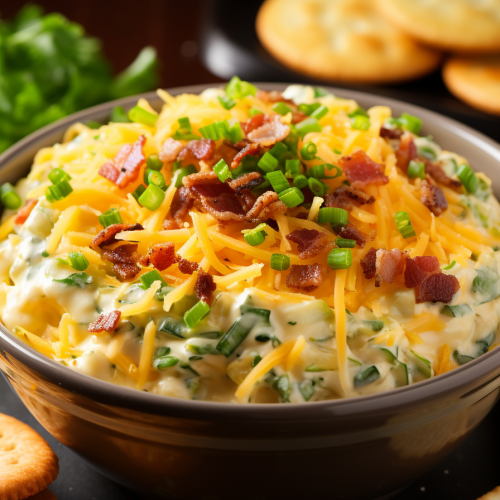 Million Dollar Dip Recipe
Indulge in a tantalizing journey of creamy mayonnaise, zesty cheddar cheese, refreshing green onions, crunchy toasted almonds, and delectable bacon crumbles. Dip, eat, repeat!
Print
Pin
Rate
Ingredients
1

cup

of premium quality mayonnaise

6

oz

of finely grated mature cheddar cheese

approximately 1½ cups in volume

½

cup

of finely diced green onions

¾

cup

of toasted almond slivers

½

cup

of finely crumbled bacon
Instructions
Prior to commencing, ensure that all ingredients are measured and prepared as per the specified guidelines, and that a large mixing bowl is readily available for use.

Into the mixing bowl, introduce all the specified ingredients. However, it is prudent to set aside a small portion of the almond slivers, bacon crumbles, and diced green onions. These will be utilized later as a garnish.

With a suitable mixing implement, combine the ingredients in the bowl until they achieve a homogenous consistency.

Once mixed, decant the resulting mixture into a sealable container, ensuring it remains airtight to maintain optimal freshness.

When ready to present, garnish the surface with the previously set-aside almonds, bacon crumbles, and green onions.

It is recommended to serve the dip alongside refined butter crackers or an alternative of your choice.
Nutrition
Calories:
1452
kcal
|
Carbohydrates:
13
g
|
Protein:
42
g
|
Fat:
139
g
|
Saturated Fat:
35
g
|
Polyunsaturated Fat:
56
g
|
Monounsaturated Fat:
38
g
|
Trans Fat:
0.2
g
|
Cholesterol:
172
mg
|
Sodium:
2119
mg
|
Potassium:
454
mg
|
Fiber:
6
g
|
Sugar:
3
g
|
Vitamin A:
1175
IU
|
Vitamin C:
5
mg
|
Calcium:
737
mg
|
Iron:
2
mg