Experience a taste of Southern goodness with our Tennessee Onions recipe. Made primarily with sweet Vidalia onions, a trifecta of cheeses, and savory butter and herbs, it's a mouthwatering side dish you won't want to miss.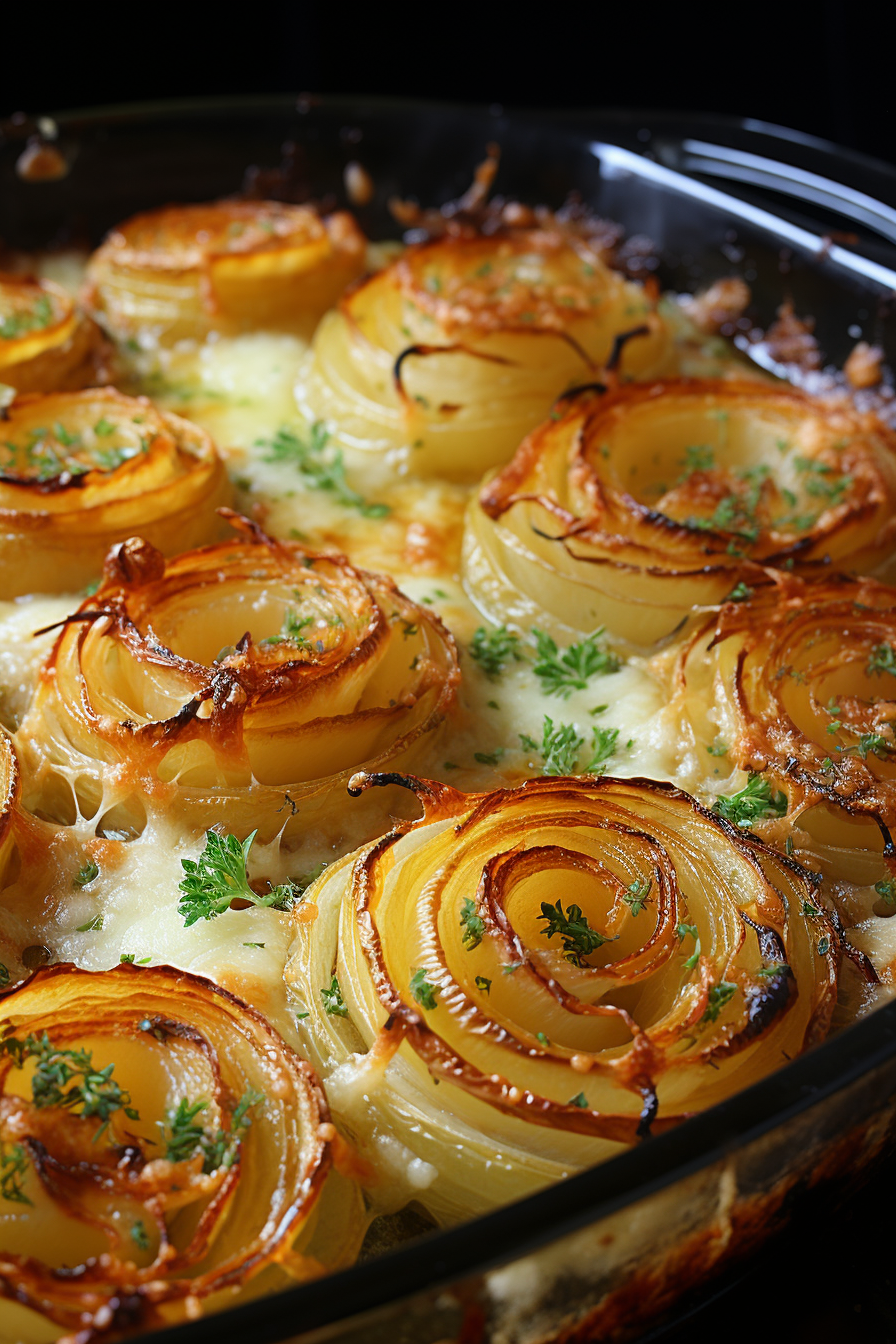 Ah, Tennessee Onions. This dish takes me down a nostalgic lane, back to my Grandma Eleanor's quaint kitchen in Knoxville. The smell of these onions baking would waft through her home, announcing that a feast was on its way. As kids, my siblings and I would be playing outside, and the moment we caught that tantalizing aroma, we'd race each other to the kitchen, with bets on who could sneak a bite first. Grandma would chuckle, always letting us believe we were sneaky, while in reality, she always baked extra, expecting our little thefts. It wasn't just about the onions or the cheese; it was about the love and memories baked into each layer. Every time I cook this now, I'm transported to those golden days, and I hope you feel a touch of that warmth and love with every bite you take.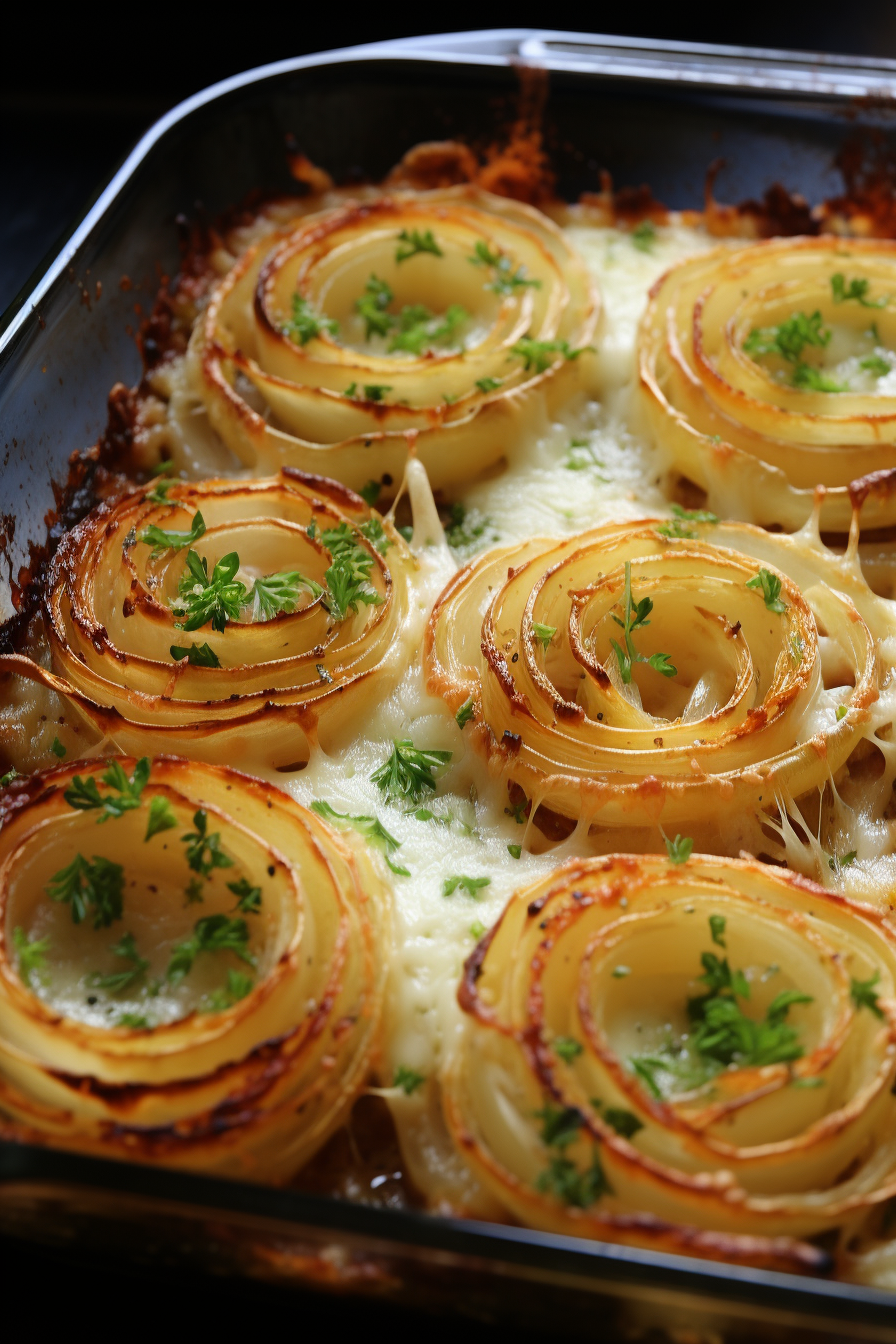 What makes this Tennessee Onions stand out?
Tennessee Onions isn't just another onion dish. Here's why it's special:
Simple Yet Savory: With just a few staple ingredients, this dish manages to create a fusion of flavors that tastes gourmet.
Cheese Galore: Three cheeses, each lending its unique texture and flavor, come together in a delightful cheesy heaven.
Versatility: Perfect as a standalone dish, or a side to your favorite roast or grilled meats. It's the chameleon of casseroles, fitting into any meal situation.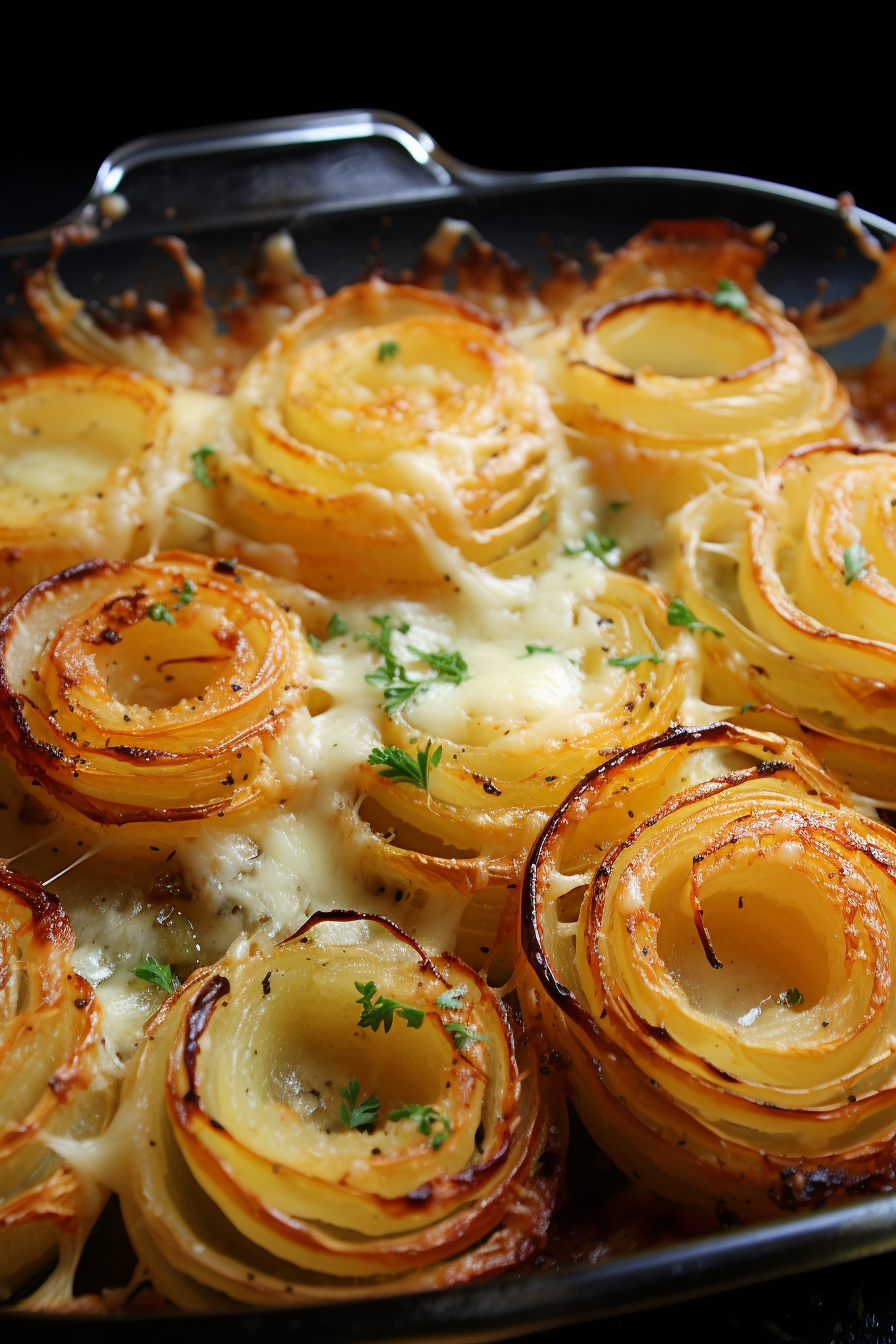 Ingredients for Tennessee Onions:
Sweet Onions: Vidalia is our go-to because of its mild, sweet flavor. If you can't find them, Walla Walla or Maui sweet onions can be alternatives.
Butter: Good quality, unsalted butter is recommended. It not only adds richness but also enhances the flavor of the onions.
Cheeses: The trifecta of Italian blend, cheddar, and parmesan provides a mix of meltiness, sharpness, and saltiness. Feel free to play around with the proportions, but keep the total amount the same for the best results.
How to make Tennessee Onions:
Prepping the Oven: Before you dive into any ingredient preparations, preheat your oven to 350 F. This ensures an even and immediate cooking process when you're ready. Also, lightly spray a 9×13 dish with non-stick cooking spray.
Onion Slicing Fun: After peeling your sweet onions, turn them sideways and start slicing them into ¼ inch rounds. This might bring a tear to your eye, but it's all in the name of deliciousness! Once sliced, separate these rounds into individual rings.
Layering Time: Arrange these onion rings uniformly in your baking dish. Season them with salt, garlic powder, and oregano for that added punch of flavor.
Buttery Delight: Slice your butter into about 8 even pats. Strategically place these pats across the dish, ensuring even distribution.
Cheesy Paradise: Begin the cheese fiesta by first sprinkling the Italian blend and cheddar cheese over the onions. Conclude with a generous layer of parmesan on top. We're aiming for cheesy perfection here!
Baking Bliss: Place your dish in the preheated oven and let it bake for 35-40 minutes. You're looking for that lovely golden brown hue and a bubbly cheese surface. The waiting is the hardest part!
Serve and Savor: Don't let it cool down too much. Dive in while it's hot to experience the melty, cheesy goodness.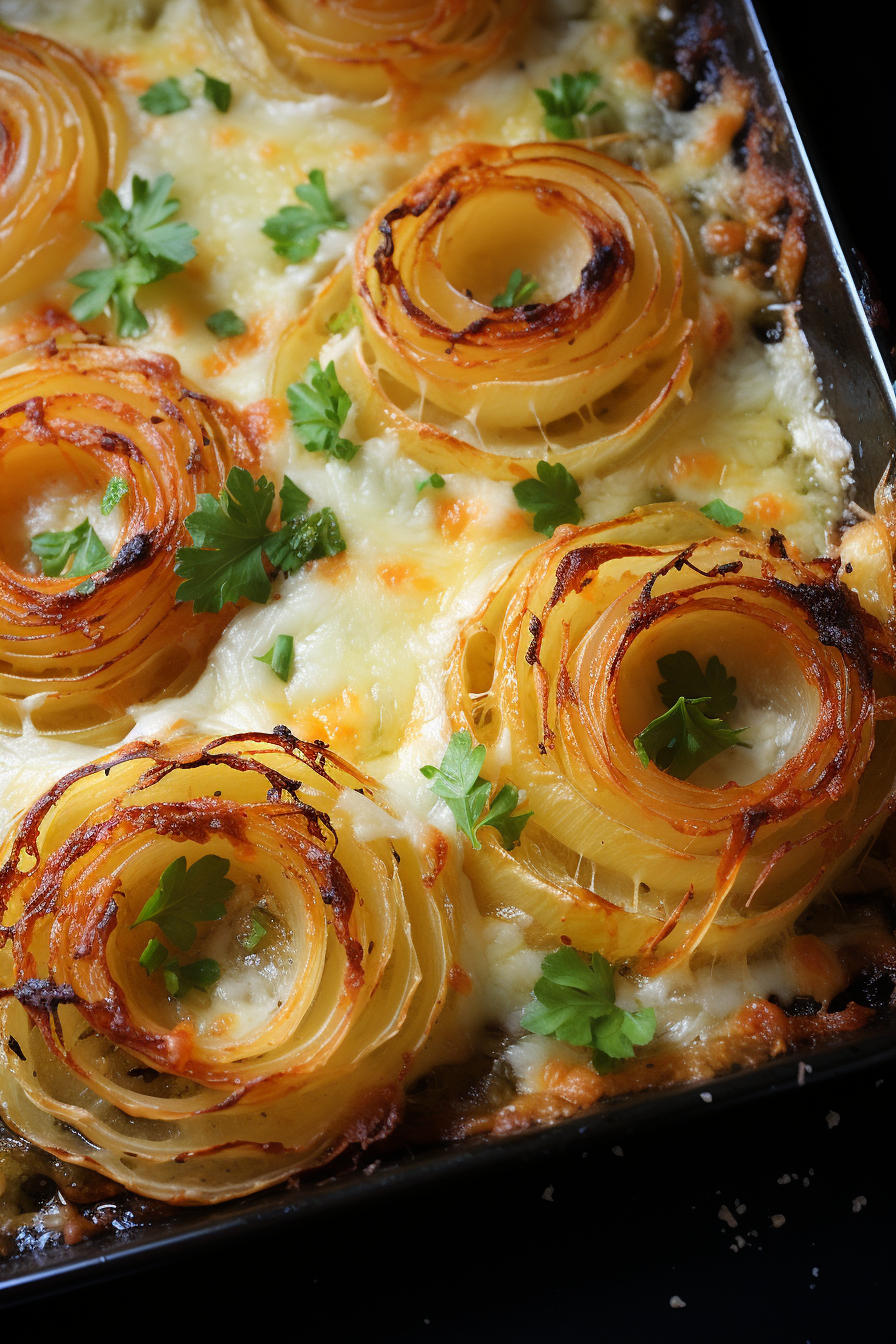 Storage Options:
After enjoying your Tennessee Onions, if you have leftovers (which I'd be surprised!), cover your dish tightly with cling film or transfer the onions to an airtight container. They can be refrigerated for up to 3 days. To reheat, pop them in the oven at 350 F for about 10 minutes, or until hot and bubbly again.
Variations and Substitutions:
Onions: If Vidalia onions aren't available, Maui or Walla Walla sweet onions are great substitutes.
Cheeses: Feel adventurous? Swap out one of the cheeses for Gruyère or Monterey Jack for a different cheesy profile.
Herbs: Thyme or rosemary can be great alternatives to oregano for a distinct flavor twist.
So, there you have it, my fellow food enthusiast! Whip up this scrumptious dish and let the flavors of Tennessee serenade your taste buds!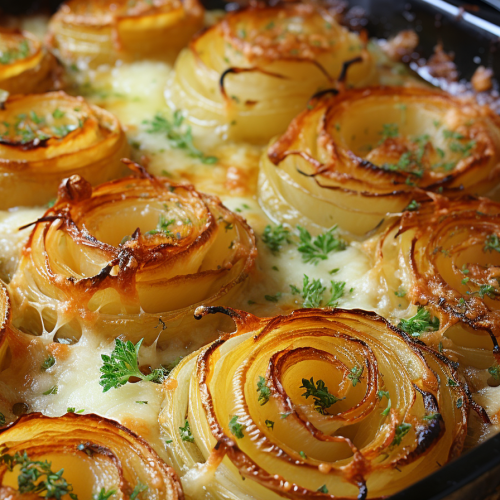 Tennessee Onions
Experience a taste of Southern goodness with our Tennessee Onions recipe. Made primarily with sweet Vidalia onions, a trifecta of cheeses, and savory butter and herbs, it's a mouthwatering side dish you won't want to miss.
Print
Pin
Rate
Ingredients
3-4

Vidalia sweet onions

4

tablespoons

of unsalted butter

1

teaspoon

of salt

adjust according to preference

1

teaspoon

of garlic powder

1/2

teaspoon

of oregano

1

cup

of Italian blend cheese

finely shredded

1

cup

of cheddar cheese

finely shredded

½

cup

of parmesan cheese

finely shredded
Instructions
Begin by preheating the oven to a temperature of 350°F (175°C). Subsequently, coat a 9×13-inch baking dish with a suitable non-stick cooking spray.

After cleaning and peeling the Vidalia sweet onions, position them sideways and proceed to slice them into rounds that are approximately ¼ inch in thickness. Following this, it is necessary to separate the sliced rounds into individual onion rings.

Next, arrange the separated onion rings uniformly across the base of the previously prepared baking dish. Once arranged, season the onion rings evenly with the salt, garlic powder, and oregano.

The butter should then be cut into roughly eight even portions or pats. Distribute these butter pats evenly across the seasoned onion rings in the baking dish.

Continue by uniformly sprinkling the Italian blend cheese and cheddar cheese over the arranged onion rings. Finish this cheese layering with a final topping of the shredded parmesan cheese.

Once assembled, place the baking dish into the preheated oven. Allow the dish to bake for a duration of 35-40 minutes. The dish should be removed when the cheese has begun to brown and bubble.

For optimal taste, it is advised to serve the dish promptly while it remains warm.