Dive into the luscious blend of white cake mix, tangy orange gelatin, and creamy white chocolate chips with our Orange Creamsicle Cookies. Perfect for dessert enthusiasts craving a refreshing twist!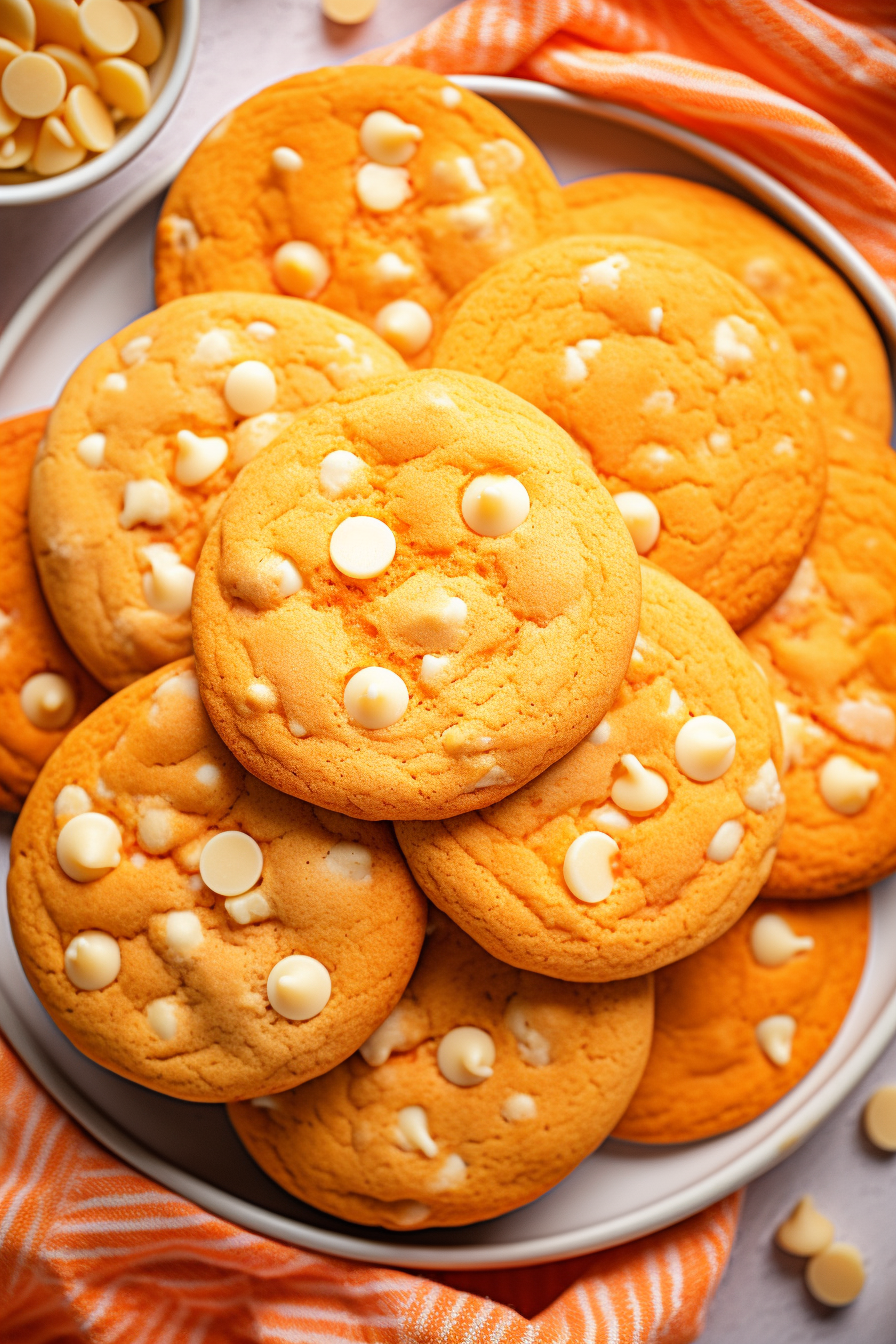 Ah, Orange Creamsicles. Those childhood popsicles were my absolute favorite. I remember spending my summers running around the backyard, with an Orange Creamsicle dripping down my hand, while my mother shouted, "Don't stain the carpet!" Those flavors have always been close to my heart, so when I ventured into the world of baking, recreating that magic in a cookie form was at the top of my list. And thus, my dearest readers, after a couple of laughably failed attempts (Let's not talk about the cookie-puddle incident), these Orange Creamsicle Cookies were born. It's like nostalgia in a bite!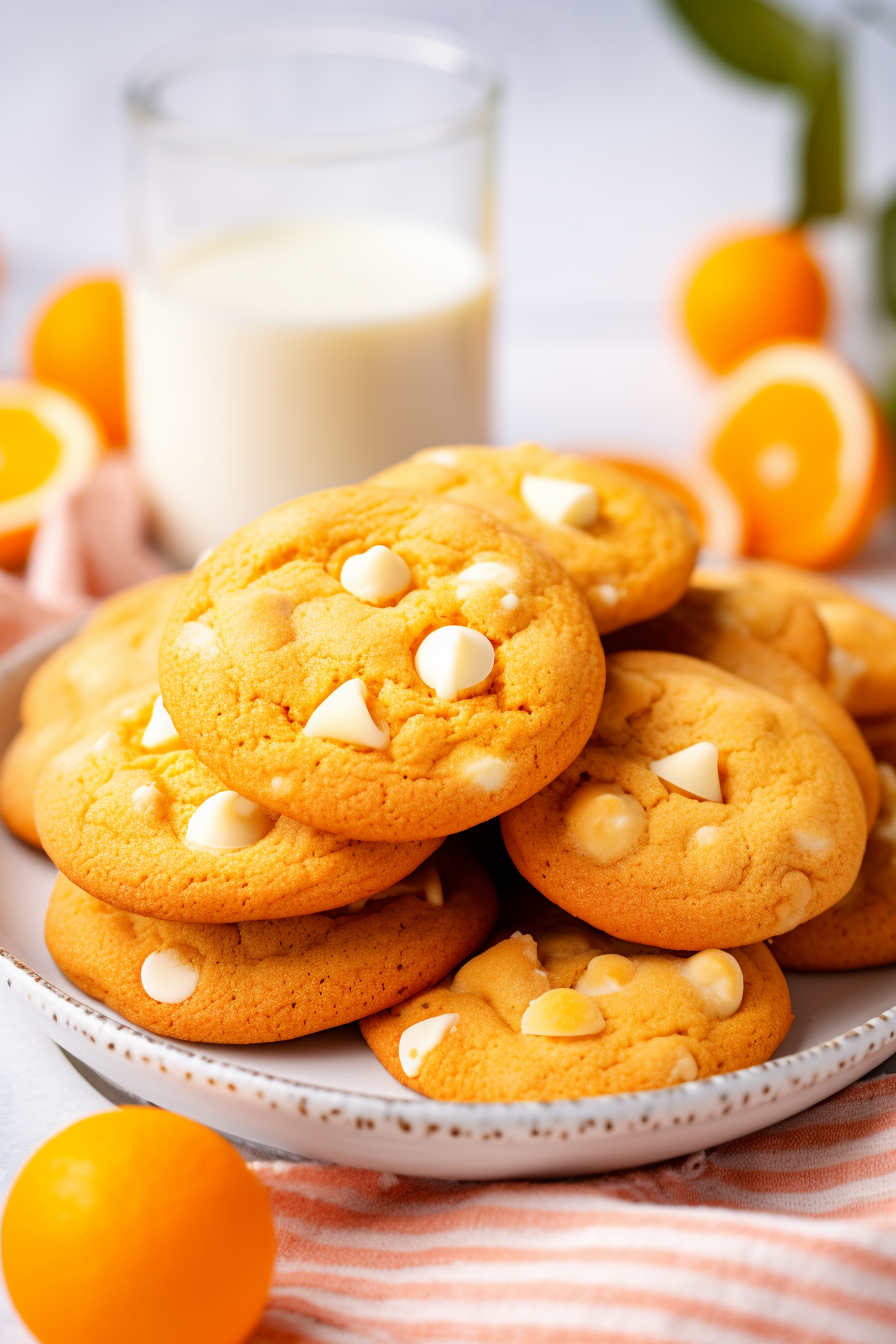 Why You'll Love Orange Creamsicle Cookies:
What sets these Orange Creamsicle Cookies apart, you ask?
Firstly, they encapsulate that nostalgic blend of orange and vanilla – a pair made in taste-bud heaven. But here's the twist: instead of hours churning ice cream or waiting for a popsicle to freeze, you get that flavor explosion in an easy-to-bake cookie form.
Plus, our special secret? Using white cake mix as a base ensures a fluffy texture while the orange gelatin elevates the zesty kick. And don't even get me started on the creamy white chocolate chips. It's like reliving childhood summers, no time machine required!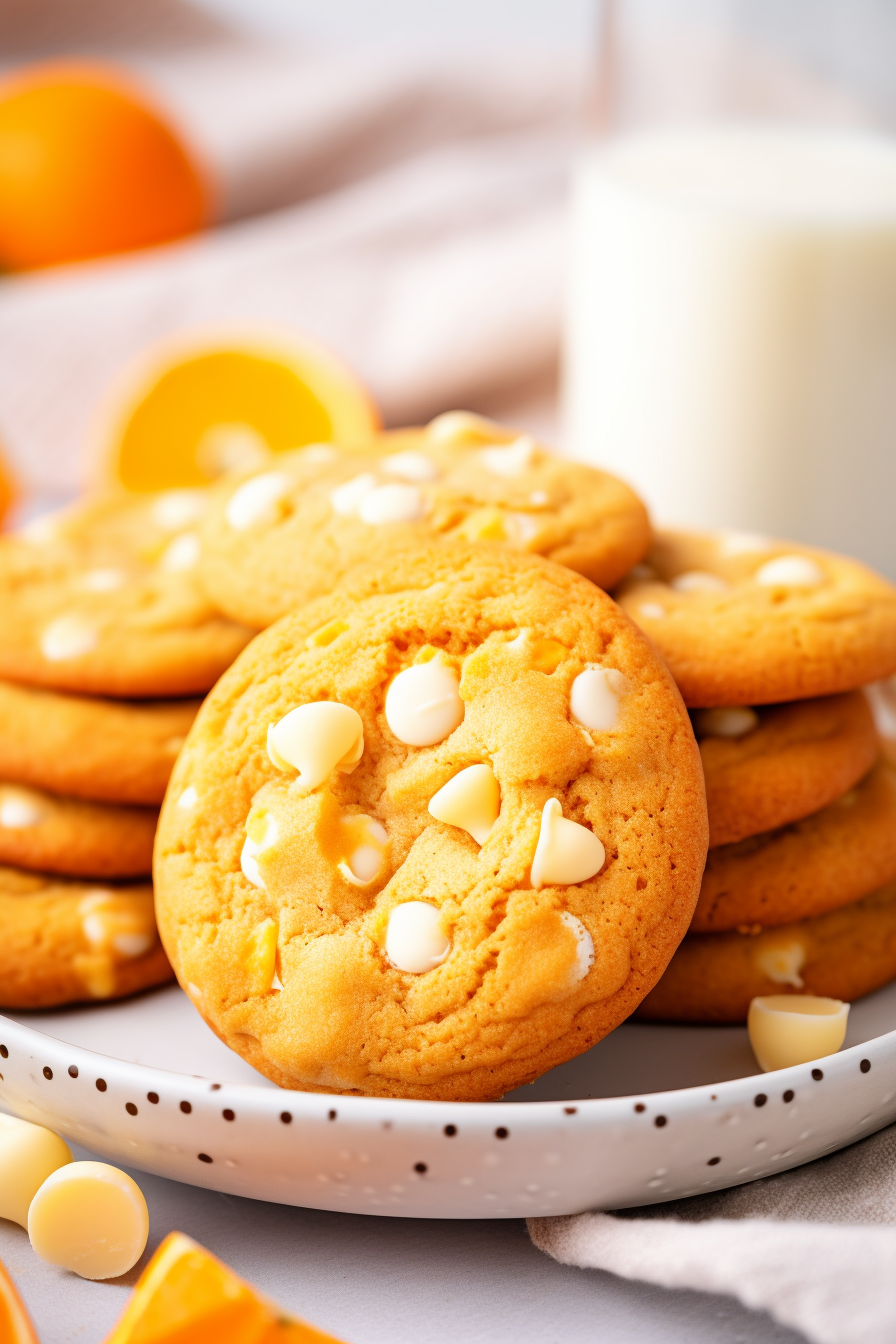 Ingredient Notes for the Orange Creamsicle Cookies Recipe:
White cake mix provides a heavenly soft texture and is the trusty backbone of this recipe. You can opt for any brand you fancy, but ensure it's about 15.25 oz.
Now, for our orange zest punch, we're using a 3 oz. box of orange gelatin. This isn't just for kids' desserts, my friends! It brings the vibrant color and taste that scream 'creamsicle.'
When it comes to vegetable oil, I recommend using a light one to keep the cookie's texture delicate.
Split the eggs – I promise we'll use both!
Finally, white chocolate chips. Oh, sweet indulgence! They melt into the cookie, giving that creaminess reminiscent of our beloved popsicle.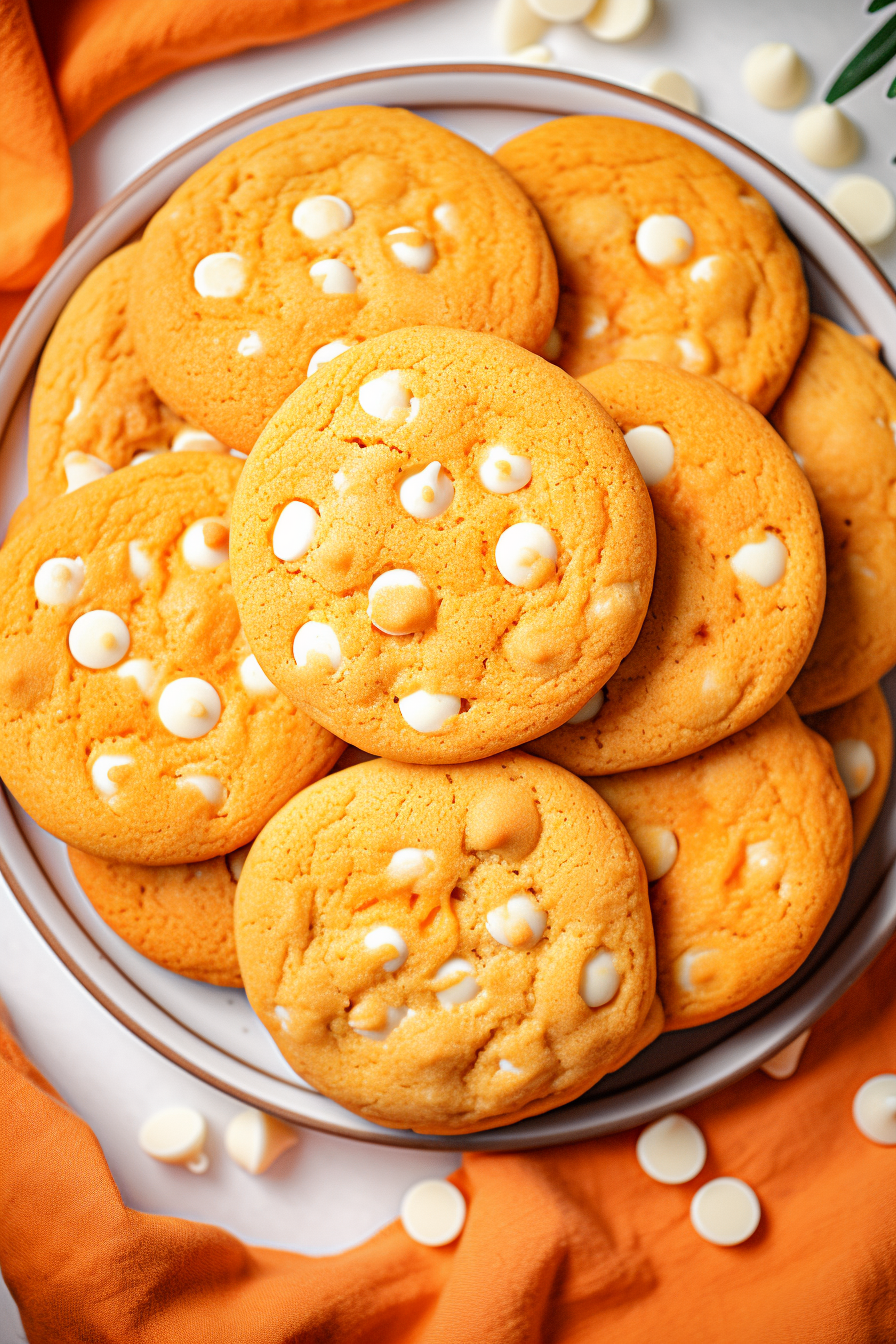 Step-by-step Orange Creamsicle Cookies Recipe:
Alright, baker extraordinaires, roll up those sleeves. Let's get down to cookie business:
Starting Line: Begin by preheating that oven of yours to 350°F (or 180°C for my metric lovers). Got some lovely baking sheets? Line 'em up with parchment paper or those handy silicone mats. This ensures our cookies don't turn into sad, sticky blobs.
Mixing Mania: Grab a spacious bowl (bigger than you think you need, trust me). Combine the white cake mix, orange jello, vegetable oil, and those eggs. A word of advice: if you feel the dough channeling its inner rock, just fold it using a spatula. Bring in some muscle!
Chocolaty Charm: It's time for the stars – the white chocolate chips. Mix them in and watch the magic happen.
Scoop & Space: With a medium cookie scoop, drop those delightful dough balls onto your prepped baking sheets. Remember, they like their personal space, so 2 inches apart should do the trick.
Baking Ballet: Slide the trays into your oven, letting them dance in the heat for about 9 minutes. Golden perfection awaits.
Cooling Cruise: Patience, my dear bakers! Let those cookies cool for 5-10 minutes on the sheet, and then transfer to a cooling rack. I know it's tempting, but no nibbling yet!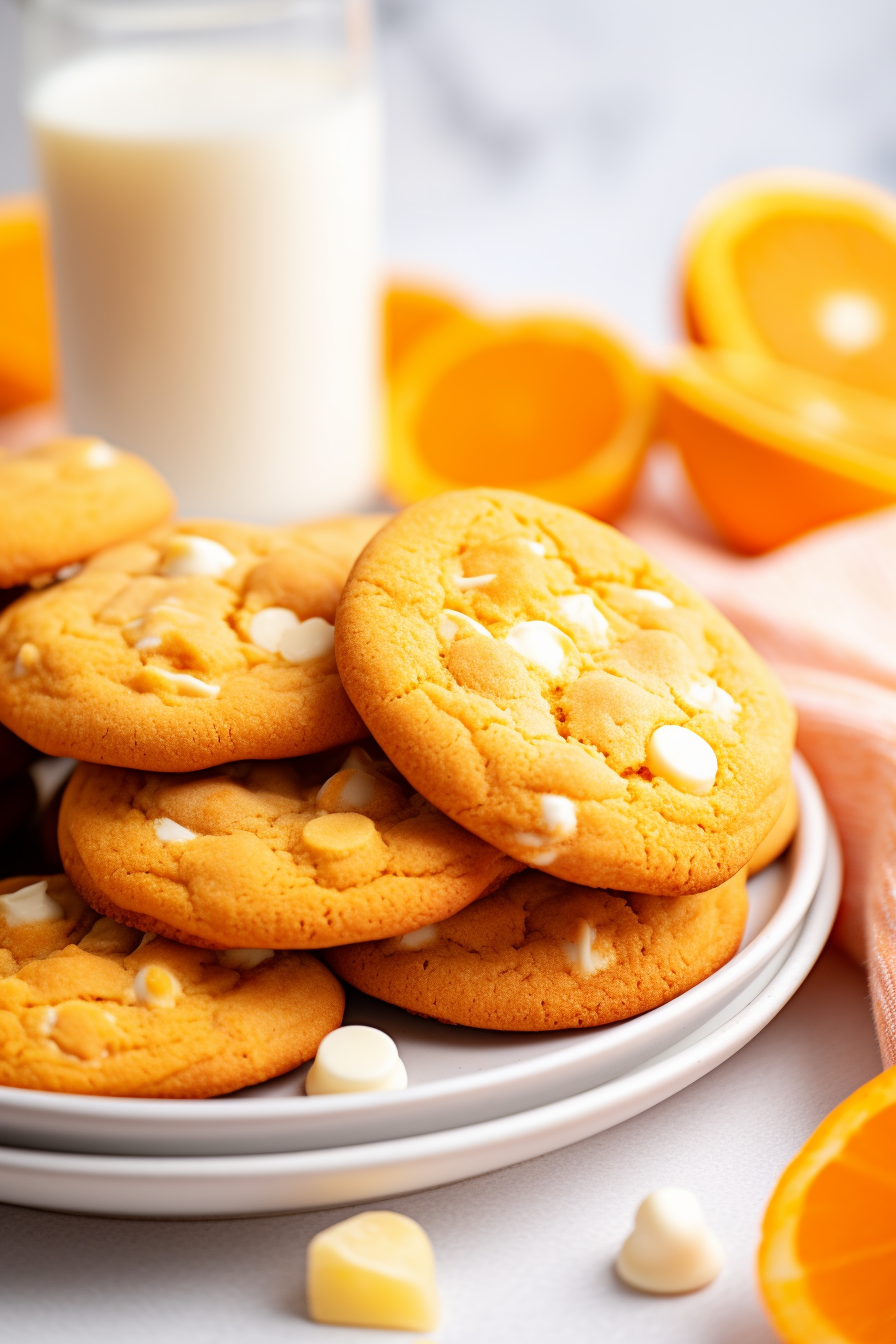 Storage Options for the Orange Creamsicle Cookies Recipe:
For those of you who haven't devoured all these in one sitting (I applaud your self-control), storing these goodies is crucial. In an airtight container, they'll stay fresh for up to 5 days on the counter. Want to play the long game? Freeze them! Just ensure they're wrapped tightly, and they can be your cold-weather treat. Just remember to thaw before serving.
Variations & Substitutions for the Orange Creamsicle Cookies Recipe:
Looking to shake things up? Let's get crafty. Swap white chocolate chips for dark chocolate for a bittersweet twist. If orange isn't your jam, try lemon or lime gelatin for a citrusy switch-up. Vegan buddies, you're not left out! Use a vegan cake mix, flax eggs, and dairy-free white chocolate chips. The possibilities, my friends, are endless!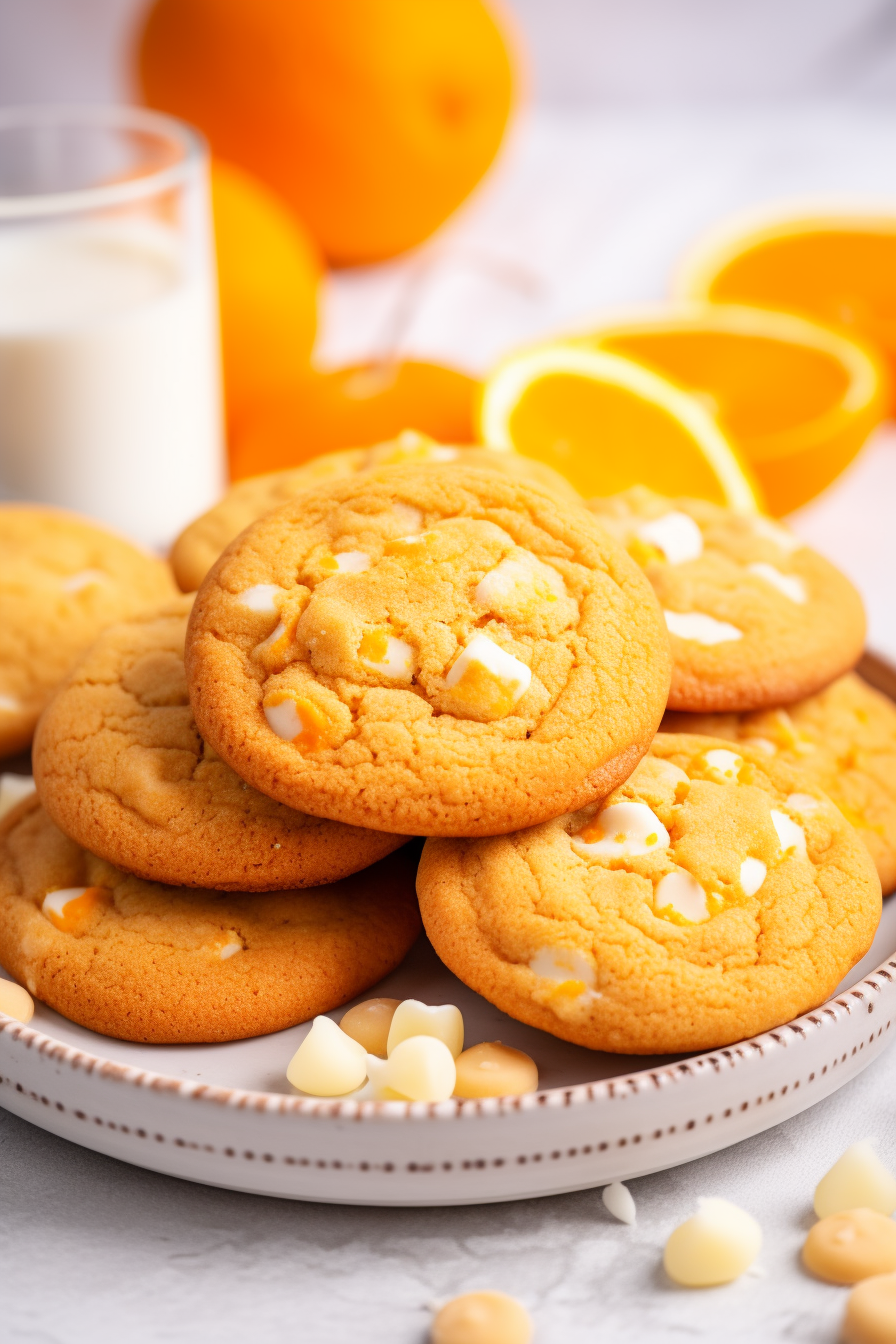 Happy Baking, cookie monsters! And remember, if the cookie crumbles, it's just an excuse to bake another batch. 😉🍪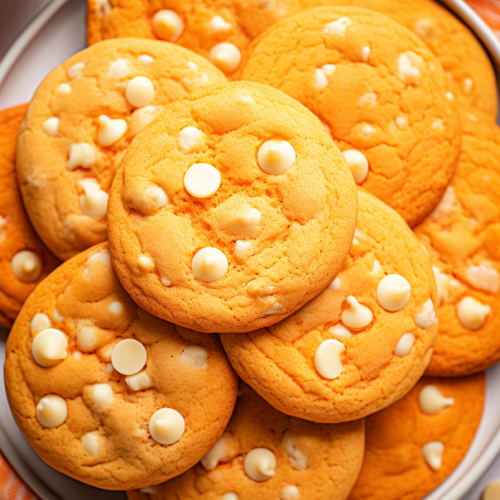 Orange Creamsicle Cookies
Dive into the luscious blend of white cake mix, tangy orange gelatin, and creamy white chocolate chips with our Orange Creamsicle Cookies. Perfect for dessert enthusiasts craving a refreshing twist!
Print
Pin
Rate
Ingredients
1

box

15.25 oz. of white cake mix

1

packet

3 oz. of orange gelatin (e.g., Jello)

¼

cup

of vegetable oil

2

large eggs

1

cup

of white chocolate chips
Instructions
Begin by preheating the oven to a temperature of 350°F (180°C). For those using fan ovens, set the temperature to 160°C. Proceed to line two medium-sized baking sheets with either parchment paper or silicone baking mats.

In a suitable mixing bowl, thoroughly combine the white cake mix, orange gelatin, vegetable oil, and eggs. If the consistency of the cookie dough appears excessively thick, continue to mix using a spatula until it achieves a uniform texture.

Introduce the white chocolate chips to the dough and ensure they are uniformly distributed throughout the mixture.

Utilize a medium-sized cookie scoop (approximately 2 tablespoons in volume) to portion the dough. Carefully place each portion onto the prepared baking sheets, ensuring a spacing of at least 2 inches between each cookie.

Place the baking sheets in the preheated oven and allow the cookies to bake for a duration of 9 minutes.

Upon completion of baking, it is advisable to let the cookies cool on the baking sheets for a span of 5-10 minutes. Subsequently, transfer them to a cooling rack to cool completely.