Dive into a fusion feast with Taco Pasta Shells! Savoury ground beef seasoned with spicy taco mix, melded with creamy cheese and snuggled inside buttery jumbo pasta shells. Top it all off with zesty salsa, enchanting enchilada sauce, and a sprinkle of Fritos. It's where Italy hugs Mexico!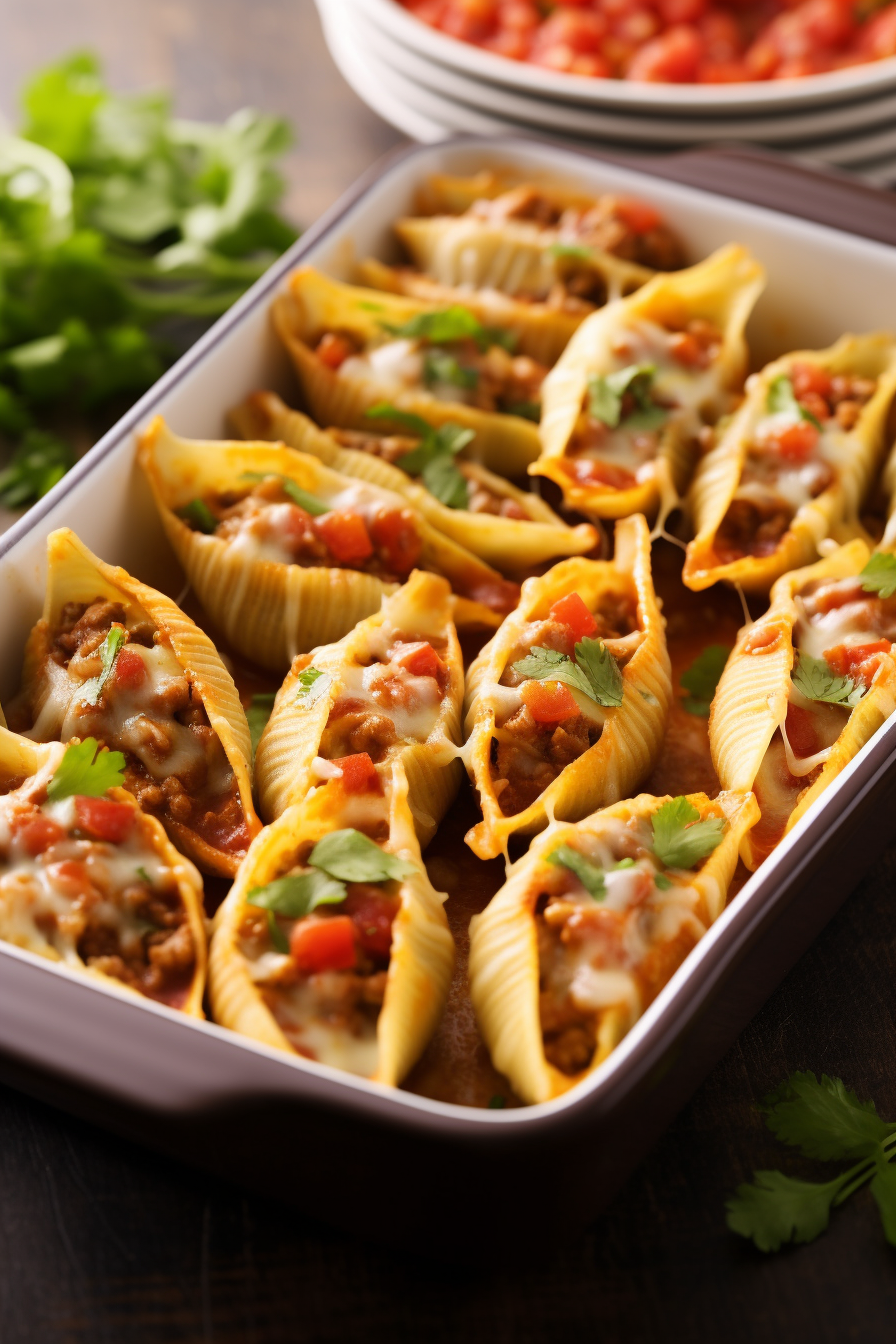 Oh, the tales our taste buds can tell! This dish was born on a lazy Sunday evening when my indecisiveness reached its peak. Was it taco night or pasta night? The Italian in me was craving pasta, and the adventurous part was yearning for a zesty taco. So, in a moment of culinary genius (or maybe just extreme hunger), I decided – why not both? And so, the Taco Pasta Shells was born! It's a tale of two countries dancing in a single dish. An epic love story, if you ask me.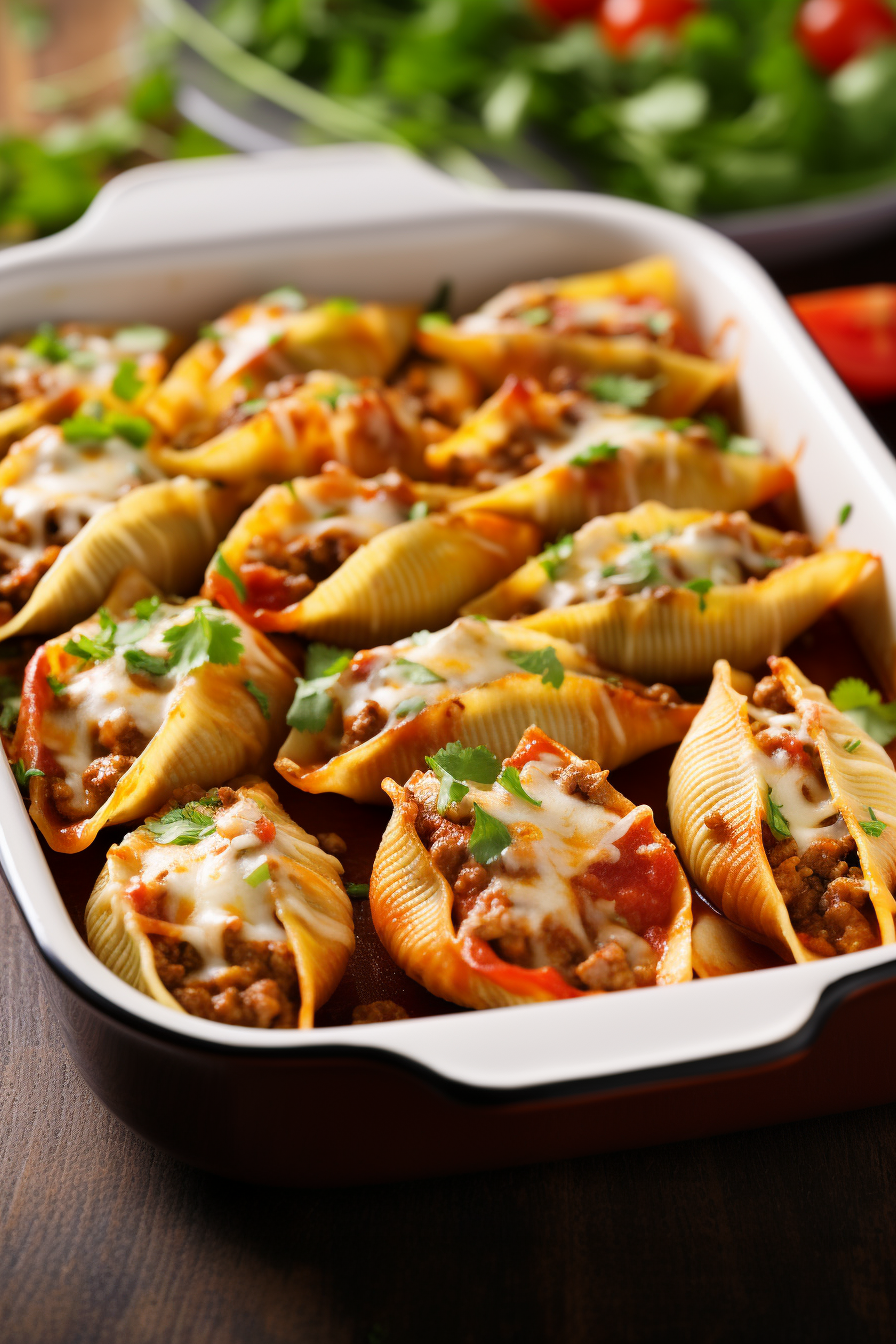 Taco Pasta Shells:
What's not to love about the Taco Pasta Shells? First off, it's a marriage of two of the most beloved dishes on the planet – tacos and pasta! Secondly, it's the perfect harmony of texture and taste – the soft buttery pasta shells, the spiced meaty filling, the rich cheesy top, and the crunch of Fritos. Lastly, it's versatile! Whether it's a family dinner, a potluck or you're just looking to impress your date with your worldly culinary skills, this dish has got you covered.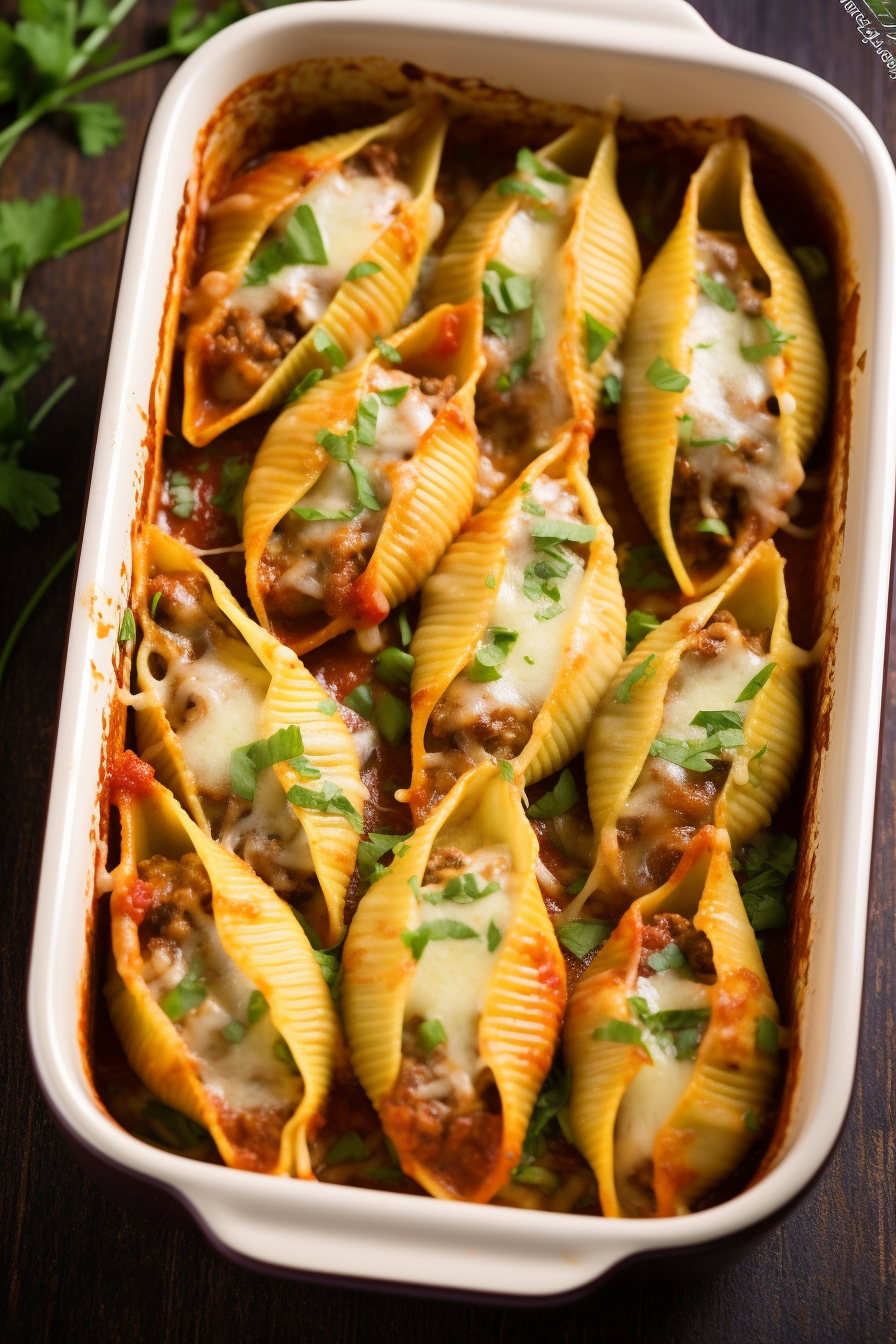 Ingredients For Taco Pasta Shells:
Ground Beef: Opt for lean meat for a healthier touch, or switch it up with ground turkey or chicken for a lighter twist.
Taco Seasoning: Store-bought or homemade, it's your call! Just ensure it's to your preferred spice level.
Cream Cheese: This adds a creamy texture to the filling, but if you want a tangy twist, try goat cheese!
Jumbo Pasta Shells: Don't skimp on quality here. You want shells that remain firm after baking.
For toppings, feel free to be adventurous. The listed toppings provide a lovely balance of flavour, but you could always experiment with olives, jalapenos, or even some guacamole!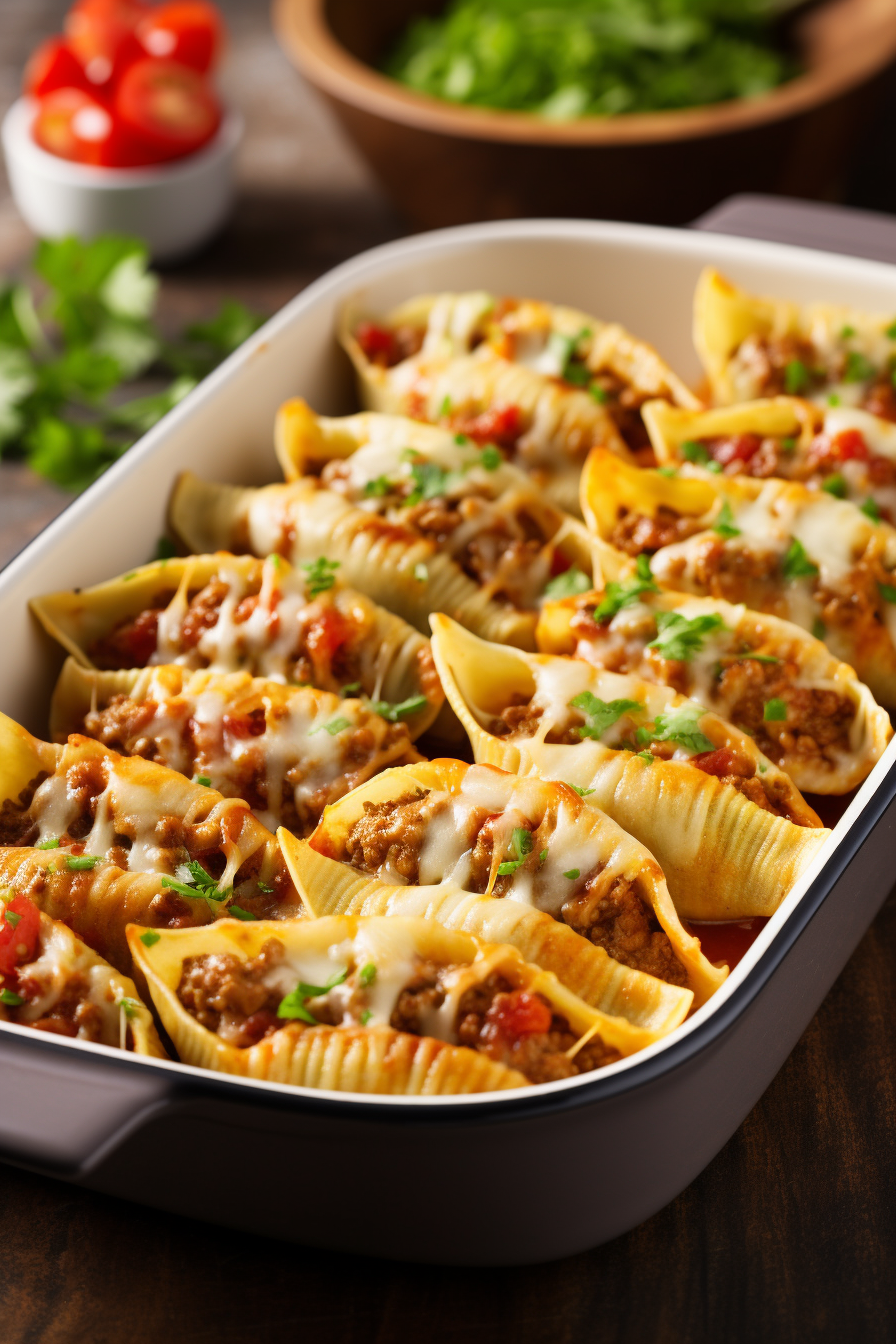 How To Make Taco Pasta Shells:
Step 1: Warm up that oven! Set it to a cozy 350°F. As it preheats, visualize the magic you're about to create.
Step 2: Start with browning your ground beef in a large pan. Once it's beautifully browned and singing its sizzling song, drain the excess grease. Stir in water and the spicy elixir that is taco seasoning. Once the party's started and it's boiling, introduce the cream cheese. Turn down the music (heat) and let them mingle until the cheese is fully melted.
Step 3: Once they've had their fun, transfer this meaty mix to a bowl. Let it chill and catch its breath.
Step 4: Now, let's talk pasta. Cook those jumbo shells as per the package's guidance. Once done, dress them up in some melted butter. Isn't that classy?
Step 5: Take your baking dish, and let the salsa lay the first dance floor layer. Gently fill your butter-drenched shells with the meat mix, and place them on this salsa stage.
Step 6: Drizzle the vibrant enchilada sauce over these filled beauties. Let them bake for about 20 minutes, then shower them with shredded Colby Jack cheese. Let it bake for an additional 10-15 minutes until the cheese gets all melty and golden.
Step 7: Finally, just before serving, add the crunchy Fritos and a dollop of sour cream. Voila! You've created a masterpiece!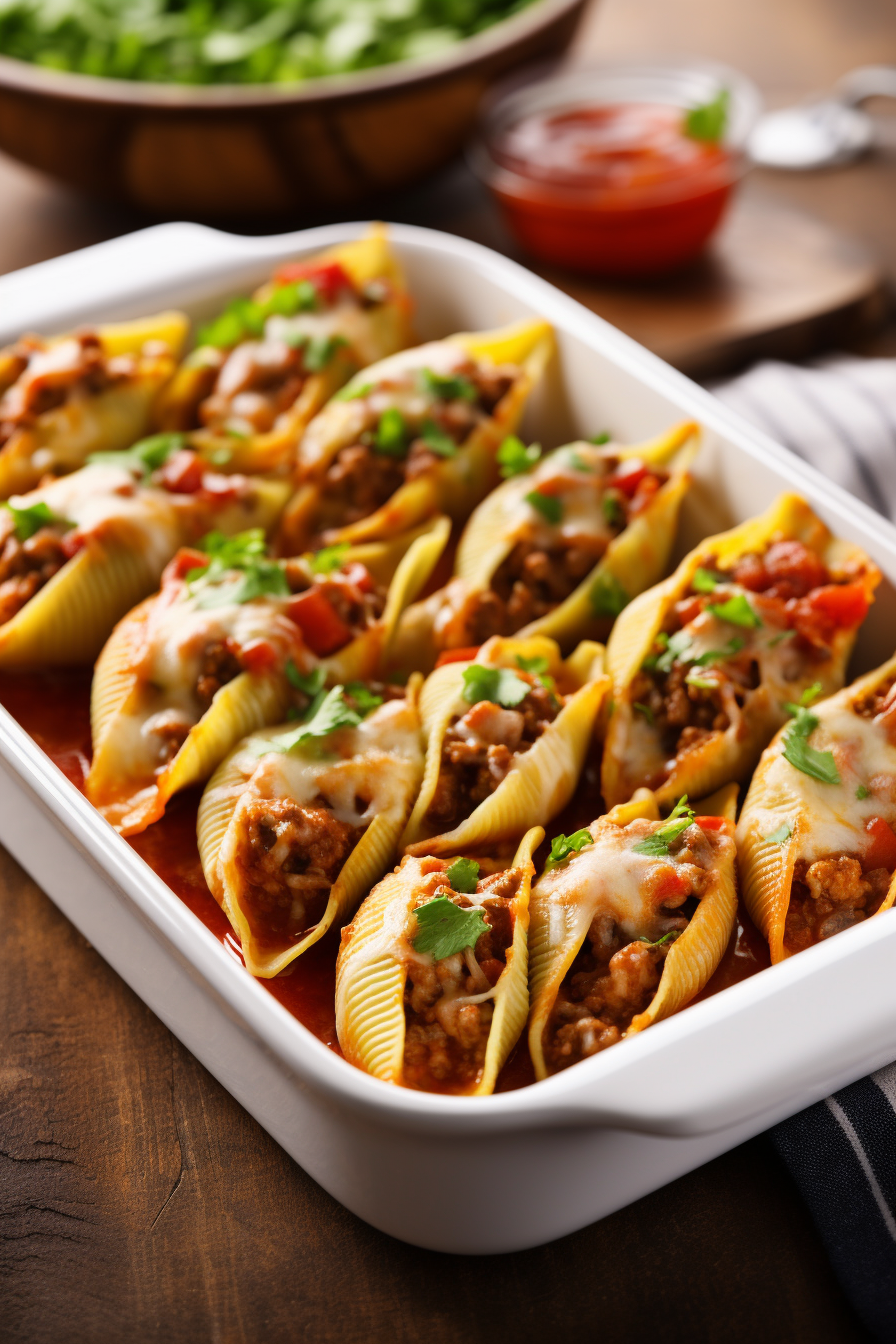 Storage Options For Taco Pasta Shells:
Let's be honest, there might not be leftovers, but just in case: Store these delightful shells in an airtight container in the fridge for up to 3 days. When reheating, pop them in the oven or microwave, and they'll be as good as fresh. Want to enjoy them later? Freeze the pre-baked filled shells in a single layer on a baking sheet, then transfer to a freezer bag. They'll keep well for up to 2 months. Just remember to thaw and bake them with toppings when the craving hits.
Variations and Substitutions:
Not a beef fan? No worries! Swap it out for ground chicken, turkey, or even a meat substitute for our veggie friends. If you're not into cream cheese, ricotta can be your go-to. Want more veggies? Add some corn, beans, or bell peppers to the mix. If you're looking to turn up the heat, throw in some jalapenos or hot sauce. And if Fritos aren't your jam, crushed tortilla chips or Doritos can add that crunchy fiesta feel. Remember, it's your world; the taco pasta shells are just dancing in it!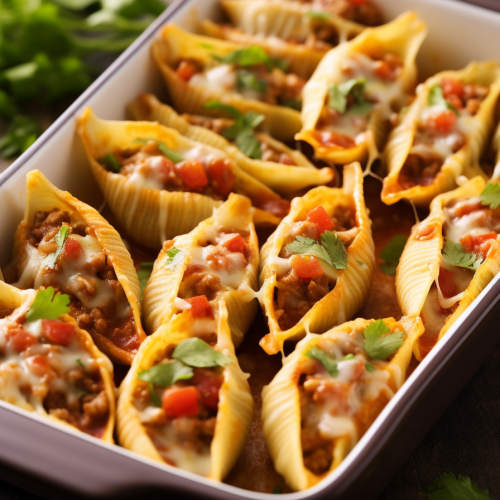 Taco Pasta Shells
Dive into a fusion feast with Taco Pasta Shells! Savoury ground beef seasoned with spicy taco mix, melded with creamy cheese and snuggled inside buttery jumbo pasta shells. Top it all off with zesty salsa, enchanting enchilada sauce, and a sprinkle of Fritos. It's where Italy hugs Mexico!
Print
Pin
Rate
Ingredients
1

lb.

ground beef

1

packet taco seasoning mix

3/4

cup

distilled water

4

oz.

cream cheese

12

jumbo pasta shells

2

tbsp.

melted unsalted butter
Toppings:
1/2

cup

salsa

1/2

cup

green enchilada sauce

1

cup

Colby Jack cheese

finely shredded

1/2

cup

crushed Fritos

1/2

cup

sour cream
Instructions
Initiate by preheating the oven to a temperature of 350°F.

In a large skillet, cook the ground beef until fully browned. Once achieved, ensure to properly drain any excess grease. Subsequently, introduce the water followed by the taco seasoning to the beef. Allow this mixture to reach a boil. Once boiling, integrate the cream cheese, then reduce the heat, allowing it to simmer for approximately 5 minutes or until the cream cheese has completely melded with the mixture.

Carefully transfer the beef mixture into a bowl, setting it aside to cool.

Follow the package directions to cook the jumbo pasta shells to al dente perfection. Once completed, lightly coat the pasta shells in the previously melted unsalted butter.

In an 11×7 baking dish, lay out an initial layer using the salsa. After ensuring that the meat mixture has sufficiently cooled, methodically fill each pasta shell with an equal amount of the mixture and place them within the dish atop the salsa.

Elegantly drizzle the green enchilada sauce over the filled pasta shells. Proceed to bake this composition in the oven for a duration of 20 minutes. Following this, evenly distribute the finely shredded Colby Jack cheese atop the shells and continue baking for an additional duration of 10-15 minutes, or until the cheese manifests a golden hue.

Upon removal from the oven and just prior to serving, garnish the pasta shells with a layer of crushed Fritos and a modest dollop of sour cream. Serve immediately for optimal taste and presentation.
Nutrition
Calories:
805
kcal
|
Carbohydrates:
37
g
|
Protein:
34
g
|
Fat:
58
g
|
Saturated Fat:
28
g
|
Polyunsaturated Fat:
3
g
|
Monounsaturated Fat:
19
g
|
Trans Fat:
2
g
|
Cholesterol:
173
mg
|
Sodium:
1698
mg
|
Potassium:
590
mg
|
Fiber:
4
g
|
Sugar:
8
g
|
Vitamin A:
2240
IU
|
Vitamin C:
5
mg
|
Calcium:
342
mg
|
Iron:
4
mg