Indulge in a delectable fusion of ripe bananas, rich brown sugar, and the tantalizing twist of salted caramel glaze. This Salted Caramel Banana Bread recipe is breakfast's answer to dessert!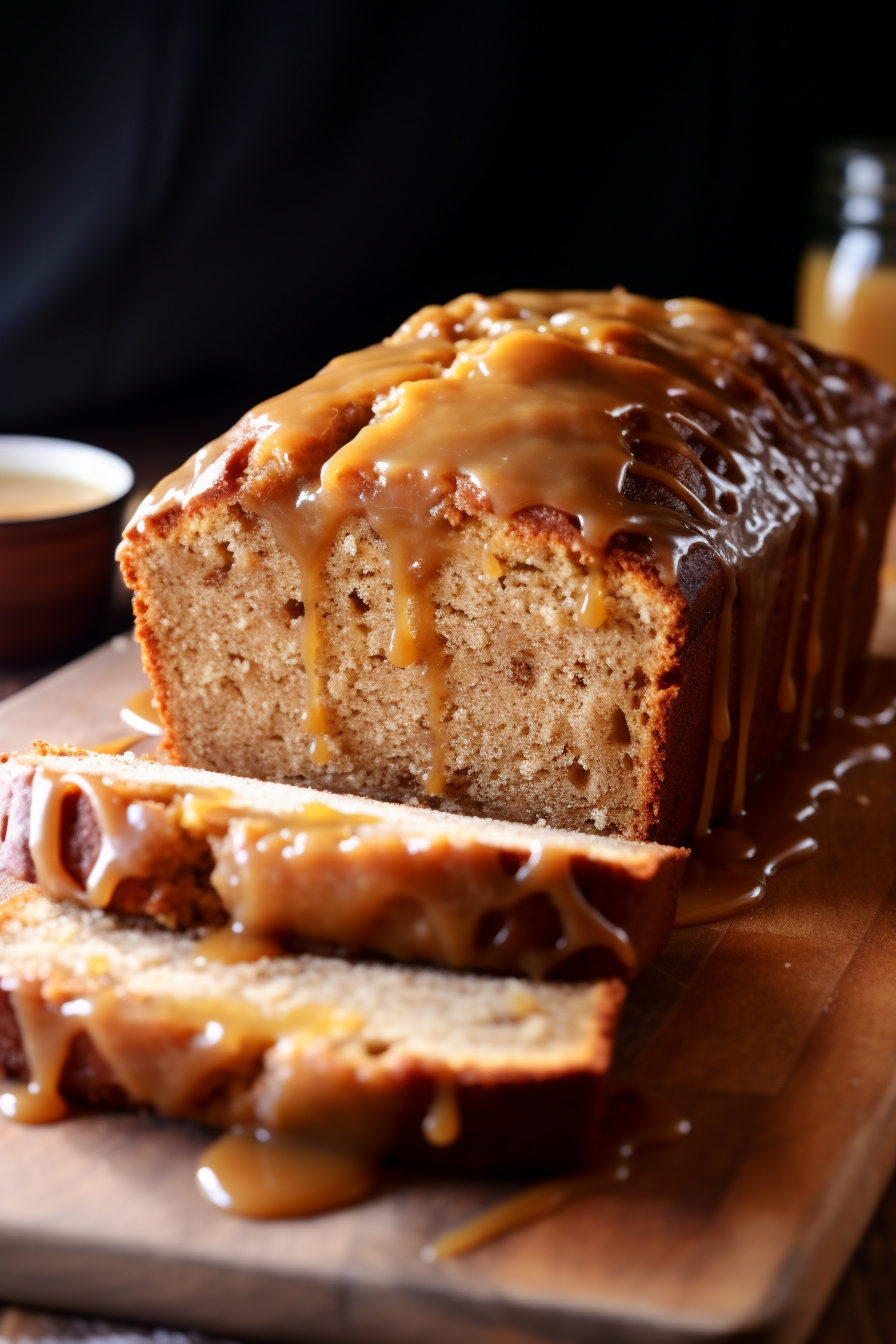 Banana bread and I go way back. Growing up, it was the comforting aroma that wafted through my home, signaling the weekend. But, here's a secret: my adventurous culinary spirit had been begging me for a twist. That's when the memory of a salted caramel ice cream I had on a vacation in Paris collided with my beloved banana bread. I wondered, "Why not combine the classic comfort of banana bread with the elegant allure of salted caramel?" Thus, this piece of breakfast brilliance was born. From Paris with love, to my kitchen, to yours.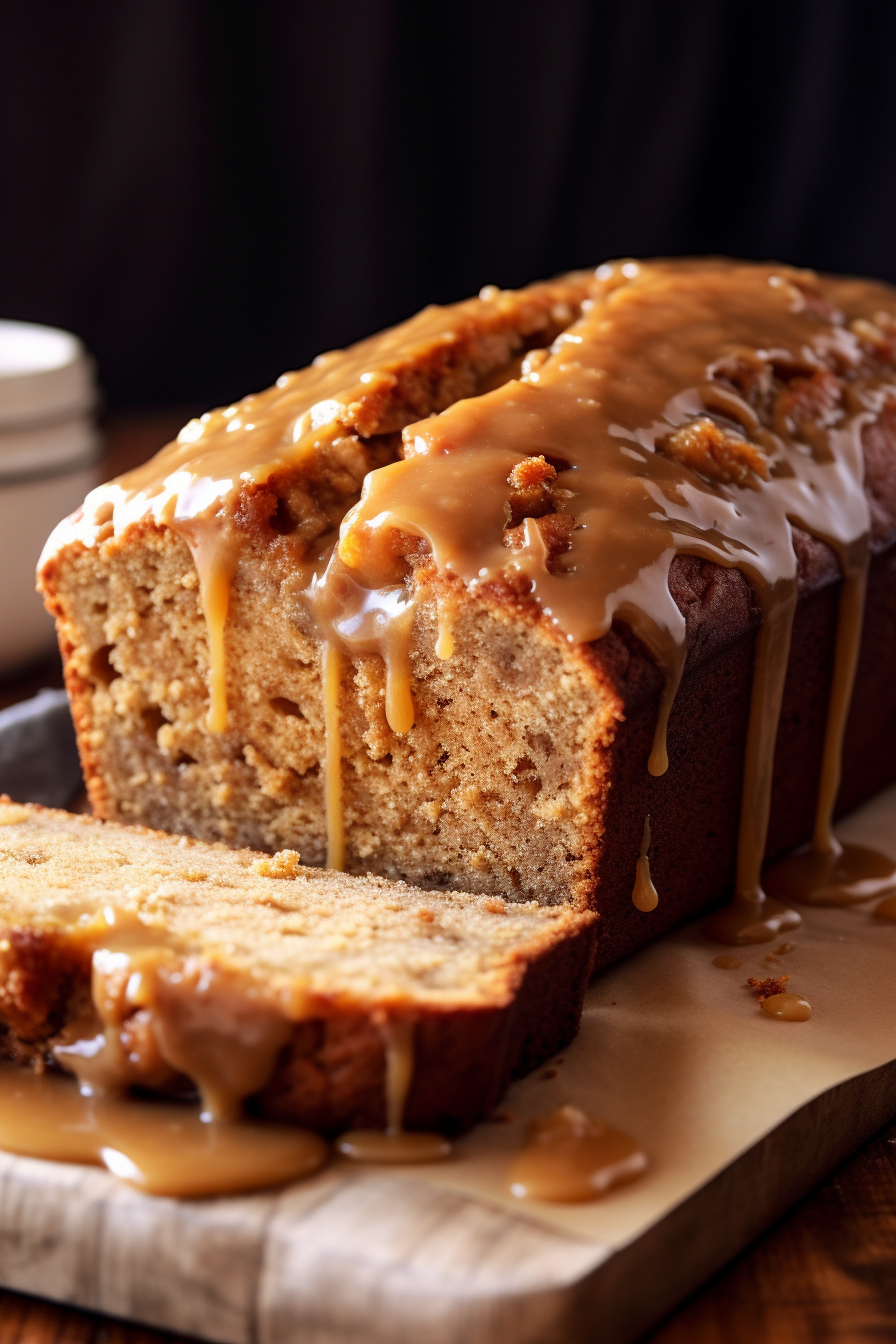 Why You'll Love Salted Caramel Banana Bread
Why say yes to this Salted Caramel Banana Bread? First, it merges the classic comfort of banana bread with the gourmet touch of salted caramel. Second, it's a versatile beauty! Perfect for breakfast, a midday snack, or a sweet ending to your dinner. Lastly, it's a symphony of textures: the moist crumb of the bread harmonizes with the smooth, velvety finish of the glaze.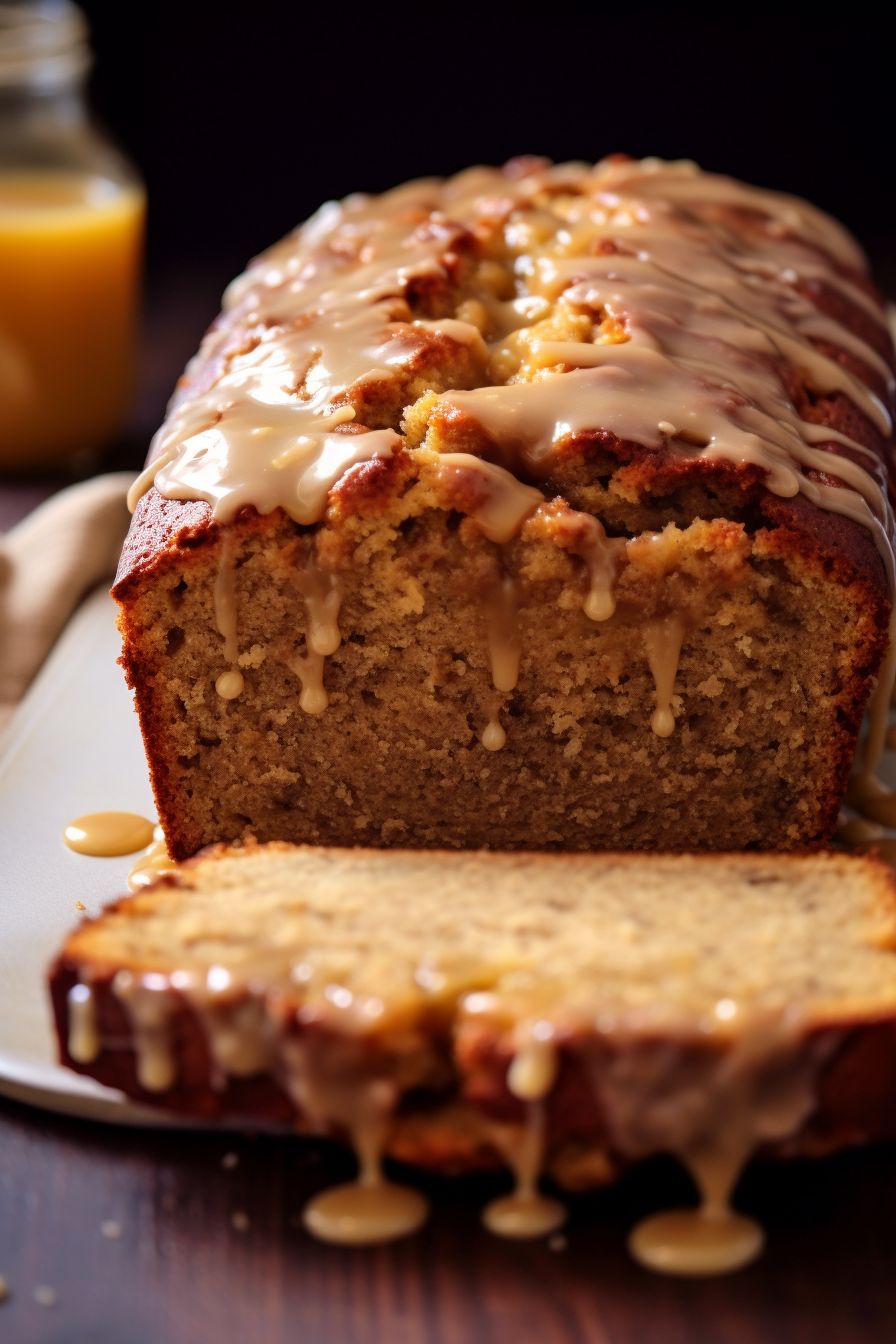 Ingredient Insights for Salted Caramel Banana Bread:
Bananas: Opt for ones with black spots. The spottier they are, the sweeter and more pronounced the banana flavor will be.
Brown Sugar: This imparts a deeper, molasses-like sweetness. Dark brown sugar gives an even richer taste if you have it.
Butter: Room temperature is key! It ensures your bread has a soft, even crumb.
Heavy Cream: This makes the glaze lush. No skimping!
Kosher Salt: It enhances the flavor profile, creating a balance against the sweetness of the caramel.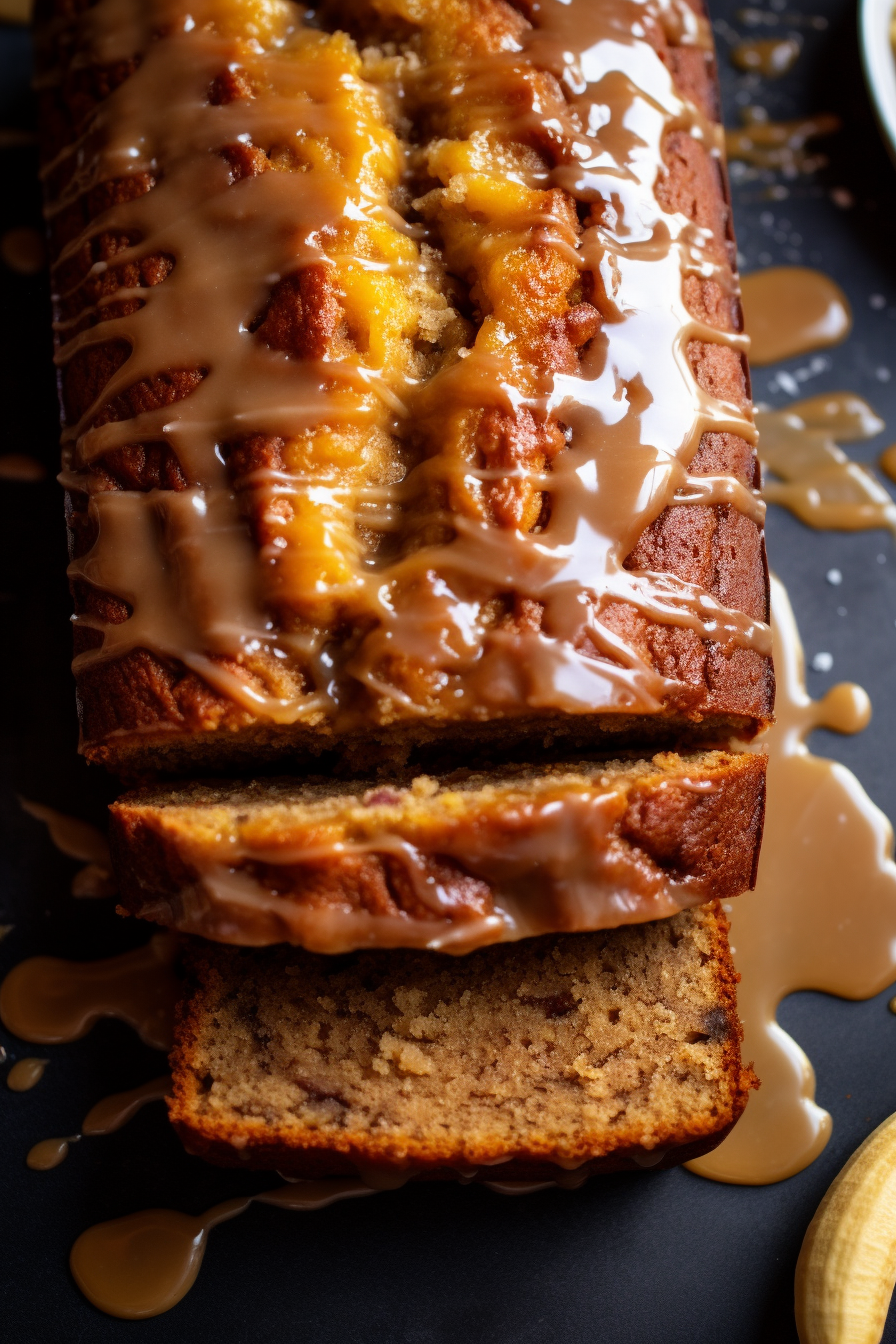 How To Make Salted Caramel Banana Bread:
Step 1: Start by getting the oven hot and ready. Greasing your baking dish means no sticky situations later!
Step 2: Whisking dry ingredients separately ensures even distribution, meaning no unexpected pockets of cinnamon or baking soda.
Step 3: Creamy butter and sugar provide the foundation. Eggs bind the ingredients, so add them one by one for a smooth batter.
Step 4: This is where the magic happens. The bananas, sour cream, and vanilla infuse the bread with moistness and flavor.
Step 5: Merging dry and wet ingredients needs a gentle touch. Blend them just enough to say, "Hello, let's make bread!"
Step 6: Patience is key. While baking, dream of the caramel glaze to come.
Step 7 & 8: Creating the glaze is a dance of sugar, butter, and cream. When it's smooth and dreamy, you're on the right track.
Step 9: Once cooled, drizzle the glaze generously. Let it cascade down the sides because, let's be honest, more is more.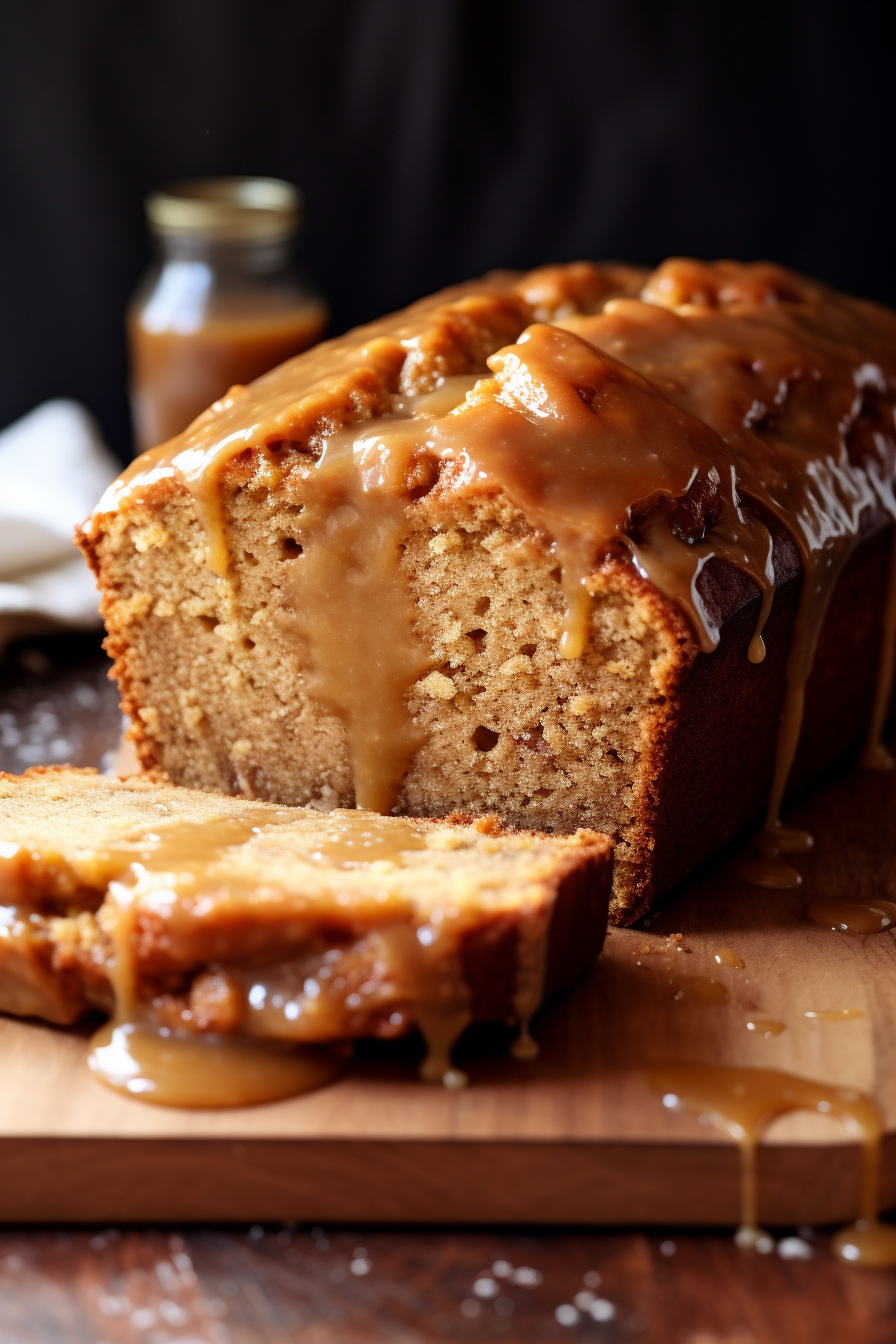 Store Sensibly:
Wrap your banana bread in plastic wrap or aluminum foil, and it'll stay fresh at room temperature for about 2 days. For a longer love affair, refrigerate it for up to a week. If you're thinking long term, this bread freezes beautifully. Just ensure it's wrapped tightly and stored in a freezer bag.
Variations and Subs:
Not a caramel fan? (Who are you? Just kidding!) Try a chocolate ganache. If you're out of sour cream, Greek yogurt works wonders. For a nutty twist, add chopped walnuts or pecans into the batter. And for those adventurous souls, a pinch of cayenne in the glaze gives a playful kick!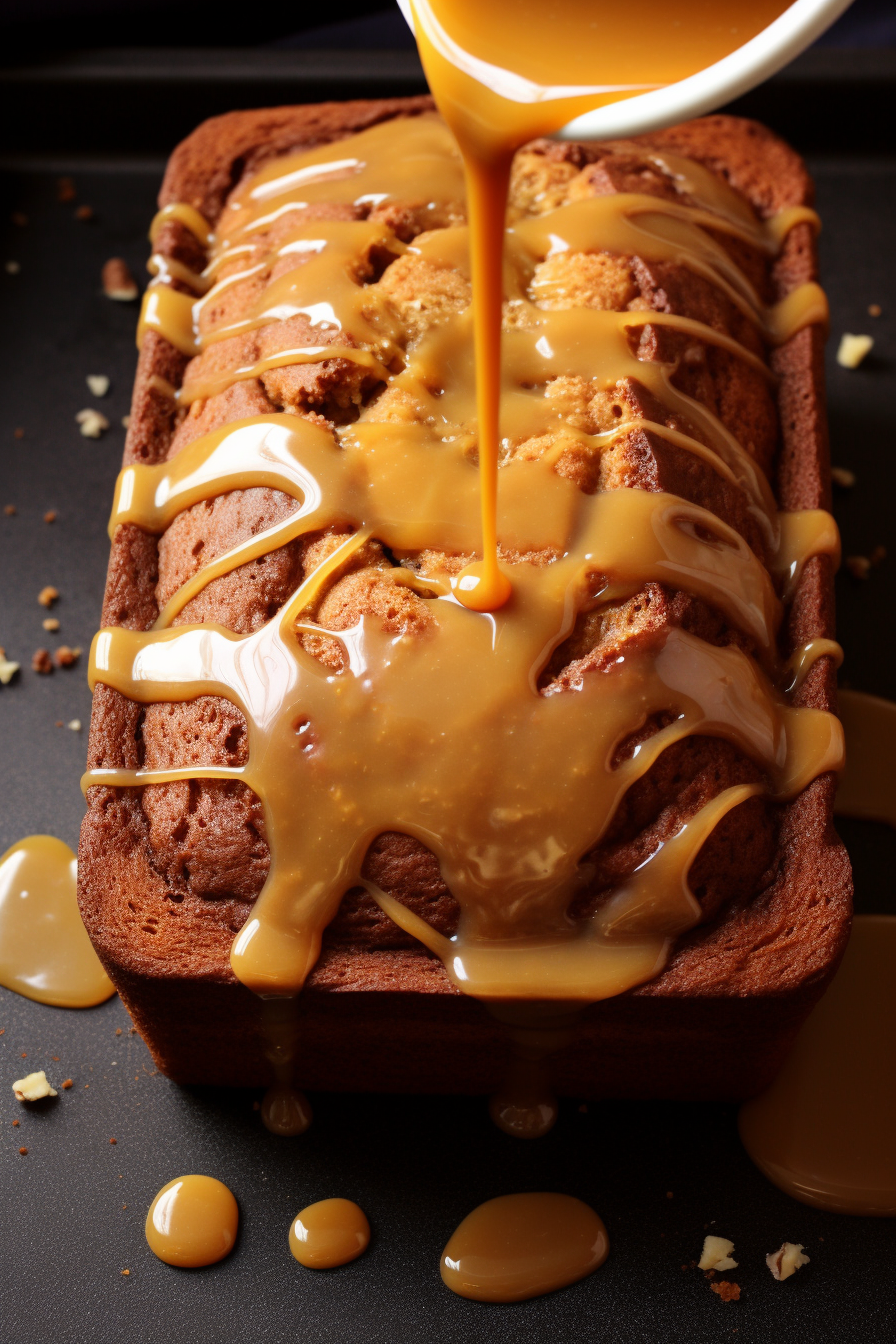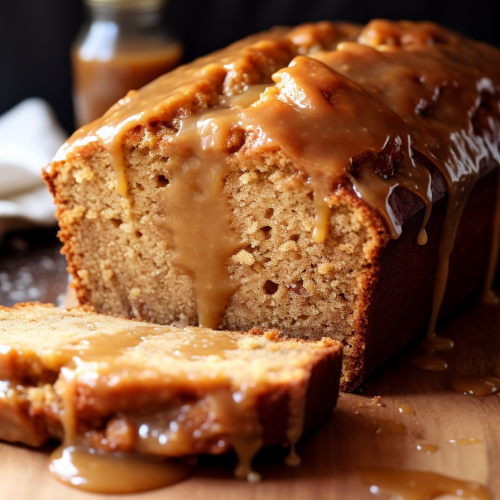 Salted Caramel Banana Bread
Indulge in a delectable fusion of ripe bananas, rich brown sugar, and the tantalizing twist of salted caramel glaze. This Salted Caramel Banana Bread recipe is breakfast's answer to dessert!
Print
Pin
Rate
Ingredients
For the Banana Bread:
2

cups

All-Purpose Flour

1

teaspoon

Baking Soda

1

teaspoon

Ground Cinnamon

½

teaspoon

Fine Salt

¾

cup

Firmly Packed Brown Sugar

½

cup

Unsalted Butter

at room temperature

2

Large Eggs

⅓

cup

Sour Cream

4

Overripe Bananas

mashed

1 ½

teaspoons

Pure Vanilla Extract
For the Glaze:
¼

cup

Firmly Packed Brown Sugar

2

tablespoons

Unsalted Butter

2

tablespoons

Heavy Cream

⅓

cup

Confectioners' Sugar

1/2

teaspoon

Kosher Salt
Instructions
Preheat the oven to a temperature of 350 degrees Fahrenheit (175 degrees Celsius). Prepare a 9×5-inch baking dish by greasing it thoroughly to prevent sticking.

In a medium-sized mixing bowl, combine the flour, baking soda, ground cinnamon, and fine salt. Whisk them together to ensure uniform distribution. Set this dry mixture aside for later use.

In a separate, larger mixing bowl, cream together the packed brown sugar and unsalted butter until the mixture achieves a smooth consistency. Following this, incorporate the eggs into the mixture, ensuring to add them one at a time whilst mixing continuously.

Into the same bowl, incorporate the sour cream, mashed bananas, and pure vanilla extract. Mix thoroughly until well combined.

Gradually integrate the previously set aside dry ingredients into the wet mixture. Mix until combined, ensuring not to overwork the batter to maintain the bread's desired texture.

Transfer the final batter into the prepared loaf pan. Place in the preheated oven and allow to bake for approximately 55 to 60 minutes. A toothpick or knife inserted into the center of the bread should emerge clean, indicating its doneness.

Whilst the bread is cooling, commence the preparation of the glaze. In a small saucepan, combine the packed brown sugar and unsalted butter. Place over medium heat and bring the mixture to a boil. Continue heating until the sugar has dissolved entirely, which should take approximately 1 minute.

Remove the saucepan from the heat and integrate the heavy cream. Subsequently, sift in the confectioners' sugar and kosher salt. Stir continuously until a smooth glaze is formed.

Allow the glaze to cool slightly for about 5 minutes. Once slightly thickened, pour it uniformly over the cooled banana bread.