Sink your teeth into the delightful fusion of blueberries, buttermilk, and a hint of lemon zest. This Buttermilk Blueberry Breakfast Bake is a morning's dream come true, enveloped in the warm embrace of vanilla and sugar.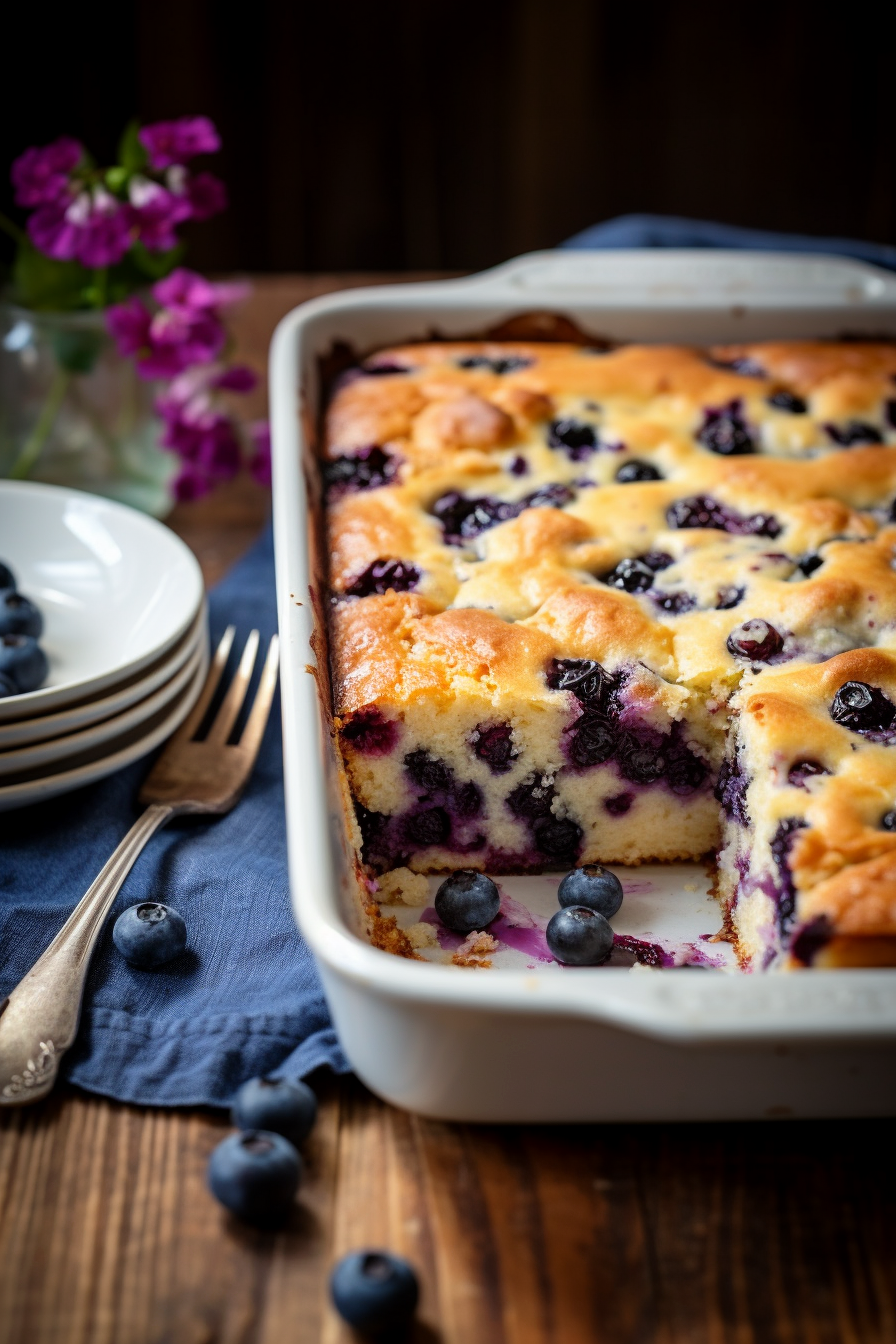 Oh, the memories! As a kid, I'd often find myself visiting my grandmother during summer vacations. She lived in this quaint little house with blue wooden shutters, surrounded by blueberry bushes. Every morning, I'd wake up to the aroma of something baking. One such morning, she introduced me to her Buttermilk Blueberry Breakfast Bake. She said it was her mother's recipe, a delectable way to enjoy the fresh blueberries that grew in abundance around her home. As I bit into that first piece, the flavors transported me to a world where time slowed down. Today, I make this recipe in honor of those cherished memories, and, in a way, it's like having a piece of that magical summer morning, every time.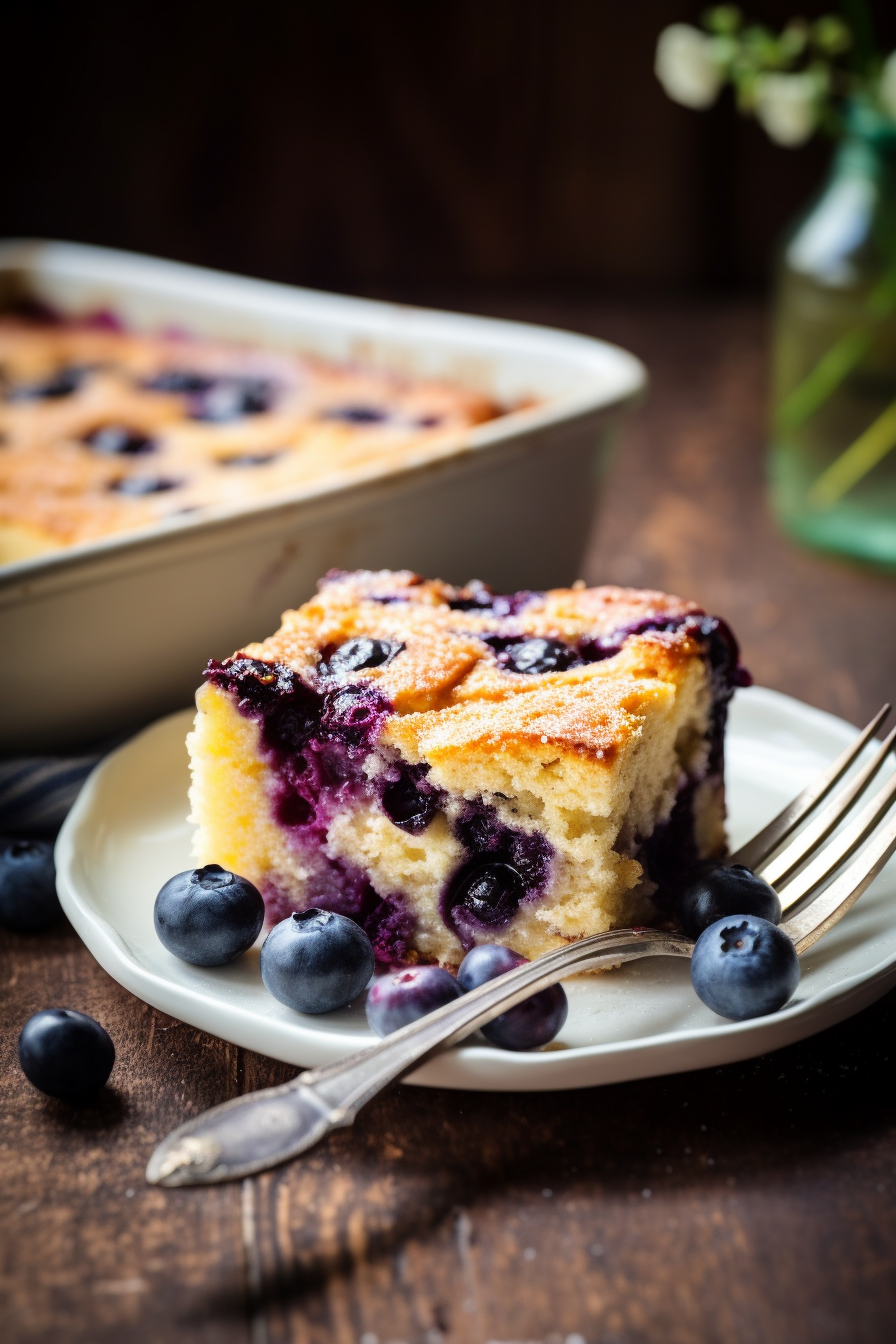 Why You'll Love Buttermilk Blueberry Breakfast Bake:
Step aside, regular blueberry muffins! Our Buttermilk Blueberry Breakfast Bake is not your average blueberry treat. Firstly, it's a delightful mesh of breakfast and dessert, offering the nutritional goodness of blueberries and the wholesome richness of buttermilk. The addition of lemon zest gives it an unexpected citrusy twist, elevating the bake to another dimension of flavor. This isn't just food; it's an experience. Secondly, it's versatile! Perfect for a fancy brunch, a lazy weekend morning, or as a delectable grab-and-go snack for those manic Mondays. And lastly, the golden, sugar-kissed crust is everything dreams are made of!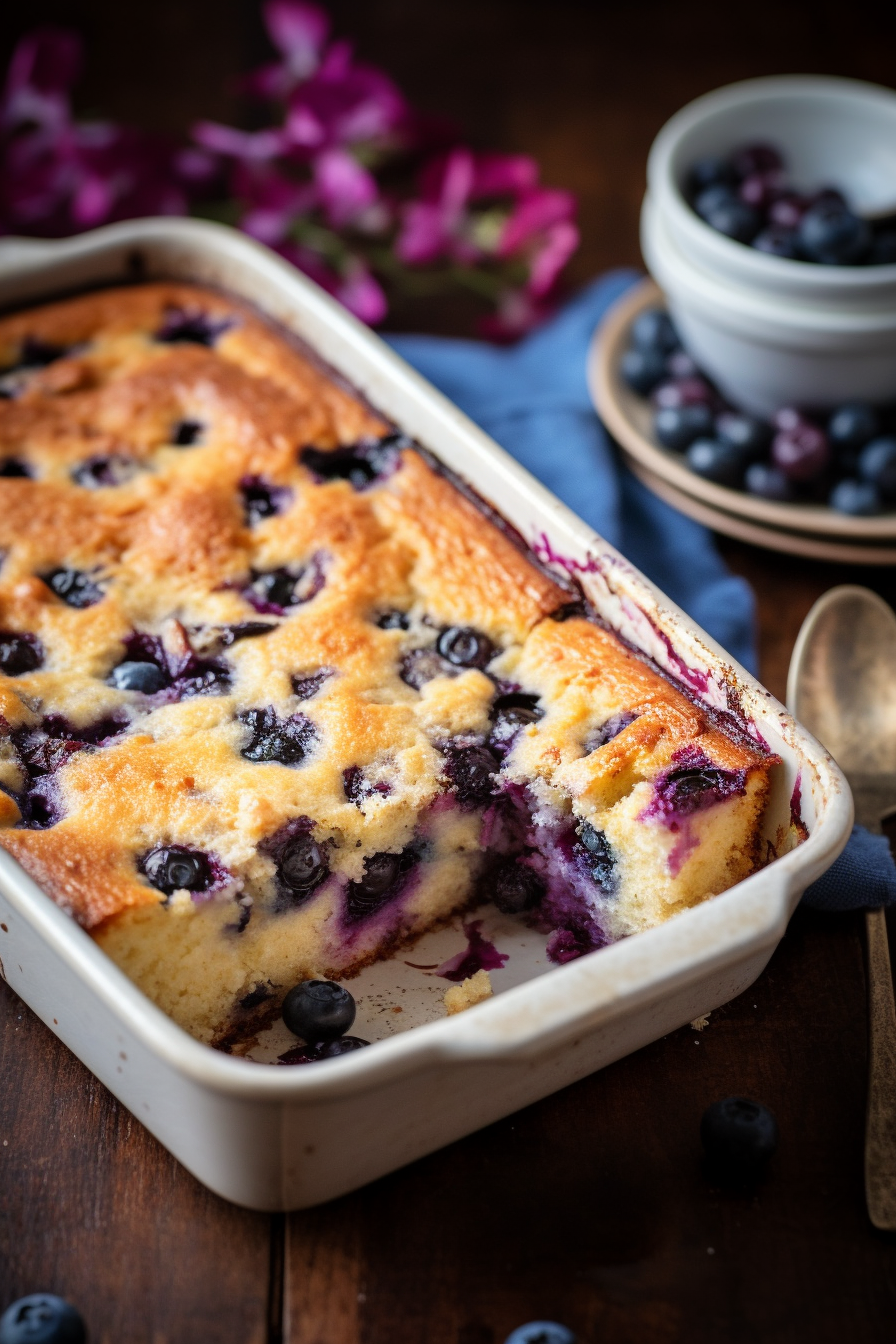 Ingredients Notes For Buttermilk Blueberry Breakfast Bake
When picking out your blueberries, opt for the freshest ones with a vibrant blue color – they pack the most flavor. If you don't have buttermilk, fret not, a dash of lemon juice or white vinegar mixed with regular milk can be a quick substitute. As for the lemon zest, I highly recommend using an organic lemon, ensuring you're getting the purest zest without the waxes or pesticides. Remember, softened butter is key; it'll mix much smoother, ensuring a consistently fluffy texture in your bake.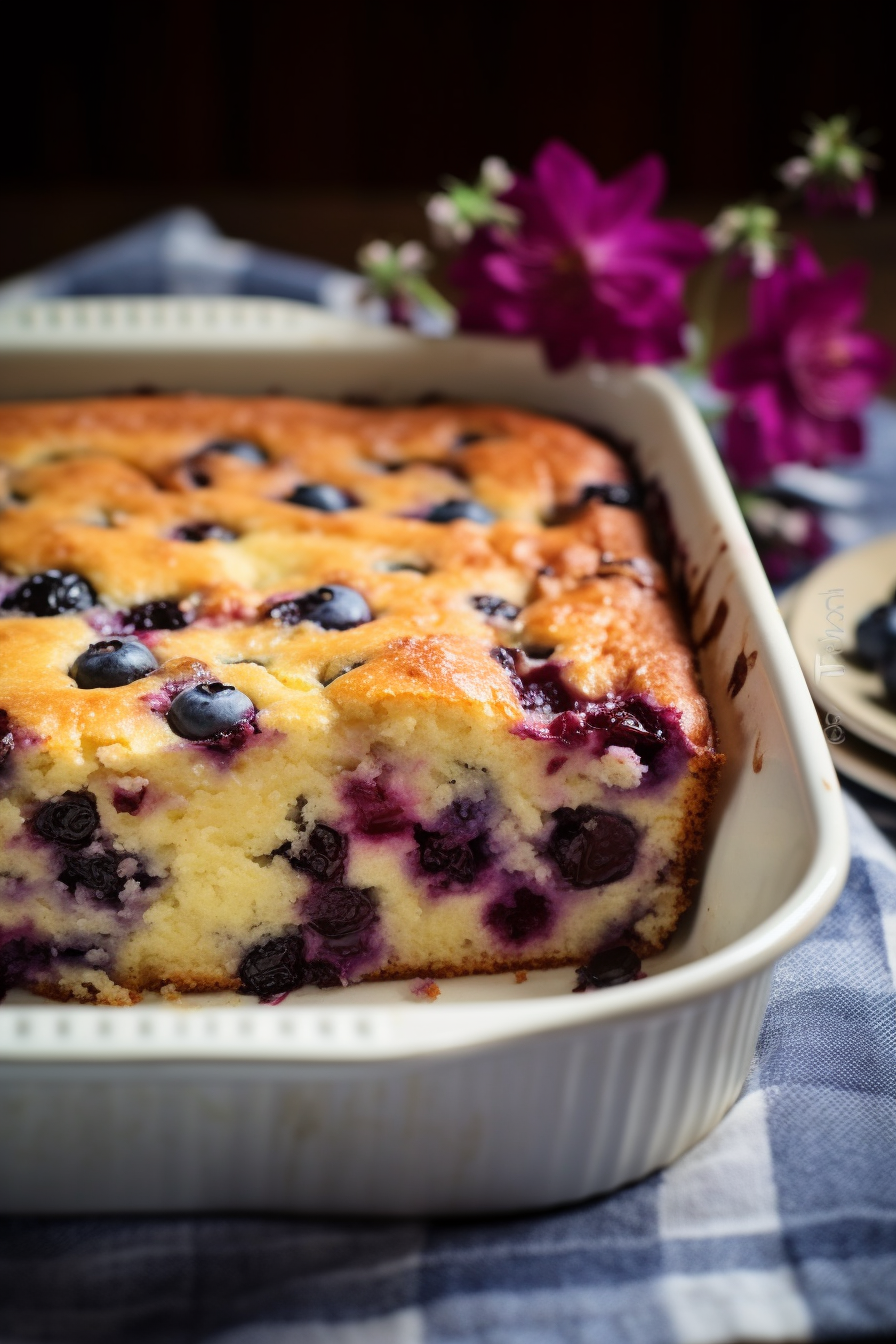 How To Make Buttermilk Blueberry Breakfast Bake
Start by preheating your oven to 350º F, setting the stage for magic to happen. Get a square baking dish and give it a little love by greasing it lightly with butter or a non-stick spray.
Take a medium-sized bowl and whisk together 1 3/4 cups flour, baking powder, and salt; this is your dry ingredient base.
Moving on to a larger bowl or mixer, combine the butter, sugar, and the zesty lemon zest. Mix them well for around 3-5 minutes till they have a fluffy texture and a lighter color. Once achieved, it's time to welcome the egg and vanilla extract into the mix.
Here's the fun part: alternate between adding your buttermilk and your dry ingredient mix, ensuring everything blends seamlessly.
Now, coat those luscious blueberries with the remaining 1/4 cup flour and fold them into the batter. This ensures they don't sink to the bottom. Pour this berry-beautiful batter into your prepared dish and sprinkle it with sugar for that extra sweet crunch.
Finally, let your oven work its magic for about 40 minutes. Check for its readiness with a toothpick; if it comes out clean, it's done! Let your masterpiece cool down a bit, then slice, serve, and be ready for the praises!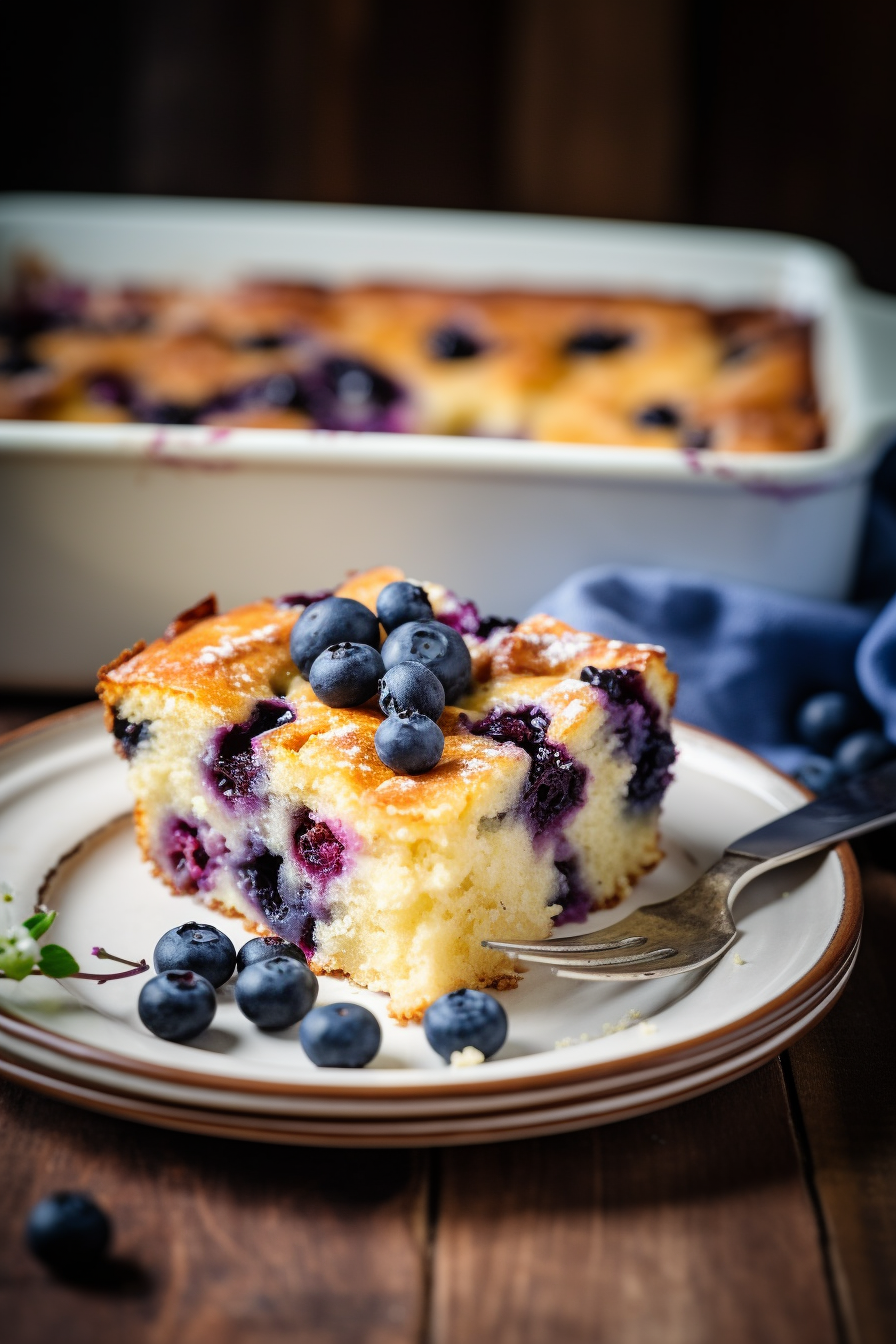 Storage Options
Once you've managed to stop yourself from devouring the entire bake, you can store the leftovers in an airtight container. It'll stay fresh at room temperature for about 2 days. If you're looking for a longer shelf life, pop it into the fridge; it'll last up to a week. But honestly, who can resist it for that long?
Variations and Substitutions
Feel like shaking things up a bit? Swap out blueberries for raspberries or blackberries for a tangy twist. If you're not a fan of buttermilk, Greek yogurt is a fabulous substitute, giving a creamy richness. For those who are gluten-sensitive, replace the all-purpose flour with almond flour or any gluten-free blend of your choice. And if you're in the mood for some nutty goodness, throw in a handful of crushed walnuts or almonds. Remember, it's your bake, and there's no limit to creativity!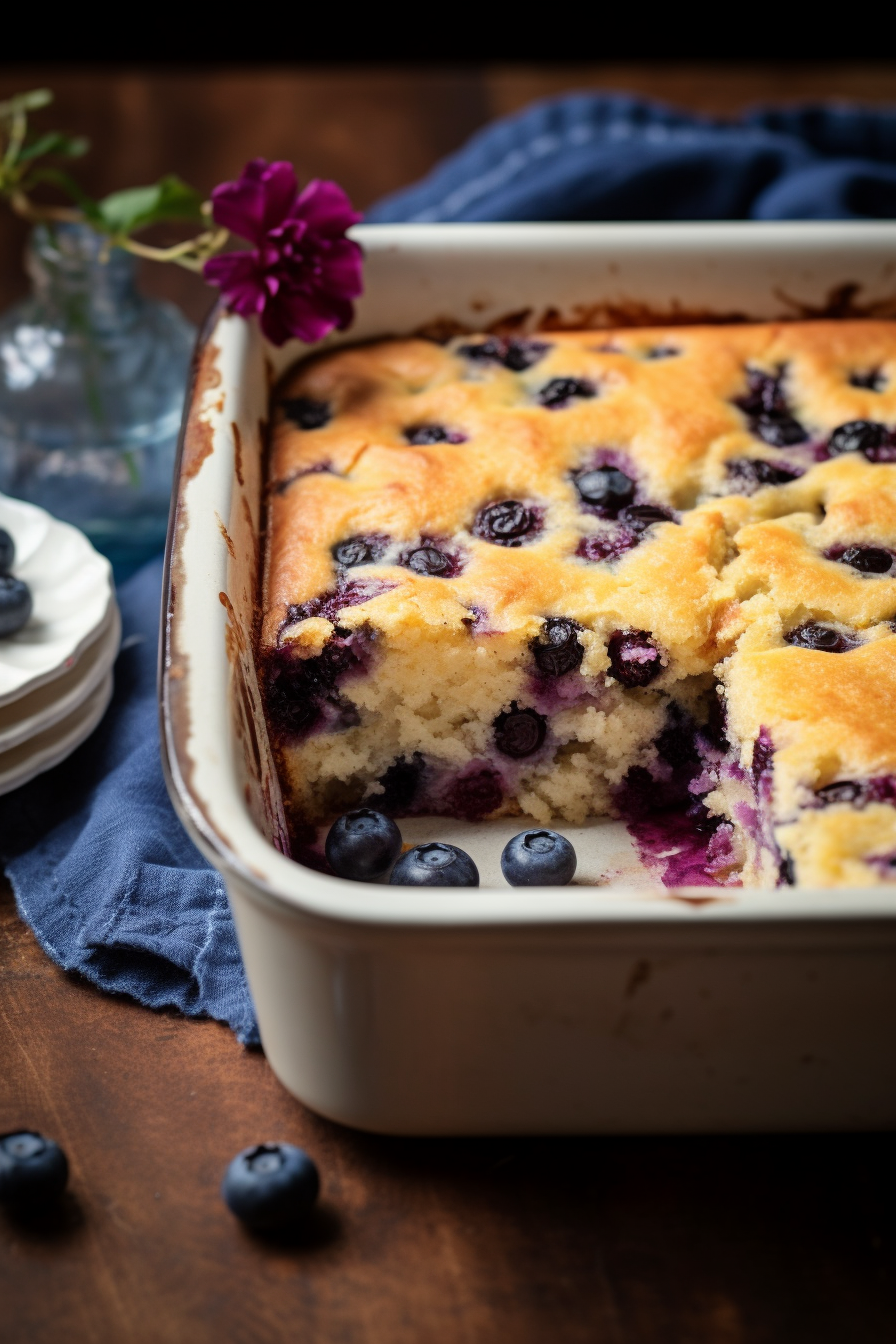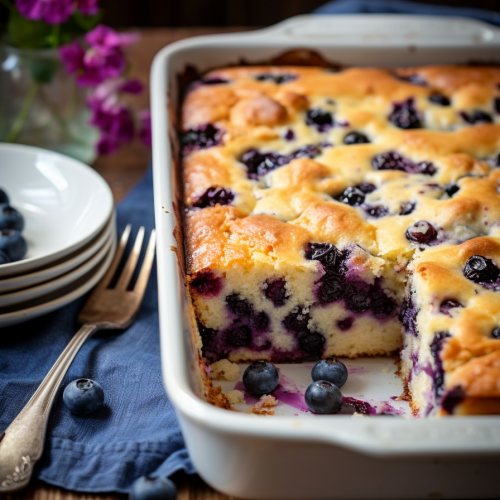 Buttermilk Blueberry Breakfast Bake
Sink your teeth into the delightful fusion of blueberries, buttermilk, and a hint of lemon zest. This Buttermilk Blueberry Breakfast Bake is a morning's dream come true, enveloped in the warm embrace of vanilla and sugar.
Print
Pin
Rate
Ingredients
2

cups

of all-purpose flour

segregated

2

cups

of fresh blueberries

1

cup

of granulated sugar

with an additional amount reserved for the cake's surface

1/2

cup

of cultured buttermilk

1/2

cup

equivalent to 1 stick of unsalted butter, brought to room temperature

The zest of 1 lemon

1

large egg

maintained at room temperature

2

teaspoons

of baking powder

1

teaspoon

of vanilla extract

1

teaspoon

of kosher salt
Instructions
Preheat the oven to a temperature of 350º F. Subsequently, prepare a square baking dish by lightly greasing it either with butter or a non-stick agent.

In a medium-sized mixing bowl, combine 1 3/4 cups of flour with the baking powder and kosher salt. Stir until well-integrated.

In a separate, larger bowl, combine the room temperature butter, granulated sugar, and lemon zest. Utilizing an electric mixer, blend the components until the mixture is light in color and exhibits a fluffy texture. This process should take approximately 3-5 minutes.

Introduce the egg and vanilla extract into the large bowl and continue the mixing process until all ingredients are well-incorporated.

Gradually introduce the cultured buttermilk and previously prepared flour mixture into the large bowl. It's essential to alternate between these two components, ensuring that they blend seamlessly.

In a distinct bowl, coat the blueberries with the remaining 1/4 cup of flour. This procedure aids in preventing the berries from settling at the base of the bake. Once coated, incorporate the blueberries into the primary batter mixture.

Transfer the batter to the pre-greased baking dish. As a final touch, sprinkle the reserved granulated sugar uniformly over the surface of the batter.

Position the baking dish in the preheated oven and allow to bake for a duration of approximately 40 minutes. To confirm its readiness, insert a toothpick into the center of the bake—if it emerges clean, the bake is complete.

Once removed from the oven, it is imperative to allow the dish to cool prior to serving. The result should be a sophisticated and delightful Buttermilk Blueberry Breakfast Bake, ready for consumption.