Homemade croutons are a great way to elevate your soups and salads to the next level. They are easy to make, so there is no excuse for not making your own. Best of all, you can flavor the croutons with herbs, cheeses, and garlic to complement your dishes.
Although you may use sliced sandwich bread, I prefer crusty French bread for croutons. I find that sandwich bread is usually too thin and crumbly, so this is a great way to use leftover stale baguettes since they are already in the process of drying out. If you don't have bread at home, keep an eye on your local grocery store or bakery. You can usually buy day-old baguettes at a fraction of the price.
If flavoring the croutons with garlic, you'll want to make sure that you use a Microplane Zester/Grater
to grate the garlic. Larger bits of garlic can burn and taste acrid. I also like to let the garlic sit in the melted butter or olive oil a while to make sure that the garlic flavor really infuses into the liquid.
It's your decision if you want to leave the crust on the croutons. Personally, I love to leave the crusts on. It gives the croutons a nice rustic look. If you are using these croutons in a French onion soup, you can cut them into large, thin slices. Just place them side-by-side in the oven while baking and flip halfway through.
I used these garlic parmesan croutons in my roasted butternut squash soup. These crunchy croutons are perfect for soaking up the creamy golden soup.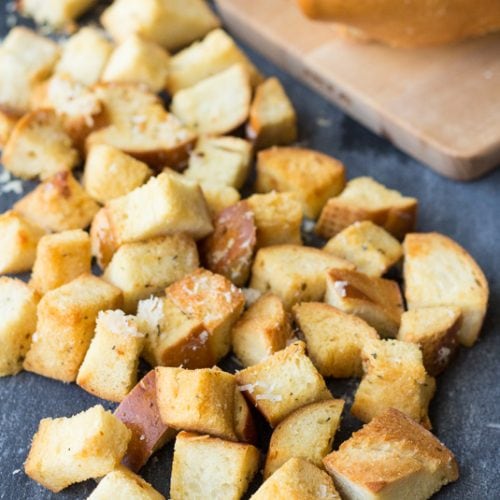 Homemade Garlic Parmesan Croutons
After making these homemade garlic parmesan croutons, you'll never want to buy the store-bought kind again!
Print
Pin
Rate
Ingredients
½

baguette

3

tbsp

parmesan, grated

½

tsp

Italian seasonings

1 – 2

cloves garlic, finely grated

4

tbsp

butter, melted

salt, to taste
Instructions
Preheat the oven to 350 degrees Fahrenheit.

In a small bowl, combine the finely grated garlic and melted butter. Allow to sit for a few minutes or up to a couple of hours for the flavors to infuse.

Cut the bread into small cubes and place into a medium-sized bowl. Toss with the garlic and butter. Spread the cubes out over a baking sheet sprayed with cooking spray. Sprinkle with salt and Italian seasonings.

Bake in the preheated oven until golden brown, about 10 to 15 minutes. Remove the croutons from the oven and toss with the parmesan cheese. Bake for an additional 3 to 5 minutes to melt the cheese.

Allow the croutons to cool completely , then store in an airtight container for up to a few days.