Indulge in the dreamy blend of toffee, pecans, and buttery cake with the Toffee Pecan Dream Bars; a perfect alternative to the classic pecan pie without the sticky fuss!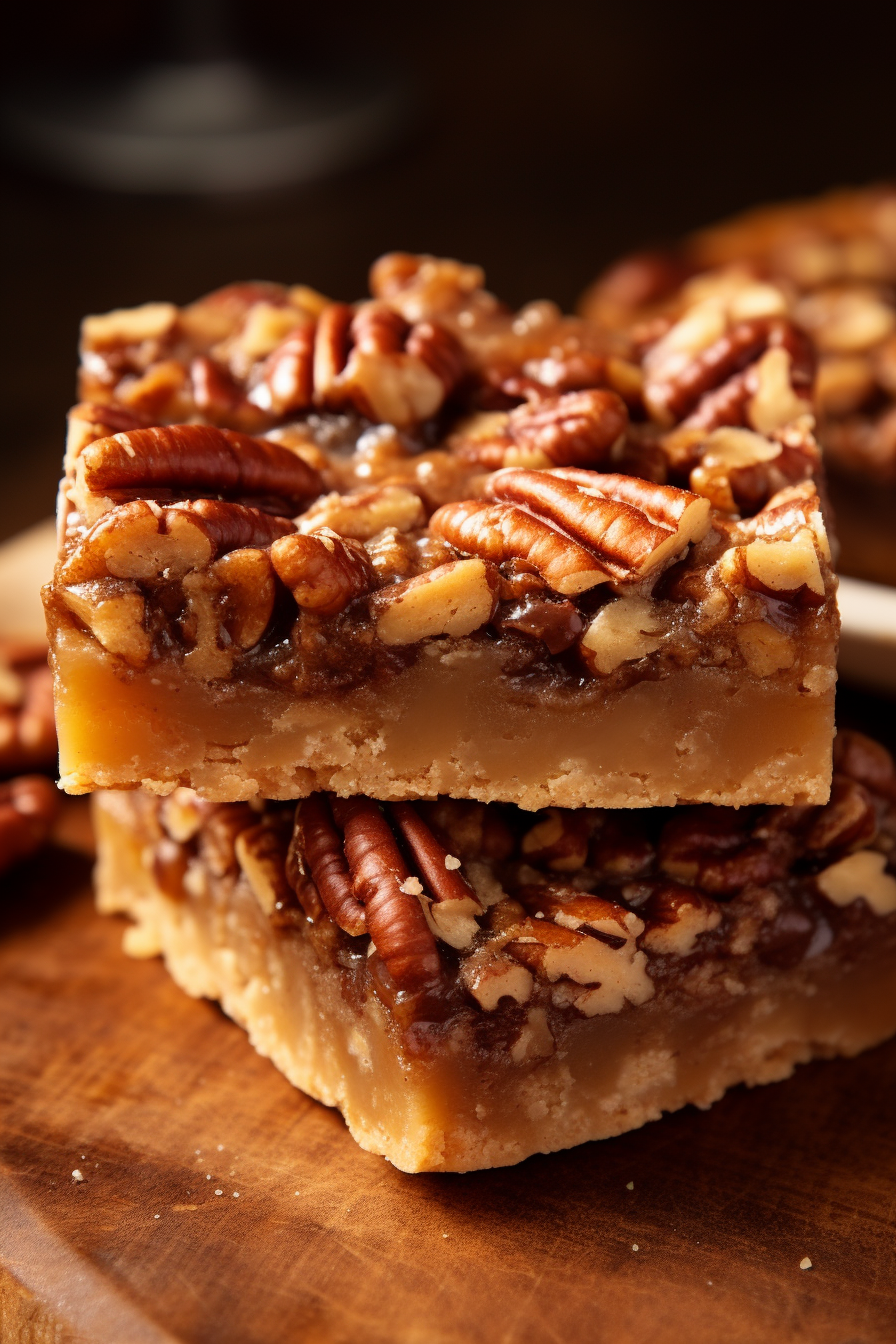 Ah, the tale of the elusive perfect pecan pie in my kitchen. Year after year, I've tried. And year after year, my pecan pies have sadly been a letdown. But the universe works in mysterious ways. One day, out of sheer frustration, I thought, "Why not transform this into something different?" And thus, these Toffee Pecan Dream Bars were born. It's like my baking mishaps converged into this beautiful accident. Instead of that traditional pie, I created these squares of joy that not only taste divine but also save me from the sticky pecan pie aftermath. Oh, and let me spill a little secret: these bars are a huge hit during our family gatherings. My once "pecan pie failure" label has magically transformed into "the Toffee Pecan Dream Bar Queen"!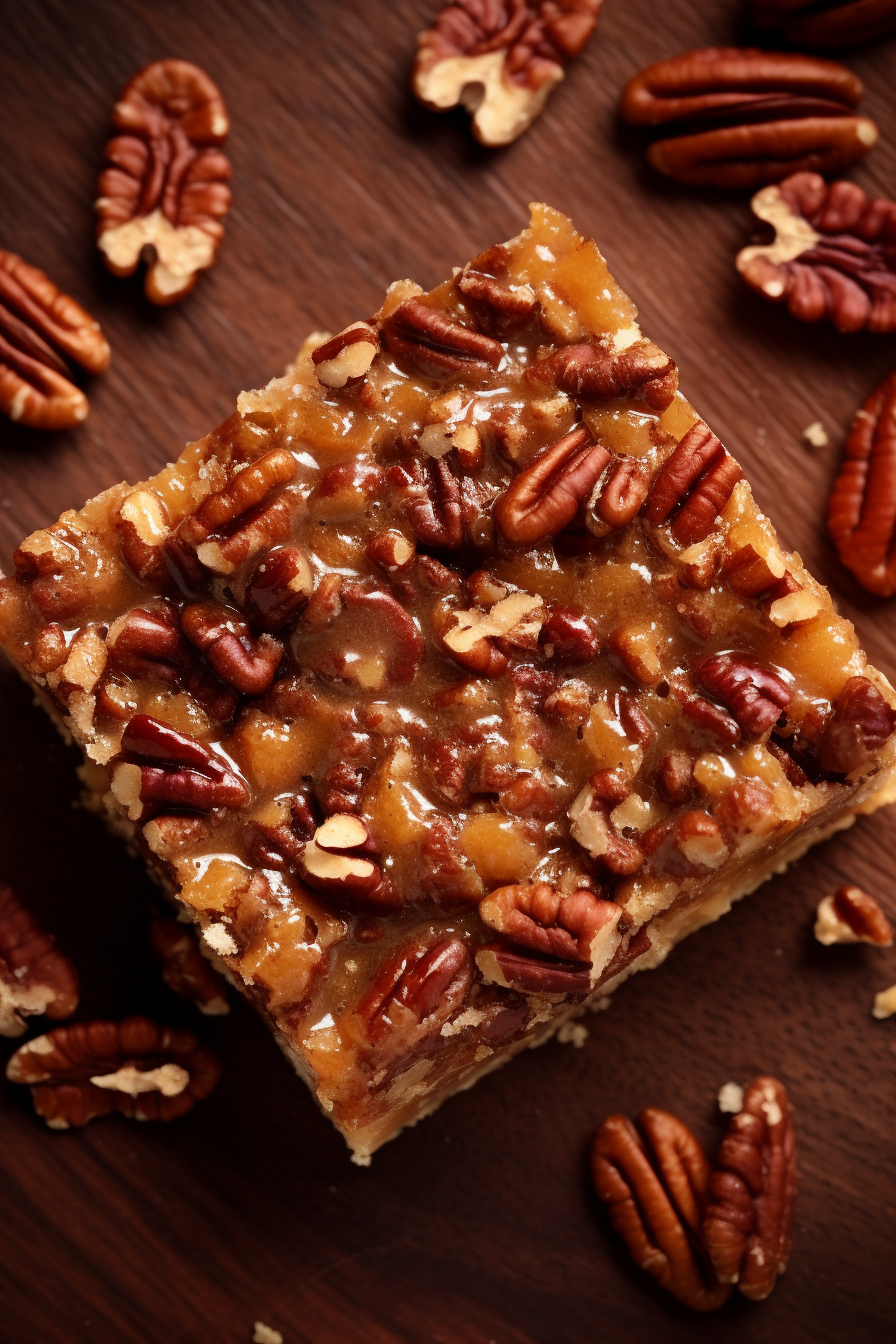 Why You'll Love Toffee Pecan Dream Bars:
Toffee Pecan Dream Bars are the delightful mavericks of the dessert world. Here's why:
firstly, they are a refreshing break from the regular pecan pies which, let's face it, can sometimes be a sticky business.
Secondly, they are astonishingly simple to make, ensuring that you won't spend hours in the kitchen.
And lastly, they combine the crunch of pecans, the sweetness of toffee, and the richness of buttery cake – a trinity of flavors that can woo any palate. It's like giving your taste buds a first-class ticket to flavor town!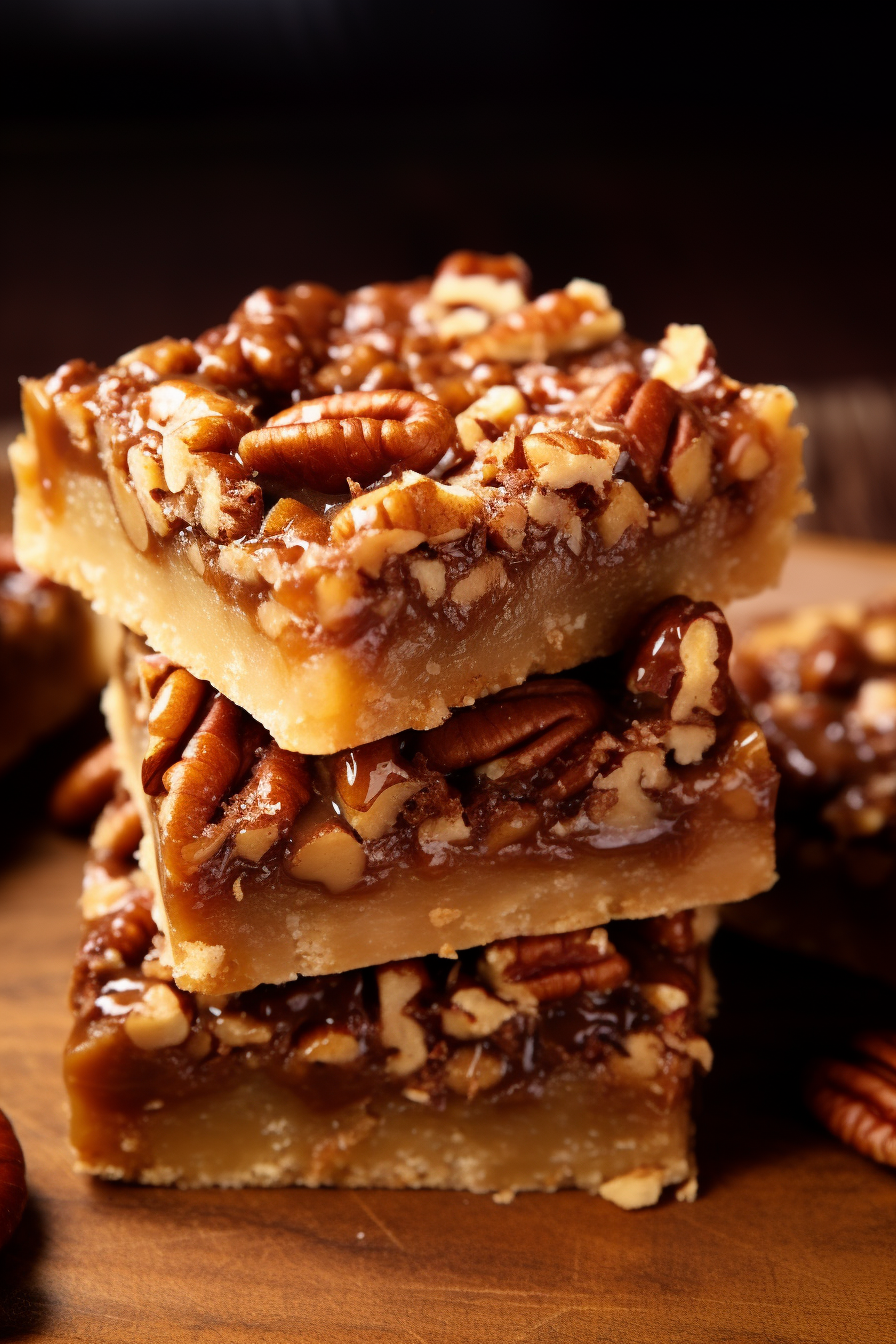 Ingredients Notes For Toffee Pecan Dream Bars:
Starting with the cake mix, opt for a high-quality brand – it really makes a difference. If you're in a pinch, both yellow and butter cake mix work well, so choose according to your preference.
As for the eggs, fresh farm eggs bring in a richer taste, but store-bought ones are just fine.
When it comes to Eagle Brand Milk, it's a sweetened condensed milk which is thick and sweet, acting as the luscious binding agent for our toppings.
Now, the butter – make sure it's softened but not melted.
For our stars: the pecans should be freshly chopped for that delightful crunch, and the Heath Milk Chocolate Toffee Bits – oh boy, these little nuggets bring in the toffee magic to the bars.
How To Make Toffee Pecan Dream Bars:
Let's break this down into deliciously simple steps, shall we?
Oven Preheating: Set your oven to 350 degrees. This ensures a consistent temperature, making the bars bake evenly.
The Base: Mix together your cake mix, one egg, and that lovely softened butter. You're looking for a crumbly texture. Once achieved, gently press this mixture into a greased 9×13 pan. This is your foundation, the base that'll hold the delicious topping.
The Topping: In a separate bowl, whisk together the condensed milk, the other egg, and vanilla until it's all blended nicely. This creates a creamy consistency. Now, for the fun part – fold in those delicious toffee bits and the chopped pecans. Pour this mixture over your prepared crust.
Baking: Pop it into the oven for roughly 30 minutes. Keep an eye out for those edges. If they start to brown, you're on the right track. Yes, the middle might play tricks on you by being a tad jiggly, but trust the process and avoid overbaking.
Cooling & Cutting: The hardest part? Waiting for it to cool completely. But once cooled, slice into those dreamy bars and enjoy!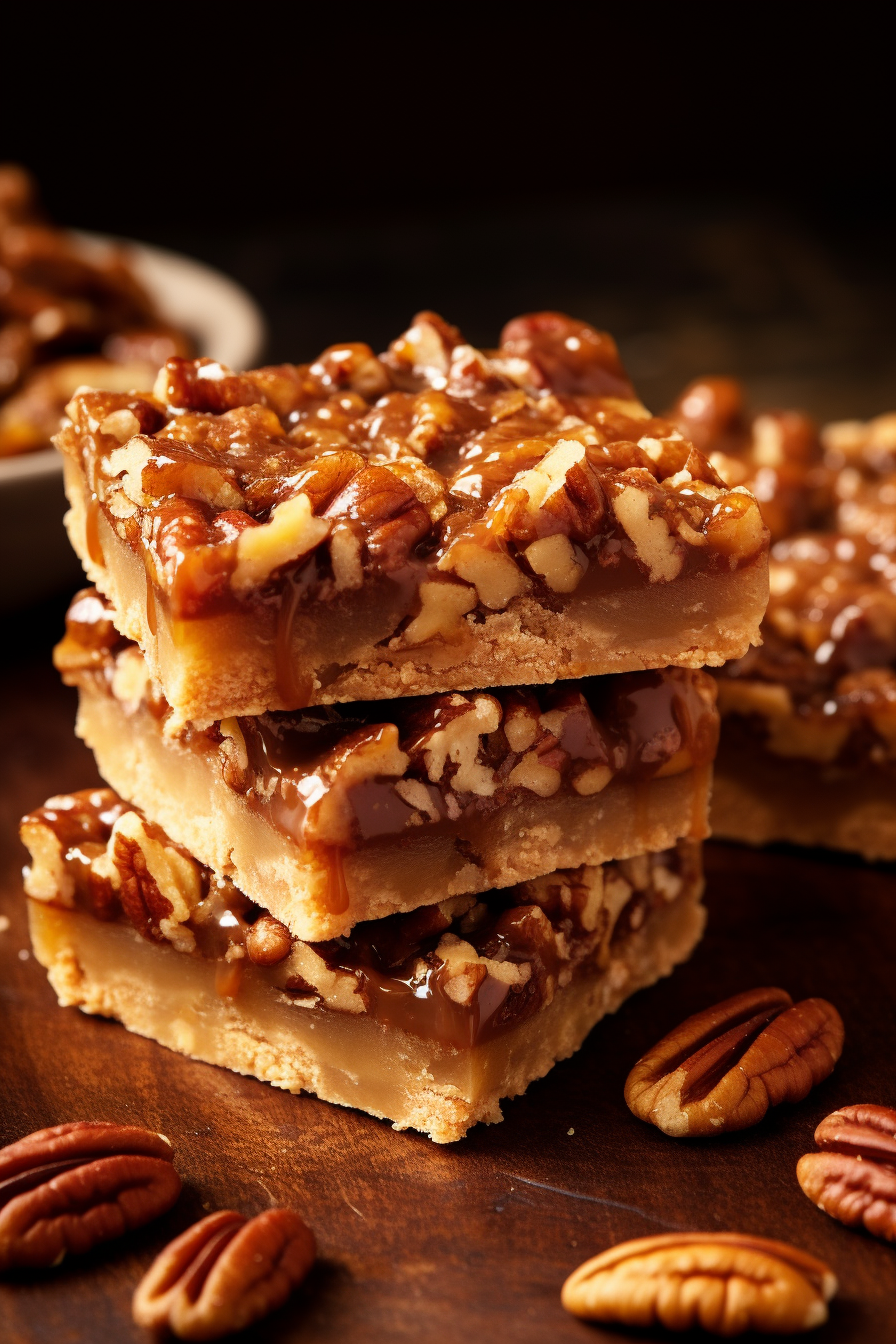 Storage Options:
After savoring one (or three) bars, you might wonder how to store the leftovers. First, ensure they are completely cooled. Then, place them in an airtight container, separating layers with parchment paper to avoid sticking. These dreamy bars can be stored at room temperature for about 3 days or in the refrigerator for up to a week. If you're looking for a longer storage option, these bars can be frozen for up to three months. Just thaw and enjoy when the craving hits!
Variations and Substitutions:
Feeling experimental? Let's shake things up a bit! Instead of pecans, try using walnuts for a slightly different nutty flavor.
Not a fan of toffee? Swap it out for chocolate chips or even caramel bits.
For a zestier version, add a hint of orange or lemon zest to the topping mixture.
If you're out of yellow or butter cake mix, a vanilla or white cake mix can also do the trick.
As for our vegans out there, vegan condensed milk and an egg substitute can be your go-to.
Hope you enjoy making and devouring these as much as I have! Happy baking!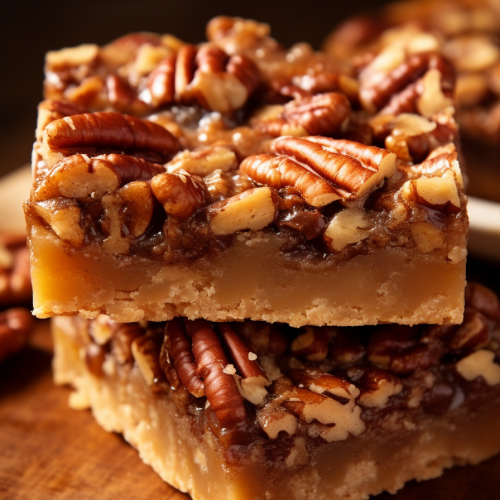 Toffee Pecan Dream Bars
Indulge in the dreamy blend of toffee, pecans, and buttery cake with the Toffee Pecan Dream Bars; a perfect alternative to the classic pecan pie without the sticky fuss!
Print
Pin
Rate
Ingredients
1

package of premium yellow or butter cake mix

2

fresh eggs

1

can of Eagle Brand Milk

sweetened condensed milk

1/2

cup

of high-quality softened butter

1

teaspoon

of pure vanilla extract

1

cup

of freshly chopped pecans

1/2

cup

of Heath Milk Chocolate Toffee Bits
Instructions
Preparation: Begin by setting your oven to preheat at a temperature of 350°F (175°C).

Crust Formation: In a sizeable mixing bowl, amalgamate the cake mix with one of the eggs and the specified amount of butter. Utilize a fork to integrate until the mixture reaches a crumbly texture. Firmly press this mixture onto the base of a 9×13 inch baking pan, which has been previously greased for ease of release.

Toffee-Pecan Mixture: In a separate bowl, combine the condensed milk, the second egg, and a splash of vanilla extract. Ensure these ingredients are blended seamlessly. Subsequently, fold in the toffee bits and chopped pecans, ensuring even distribution. Pour this luscious mixture over the previously prepared crust.

Baking: Position the pan in the preheated oven and allow it to bake for approximately 30 minutes. You'll notice the edges adopting a golden-brown hue. While the center might retain a slight jiggle, ensure you refrain from overbaking.

Cooling and Serving: Once baked to perfection, remove the pan from the oven and allow the bars to cool thoroughly. Upon reaching room temperature, segment them into individual bars and serve.
Notes
It is of paramount importance to allow the bars to cool completely. This not only solidifies the structure but also amplifies the flavors. Enjoy your Toffee Pecan Dream Bars with a beverage of choice.