Dive into a hearty plate of Monterey Chicken Spaghetti Casserole, marrying the comforts of rotisserie chicken, baby spinach, and creamy Monterey jack cheese, all wrapped up in a bed of luscious pasta. Pure, unadulterated comfort!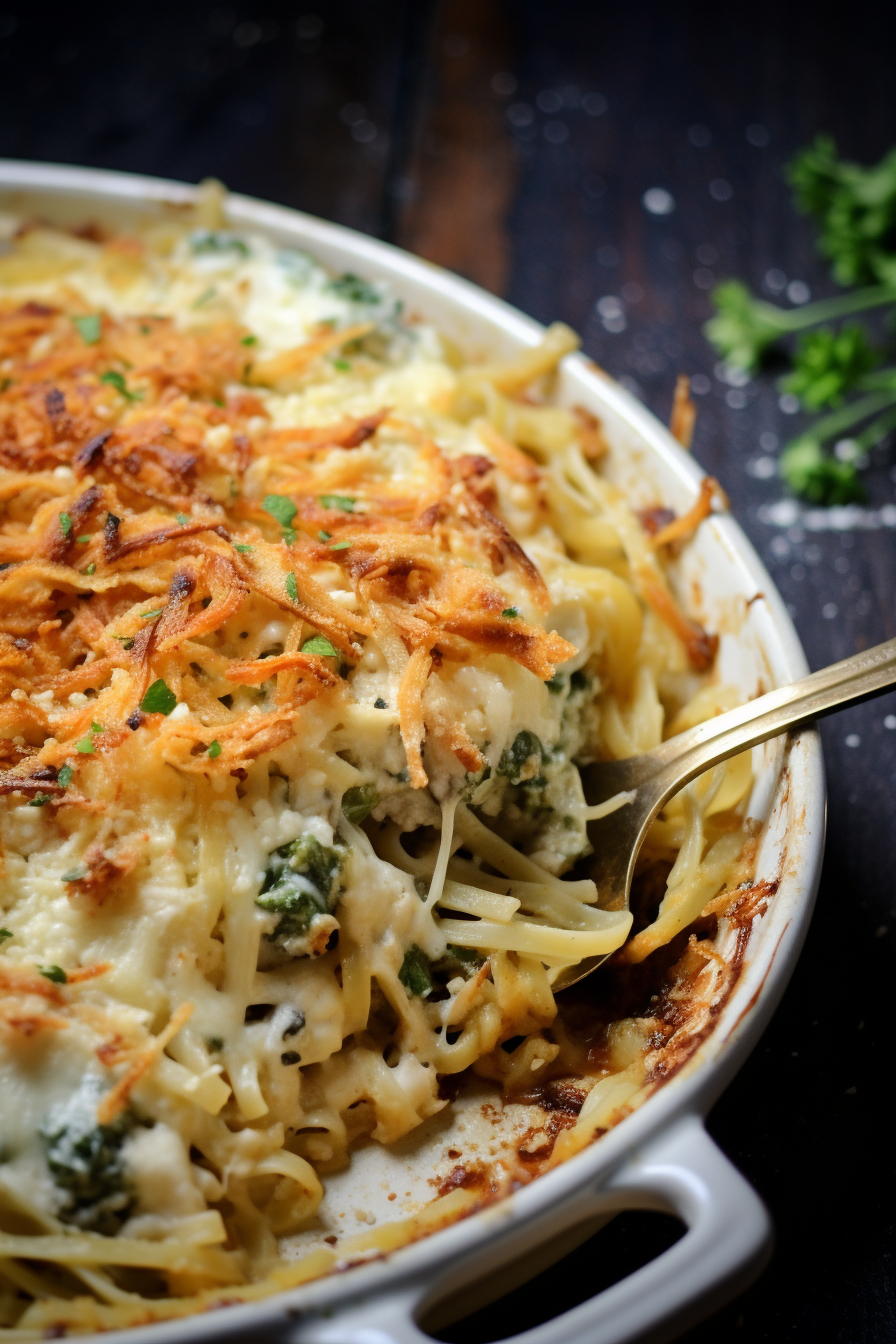 Alright, gather round, folks! 📣 Here's the little backstory of the legendary Monterey Chicken Spaghetti Casserole. Growing up in the Midwest, dinners were all about that comforting, soul-warming goodness. My granny – bless her – wasn't just a regular grandma; she was a cool grandma. She'd whip up this casserole on chilly nights and let me tell you, it became the star of our family dinners. The mere aroma wafting from the oven was enough to get us all bounding to the table, eager forks at the ready. In those bites of tender chicken, creamy sauce, and crispy onions, I found solace, comfort, and a piece of home. So, why am I sharing this family heirloom of a recipe? Because good things are meant to be passed on, and it's your turn to create memories with this dish!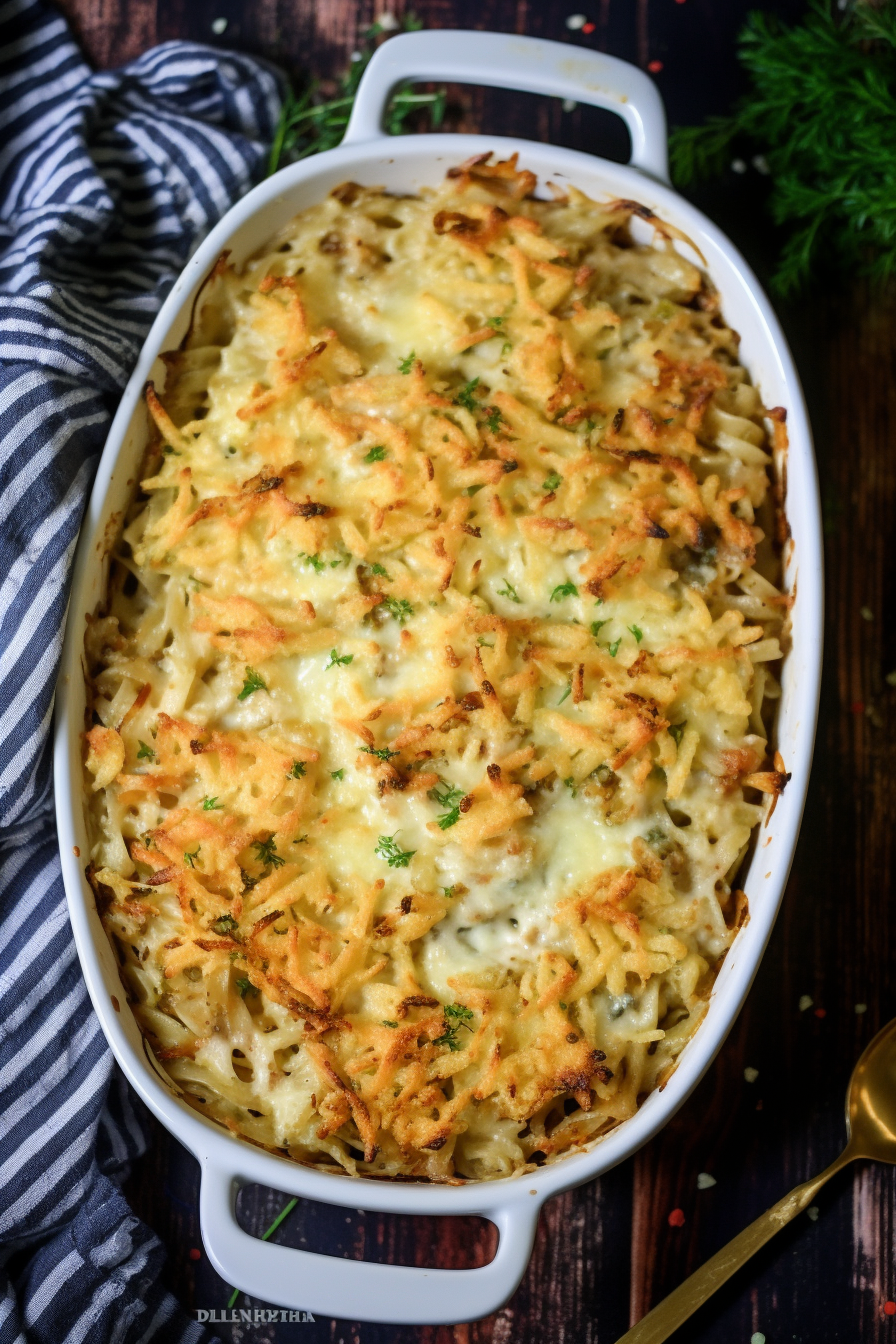 First off, can we just have a standing ovation for the unsung hero of our kitchens – the rotisserie chicken? 🐔 This recipe is all about smart cooking: leveraging that juicy, pre-cooked chicken makes prep a breeze! Then, there's that ooey-gooey Monterey jack cheese – a slightly spicy, wonderfully melty cheese that brings this casserole to rockstar levels. And let's not forget the twist of baby spinach, not just giving us a delightful texture but making us feel all righteous about our green intake! The crispy fried onions on top? The crunchy cherry on this culinary cake. It's a symphony of textures and tastes, each playing their own key role.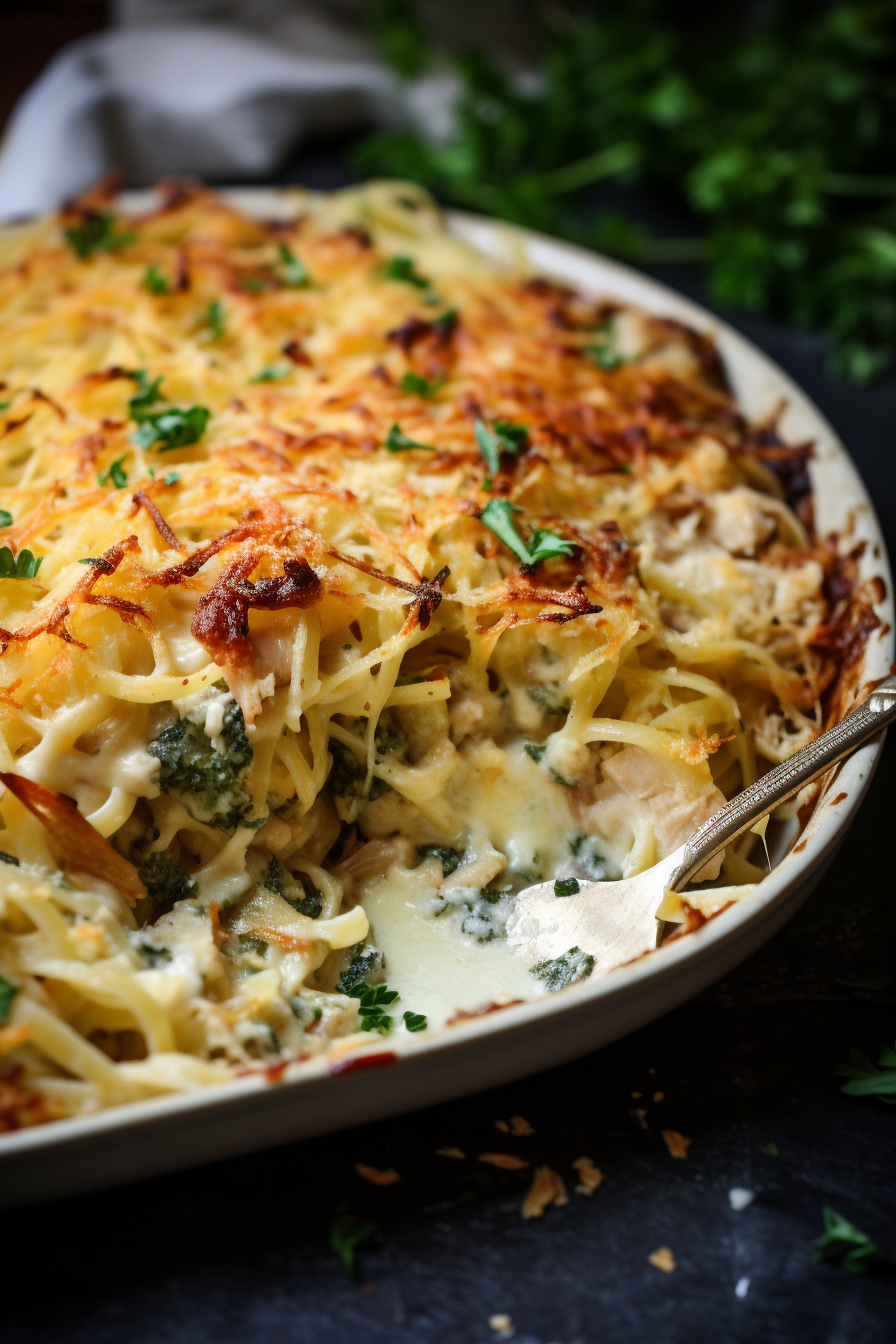 Ingredients for Monterey Chicken Spaghetti Casserole:
Rotisserie Chicken: You could technically cook and shred your own chicken, but let's face it, using rotisserie makes life so much easier (and tastier). Plus, let's champion any shortcut that still tastes fantastic!
Baby Spinach: Opt for fresh baby spinach. The frozen stuff? Meh. Fresh brings out a vibrant color and better texture.
Sour Cream: Go full-fat, because we're here for a good time, not a long time. Plus, it enhances the creaminess like nobody's business.
Monterey Jack Cheese: This cheese melts beautifully. Can't find it? Mozzarella can sub in, but with a bit of a flavor shift.
Pasta: Stick with the classics – spaghetti, linguini, or fettuccine. But if you're feeling wild, penne or rigatoni could shake things up!
How To Make Monterey Chicken Spaghetti Casserole:
Pasta: Start by boiling your pasta in salted water. This is like giving your pasta a nice little pre-party before the big event. Once it's al dente, drain and rinse with cool water. This stops the cooking process and ensures the pasta doesn't turn to mush. (Mushy pasta? Not on our watch!)
Mix Mix Mix: Grab your largest bowl. Dump in that glorious chicken, the condensed soup, the luscious sour cream, vibrant spinach, half of that melty cheese, fragrant garlic, and a sprinkle of those crispy onions. Give it a thorough mix. Make sure everyone in that bowl gets to know each other really well.
Pasta Party: Now, invite your pasta to the mix. This is where the magic starts to happen. The pasta, the creamy sauce, the chicken… everyone melding in beautiful harmony.
Transfer: Lightly spray your chosen dish. Pour that beautiful concoction into the dish and smooth it out. Make it look neat; we eat with our eyes first, remember?
Finishing Touch: That leftover cheese and crispy onions? They're not to be forgotten. Sprinkle them over the top. They'll turn golden and crispy, and basically become the crown jewel of the casserole.
Bake: Preheat that oven and bake until bubbly and golden. The anticipation will be high, but the result? Oh, so worth it!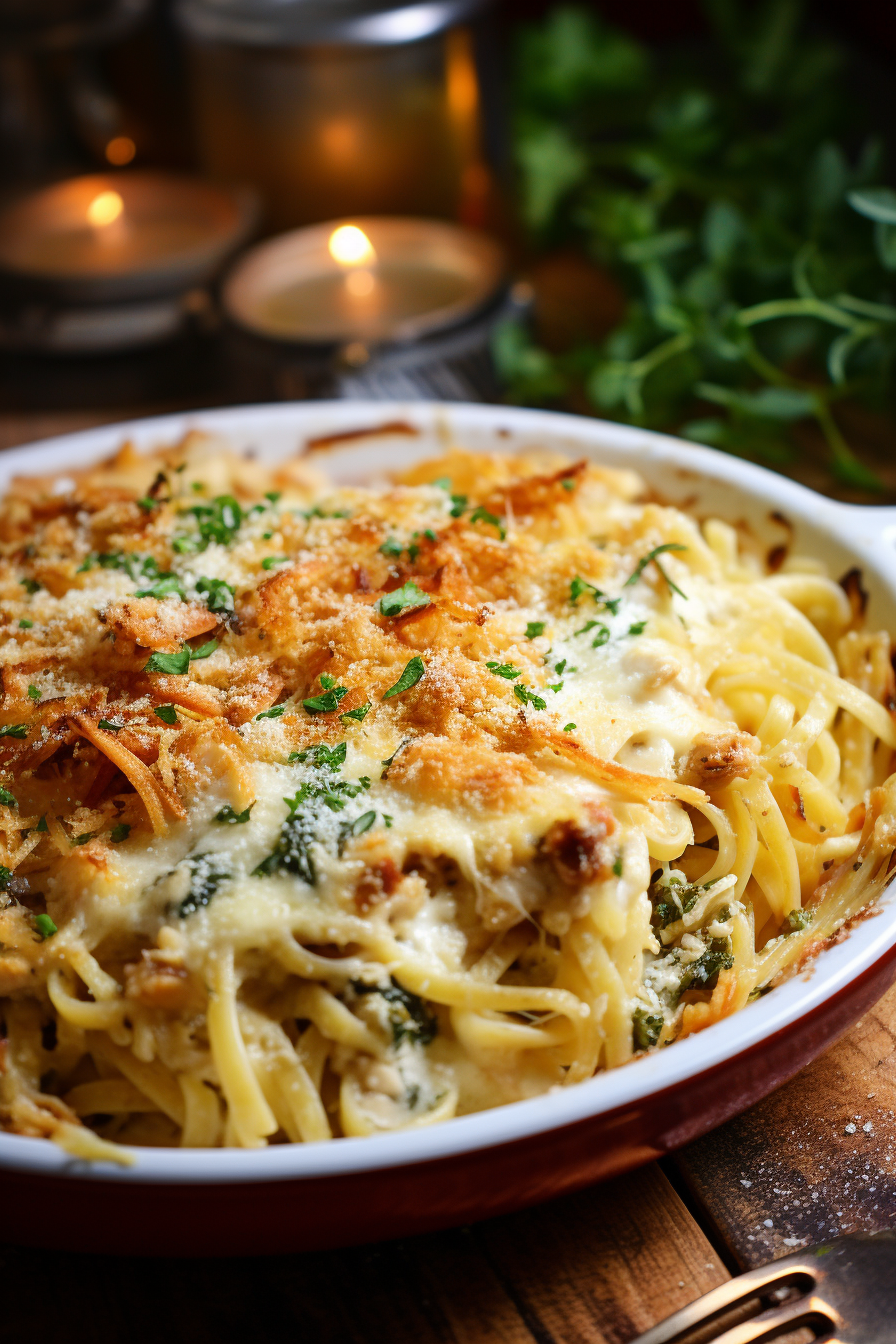 Storage Options for Monterey Chicken Spaghetti Casserole:
Leftovers? Well, if you've managed to resist devouring the whole thing (kudos!), simply cover the casserole dish with some cling film or transfer portions into airtight containers. This creamy wonder will stay fresh in the fridge for 3-4 days. Freezing? Sure thing! Make sure it's tightly wrapped, and you can pull out this beauty for a comfort food emergency. Just reheat in the oven for that fresh-baked taste.
Variations and Substitutions:
Here's where you can get playful! 🥳 Vegetarian? Swap the chicken for mushrooms or tofu. Not a spinach fan? Kale could be your green machine. Want a kick? Add some crushed red pepper flakes to the mix. Dairy-free? There are some fab non-dairy cheeses and sour creams out there. And for my gluten-free buddies, gluten-free pasta and a gluten-free cream soup will have you dancing in your kitchen.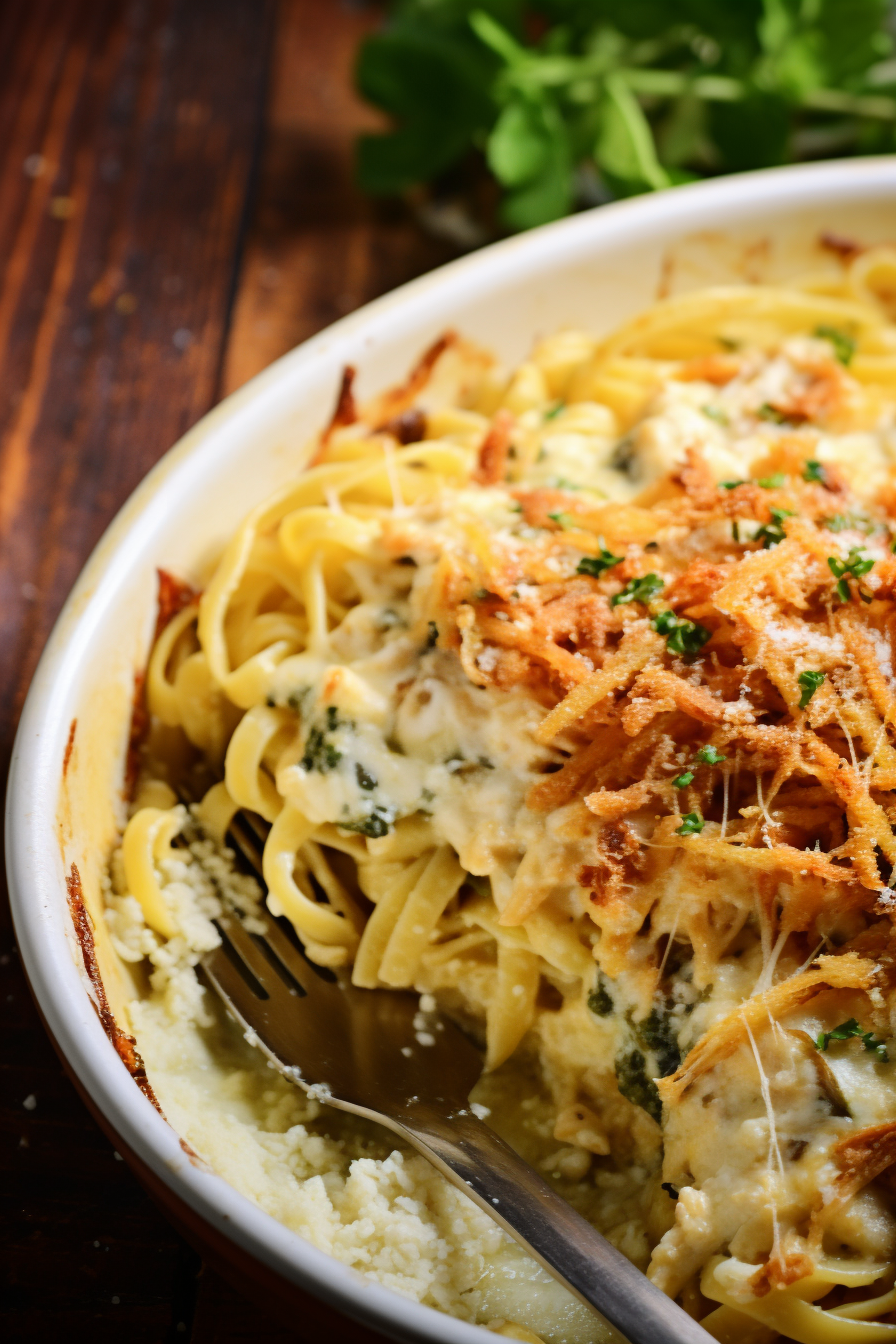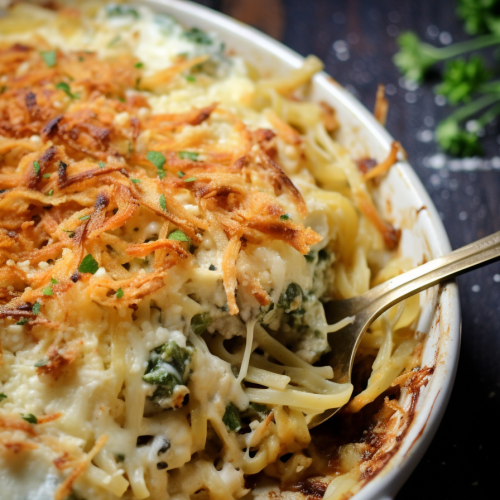 Monterey Chicken Spaghetti Casserole
Dive into a hearty plate of Monterey Chicken Spaghetti Casserole, marrying the comforts of rotisserie chicken, baby spinach, and creamy Monterey jack cheese, all wrapped up in a bed of luscious pasta. Pure, unadulterated comfort!
Print
Pin
Rate
Ingredients
4

cups

rotisserie chicken

finely chopped

4

cups

fresh baby spinach

finely chopped

2

cups

premium quality sour cream

2

cans cream of chicken soup

1

cup

Monterey jack cheese

finely shredded

1 1/2

tbsp

garlic

minced

1

cup

French fried onions

12

oz

premium pasta noodles

options include spaghetti, linguini, or fettucine
Instructions
Begin by boiling the pasta noodles in accordance with the manufacturer's specifications. Once the noodles reach an al dente texture, drain the water and rinse the noodles under cool water. This step ensures that the pasta remains firm. Set aside for later use.

In a large mixing bowl, combine the finely chopped rotisserie chicken, condensed cream of chicken soup, premium sour cream, fresh baby spinach, half of the finely shredded Monterey jack cheese, minced garlic, and half of the French fried onions. It's crucial to ensure a thorough mix, guaranteeing all elements integrate appropriately.

Incorporate the precooked pasta noodles into the mixture. Ensure an even distribution of the pasta within the mixture.

Prepare a 3-quart casserole dish or a 9×13-inch baking dish by lightly coating it with a non-stick cooking spray. This will prevent sticking and facilitate easier serving post-cooking.

Carefully transfer the mixed ingredients into the prepared baking dish, ensuring a smooth and even spread.

Garnish the top layer with the remaining half of the Monterey jack cheese and French fried onions. Distribute them uniformly across the surface.

Preheat the oven to a temperature of 350°F (175°C). Once reached, insert the dish into the oven and bake for a duration of 40-45 minutes.
Nutrition
Calories:
586
kcal
|
Carbohydrates:
57
g
|
Protein:
17
g
|
Fat:
32
g
|
Saturated Fat:
16
g
|
Cholesterol:
65
mg
|
Sodium:
973
mg
|
Potassium:
419
mg
|
Fiber:
2
g
|
Sugar:
4
g
|
Vitamin A:
2683
IU
|
Vitamin C:
7
mg
|
Calcium:
274
mg
|
Iron:
3
mg