Dive into bite-sized delights with our Apple Pie Cookies – brimming with juicy apples, a hint of cinnamon, nutmeg, and a lavish drizzle of caramel. It's apple pie packed into a cookie!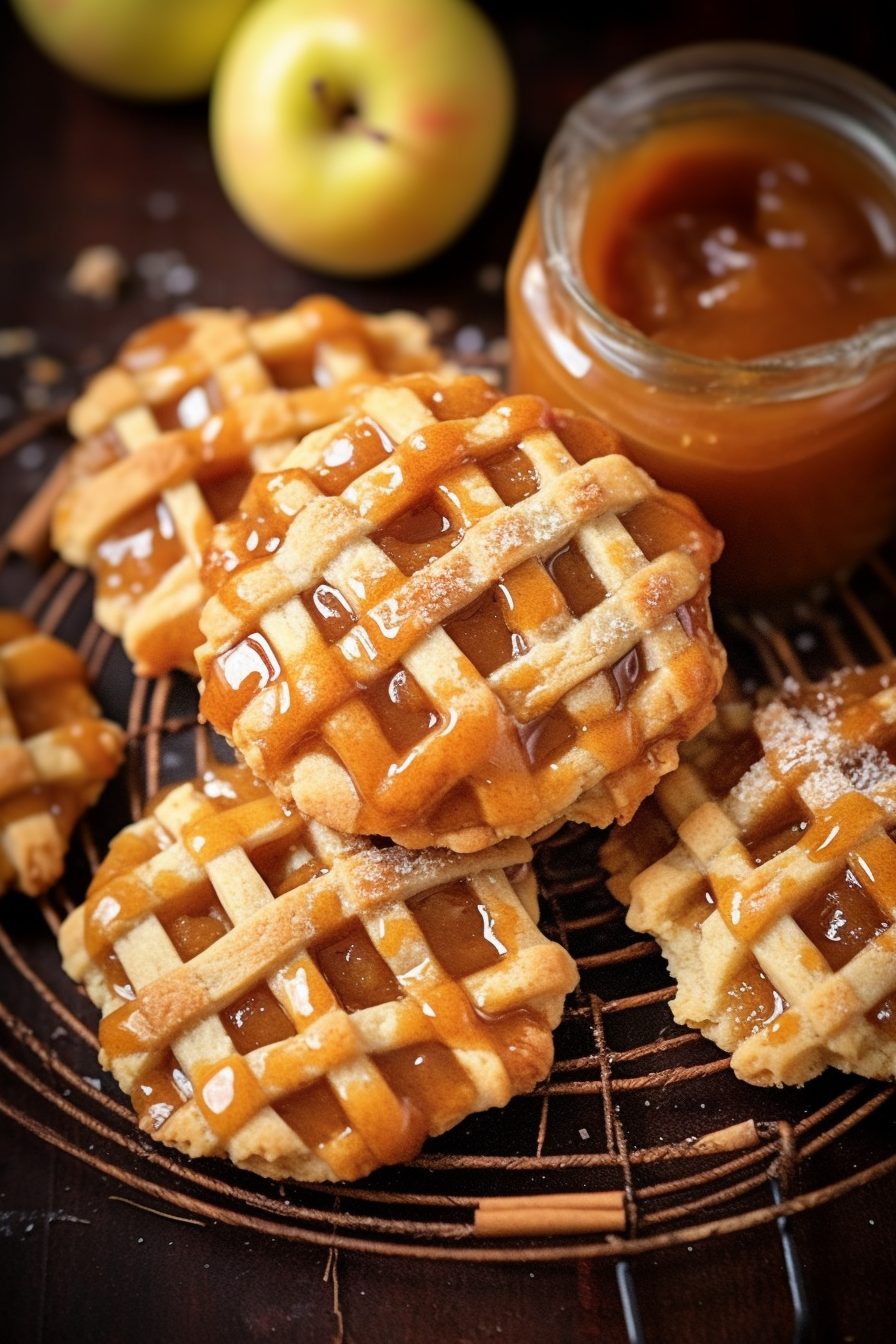 My grandmother always said, "The best memories are those made in the kitchen." As a child, I often found myself perched on her kitchen counter, eagerly watching her expertly craft her legendary apple pie. But there was this one day, a lazy Sunday afternoon, when I ambitiously proposed, "Why not make apple pie…but tiny?" Grams chuckled and said, "Why not indeed!" And thus, the Apple Pie Cookies were born. From that day on, our cookie creation became our little secret – the perfect treat to enjoy with an afternoon tea or just a giggle. Over the years, as I've baked these for friends and family, the joy these cookies brought reminded me time and again of that treasured afternoon with my grandmother.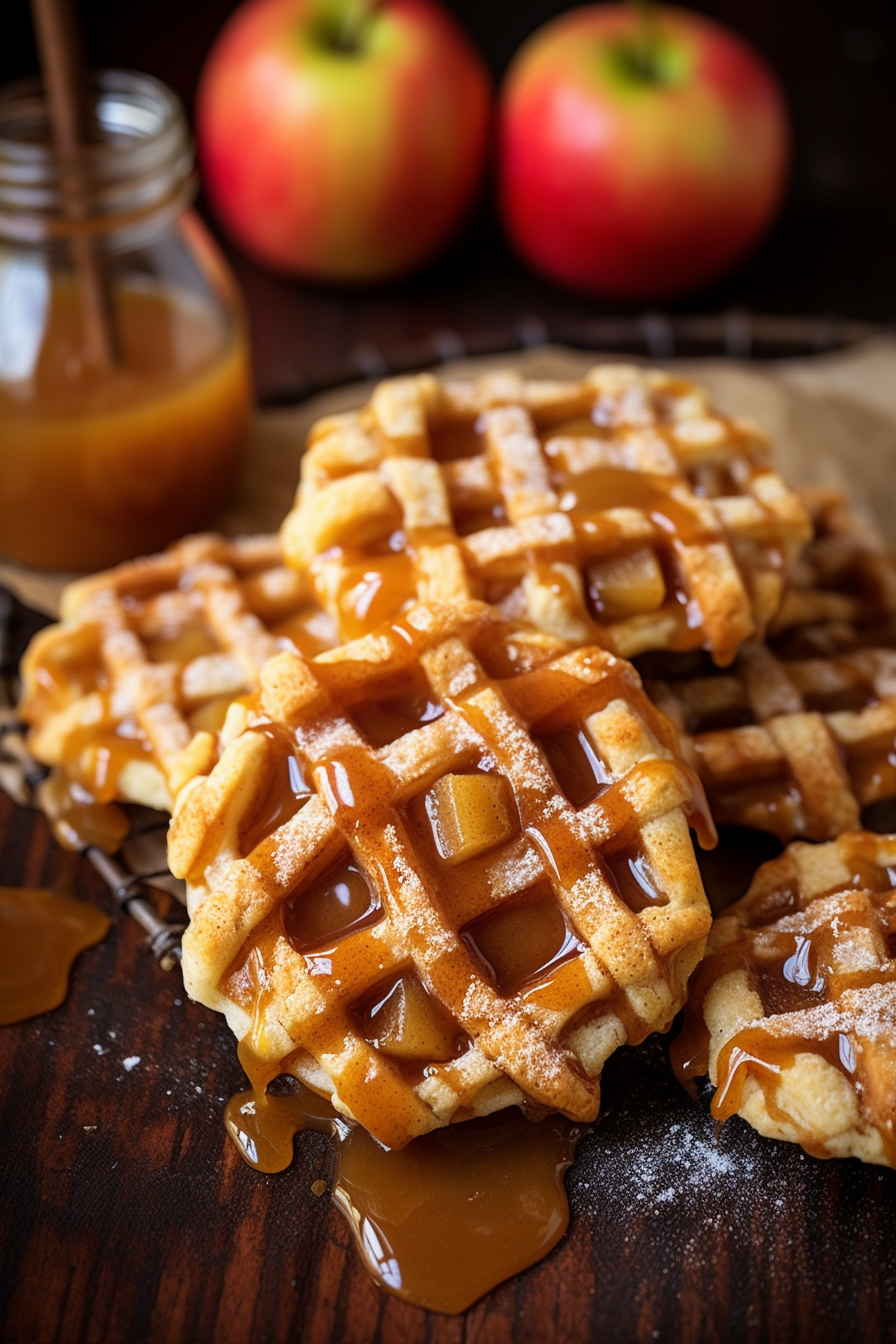 Why You'll Love Apple Pie Cookies:
Our Apple Pie Cookies are not just another cookie recipe. They are:
A Culinary Fusion: Classic apple pie meets convenient cookie. Think of it as apple pie's hip younger sibling!
Perfect Portions: They give you all the apple pie feels without overindulging. And hey, no judgment if you reach for that second… or third cookie.
Fork-Free: That's right, folks! Experience the bliss of apple pie without the mess or the need for utensils. Perfect for those "on-the-go" dessert moments or for sneaky midnight snacking.
Multi-Textured Marvel: With gooey caramel, soft apple chunks, and a crispy crust – it's a texture party in every bite!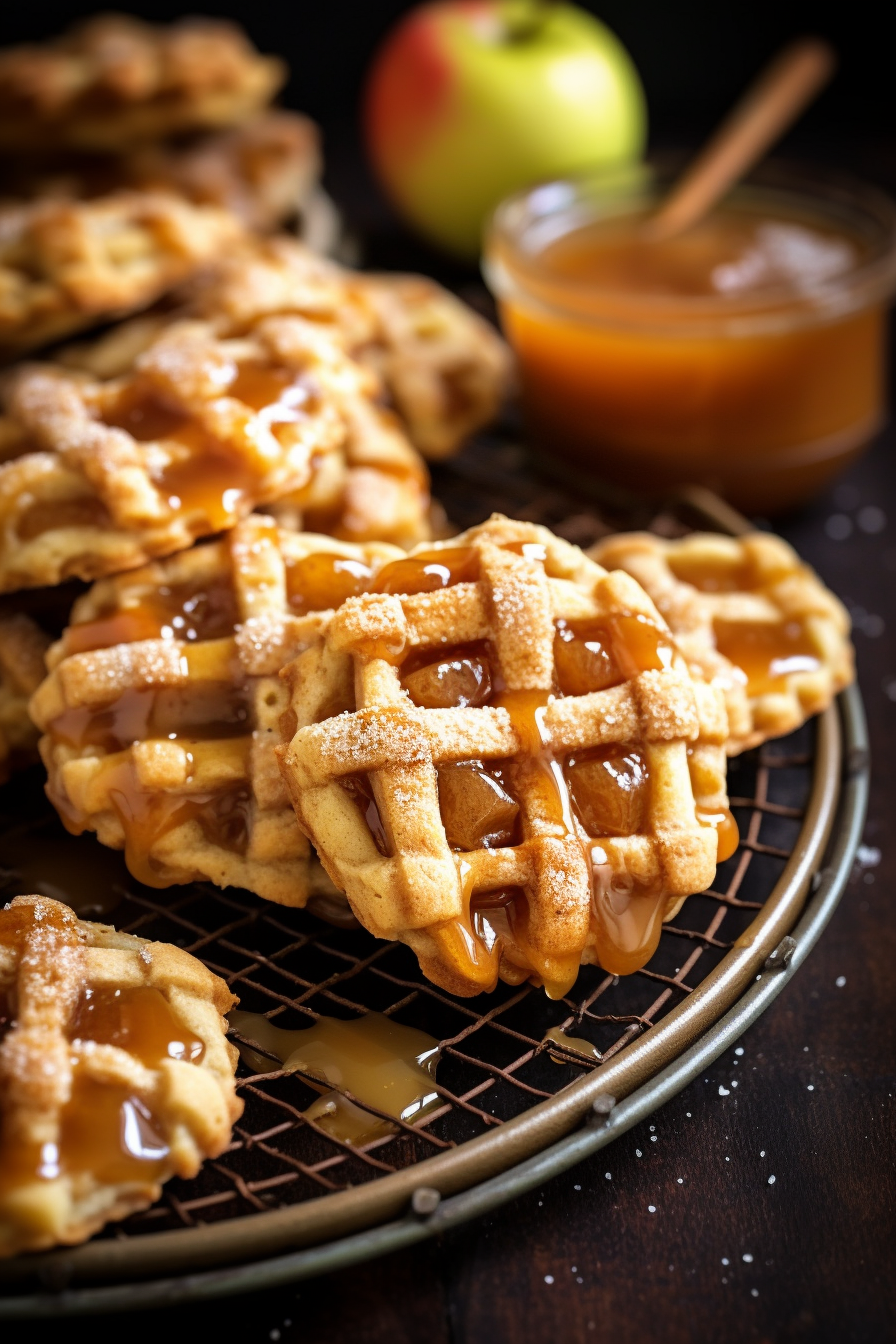 Ingredients Notes For Apple Pie Cookies:
Apples: Go for a tart variety like Granny Smith for a flavor punch. But hey, any apple in a cookie is a good apple, right?
Lemon Juice: It's not just for taste! It prevents our precious apples from browning. So, it's like a mini beauty spa treatment for our apple slices.
Refrigerated Pie Crust: Short on time? It's okay to cheat a bit. I promise we won't tell.
Caramel Sauce: Feel free to use store-bought, but if you're feeling fancy, homemade always adds that special touch.
Easy-to-follow Steps To Make Apple Pie Cookies:
Apple Pie Filling: Begin by giving your apples a lemony bath. Now, mix all the filling ingredients, except apples, in a saucepan. Get it nice and thick, then introduce the apples to this luscious mixture. Let them simmer, get cozy, and then once cool, chop them into tiny bite-sized pieces.
Pie Crust Extravaganza: Mix the dry ingredients, then cut in the cold butter. Here's a workout – use that pastry blender with gusto! Now, add ice water bit by bit until it's doughy perfection. Split, wrap, chill. Once chilled, roll out both discs.
Assembling the Cookie Masterpiece: Preheat. Always preheat. Lay out one pie crust, smother it with caramel, then with apple bits. Now for some arts and crafts! Create a lattice with the second crust. Use a cookie cutter (or a glass if you're feeling rebellious) to shape your cookies. Place on a baking sheet, egg-wash, sprinkle some cinnamony-sugar, and bake till golden magic happens.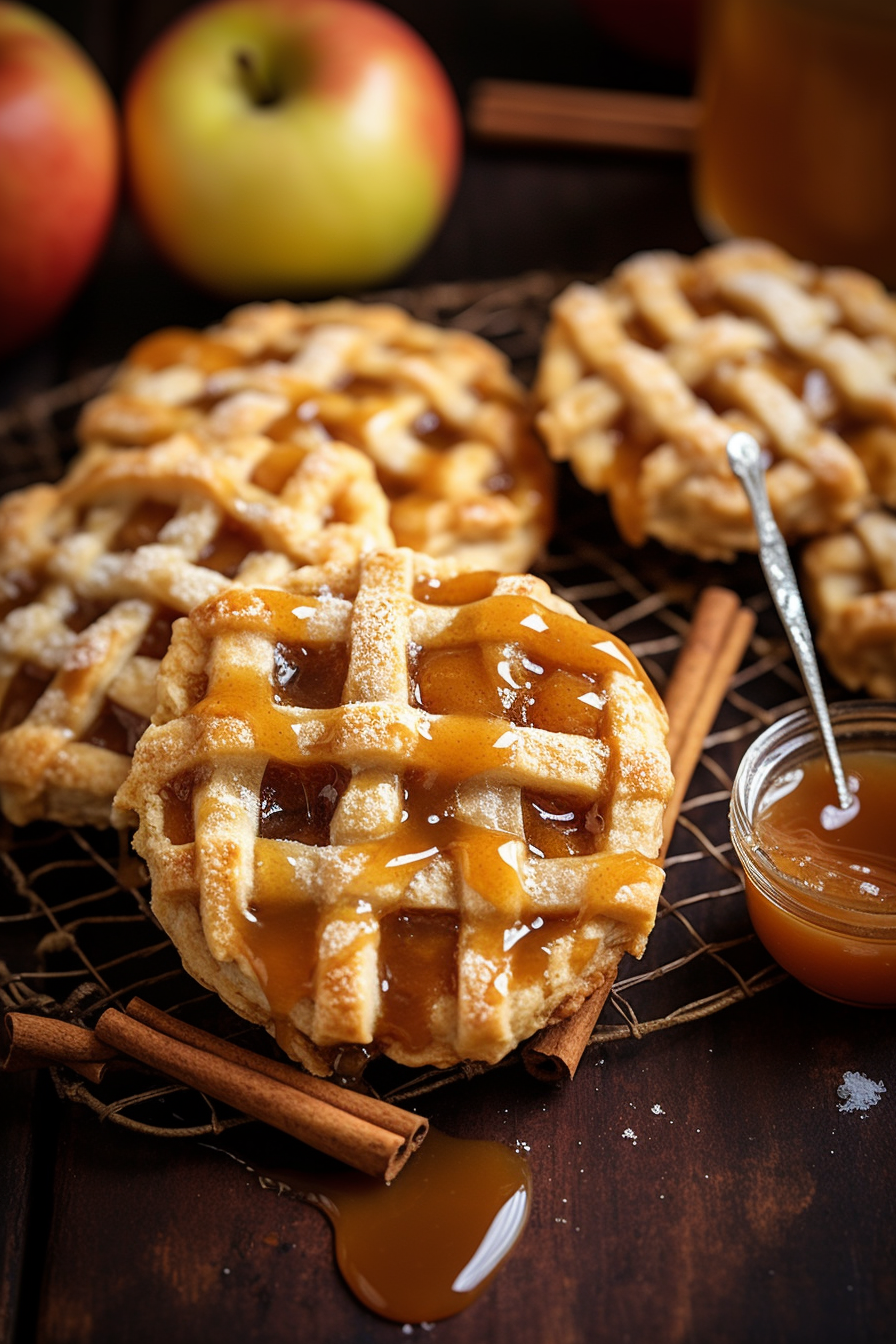 Storage Options:
Once cooled, store these beauties in an airtight container. They'll last up to 5 days on the counter, but if you can resist them for that long, you have more self-control than I do!
Variations and Substitutions:
Peachy Delight: Swap out apples for peaches for a summery twist.
Spice It Up: A pinch of clove or cardamom can give an exotic spin.
Veganize It: Use a vegan pie crust and brush with almond milk instead of egg.
Chocolate Drizzle: Because chocolate makes everything better. Drizzle some melted chocolate over the top for an extra layer of yum.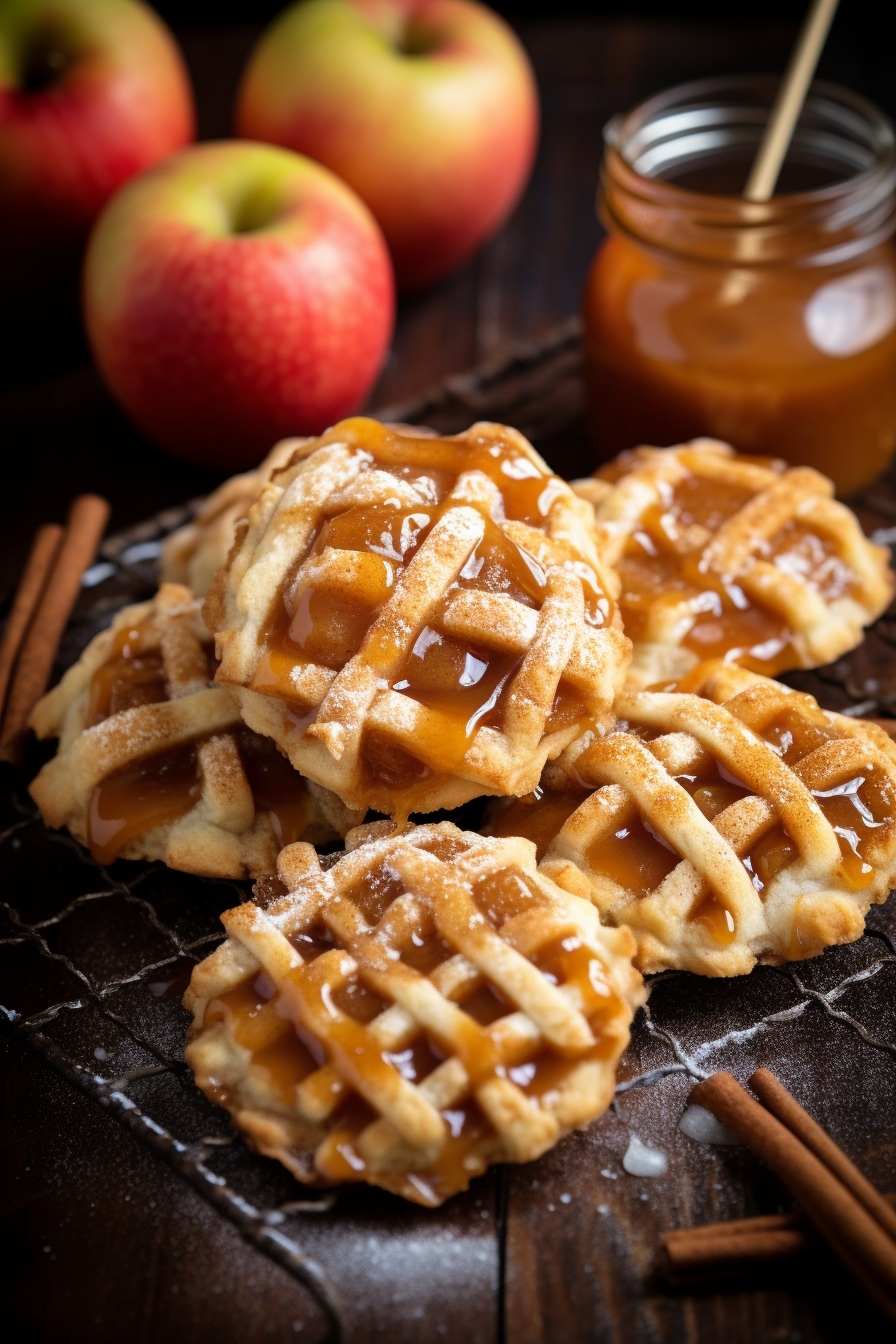 Remember, my fellow cookie enthusiasts, baking is both an art and a science. Embrace the journey, and don't stress the crumbs! 🍪🍏🎉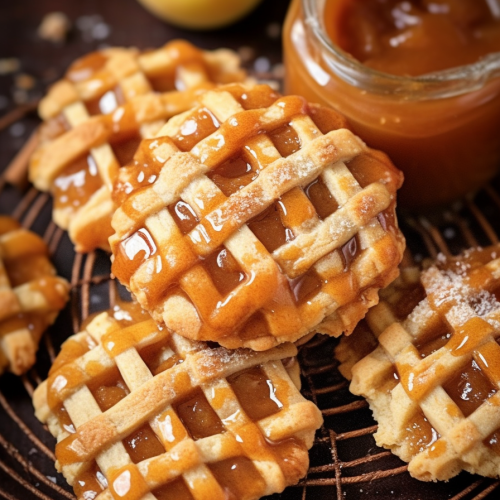 Apple Pie Cookies
Dive into bite-sized delights with our Apple Pie Cookies – brimming with juicy apples, a hint of cinnamon, nutmeg, and a lavish drizzle of caramel. It's apple pie packed into a cookie!
Print
Pin
Rate
Ingredients
Apple Pie Filling Components:
3

apples

approximately 1 lb, peeled and segmented into eight slices each

1-2

tablespoons

of lemon juice

3

tablespoons

of granulated sugar

3

tablespoons

of brown sugar

3

tablespoons

of cornstarch

1/2

teaspoon

of ground cinnamon

A hint of nutmeg

3/4

cup

of water
Pie Crust Components:
1

cup

equivalent to 2 sticks of unsalted butter, segmented into cubes and chilled

2 1/2

cups

of all-purpose flour

1

teaspoon

of salt

1

teaspoon

of sugar

1/4

cup

of ice water

Alternatively

one may utilize 1 package of pre-made refrigerated pie crust (consisting of 2 crusts)
Filling and Garnish Components:
1 3/4

cups

of apple pie filling

finely diced

1

cup

of caramel sauce

1

egg

beaten lightly

1

teaspoon

of ground cinnamon

1/4

cup

of granulated sugar