Dive into the sweet and savory fusion of crescent rolls wrapped around Lit'l Smokies, with a hint of dijon mustard and glazed with a rich brown sugar-butter mix, finished off with poppy seeds and Worcestershire sauce. A party delight!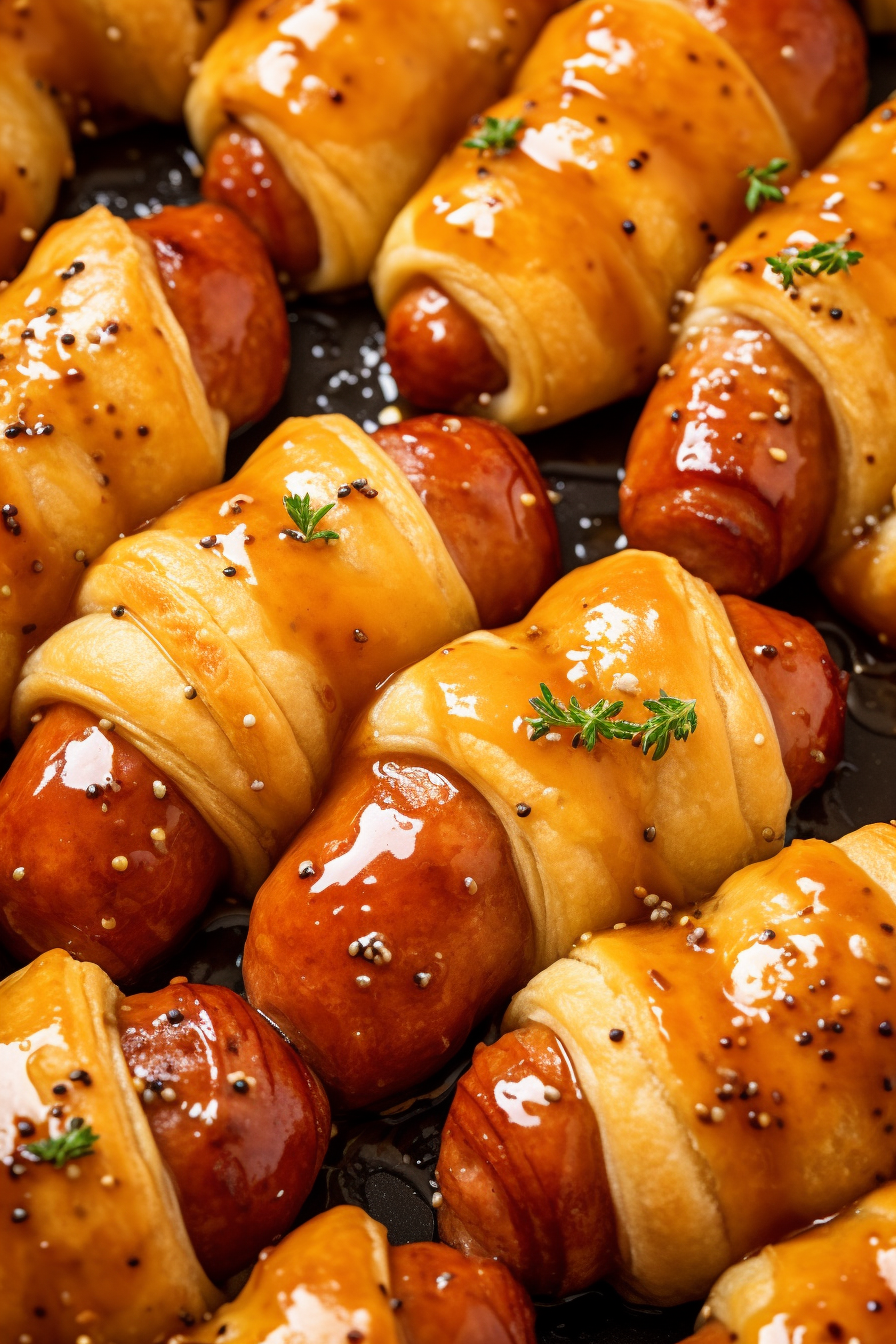 Ah, the legend of the 'Glazed Pigs in a Blanket'! Once upon a recent Sunday, in a kitchen that smelt of memories and budding ideas, I felt the familiar pang of inspiration. My guests were due in an hour, and I had the usual suspects at my disposal – crescent rolls, Lit'l Smokies, and a pantry stocked for magic. But I wanted to offer something beyond the ordinary, an appetizer that would get the party talking, something… legendary. A sweet and savory brown sugar glaze danced in my imagination, and I envisioned the rolls, piglets wrapped up all snug, swimming in a pool of luscious glaze. Fast forward, I hesitantly placed these treats at the party's epicenter. Within minutes, poof! They vanished! And thus, the legend was born.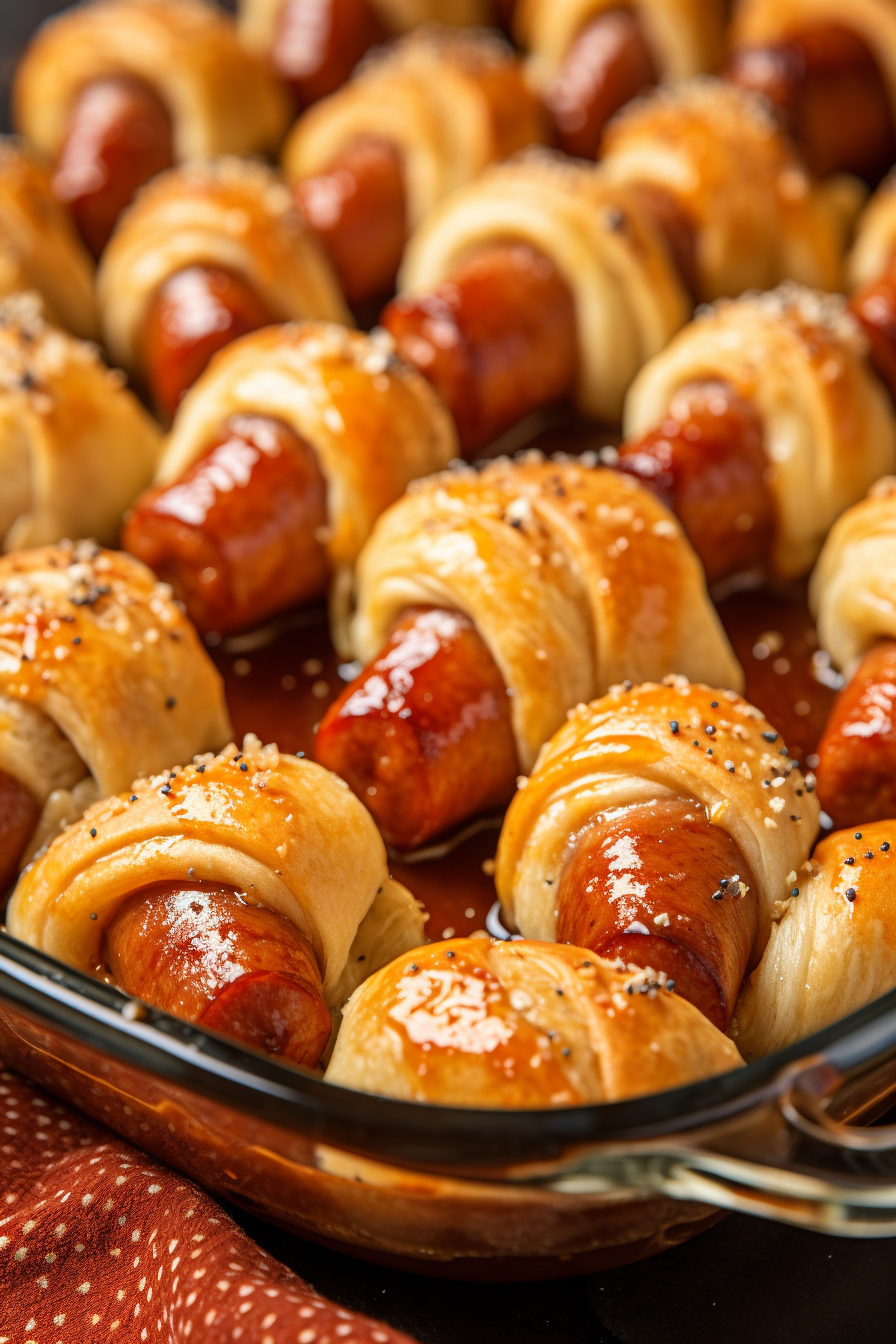 Let's talk shop. What makes these 'Glazed Pigs in a Blanket' not just pigs but legendary pigs?
Double the Fun: While typical pigs in a blanket play it safe, this recipe takes it up a notch with a rich brown sugar glaze that complements the meatiness.
Tailgate Hero: These aren't just any party snacks. With a hint of dijon and the crunch of poppy seeds, you're serving gourmet in finger-food style!
Quick and Easy: 40 minutes from start to finish? Score! This recipe promises minimal prep with maximum results.
What are the ingredients for the GLAZED PIGS IN A BLANKET:
Crescent Rolls: The flaky outer layer, crucial to our pig's comfort. Make sure they're fresh for the best results.
Lit'l Smokies: The star of our dish, these little sausages bring the savory meatiness.
Dijon Mustard: Adds a sophisticated kick to the mix. Don't skip this; it's the secret handshake of our dish.
Brown Sugar & Butter: This combo is what makes the glaze, well, glaze. It's the sweet embrace our pigs deserve.
Poppy Seeds & Worcestershire Sauce: Think of them as the unexpected plot twist in your favorite series, adding depth and flavor!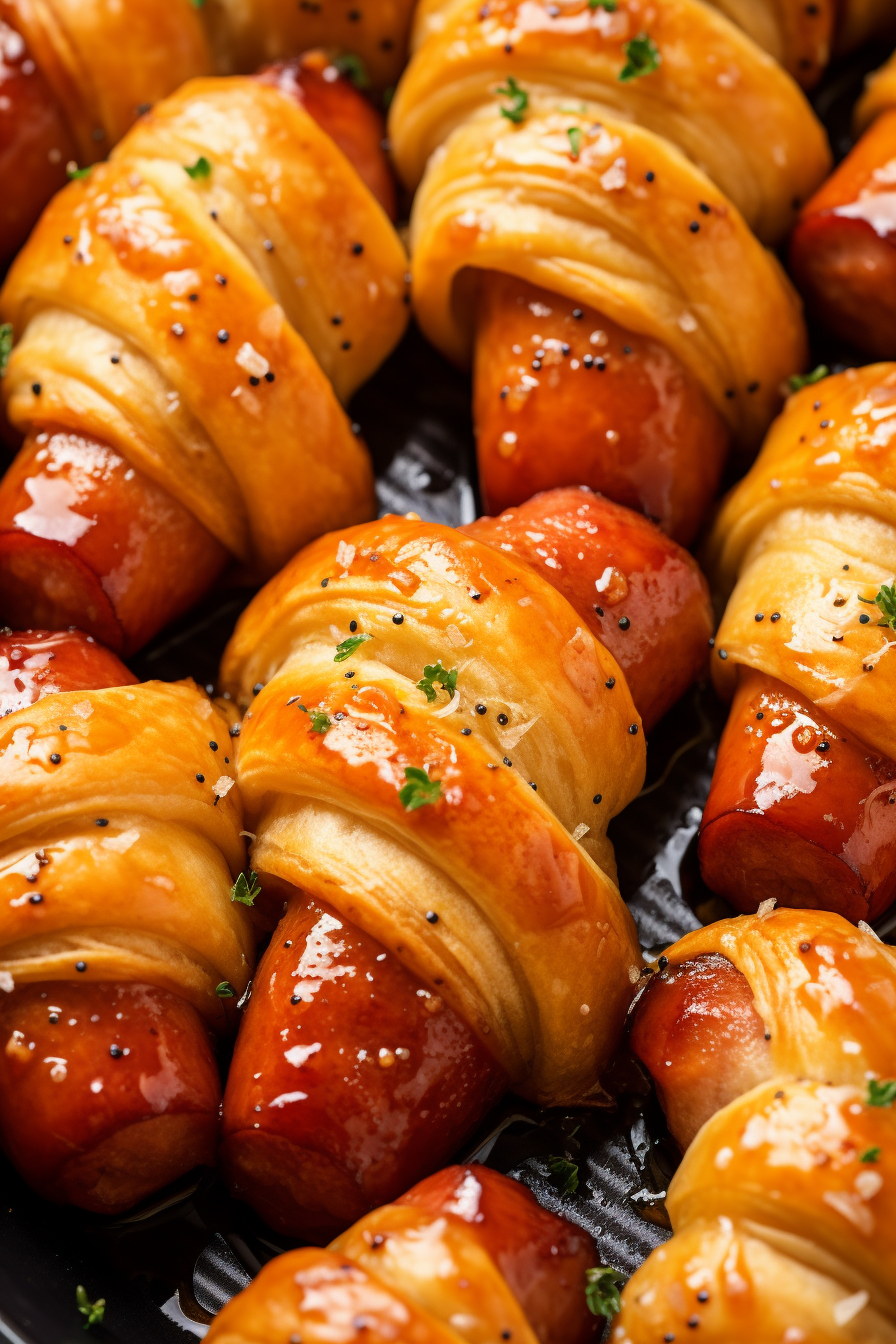 How to Make GLAZED PIGS IN A BLANKET:
Preparation Station: Start by setting the mood. Preheat your oven to 375ºF and spray some love (and cooking spray) onto a 9×13-inch baking pan.
Triangle Business: Unroll your crescent rolls, laying out all 12 triangles. For that je ne sais quoi, spread a generous teaspoon of Dijon mustard on each one. Now, slice each triangle into three narrow mini triangles.
Rolling With the Pigs: Place a sausage on the wider side of each mini triangle. It's swaddling time! Roll them up and lay them to rest in your prepared pan.
The Legendary Glaze: The magic potion comes next. In a cauldron (or a small saucepan, if you're fresh out of cauldrons), mix together butter, brown sugar, that tablespoon of dijon, Worcestershire, and poppy seeds. Once it starts to bubble, it's ready to be poured over the waiting pigs.
Baking Glory: Bake your creations uncovered for 25-30 minutes. When they turn a shade of golden brown, reminiscent of a summer tan, they're ready!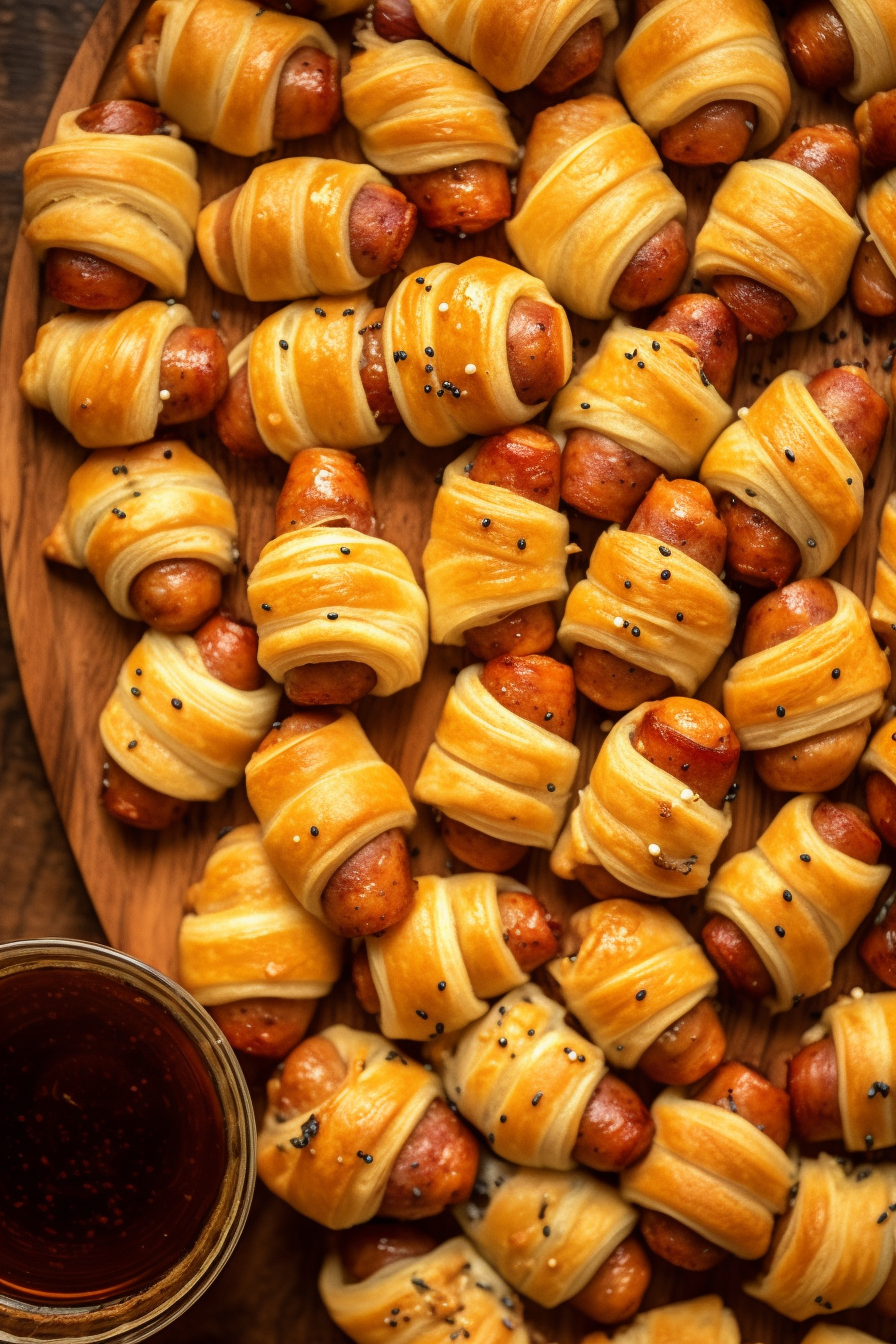 Storage options for GLAZED PIGS IN A BLANKET:
Made too many? Said no one ever! But in the rare event of leftovers, place these glazed delights in an airtight container and refrigerate. Warm them up in the oven or microwave before serving again. They'll stay fresh for 3-4 days, though their chances of lasting that long are slim!
Variations and Substitutions:
Meat Choices: Not a fan of Lit'l Smokies? Try mini cocktail sausages or even mini meatballs.
Go Cheese: Add a sprinkle of your favorite cheese before rolling to up the ante.
Veggie Delight: Substitute the sausages with cheese-filled jalapeños for a vegetarian twist.
For the Spice Lovers: Add a dash of chili flakes to the glaze for that extra kick!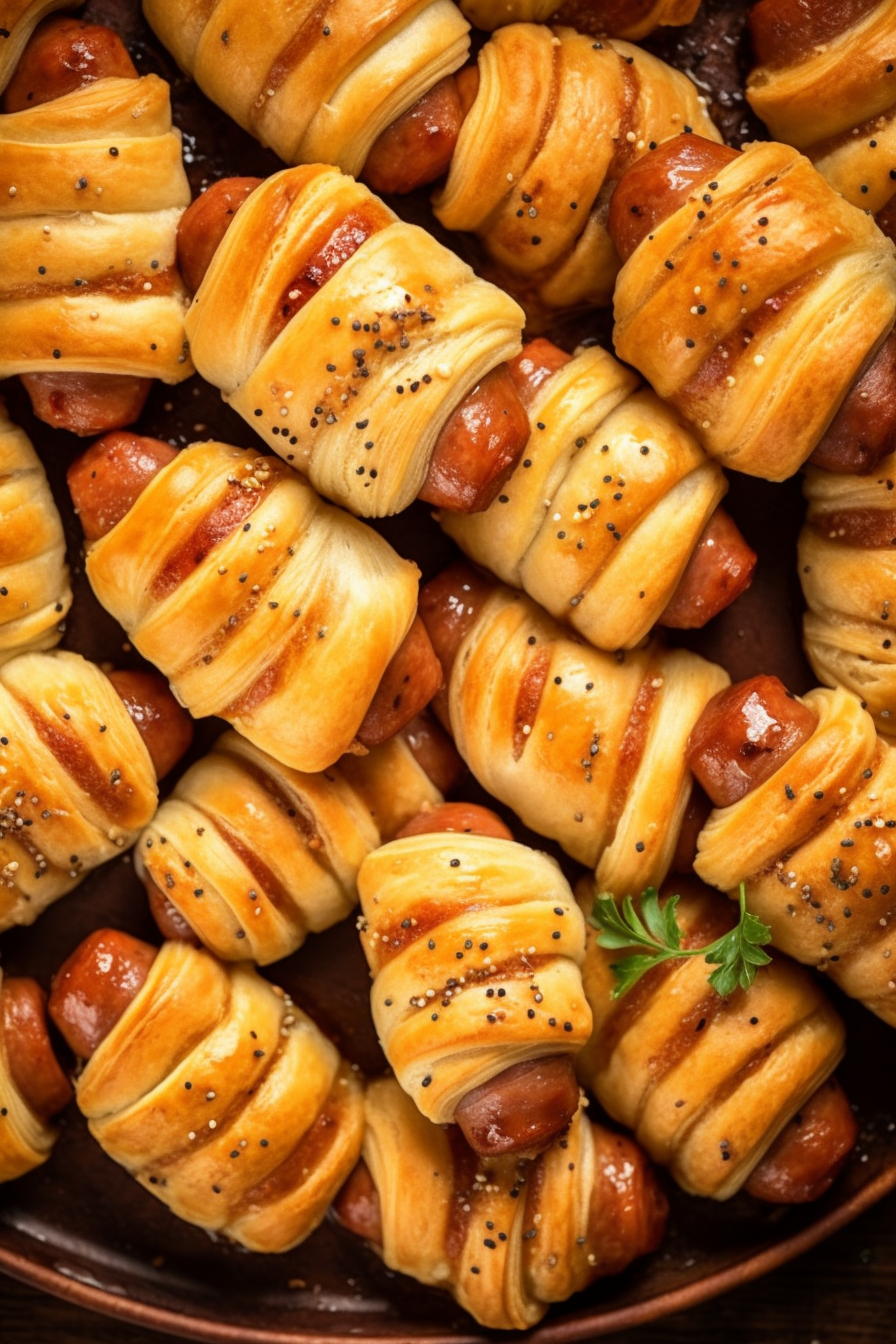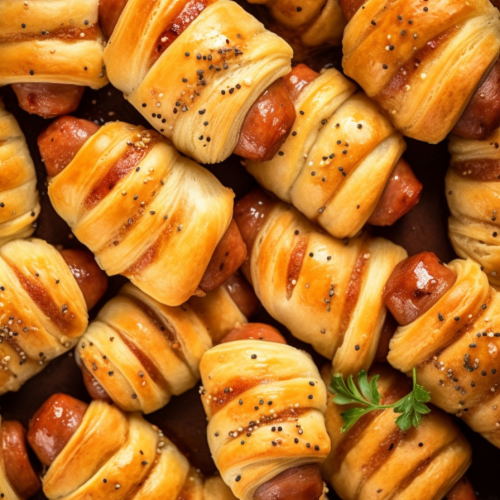 GLAZED PIGS IN A BLANKET
Dive into GLAZED PIGS IN A BLANKET, a delightful treat made with crescent rolls, tantalizing dijon mustard, irresistible Lit'l Smokies, and a savory-sweet brown sugar glaze. A touch of poppy seeds makes it a must-try!
Print
Pin
Rate
Servings:
36
Pigs in a blanket
Ingredients
1

pack of crescent rolls

8-count

An extra half-pack of crescent rolls

4-count

A packet of Lit'l Smokies sausages

14-oz

¼

cup

and an additional tablespoon of spicy dijon mustard

½

cup

of unsalted butter

A couple tablespoons of rich brown sugar

A tablespoon of classic Worcestershire sauce

A sprinkle of poppy seeds

1 Tbsp
Instructions
Kick things off by warming up the atmosphere. Get that oven revving to 375ºF and mist your 9×13-inch baking tray with some non-stick spray.

Gently unravel your crescent rolls, showcasing all 12 majestic triangles. To amp up the flavor, don't shy away from smearing a rich dollop of dijon mustard on each one. Here's a tip: transform each triangle into three slender ones by cutting lengthwise.

Align a sausage on the broader side of each slender triangle. Think of this as wrapping a little gift. Once wrapped, place them systematically on your tray.

It's alchemy time! In your favorite saucepan, melt together the butter, brown sugar, that sneaky extra tablespoon of dijon, Worcestershire sauce, and poppy seeds. As soon as it gets bubbly and aromatic, drench the waiting pigs in this delicious concoction.

Pop them into the oven. Let them bask there uncovered for about 25-30 minutes. You'll know they're ready to charm your guests when they're golden brown and filling your kitchen with an irresistible aroma.