We're hitting the road!
This is the start of my Road Trip Food series inspired by my road trip through the western United States. The summer is a great time to pack up and take a trip to somewhere new. These next few recipes are great for saving money on camping or road trips. Convenience stores and grocery stores inside national parks are notoriously expensive. By packing your own snacks and doing a little pre-planning, you can always have healthy meals on hand, eliminating the need to buy a last-minute bag of overpriced chips for a rumbling stomach.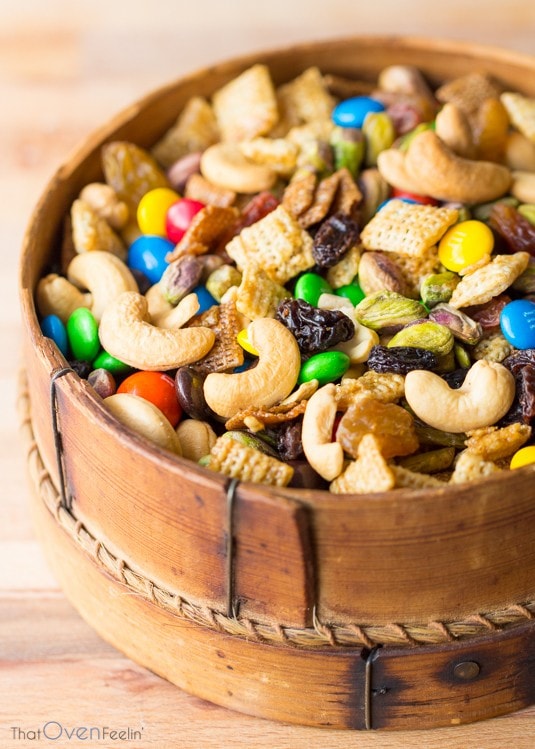 To kick off the series, I'm starting with a few snacks that you can pack before you leave. Since we have lots of hikes planned, I thought it would be great to have lots of trail mix on hand. Trail mix can often be true calorie bombs, packed with chocolate and salted nuts. By making your own trail mix, you can control the amount of sugar and salt.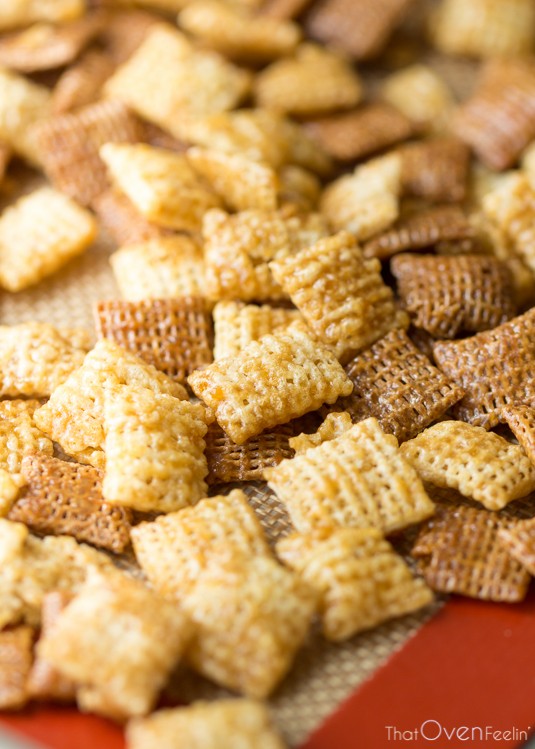 Our first road trip stop was at Carlsbad Caverns National Park. We hiked down 1 1/4 miles through the Natural Entrance into the Big Room, the largest cave chamber in the United States. Even though I have visited Carlsbad Caverns many times, the massive stalactites and stalagmites are always just as impressive.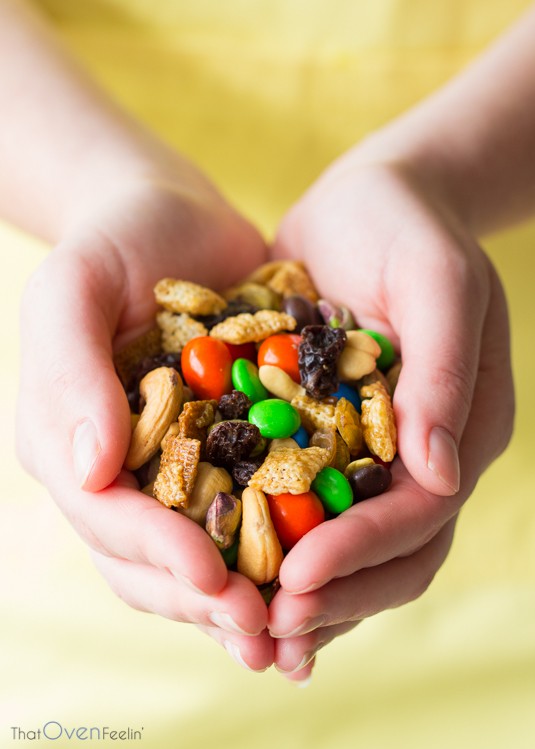 Since we still had a couple of hours on the road after our 2 1/2 mile cave tour, I made sure that we had a few handfuls of trail mix ready when we returned to our car. To keep the rice cereal crisp and the chocolate from melting, I always keep the trail mix in the cooler. I also pack the trail mix into small zip-top bags that are perfect for individual servings. It's really easy to mindlessly eat a gigantic bag of trail mix while on the road, so individual serving sizes solve this.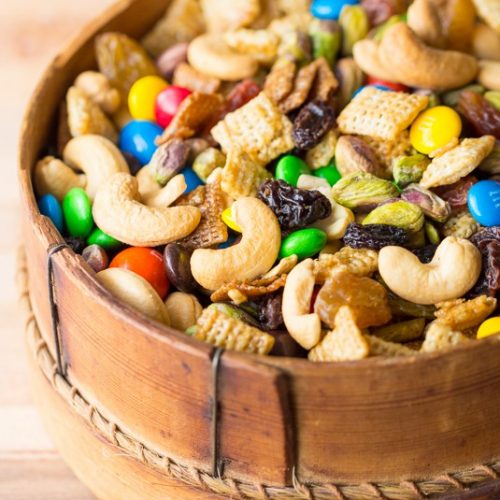 Ingredients
3

cups

rice cereal (original, wheat, or a combination of both)

2

tbsp

brown sugar

2

tbsp

light corn syrup

2

tbsp

butter
Other:
1

cup

roasted pistachios

1

cup

roasted cashews

1

cup

mixed raisins

½

cup

original M&M;'s

½

cup

peanut M&M;'s
Instructions
Preheat the oven to 300 degrees Fahrenheit. Add a silicone mat or sheet of aluminum foil to a rimmed baking sheet, then spread the rice cereal out over the baking sheet. Set aside.

Add the brown sugar, corn syrup, and butter to a small saucepan over medium heat. Stir continuously until the mixture is melted and smooth, then remove from heat.

Pour the mixture over the rice cereal and gently stir until each piece is coated. Spread the rice cereal out into an even layer. Bake in the preheated oven for 30 minutes, stirring every 10 minutes.

Place a second silicone mat or sheet of aluminum foil lightly sprayed with cooking spray onto a cooling rack. Pour the rice cereal out over the mat and allow to cool fully.

Once the caramel cereal is fully cooled, combine the cereal, pistachios, cashews, raisins, and M&M;'s in a large bowl. Gently stir to combine.

Store in an air-tight container for up to 3 days or in the freezer for up to a month.