Indulge in earthy mushrooms harmonized with creamy cheeses, aromatic garlic, and crispy bread crumbs for the ultimate Stuffed Mushroom Casserole experience.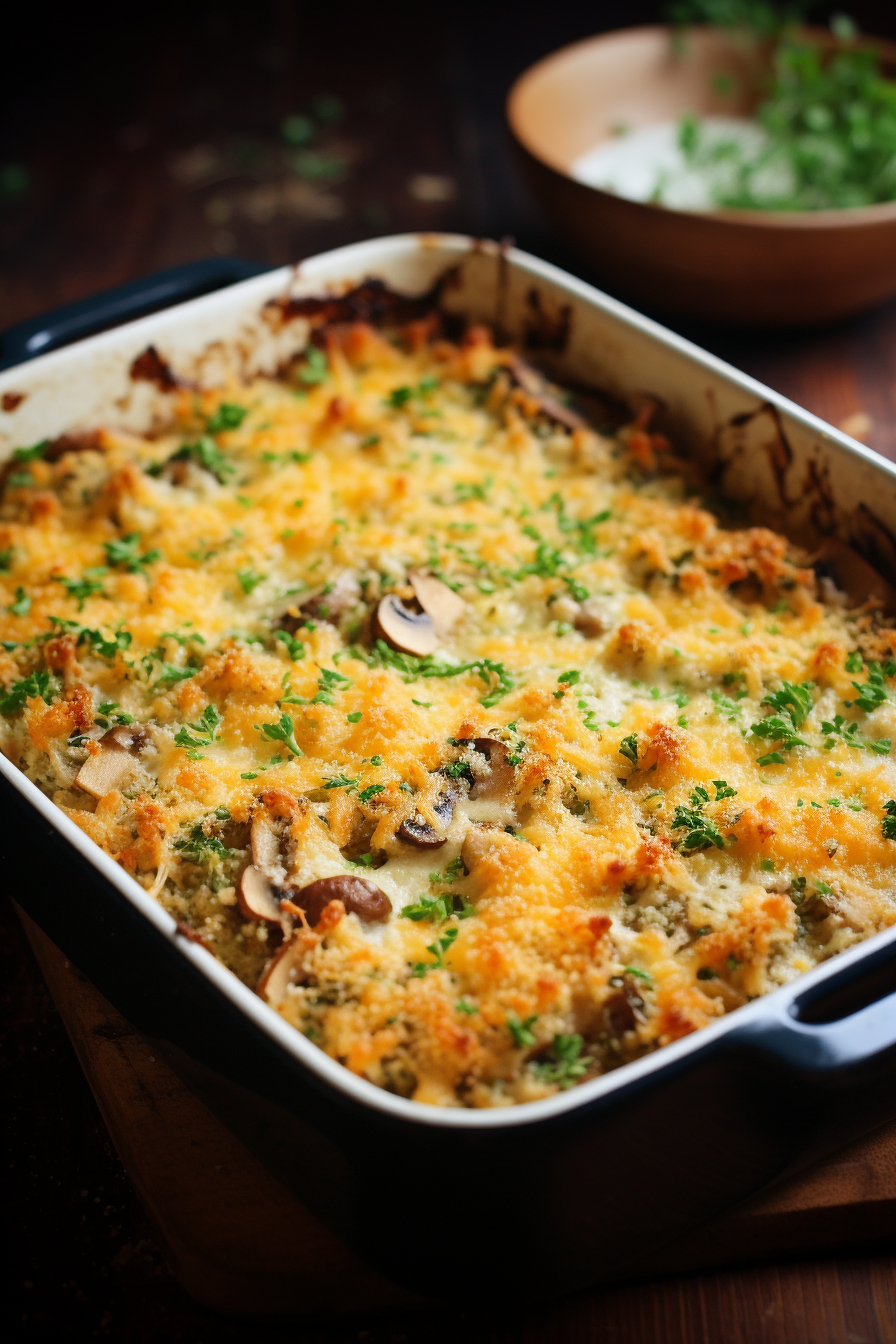 Every time I think of this Stuffed Mushroom Casserole, I'm whisked away to an old family gathering on a cool fall evening. My quirky Aunt Marge – who could light up a room just with her infectious laughter – would always show up with her signature dish, this very casserole. It was her secret weapon to divert our attention from her whimsical tales of her cats' misadventures. As kids, we'd huddle around the table, waiting in anticipation as the enticing aroma wafted through the air. It was our tradition to let the eldest grandchild take the first bite, a tradition met with impatience and eagerness in equal measure. This recipe is more than just a casserole; it's a slice of my childhood, wrapped in warmth and laughter.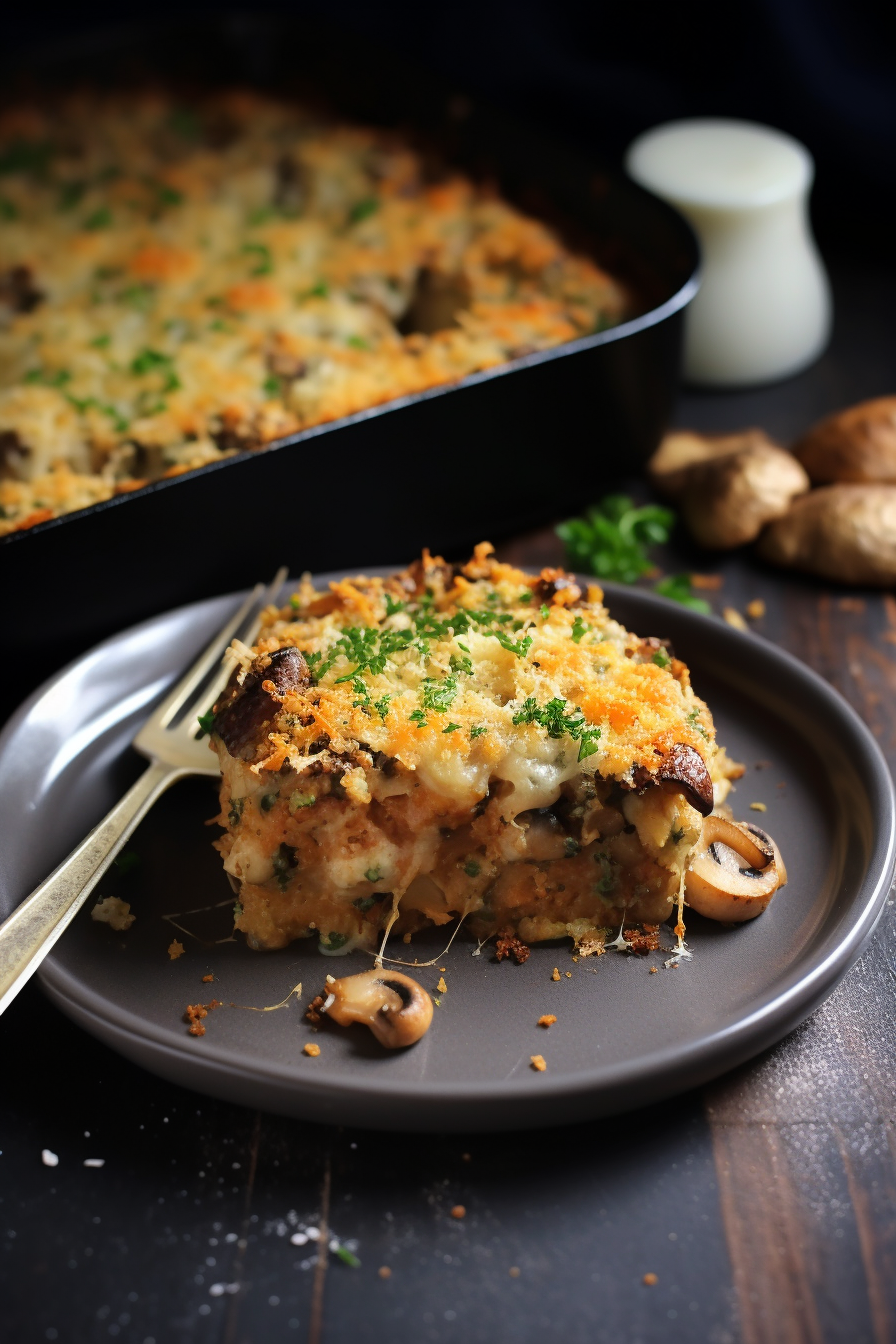 Why You'll Love This Stuffed Mushroom Casserole:
Let's face it; when Aunt Marge's casserole entered the room, everything else paled in comparison. What makes it such a showstopper? Firstly, the use of white mushrooms which not only provide an earthy base but also brilliantly soak up the flavors. The cream cheese, combined with mozzarella, creates a velvety, indulgent filling, contrasting beautifully with the crispy breadcrumb topping. Plus, the aroma of garlic and parsley tickling your nostrils? It's no wonder it's the first dish to vanish at any gathering!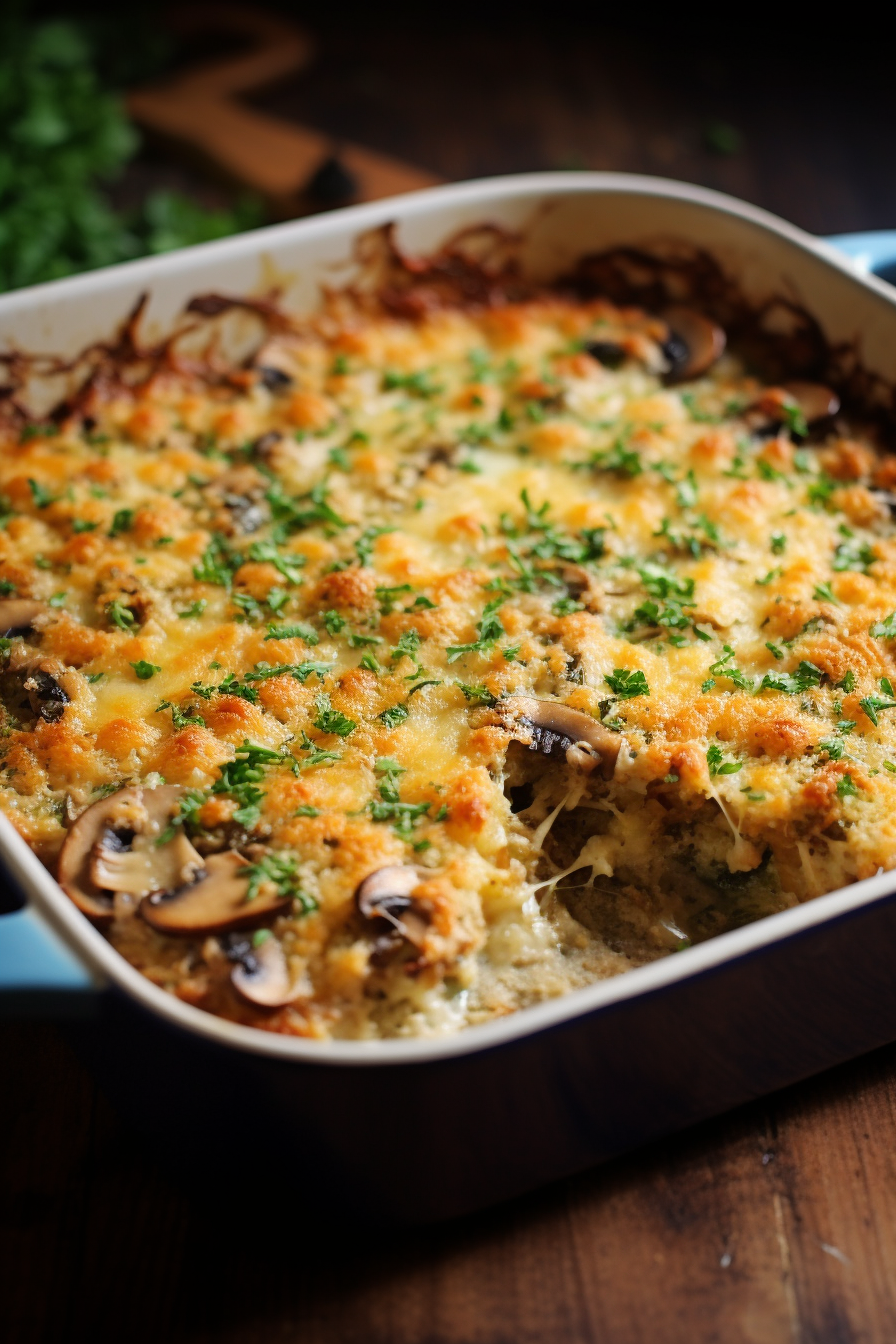 Ingredient Notes For This Stuffed Mushroom Casserole:
Ah, the main players of our gastronomic symphony. Here's the low-down:
White Mushrooms: Freshness is key! Choose firm, spot-free caps.
Olive Oil: Go for extra virgin for a more pronounced flavour.
Garlic: Fresh minced garlic is preferred. No garlic powder shortcuts here!
Cheeses: Freshly grated cheeses, especially the parmesan, make all the difference.
Breadcrumbs: Opt for coarser breadcrumbs for that ultimate crunch.
Parsley: Fresh parsley brings a pop of color and a hint of freshness to balance the rich flavors.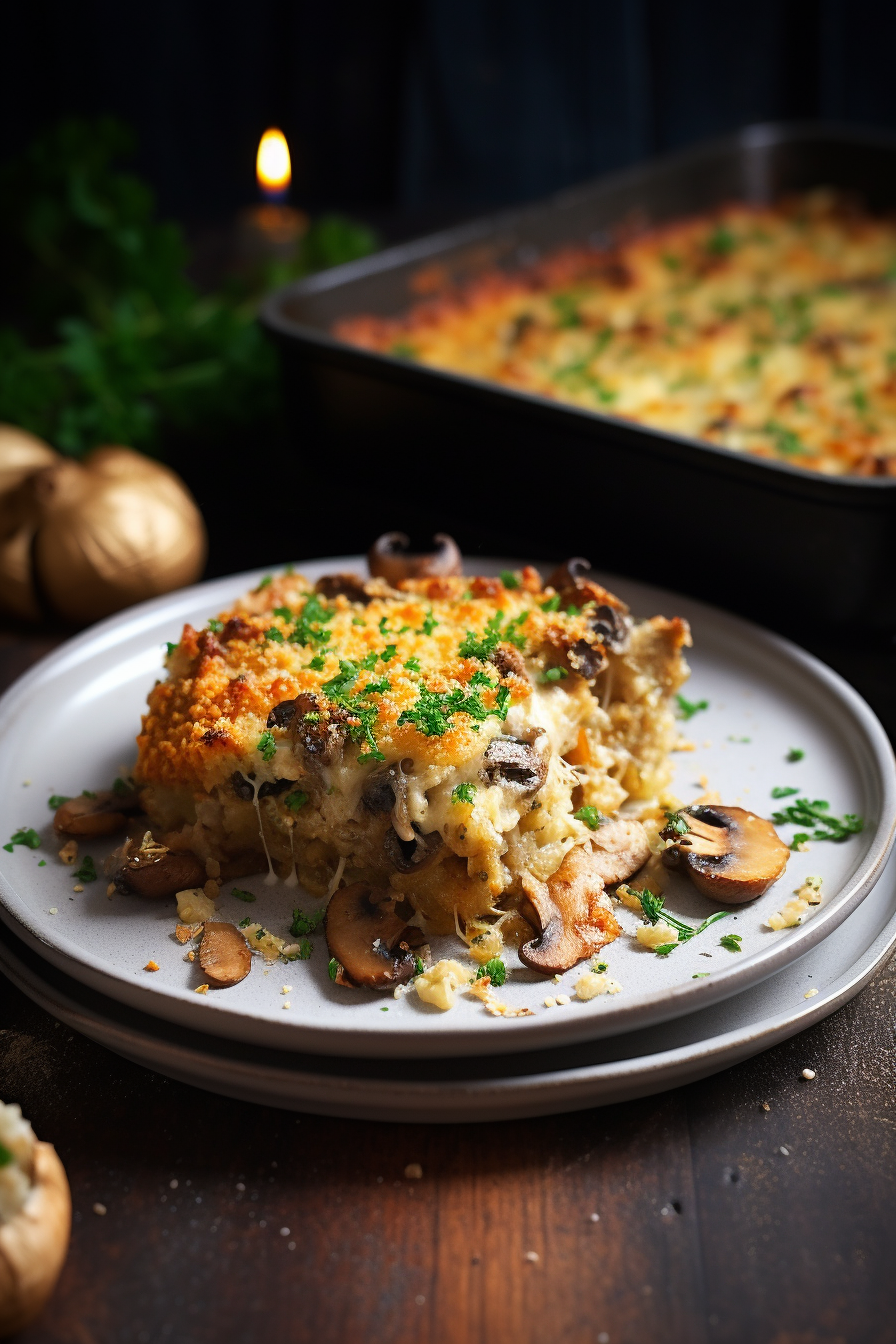 How To Make Stuffed Mushroom Casserole:
Preheat your oven. This gets things hot and ready while you're sautéing your mushrooms.
Warm up that skillet and add the olive oil. Not too hot now; we don't want to scare those mushrooms off!
Mushrooms enter the scene. Quarter them so they're bite-sized but still substantial. Sauté until they've given up most of their liquid. Season as you go – they love a good salt-pepper pampering.
Here comes the garlic! Just a minute here – we want that punchy aroma, not a burnt aftertaste.
Cream cheese time! Stir it in until it coats every mushroom quarter with its creamy goodness.
Off the heat, stir in your mozzarella, some of the breadcrumbs, and a sprinkle of parmesan. The skillet will be a melting pot of flavours.
Transfer this delightful mixture to your baking dish. Make sure it's greased – we don't want any sticking mishaps.
Mix parsley, butter, the rest of the cheeses and breadcrumbs. This is the crown of the casserole. Sprinkle generously.
Into the oven it goes. Bake till the top is golden and crispy. Get ready for the oohs and aahs!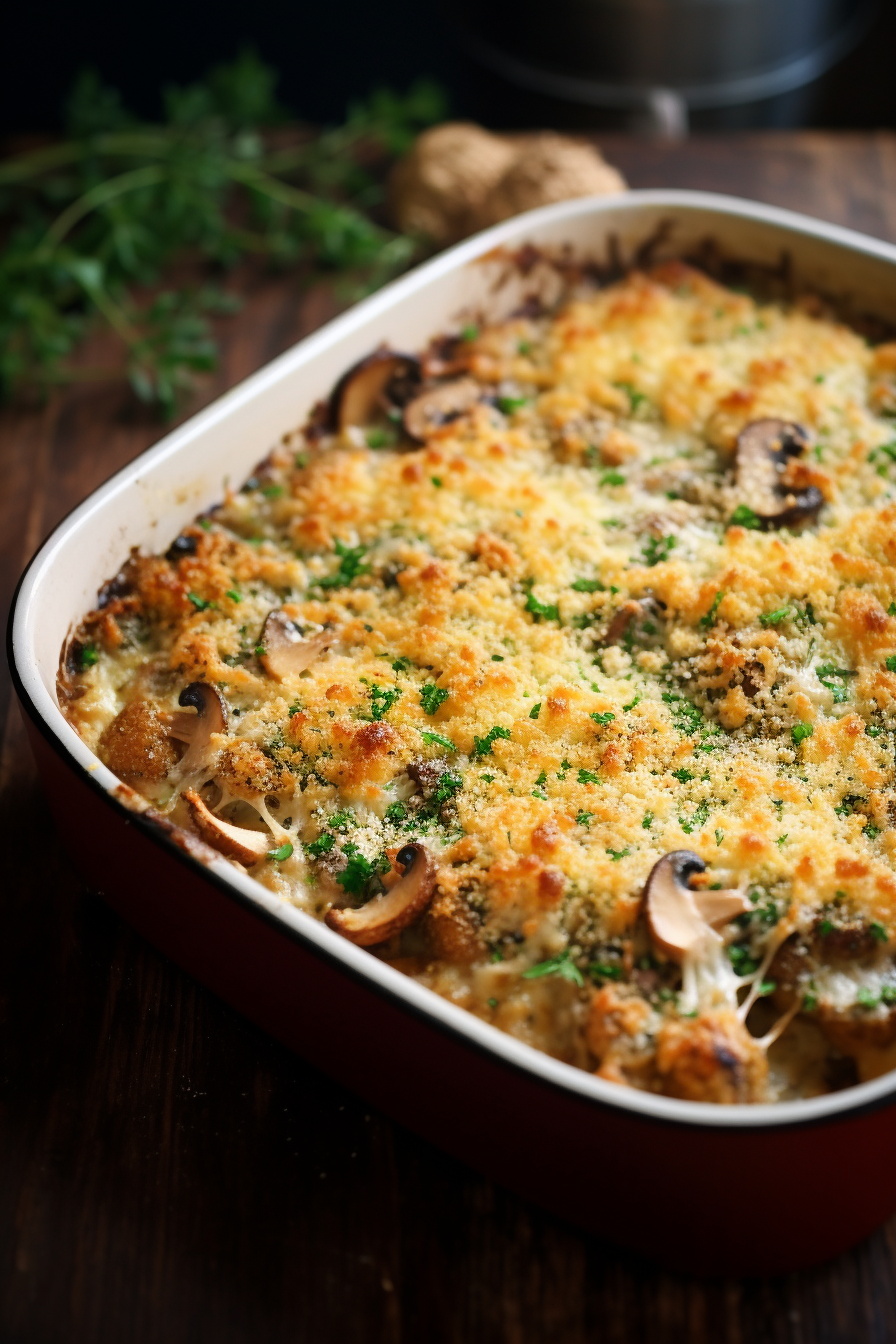 Storage Options:
If by some miracle you have leftovers (seriously, did your guests have their taste buds on vacation?), you can cover the dish with cling wrap or aluminum foil and store in the fridge for up to 3 days. Reheat in the oven to retain the crispiness of the topping. Microwaving might make the topping a tad soggy, but it's still delicious.
Variations and Substitutions:
If you're feeling adventurous or just ran out of an ingredient:
Mushrooms: Baby bellas can sub in for white mushrooms.
Cheeses: Swap cream cheese for ricotta or use a different melty cheese in place of mozzarella.
Herbs: Thyme or rosemary can step in for parsley.
Veganize it: Use vegan cheeses, and swap the butter for a plant-based variant.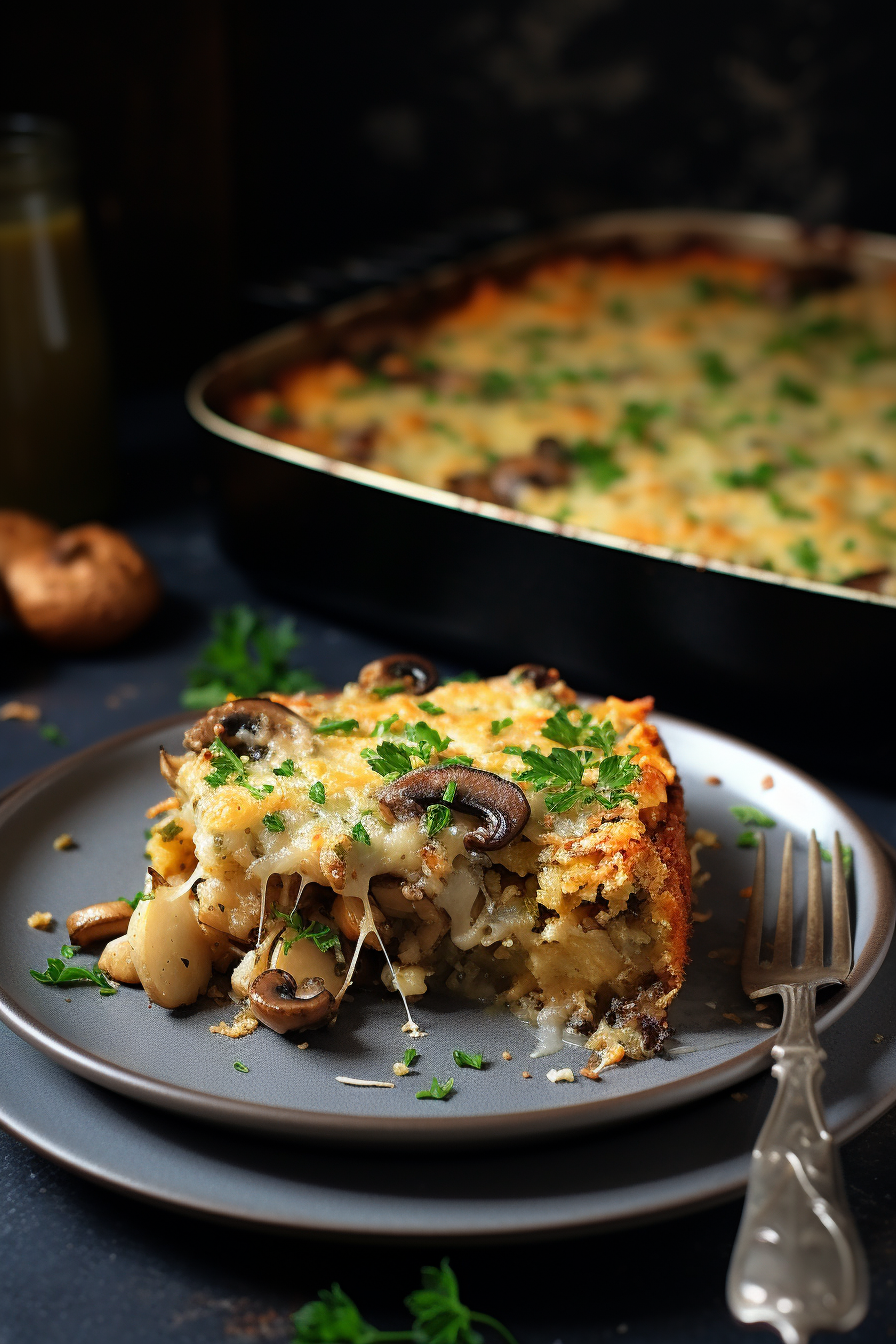 There you have it! Aunt Marge might've kept her recipe close to her chest, but I'm sharing this family secret with all of you. Enjoy!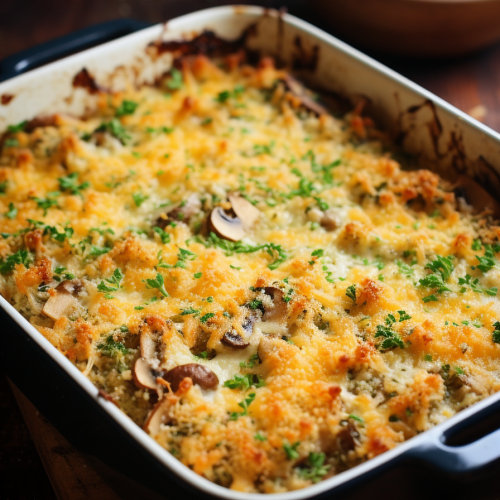 Stuffed Mushroom Casserole
Indulge in earthy mushrooms harmonized with creamy cheeses, aromatic garlic, and crispy bread crumbs for the ultimate Stuffed Mushroom Casserole experience.
Print
Pin
Rate
Ingredients
2

Tablespoons

extra virgin olive oil

1.5

pounds

white mushrooms

cleaned and quartered

Salt and freshly ground black pepper

adjusted to preference

4

cloves

of garlic

finely minced

6

ounces

cream cheese

cubed for even melting

½

cup

freshly grated mozzarella cheese

¾

cup

bread crumbs

½

cup

freshly grated Parmesan cheese

3

tablespoons

fresh parsley

finely chopped

1 ½

tablespoons

unsalted butter

melted
Instructions
Preheat the oven to a temperature of 350 degrees Fahrenheit.

In a large skillet, warm the extra virgin olive oil over medium heat.

Carefully place the quartered mushrooms in the skillet. Season with salt and pepper, and sauté until the mushrooms are softened and the majority of the liquid has evaporated. This process should take approximately 7-9 minutes.

Introduce the finely minced garlic to the skillet and sauté until its aroma becomes pronounced, typically around 1 minute.

Incorporate the cubed cream cheese, ensuring that the mushrooms are uniformly coated with the melting cheese.

Remove the skillet from the heat source. Proceed to mix in the freshly grated mozzarella, half a cup of bread crumbs, and a quarter cup of Parmesan cheese.

After combining, transfer the mixture into a greased 8×8-inch baking dish, ensuring even distribution.

In a separate small bowl, amalgamate the finely chopped parsley, melted unsalted butter, remaining Parmesan cheese, and bread crumbs. Once mixed, evenly sprinkle this topping over the mushroom mixture.

Place the baking dish in the preheated oven and bake until the breadcrumb topping achieves a golden hue, which should take approximately 25-30 minutes.