Okay, this recipe was a total accident. After making a huge batch of mushroom risotto over the weekend, we ended up with a ton of leftovers. We've pretty much been eating risotto with every meal since then. For lunch one day, my husband grabbed a bowl of leftover risotto and poured buffalo sauce all over it. It looked surprisingly good, so I took a bite. Six heaping spoonfuls later, I was completely set on making buffalo risotto for That Oven Feelin' (minus the mushrooms, of course).
I'm a big fan of anything buffalo, so I immediately ran to the store to grab everything I needed.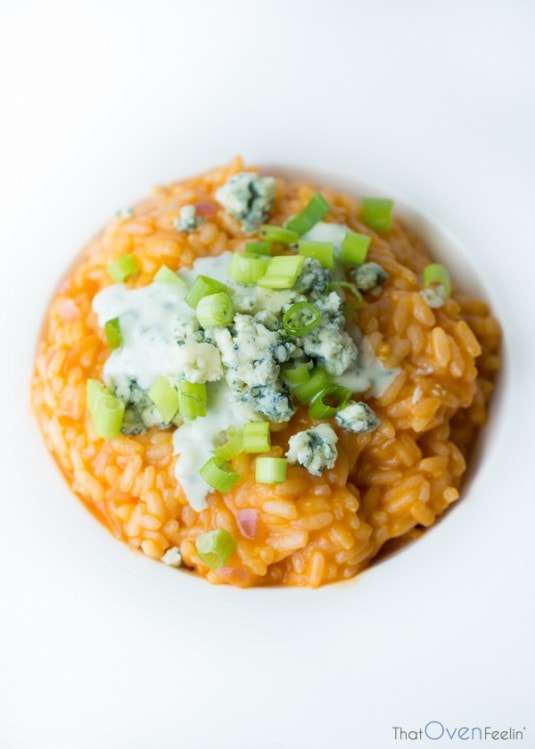 You can make this buffalo risotto as spicy or as mild as you like. I suggest adding just a few spoonfuls of buffalo sauce in the beginning, then adding more when the risotto is almost done cooking. The blue cheese is also perfect for cooling off those tastebuds, just in case you add a little too much.
Too much buffalo sauce, is that even a thing?
Not in my house.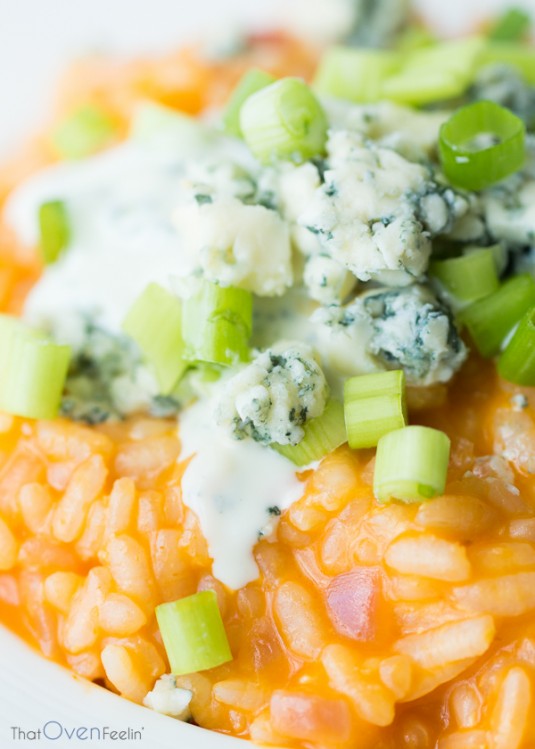 Not only is the risotto served with crumbled blue cheese, I've also made a simple blue cheese sauce to drizzle over the top. The blue cheese sauce only takes a minute or two to prepare, so it's great for all kinds of other dishes too. I love drizzling a few spoonfuls over a grilled beef tenderloin to add a nice complex flavor.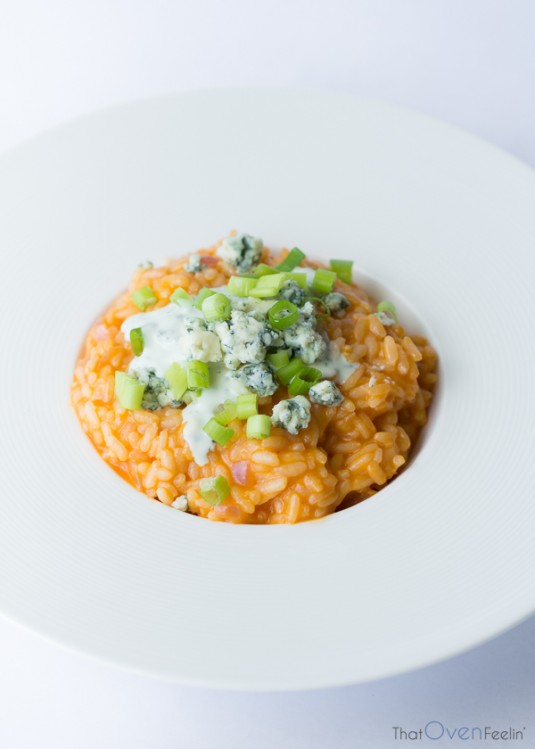 I feel like we've been on a huge risotto kick lately. I love the creaminess that you get from risotto, without the need to add lots of heavy cream or cheese. However, in order to get that super-creamy texture, you've got to stir the risotto while cooking. Stirring loosens the starch molecules from the grains of rice into the surrounding liquid, creating that decadence that we all love.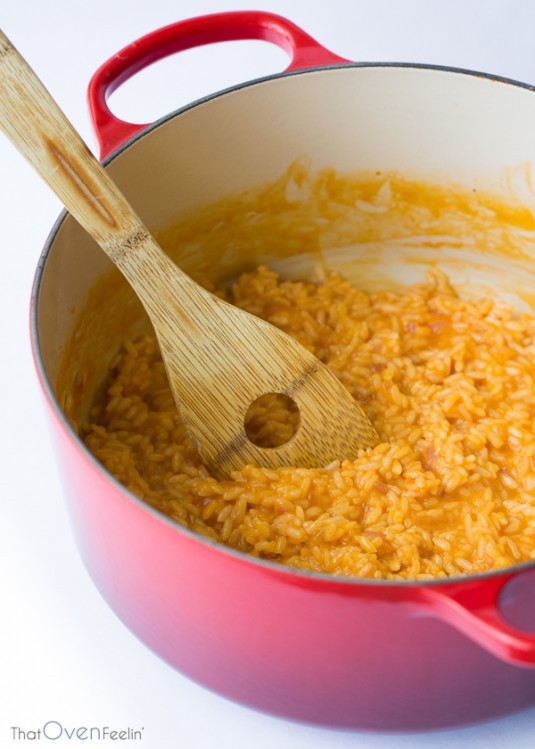 If you're also a big fan of buffalo sauce, be sure to check out my buffalo and blue cheese loaded fries. They are great for road trips and grilling out in the backyard! Or, if you're looking for something more "dippable," then head over to my buffalo hummus recipe. It's a classic!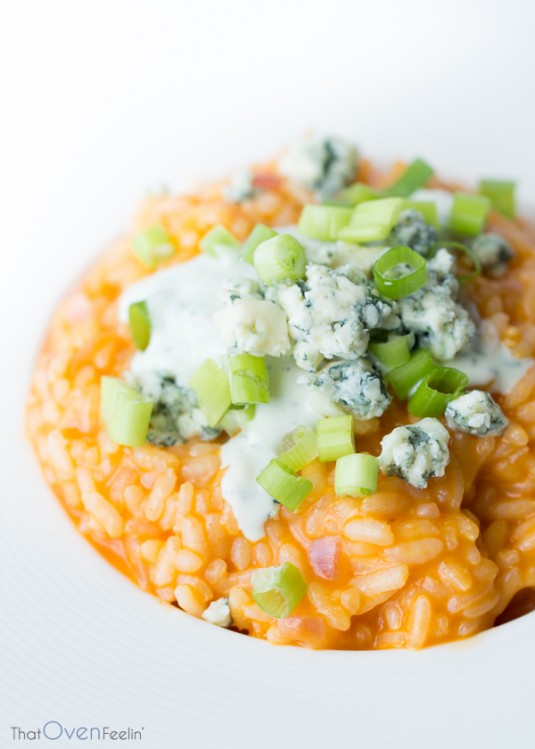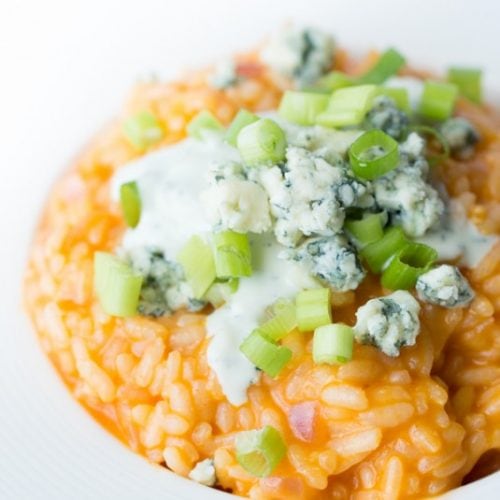 Wingless Buffalo Risotto With A Blue Cheese Sauce
I love drizzling a few spoonfuls over a grilled beef tenderloin to add a nice complex flavor.
Print
Pin
Rate
Ingredients
3

cups

chicken broth

2

tbsp

unsalted butter

2

shallots, chopped

2

cloves garlic, minced

1

cup

arborio rice

⅓

cup

dry white wine

2

tbsp

buffalo sauce, more to taste

salt and pepper, to taste

parmesan cheese, grated

2

green onions, chopped

¼

cup

blue cheese, crumbled
For the Blue Cheese Sauce:
3

tbsp

heavy cream

2

oz

blue cheese, crumbled
Instructions
In a medium saucepan, heat the chicken broth over medium-high heat until it reaches a simmer, then reduce the heat to medium-low.

Heat the butter over medium-high heat in a large sauté pan or dutch oven. Add the chopped shallots and sauté for about 1 to 2 minutes, or until the shallots are translucent. Add the minced garlic and cook for another minute, stirring constantly. Add the arborio rice to the pan and stir until coated with butter (add more butter if every grain is not coated). Stirring constantly, sauté the rice until it becomes translucent with an opaque center, about 2 minutes.

Deglaze the pan by adding the ⅓ cup of white wine. Allow the wine to simmer until it has completely reduced, stirring almost constantly. Stir in two tablespoons of buffalo sauce.

Ladle about ½ cup to 1 cup of the hot chicken broth into the saucepan at a time, allowing the rice to completely absorb the liquid before adding another ladle. Stir often to keep to risotto from burning and to give it a creamy texture.

After about 15 minutes, start tasting the rice for doneness. The rice should be served al dente – with just a little bit of bite. When the rice is almost done, add the parmesan. Add additional buffalo sauce, if desired. Salt and pepper to taste.

Garnish with crumbled blue cheese, green onions, and a drizzle of blue cheese sauce. Serve immediately.
For the Blue Cheese Sauce:
Heat the heavy cream in a small pan over medium heat, stirring often. Once hot, stir in the crumbled blue cheese until melted and well combined. Add additional blue cheese for a stronger flavor or heavy cream for a thinner sauce. Keep warm until ready for use.
Notes
Yields about 3 cups of cooked rice.